Sports
Astros vs. Braves live score, updates, highlights from Game 4 of the 2021 World Series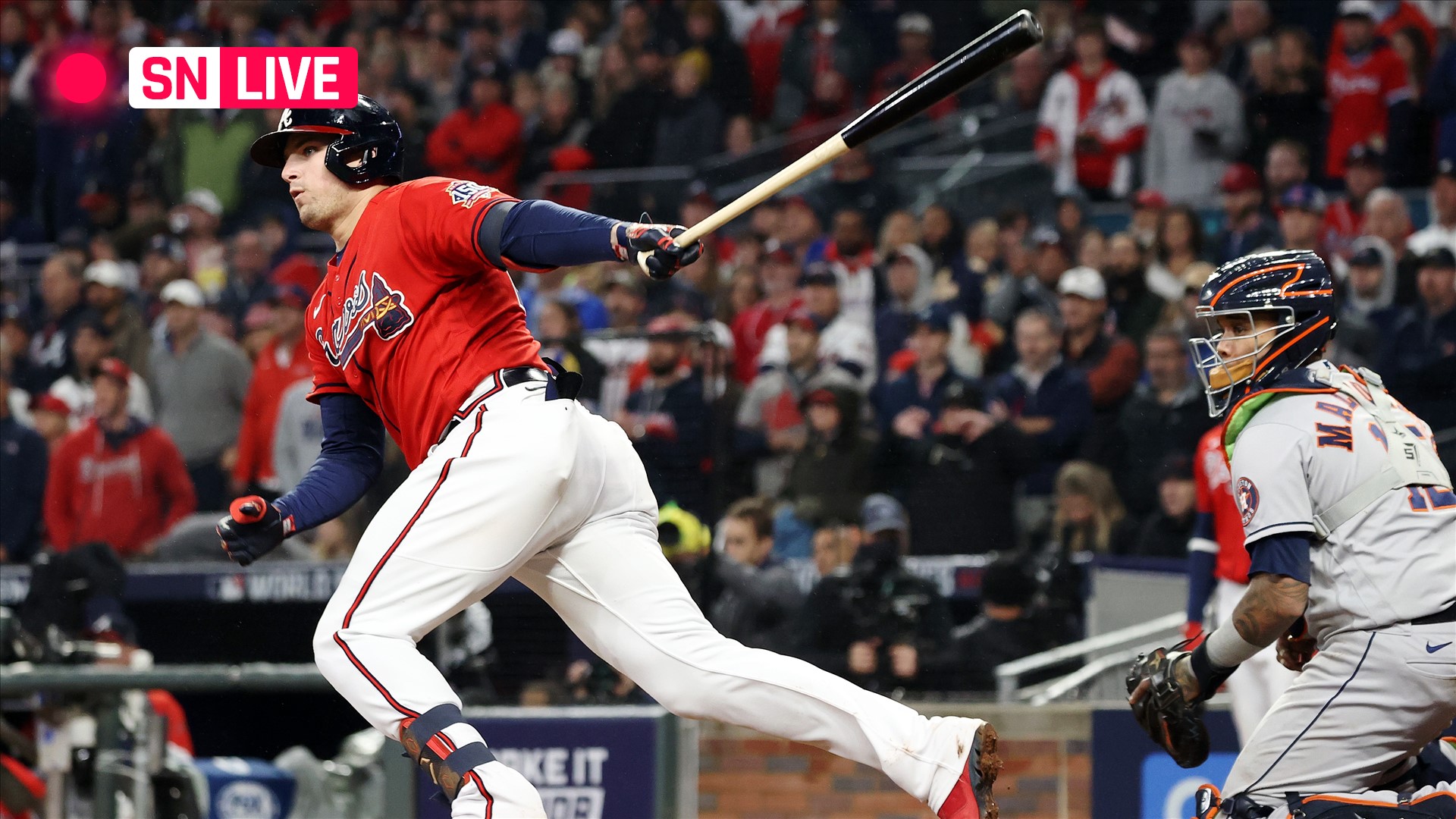 The World Series Game 4 starters couldn't be more different.
The Astros will hand the ball to 38-year-old Zack Greinke, who, between the MLB regular and postseason, has accumulated 3,219 innings pitched in a Hall of Fame career. The Braves will begin the game with 27-year-old rookie Dylan Lee on the mound, who has racked up a total of 4.2 MLB innings in his career.
MORE: Watch 2021 World Series games live with fuboTV (7-day free trial)
The usage for the two teams, however, could remain the same. Greinke missed time in September due to a neck injury and returned to Houston's roster as a reliever. He has yet to pitch more than 1.1 innings this postseason. He's batting eighth in the lineup, and could potentially have an early exit for a pinch hitter.
Lee is starting a bullpen game, and certainly is not expected to eat much more than an inning or two before giving way to another reliever. Lee already made one appearance this World Series when he pitched 0.2 innings in Game 2. He allowed one of two inherited baserunners on score, but did not give up a hit. He struck out one.
Braves manager Brian Snitker is hoping this bullpen game can shut down the dangerous Astros lineup as his team aims to move to a 3-1 advantage in the World Series. Should Atlanta win, it would have a chance to clinch at home in Game 5 on Sunday. The Astros, on the other hand, will hope to steal away a game on the road and force the series to return to Houston.
MORE: On Ian Anderson, a wise World Series decision and why we shouldn't care so much about no-hitters
Sporting News is tracking live scoring updates and highlights from Braves vs. Astros in the 2021 World Series. Follow below for complete results from Game 4 on Saturday night:
Braves vs. Astros score
| | | | | | | | | | | |
| --- | --- | --- | --- | --- | --- | --- | --- | --- | --- | --- |
| Inning | 1 | 2 | 3 | 4 | 5 | 6 | 7 | 8 | 9 | F |
| Astros | 1 | 0 | 0 | 1 | 0 | 0 | – | – | – | – |
| Braves | 0 | 0 | 0 | 0 | 0 | – | – | – | – | – |
Braves vs. Astros live updates, highlights from 2021 World Series
10:30 p.m.: Freeman lays off the low pitch on full count, and there are now runners on first and second with one out. Albies will bat against Phil Maton, who is coming in to replace Raley.
10:26 p.m.: Rosario lines a double down the right-field line, and the Braves have a runner in scoring position wit one out.
10:23 p.m.: Brooks Raley is the new pitcher for Houston. Orlando Arcia comes in to bat for Martin, and he swings at the first pitch and lines it to right for the first out. for the out.
10:20 p.m. End Top Sixth: Bregman grounds into a forceout as Swanson flips over to second to get Brantley. 
10:19 p.m.: Brantley singles up the middle for a two-out hit.
10:18 p.m.: Altuve is caught looking at strike three.
10:15 p.m.: Chris Martin is the new pitcher for Atlanta, and his first pitch of the evening is lined directly to Albies off the bat of Gurriel for the first out.
10:08 p.m. End of Fifth: Swanson called out looking at a strike on the outside.
10:05 p.m.: Duvall flies out to left for the second out.
10:02 p.m.: d'Arnaud grounds out to second.
9:59 p.m.: Houston has to be happy with the effort it received from Greinke, who pitched four scoreless with just four hits and three strikeouts. New pitcher now is Ryne Stanek.
9:56 p.m. End Top Fifth: Astros strand two more baserunners in the top of the fifth as Marwin Gonzalez flies out to left.
9:52 p.m.: Gurriel is given the intentional walk.
9:51 p.m.: Tucker steals second, and after the throw goes into center, he moves up to third. Second straight night with an errant throw by d'Arnaud attempting to throw out a base-stealer.
9:49 p.m.: Tucker singles up the middle for a two-out single.
9:46 p.m.: Correa grounds out to short.
9:45 p.m.: The fifth inning begins with Alvarez going down swinging.
9:41 p.m. End of Fourth: Two straight innings of turning two for the Astros. Pederson grounds into a double play that ends the fourth.
9:39 p.m.: Riley singles up the middle as the Braves pick up their fourth hit against Greinke tonight.
9:35 p.m.: Batting right handed again against Greinke, Albies bounces out to Correa.
9:31 p.m. End Top Fourth: Strikeout by Bregman, but Altuve has now scored twice to help Houston out to an early two-run advantage.
9:29 p.m.: Brantley grounds one right at Freeman, who takes it to the bag himself.
9:28 p.m. Astros' scoring play: Altuve rockets one out to straightaway center for a 434-foot home run. Astros extend lead to 2-0.
9:27 p.m.: The fourth starts with a groundout by Maldonado to short.
9:22 p.m. End of Third: 4-6-3 double play for the Astros as Freeman grounds it to Altuve to get the inning-ender started.
9:19 p.m.: Rosario lines a base hit up the middle .
9:17 p.m.: Wright goes down swinging for the first out.
9:13 p.m. End Top Third: Another grounder up the middle by Greinke, but Albies is able to make the throw at first to just get him by a step and keep Houston off the board in the third.
9:10 p.m.: Tucker bounces it to Albies, who gets the force out at second, but the throw to first is too late to nab Tucker for the double play.
9:07 p.m.: Correa follows up the walk by singling on the first pitch he sees with a liner into left.
9:06 p.m.: The curveball from Wright doesn't clip the outside part of the plate, and Alvarez is on with a walk.
9:04 p.m.: Wright in for his second full inning of work. He starts the frame off with a popout to short off the bat of Bregman.
9:00 p.m. End of Second: Swanson lines out to left as Greinke finishes his second scoreless inning.
8:59 p.m.: Adam Duvall goes swinging at a 3-0 pitch, and he's on with a two-out single.
8:57 p.m.: Travis d'Arnaud is caught looking for Greinke's second strikeout of the game.
8:55 p.m.: Joc Pederson starts off the bottom half of the second with a groundout to Correa in the shift.
8:50 p.m. End Top Second: Wright works around the back-to-back singles as he gets Brantley to bounce out to second.
8:49 p.m.: Incredible diving grab by Austin Riley at third, who snags the liner from Altuve.
8:47 p.m.: Now the No. 9 hitter joins in as Martin Maldonado lines a base hit into right. Runners on first and second, one away.
8:46 p.m.: How's that for the AL pitcher batting? Greinke singles on a grounder right up the middle.
8:45 p.m.: Yuli Gurriel bounces one over to Freeman, who flips it on to Wright covering the bag for the out.
8:41 p.m. End of First: Austin Riley flies out to center to end the inning.
8:38 p.m.: Albies goes down swinging for the second out of the inning.
8:35 p.m.: Freddie Freeman gives the Braves a baserunner with a one-out single. Now Ozzie Albies is up and instead of batting left-handed, he will bat from the right side.
8:34 p.m.: Eddie Rosario lines out to center for the first out.
8:29 p.m. End Top First: Wright gets Kyle Tucker to go down swinging at a high fastball, and the Braves escape the inning trailing only 1-0.
8:25 p.m. Astros' scoring play: Carlos Correa grounds out softly to third, but all the baserunners advance 90 feet and a run comes in to score. Astros take a 1-0 lead.
8:20 p.m.: Yordan Alvarez takes a walk to load the bases, and Lee's night is over. Kyle Wright is coming in. 
8:17 p.m.: Huge first out for Dylan Lee as he gets Bregman swinging on a low changeup.
8:14 p.m.: Fastball high to Michael Brantley, and the Astros now have runners on first and second with no one out.
8:11 p.m.: This game starts with a grounder by Jose Altuve into the hole. Dansby Swanson makes a play and throws it over to first, but Altuve reaches as Freddie Freeman's foot was off the bag. Leadoff baserunner for the Astros.
7:30 p.m.: Here are the starting lineups for the Braves and Astros.
7:00 p.m.: Already a big loss for Houston. Jason Castro is off the roster due to COVID-19 protocols. Garrett Stubbs will serve as the backup catcher for the remainder of the series.
World Series start time today
The World Series Game 4 first pitch between the Astros and Braves is set for 8:09 p.m. ET on Saturday.
MORE: Atlanta's arm barn stars deliver as Braves snag 2-1 World Series lead
How to watch the 2021 World Series
TV channel (U.S.): Fox
TV channel (Canada): Sportsnet
Live stream: fuboTV
All the World Series games will be broadcast on Fox in the United States, and on Sportsnet in Canada. On the Fox broadcast, Joe Buck will handle play-by-play with John Smoltz providing analysis in the booth and reporters Ken Rosenthal and Tom Verducci at field level.
Streamers can find the game on the Fox Sports Go app, or by using fuboTV, which comes with a seven-day free trial.
World Series schedule 2021
| | | | |
| --- | --- | --- | --- |
| Date | Game | Start time | TV channel |
| Tue., Oct. 26 | Braves 6, Astros 2 |   |   |
| Wed., Oct. 27 | Astros 7, Braves 2 |   |   |
| Fri., Oct. 29 | Braves 2, Astros 0 |   |   |
| Sat., Oct. 30 | Astros at Braves, Game 4 | 8:09 p.m. | Fox, fuboTV |
| Sun., Oct. 31 | Astros at Braves, Game 5 | 8:15 p.m. | Fox, fuboTV |
| Tue., Nov. 2 | Braves at Astros, Game 6* | 8:09 p.m. | Fox, fuboTV |
| Wed., Nov. 3 | Braves at Astros, Game 7* | 8:09 p.m. | Fox, fuboTV |
*If necessary.