Kitchen
Easy Toasted Coconut Balls (3 – Ingredients)
This easy recipe for coconut balls starts with toasting the coconut to really make the no bake treat delicious. Only 3 ingredients for a sweet coconut truffle!
This recipe was made in partnership with Imperial Sugar. CLICK HERE for the full recipe.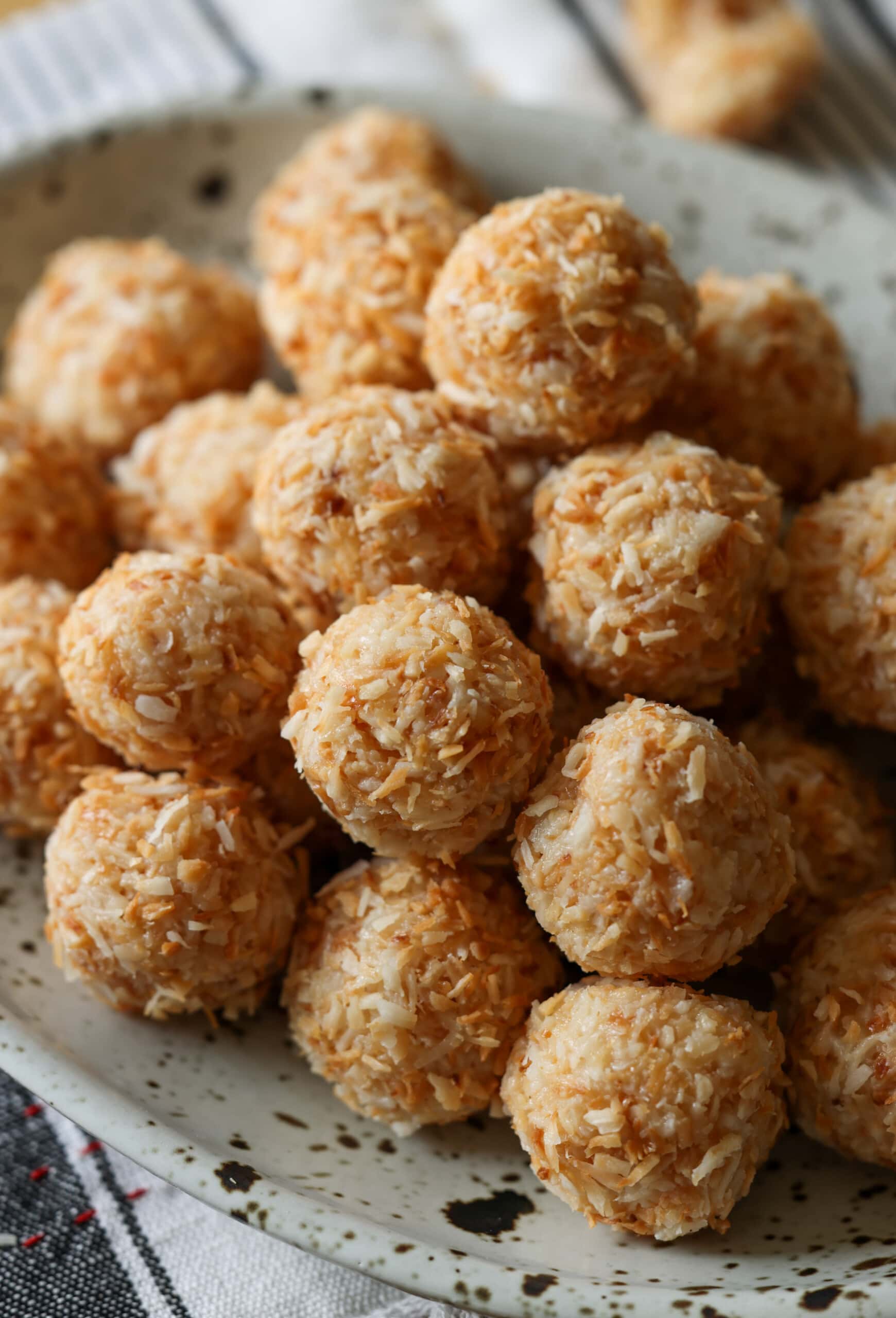 Easy Toasted Toasted Coconut Balls!
I am so excited to share this easy no bake coconut balls recipe with you today! These toasted coconut balls are a quick version of a coconut macaroon, as perfect for your Christmas cookie platter as they are for a sweet treat with a cup of coffee. Having a few extra easy recipes around the holidays to gift or host with is always helpful. And I have some fun variation ideas for you too! Toasting the coconut  only adds a few extra minutes to the total time, but really add to the flavor and texture. If you are a coconut lover these are for you. 
Ingredients needed:
For the FULL ingredient list and printable recipe CLICK HERE.
Desiccated coconut
Sweetened condensed milk
Light brown sugar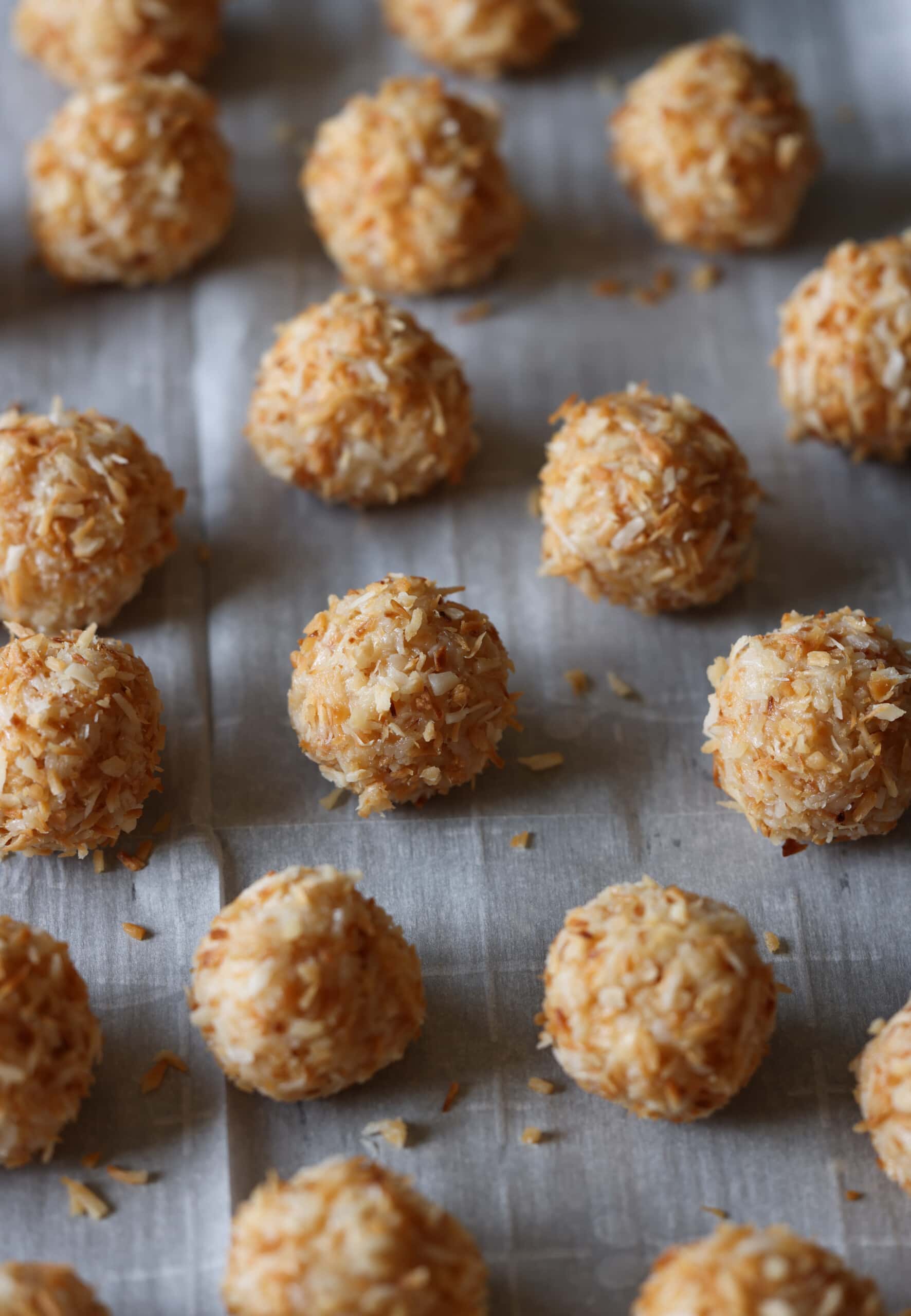 What is Desiccated Coconut?
Desiccated coconut is the "meat" of the coconut that is shredded or flaked and dried. I use desiccated coconut in this recipe, instead of sweetened flaked or sweetened shredded coconut. The main difference is that it is unsweetened. The other difference is its shredded smaller that regular flaked coconut. I prefer the desiccated coconut in this recipe, as the smaller shreds give a better texture in the balls. The shreds aren't quite as long which helps hold the balls together a little easier, and make a slightly denser ball. If you don't have desiccated coconut, you can simply pulse regular coconut flakes in the food processor a few times, creating a similar result.  Think of is like the difference between quick oats and old-fashioned oats.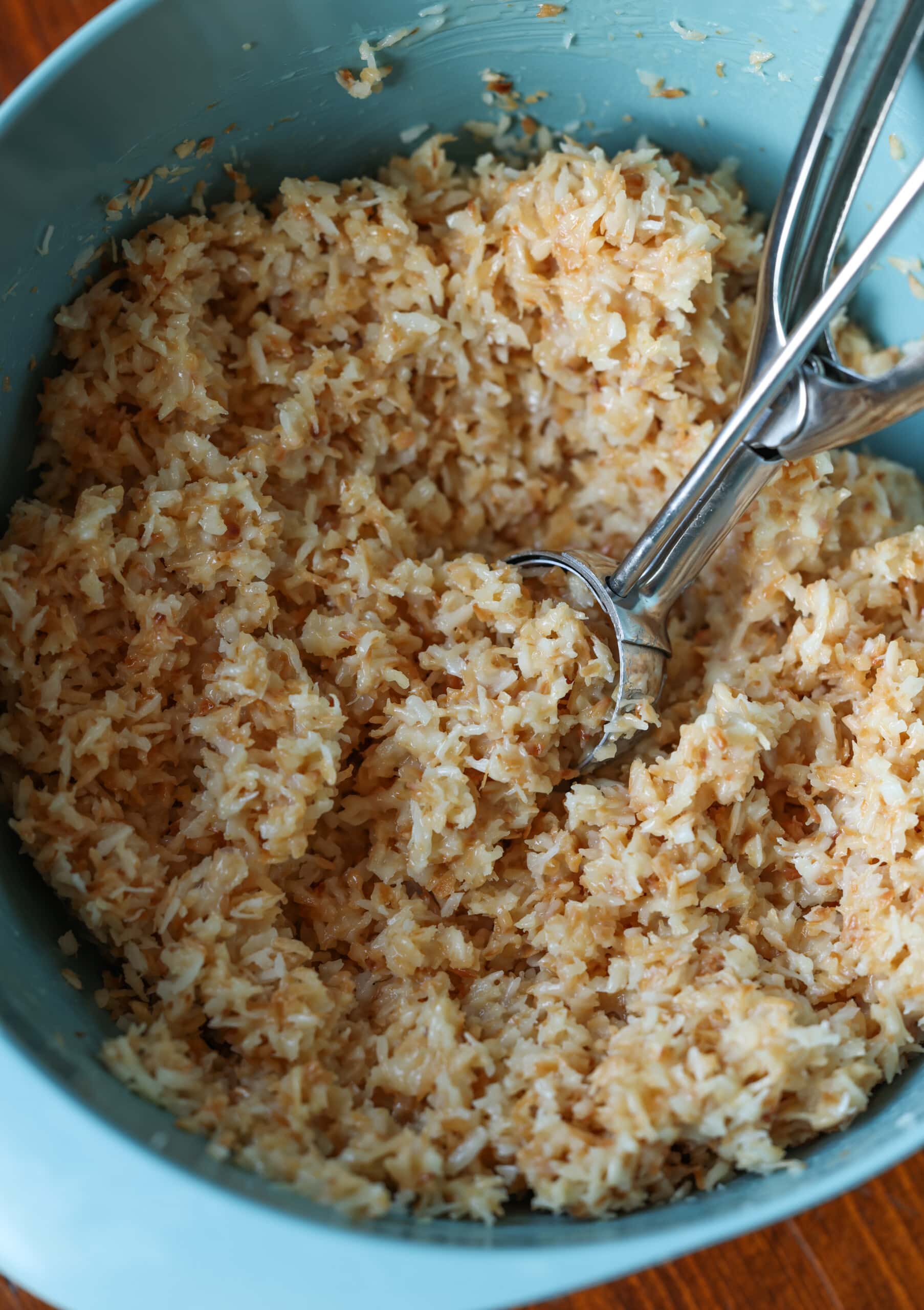 How To Make Coconut Balls/Instructions:
Divide the coconut in half. Working in batches add half the coconut into a large nonstick skillet. Heat over medium-low heat until golden and toasted, stirring frequently. Once the coconut is toasted, transfer it to a large baking sheet to cool. Repeat with the remaining coconut.
When the coconut is cooled, reserve 1/3 cup of the coconut and place in a small bowl for rolling. Set aside.
In a large bowl combine the remaining coconut, sweetened condensed milk, and brown sugar and stir to combine evenly.
Using a small cookie scoop (1 tablespoon) sized cookie scoop, portion out the mixture and form into tight ball 1-inch balls – 1 1/2-inch in diameter. Roll the coconut ball in the reserved toasted coconut and set on a parchment lined sheet to set. Repeat with the remaining mixture.
Allow the balls to set up at room temperature for an hour and then transfer to an airtight container to store. 
How to Store:
These coconut balls store wonderfully. Store them airtight for up to a week at room temperature or up to 2 weeks in the refrigerator. They also freeze great to make ahead. Just store them in the freezer in an airtight container for up to 2 months. Thaw them at room temperature. 
Variations:
This recipe is so simple in its flavors, so it can easily be amped up with variations! Here are a few fun ideas:
Drizzle with or dip in melted chocolate! You can use semi-sweet, milk, or white chocolate to make chocolate coconut balls! If you dip them in coconut, you can cut the chocolate with a little coconut oil or shortening to thin it out. Simply use a fork to dip into the melted chocolate coating, tap off the excess chocolate, and allow them to set up at room temperature or in the fridge. 
Place an almond on top and dip the whole ball in chocolate for an Almond Joy vibe! Really any nuts would be great in these…think hazelnuts with a chocolate drizzle!
You could even mix mini chocolate chips right into the coconut mixture before forming them into balls.
Sprinkle in a little cinnamon to to coconut mixture for a cinnamon sugar version!
Melt some caramel candies and drizzle caramel on top for a sticky sweet treat. Sprinkle a little flaked sea salt on that caramel for the ultimate salted caramel truffle. 
Add in a little vanilla extract, almond extract, or rum extract to really add more flavor to these coconut truffles. You could even add in a little coconut extract to add to the coconut flavor! 
Click here for the full recipe over at Imperial Sugar.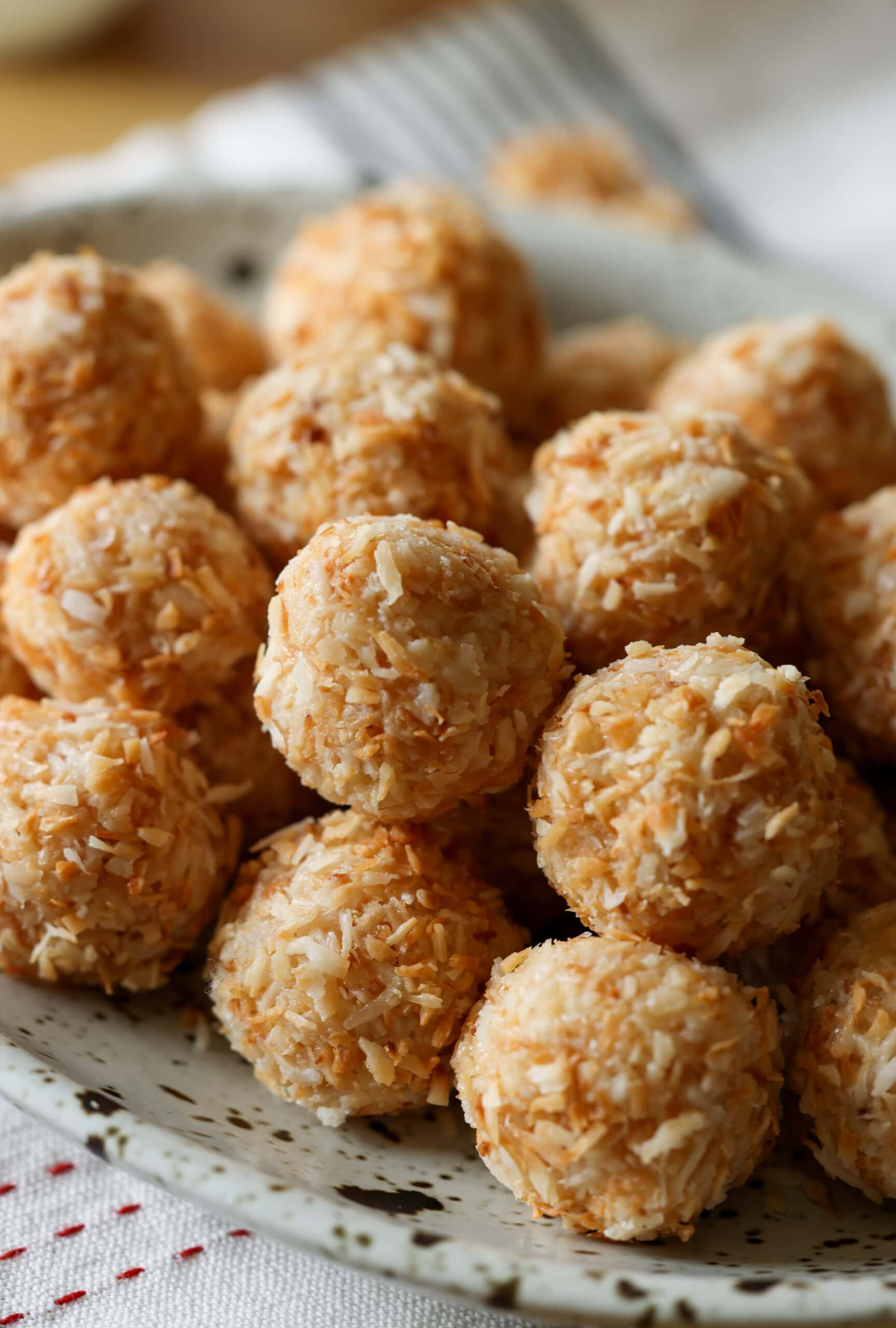 Love Coconut? Try These Recipes Too:
PIN for later: