News
Hands On: One Man's Vision Shaped The GBA-Style GameForce CHI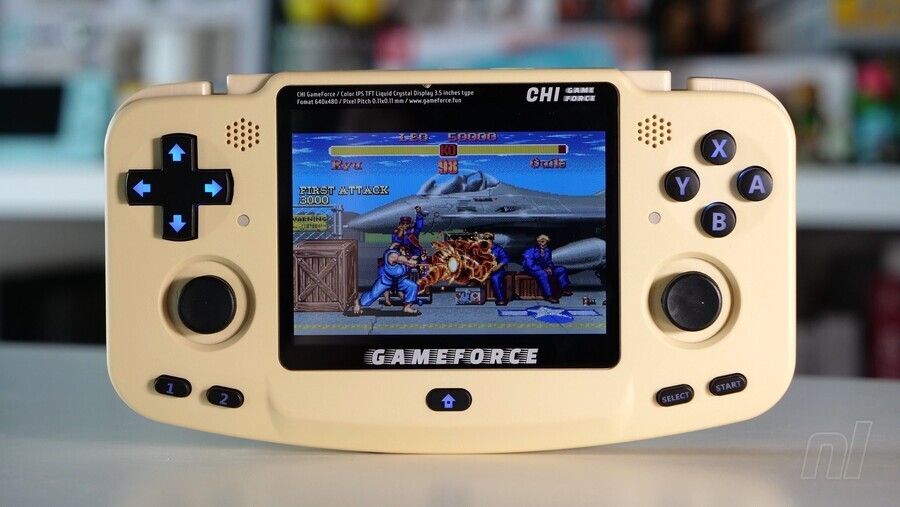 If you're familiar with the raft of emulation-focused handhelds that have been emerging from China over the past few years, then the work of Anbernic and Bitt Boy will no doubt be on your radar already. While these are clearly small-fry when compared to the likes of Nintendo, Sony and Microsoft, they're still firms with a fair amount of resources at their disposal.
GameForce might, at first glance, seem like a very similar outfit, but it's largely the work of a single person, Gao Feng, a retro gaming enthusiast who has made it his aim to create the perfect emulation-based portable.
The end result is the GameForce CHI, a Game Boy Advance-style handheld that runs the EmuELEC OS and boasts features like a 640 x 480 resolution screen, WiFi, dual analogue sticks and a 3000mAh battery. It's all powered by the Rockchip RK3326 – the same 'system on a chip' found in many other Chinese handhelds – and stores emulators and ROMs on MicroSD cards.
At first glance, the GameForce CHI looks very cheap indeed, a fact which isn't helped by the rather gimmicky LEDs inside the case, which light up during play (you can change their colour or disable them entirely). The plastic casing is solid enough but the design is rather childish, while the buttons feel a little off to begin with. However, it's clear that Gao Feng has spent a lot of time honing the ergonomics on this one, because despite the awkward appearance, it's actually very comfortable to use. The screen is also fantastic.
It's worth noting that Gao Feng supplies the handheld without any OS or games loaded up – there's not even a MicroSD card included normally. However, resellers – like DroiX, who kindly supplied the unit featured here – will bundle EmuELEC with the device. You still need to source your own ROMs (legally, if at all possible), of course, but having the OS ready out-of-the-box certainly makes things easier.
Emulation of anything prior to the PlayStation is rock solid, and the GameForce CHI's gorgeous screen and punchy speakers make for a very pleasing AV experience. The D-pad is also fantastic, and we like the fact that it's positioned high on the casing, above the left-hand analogue stick. However, when running stuff like N64 and PSP, performance is a little more hit-and-miss – as was the case on both the Anbernic R351 and Retroid Pocket 2.
There are some serious issues to note here, however. Production standards are clearly below what you'd expect from other firms; there was dust trapped under the screen of our review unit, and the protective screen which sits over the display had a printing fault at the top, so don't get expecting Nintendo-style quality here. Brain-bending button combinations are required to do simple things like exit an emulator or change the volume level, and these vary depending on whether you're in the EmuELEC UI or in an emulator, which isn't ideal.
Because of this, it's hard to recommend the GameForce CHI over rivals like the R351, but perhaps Gao Feng can evolve this concept and produce something which is closer to his vision next time around.
---
Thanks to DroiX for supplying the GameForce CHI unit used in this feature.