Tattoo artist Maksim Twenty Eight of Gangstas Paradise Tattoo in Moscow, Russia tells us about his journey to become a tattooer and artist, how he strives to keep developing his craft and the ornament-inspired tattoos he creates…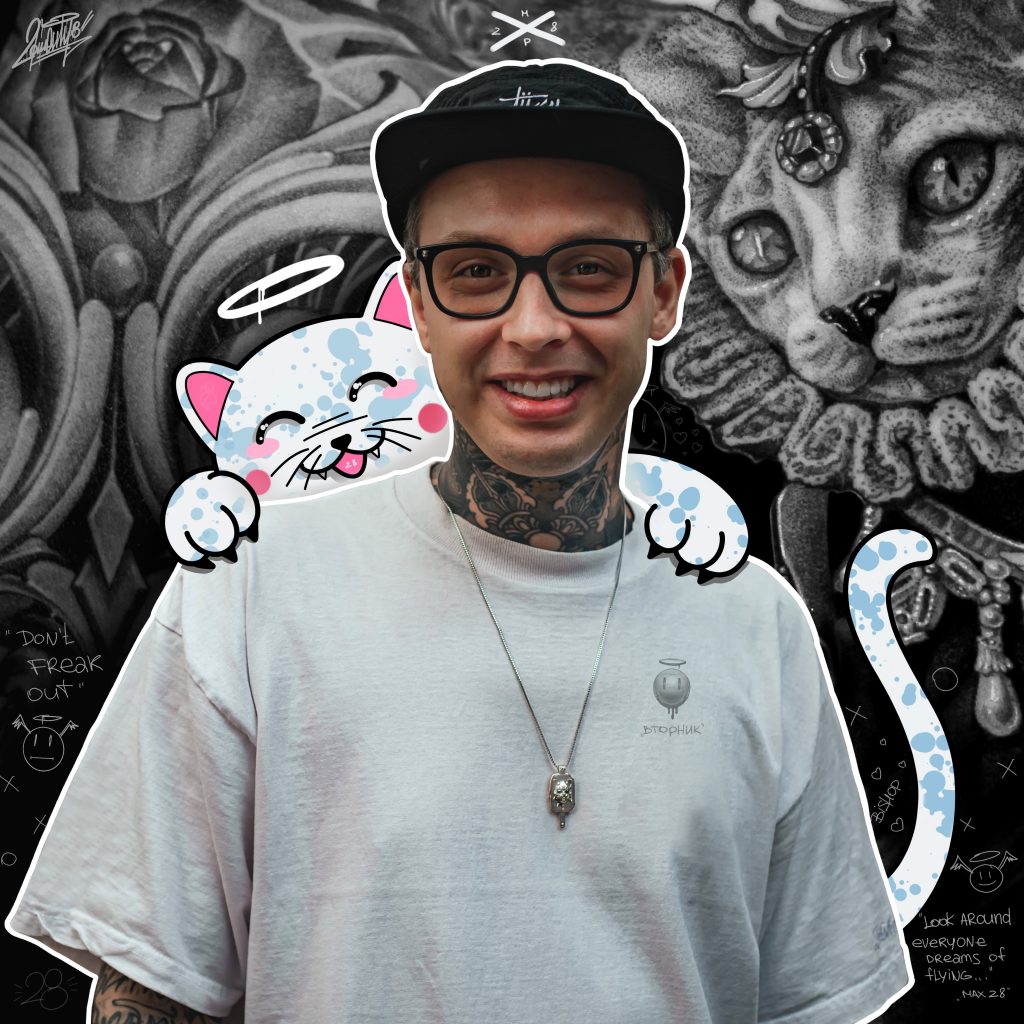 What inspired you to become a tattoo artist? How did you become an artist? I've always loved tattoos and at school I became interested in heavy music and rock culture, which only increased my interest in tattooing. Back then I couldn't imagine that tattooing would occupy such an important place in my life and become my main occupation.
Initially, I showed a great interest in music and dreamed of connecting my life to it. But I've always drawn and done art. It just so happened that in the end I received an art and pedagogical education in the speciality – Teacher of Fine Arts. Since then, drawing has taken up most of my time.
At the age of 18, I started getting tattooed in one of my hometown's tattoo studios. At the time I was already getting an art education and somehow everything coincided so much so that my tattoo artist invited me to start working in his studio. And of course I agreed. It was in that studio that I learnt the basics of tattooing and began my journey.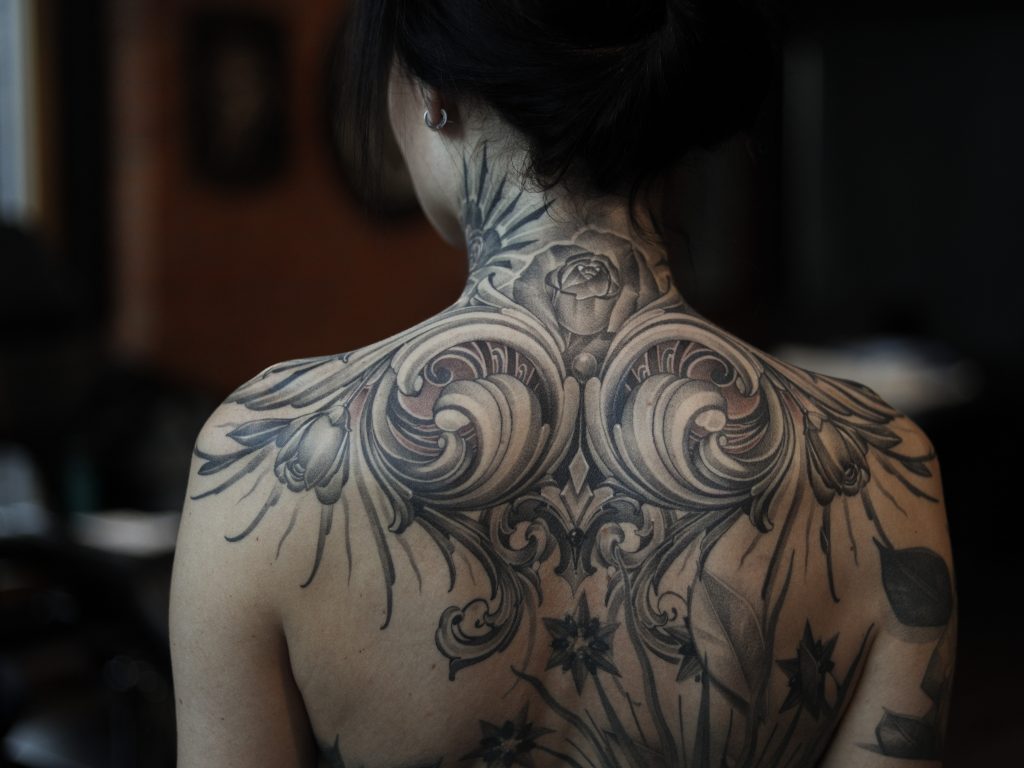 Have you always tattooed like you do now? I have been tattooing for 11 years and I'm always in search of interesting solutions and new ideas for my work. During my career, I have worked in many artistic styles which has allowed me to gather enough knowledge and experience to develop my handwriting. It's helped me find a balance between technical and artistic moments in my work.
Now my works are mainly Baroque floral ornaments and stylised realistic objects with the addition of ornaments and various details. These range from all sorts of realistic objects and lettering to cartoon characters and elements of street art culture.
What attracted you to this type of tattooing? It's the perfect style for my mindset as it allows me to be creative in my work and be free, even within the limits set by my client. Very often, or rather almost always, I allow myself to go beyond these limits when creating a design. I am very glad that there have been no refusals and customers are always pleasantly surprised by what they see. This allows me to work with pleasure, which is very important when creating a good tattoo. 
I love the details! My perseverance helps me to give them a lot of attention. And I see that people like that. I think that sets me apart.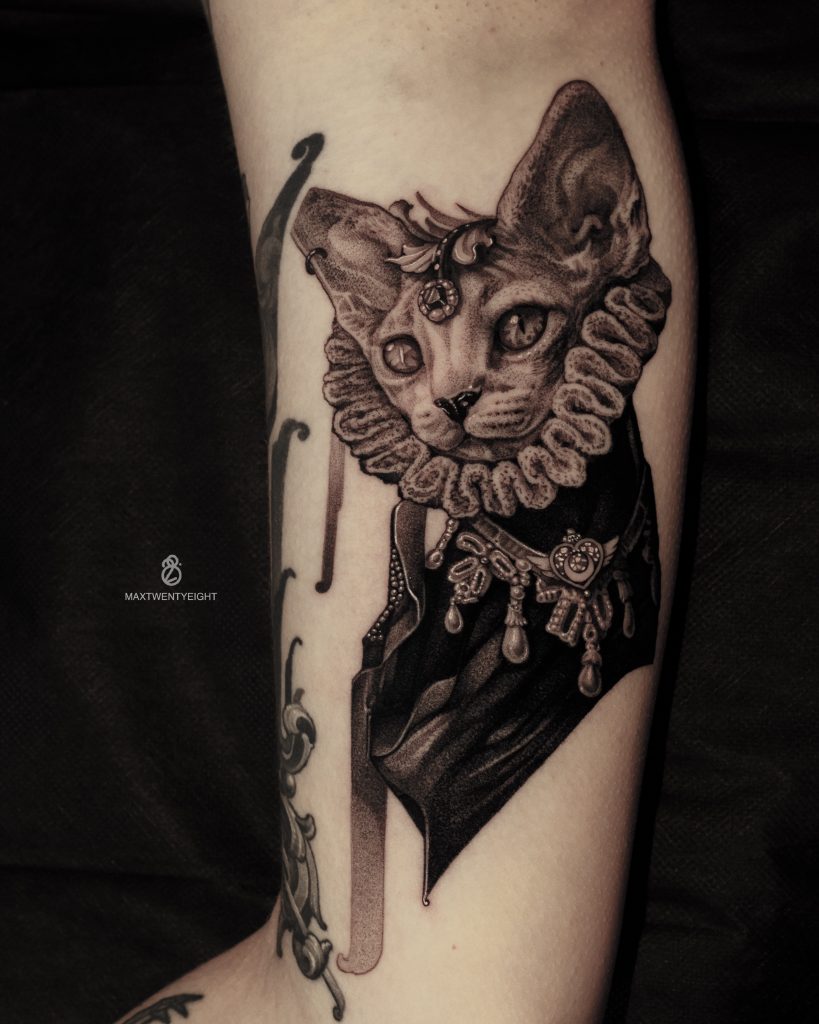 Can you tell us about the process behind your tattoos? During the first conversation at the consultation, I try to get as much information as possible about how the client sees their tattoo. It helps me understand which direction to take the tattoo and what will suit this person best. If a person wants a certain object, but in my style, I just need to determine the list of details that are possible in the design. Some details I offer myself or add in when I create the design.
Most of the time I scroll through all the projects in my head, looking for new interesting options. This process is very important to me, because it means my brain is constantly working and processing. I develop the design the day before the session, my clients don't see the design until the moment of the session. This usually adds a little intrigue and excitement – I love seeing their first reaction!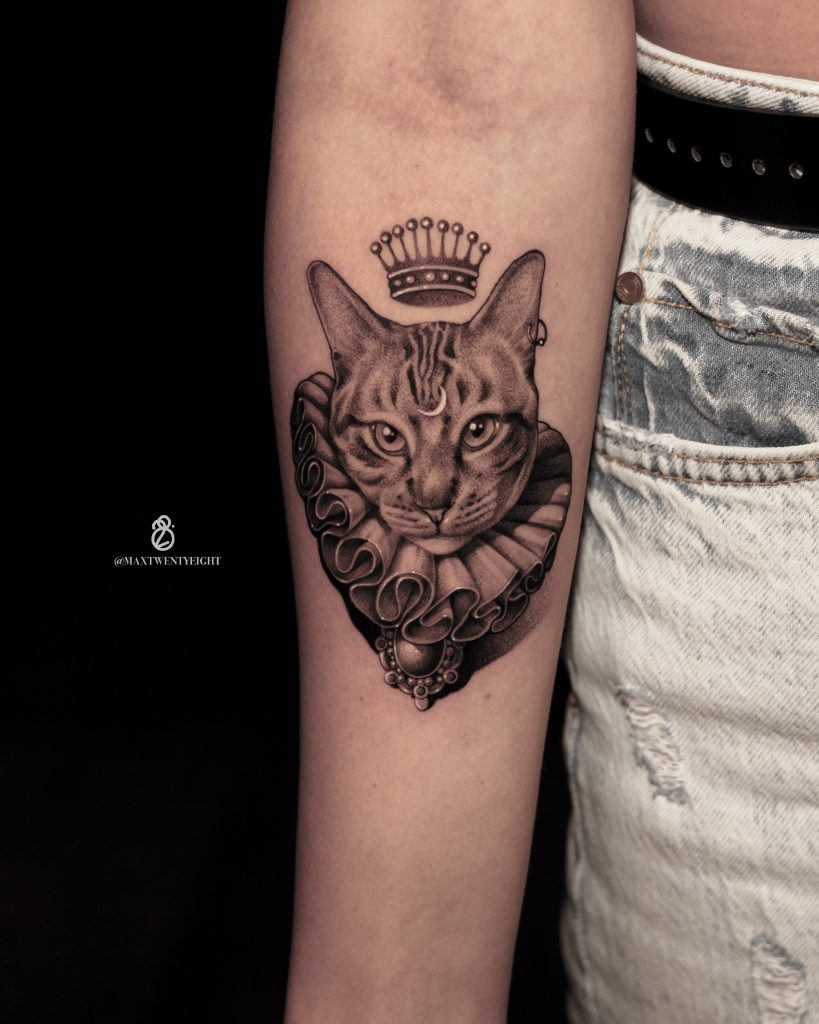 What inspires you? I am very inspired by music! It takes up quite a large part of my life. I create music in my spare time as it helps to relax my brain. I also love to watch detective thrillers – my love of observation and detail works here too. In general, I have a lot of sources for inspiration ranging from a simple smile to grandiose films and events.
What do you like to tattoo and what would you like to do more? Most of all I'm interested in Baroque floral ornaments and combining them with various objects and elements of street art culture. In ornaments and street art there is a certain and very strong atmosphere. They're completely different, but saying that they do have something in common. The ornaments and street art are both part of the exterior and interior and I'm very interested to see where mixing them will lead.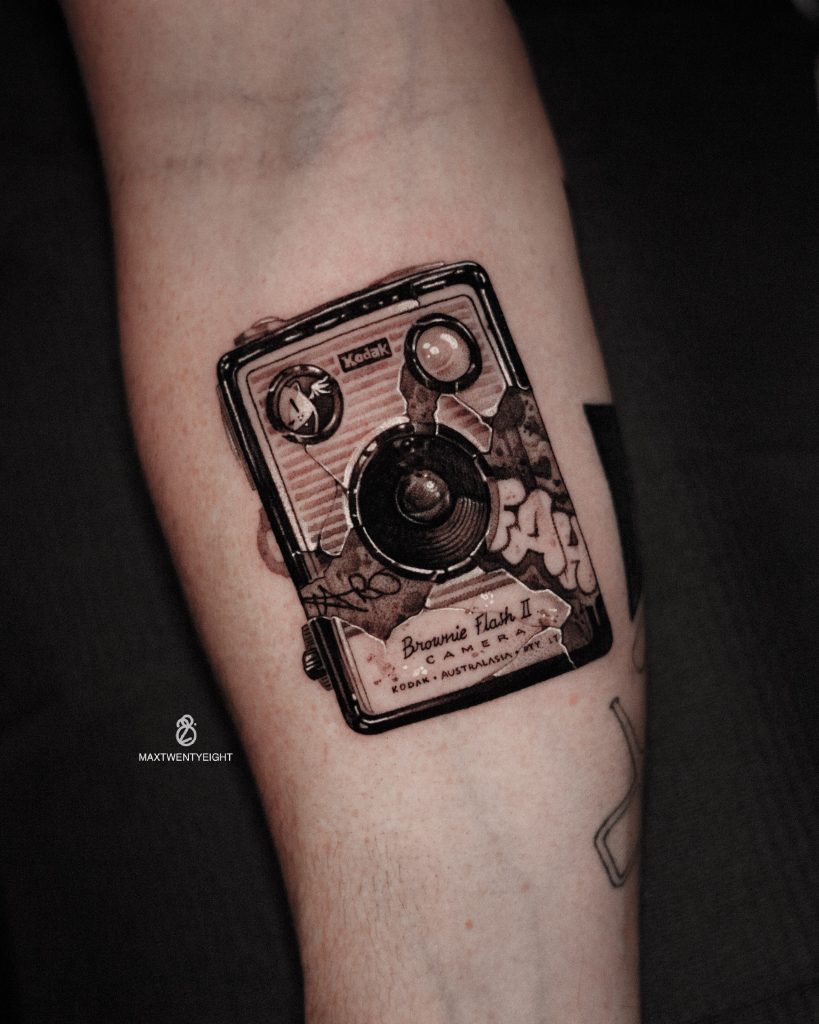 Can you tell us about your own tattoos? Are you a tattoo collector? I have a lot of tattoos and they all appear on my skin often spontaneously. I never had the goal of tattooing my entire body, but over the years I've met many different and very interesting masters and received tattoos from them – as a sign of respect for their work. All my tattoos are like a part of my memory and I think it's beautiful. I think I can call myself a tattoo collector.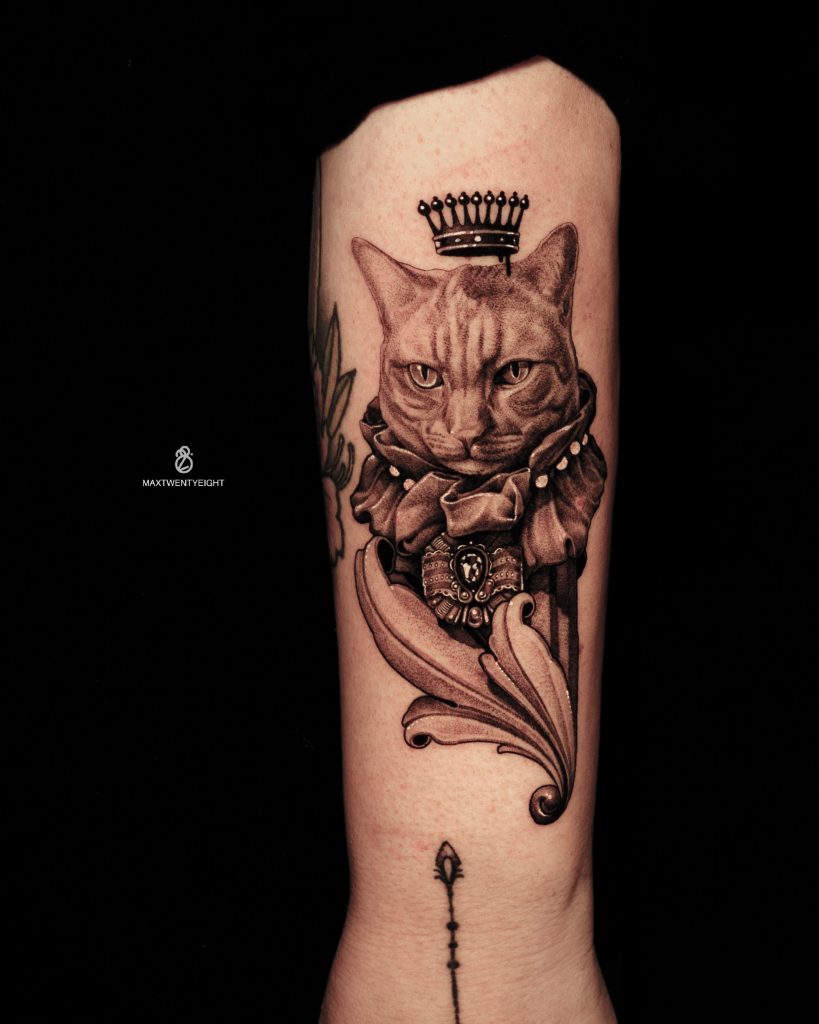 What is the tattoo scene like where you are? In Russia, modern tattooing, relative to tattooing in Europe or America, began its journey relatively recently. But in a fairly short time gained momentum and gave the world of tattooing a lot of big names. The growing interest in this craft among artists contributed to the rapid growth of the industry in Russia. Tattoo conventions in Russia are held at a very high level too.
It seems to me that the presence of modern and safe technologies as well as strong masters is only half of what is needed for tattooers to develop creatively. The other half being the mentality of the society in which an artist lives. Often new customers talk to me about the fear of accepting something new or something they've seen online. This fear of can hinder my development as an artist. To counteract this I've travelled a lot to help me develop creatively and communicate with other tattooists from other countries.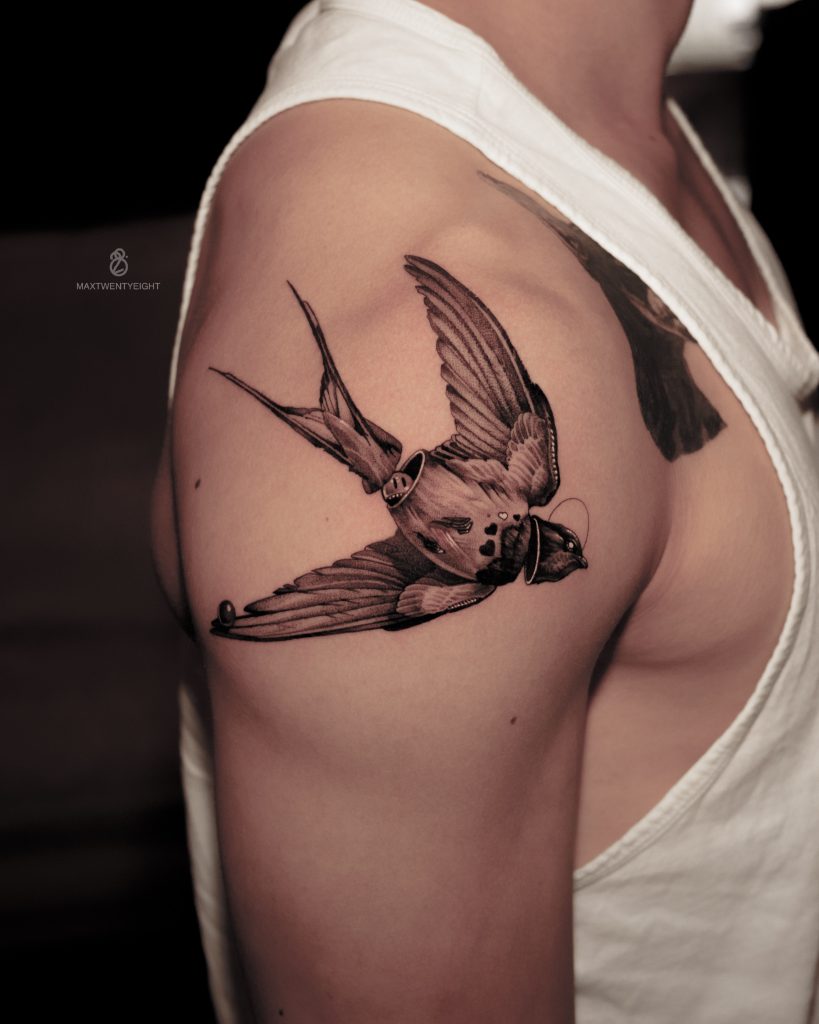 Have you got any plans for future tattoo conventions? In the past few years, it has been psychologically difficult for me to tattoo at large events, as my work requires a lot of attention to detail and focus. Tattooing at conventions can affect the quality of my work. That's why I try to exhibit already existing projects, and devote time at conventions to communicating and demonstrating my work on canvases only.
Do you have any future projects you want to share with us? Currently, I try to devote a lot of time to painting and creating new concepts for myself. I also plan to participate in various exhibitions, including a personal one.
In the last year I have become very interested in graffiti which allows me more of an understanding and way to develop my drawing and tattooing. The attention I receive is very motivating and pushes me to create even more complex and interesting works.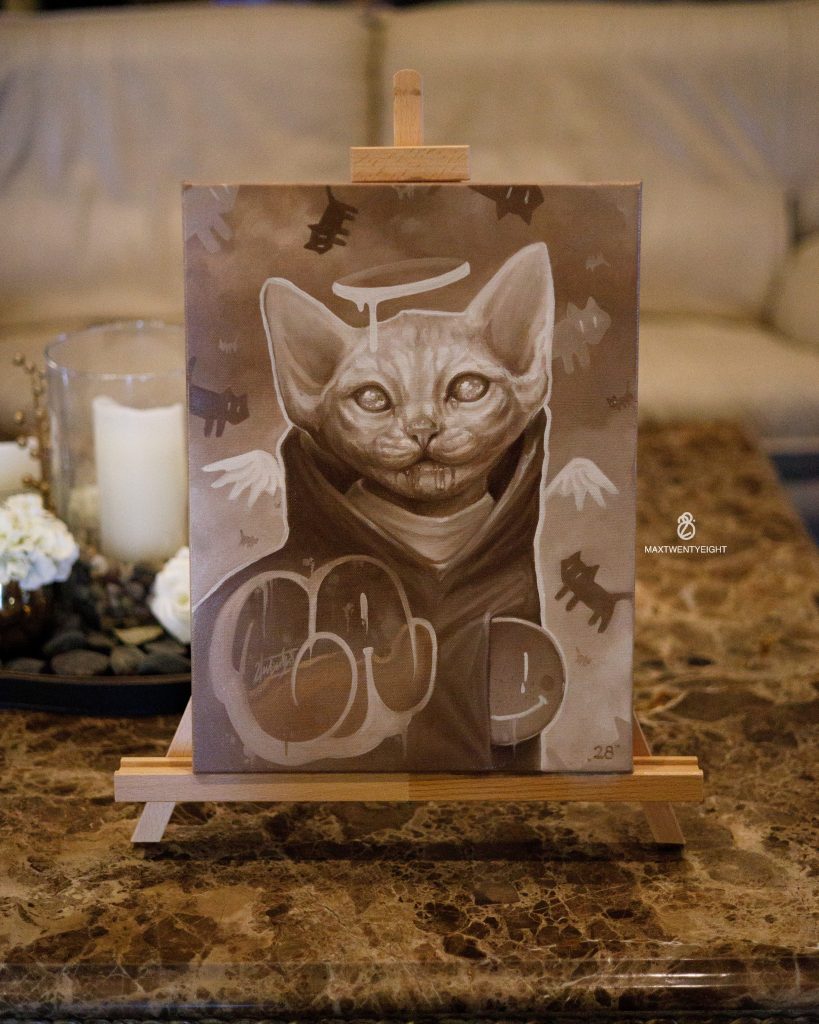 Can you tell us about your own art exhibition? As I said, in addition to tattoos, I spend a lot of time drawing. In my spare time, I paint canvases, experiment with various techniques and materials. I try in every possible way to expand the range of my skills and abilities. 
At the Moscow Tattoo Convention 2021, I presented a series of my experimental canvases and art objects. All works from the exhibition are made in colour, which is rarely present in my work. On these canvases, I tried to show my vision of the problems of a modern person who tries in every way to hide from himself in pursuit of illusions, which leads to negative consequences.
I care about and want to show in my art similar topics, such as loneliness and depression. Unfortunately, there is a lot of this around us, but some do not see it, while others hide it. With my creativity, I want to show that if you listen to yourself, look a little further than you usually would and stop being afraid to accept this world, you can solve many problems and achieve a lot.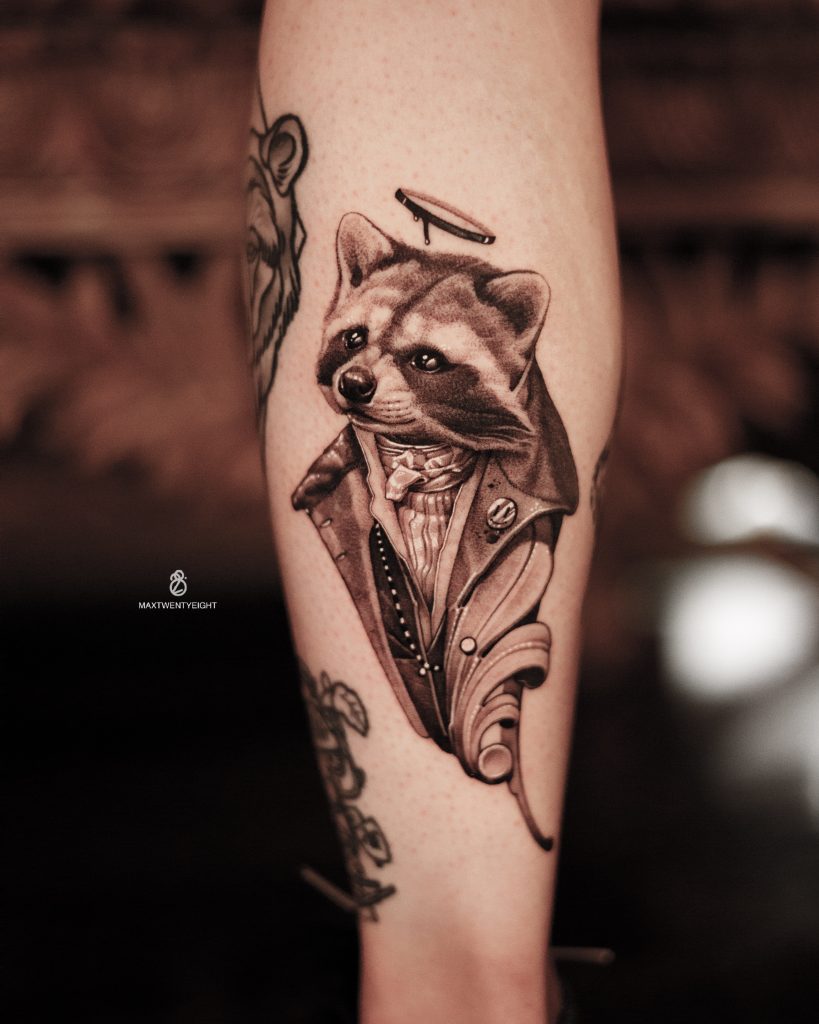 What moment in your career are you most proud of? I think for me it's mostly moments of joy rather than pride that stand out. When you receive an award at the convention, when you read or listen to words of gratitude from colleagues or clients. All this is a reminder that all your trying is not in vain, plus it pushes me to start working even harder. As an artist, I'm not at all interested in getting credit without doing anything. I create because I can and because I like it – if it makes the world a better place then I'm happy.
Make sure to follow Maksim on Instagram for more amazing tattoos.