Tattoo artist Sarah Terry is currently on-the-road in the UK, here she tells us about her journey to becoming a nomad tattooer and the tattoos she creates along the way…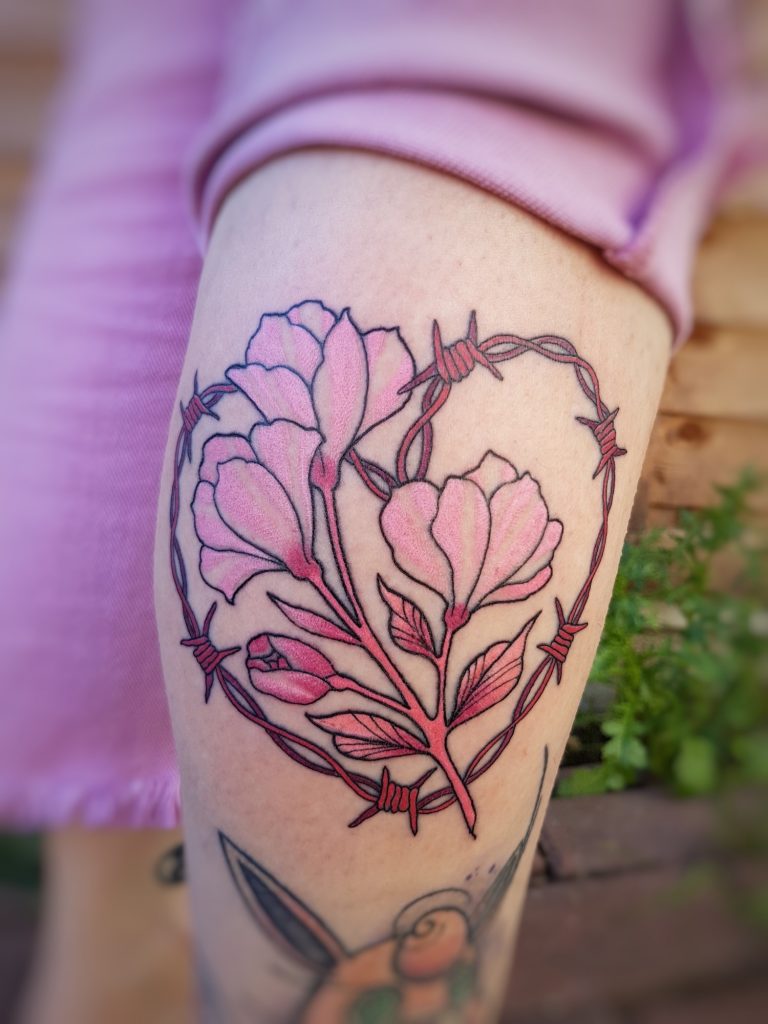 What inspired you to become a tattoo artist? I've always wanted to be a tattoo artist ever since I was little. I used to look at heavily tattooed people and want to be like them. I always loved art, and it seemed like the perfect career! I remember designing my first tattoo during my year 7 English exam (and getting it tattooed on my 18th birthday!)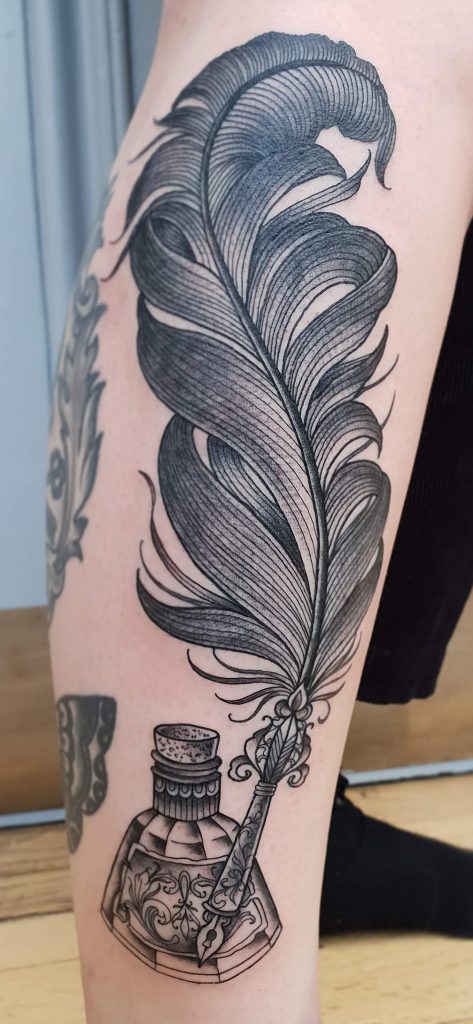 How did you become an artist? Despite always wanting to be a tattooer, my art career was actually more textiles focused from school onwards. I studied embroidery at university, started running workshops in schools and eventually earned my teaching certificate. This led me to working in a youth offender institute teaching young prisoners.
It was during this time that Instagram launched and suddenly my eyes were opened to the possibilities of tattooing. I got excited about it again and started talking to prison officers about how I'd always wanted to tattoo. They were really encouraging so I started looking for an apprenticeship. I was teaching during the day, drawing and painting at night. It took me about one and a half years to finally find an apprenticeship and I haven't looked back since. I sometimes have to pinch myself – I'm literally doing my dream job!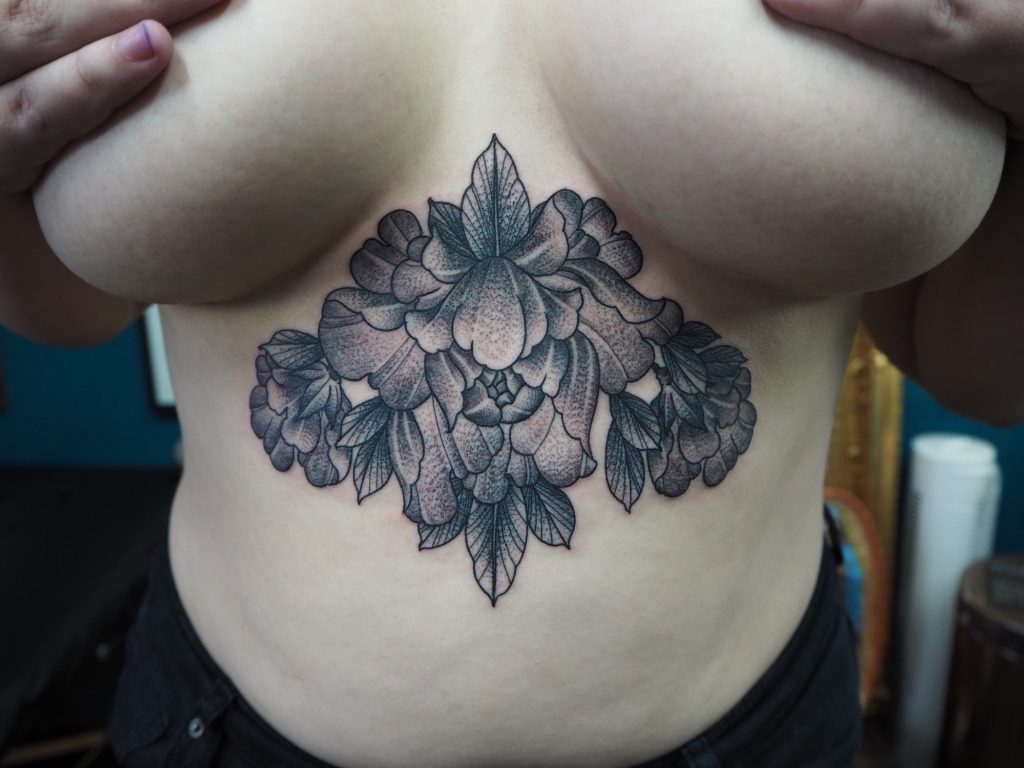 How would you describe your style?  I'd say colourful neotraditional florals (but I'm also willing and able to do dotwork too).
Can you tell us about the process behind your tattoos? I usually draw a week before my appointments. I used to do it as and when, but found it helped my anxiety to have a day dedicated to it instead. I'm lucky now that a lot of requests are for my style – I have a huge photo gallery of flowers and my latest obsession, mushrooms  – that I use as reference. That way I can ensure that my customers are getting truly original content, not just something from the first few pages of Google. I use an Ipad to draw, I usually draft my drawings several times before rendering the final design.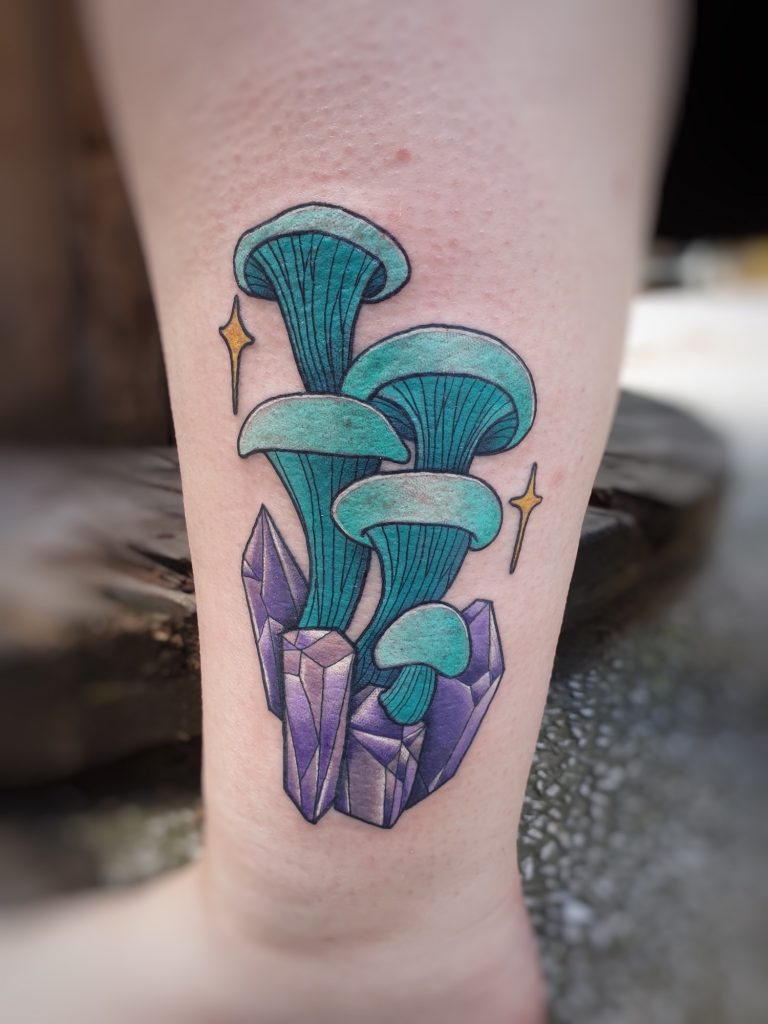 What inspires you? What inspires your flash designs? Readers will probably not be surprised to learn that nature is my biggest inspiration. I've always loved drawing organic things- there's just so many beautiful and incredible things out there. I'm particularly inspired by juxtapositions – light/dark, natural/man made, etc. I am also inspired by textile design, print, folk art and fashion. 
What do you like to tattoo and what would you like to do more of? I love tattooing flowers and mushrooms, and honestly I just want to do more of that! I'd specifically like to explore more larger, freehand projects that work organically with the body. I'm prepared to do some great deals for any customers who'd like to collaborate with me on anything like this. Please do get in touch! 
Can you tell us about your own tattoos? Are you a tattoo collector? I am HUGE tattoo geek! I am incredibly proud of my own collection which includes pieces by Claudia de Sabe, Sneaky Mitch, Wendy Pham, Stu Pagdin, Maverick Reeve, Danielle Rose and Gem Carter (who just finished my incredible back piece). I'm almost covered now but I've got plans to see Joe Frost soon to fill my last big space. I have a huge amount of bird tattoos, closely followed by tigers and cats. And of course, flowers! I don't have any barbed wire or mushrooms yet, think I'll need to remedy that!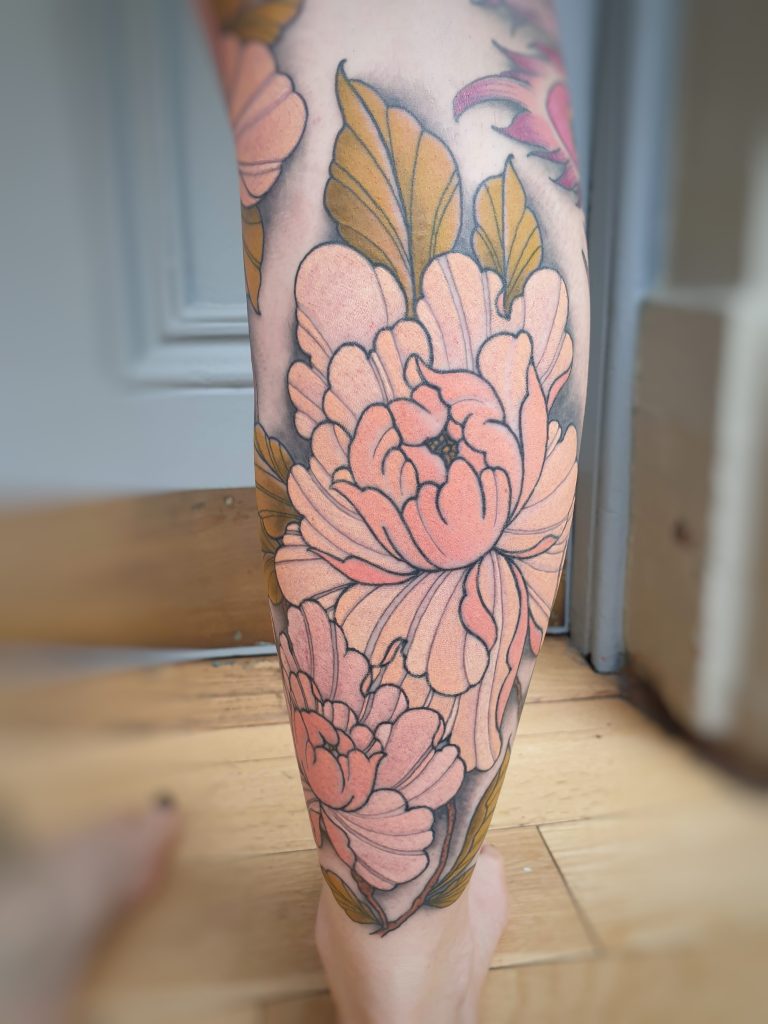 What inspired you to be an on-the-road artist? During 2020 I got divorced and sold my house. The first thing I wanted to do was explore my new found freedom. I literally had the chance to start again – but I didn't know where. This journey is about seeing places in the UK I've never seen before, in the hopes that I'll find my next spot to settle. Part of it is about meeting new people and creating new friendships with other artists and customers all over this country, and part of it is about enjoying my life for myself after living for a long time for someone else.
How does guesting compare to tattooing in one studio? Well I basically tattoo out of a plastic bag these days! (if it's good enough for Claudia it's good enough for me!) It can be a bit stressful packing up and moving on so much, but it's worth it as I get to see so many new places and meet new people. Life is for living and I'm all about the experiences!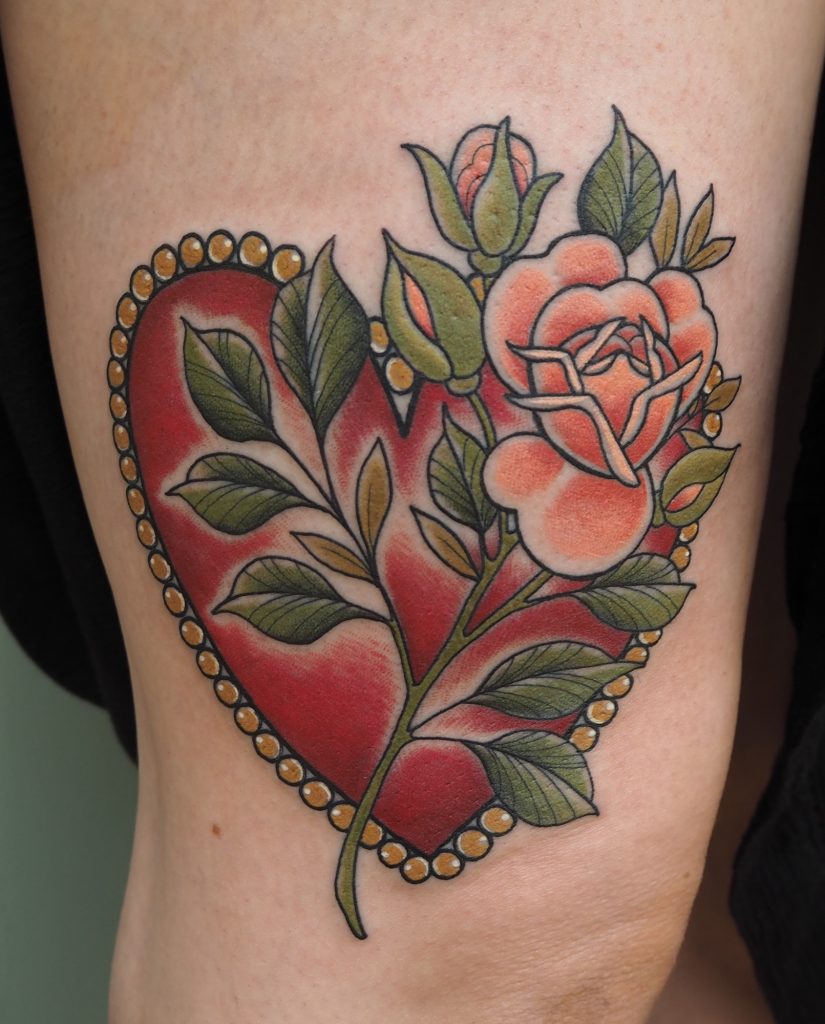 Where can people get tattooed by you? I have regular monthly guest spots at Tooth and Talon in Manchester and The Gold Room in Leeds. I've got guest spots elsewhere in the UK being confirmed as we speak. I'm planning to visit Brighton, Birmingham, London, Wales, Norwich, Edinburgh, Glasgow and Dundee as well as a few others. I'll be updating these on my social media and my website so if anyone wants to get tattooed by me, please check those out!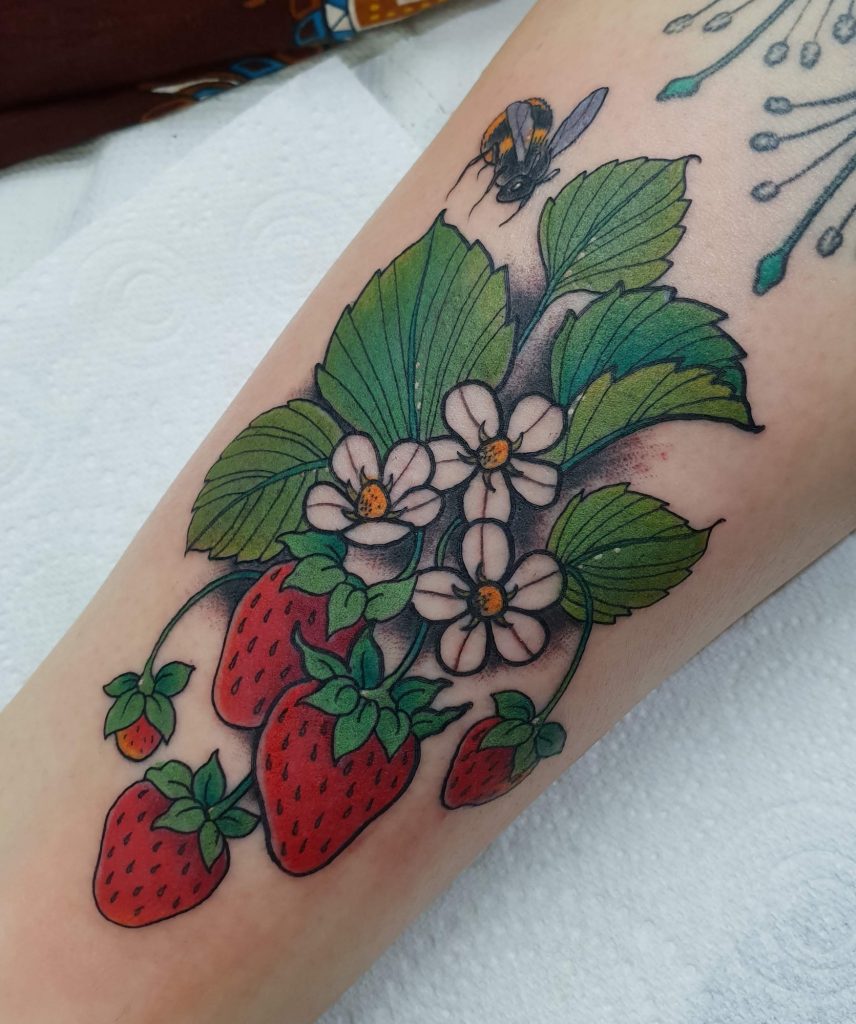 How have you been affected by the pandemic? I definitely feel like I've seen an affect. Having such a huge global event happen in our lifetime is bound to have an impact on everything! I think the pandemic, paired with my nomadic lifestyle, has made it harder to get bookings. Like anything – it's all about balance. I understand I've traded the opportunity to build a client base by moving around, but I hope in the end it will be worth it when I find my place and can settle there with all the amazing memories I've made. And hopefully I will have built a beautiful network of gorgeous clients all over the UK! 
Make sure to follow Sarah on Instagram for more tattoos and travel updates. Check out her available flash designs here.