SIGAK or @tattooist_sigak as you might know her, creates magical dream-like tattoos at Sol Tattoo Studio in Seoul, Korea. She also specialises in out of this world cover-ups, read on to find out more…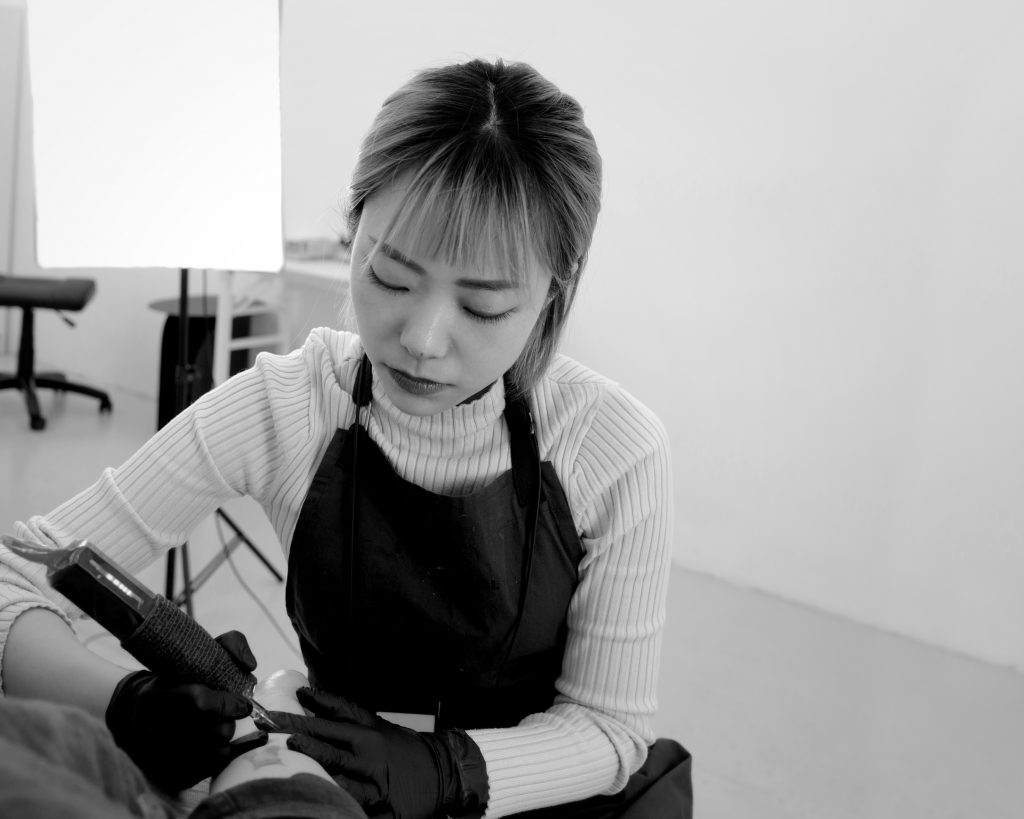 What inspired you to become a tattoo artist? How did you become an artist? I graduated from art middle school and high school and majored in fine art and art history at university. After graduating from university, I worked as an illustrator. While I was working a friend of mine who was a tattoo artist suggested that I learn to tattoo. So I did just that.
How would you describe your style? The world I create is a dreamy fantasy. I make fairy tale-like images with blue, purple and pink as the main colours.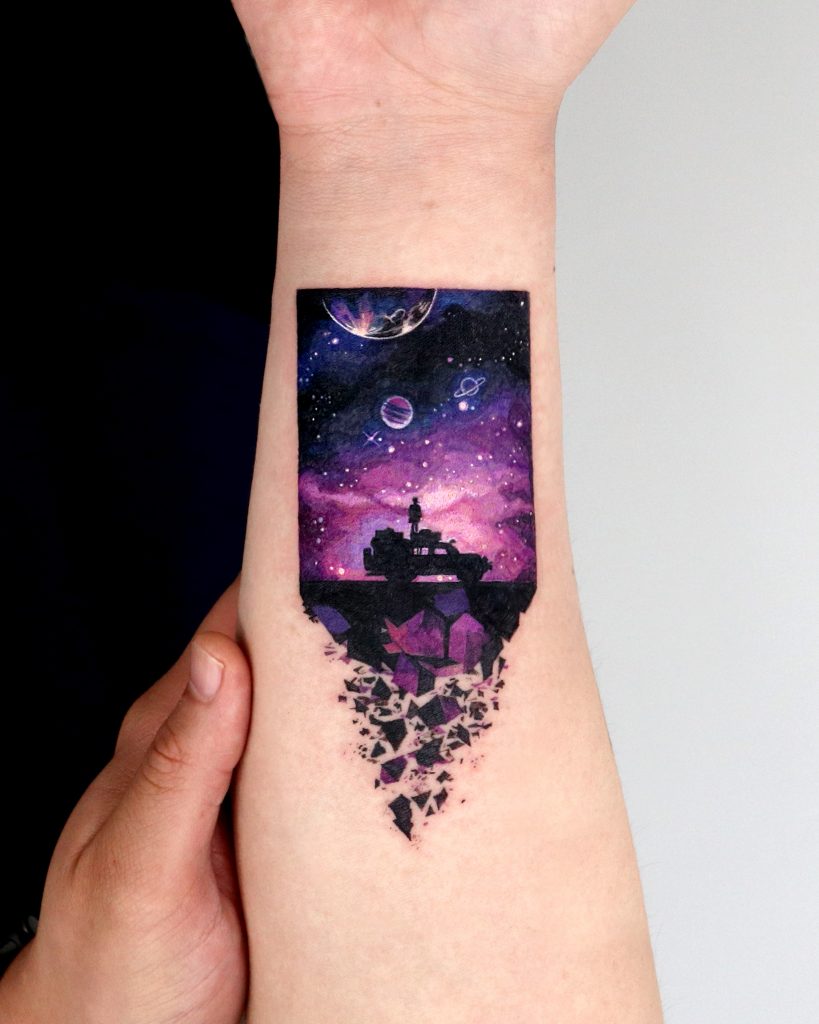 Have you always tattooed like you do now? At first, I tattooed illustrations that looked like they had been drawn with a pencil. My Instagram profile image is one of them. In the past I would draw galaxies, constellations, the night sky and clouds. Then after using only black ink, I gradually used various colours.
What attracted you to this type of tattooing? I am instinctively attracted to mother nature including her galaxies, night sky and the sea. Mother nature is an unknown world that humans cannot imagine, she is naturally out of reach. But, when you tattoo her on your skin you can have your own world.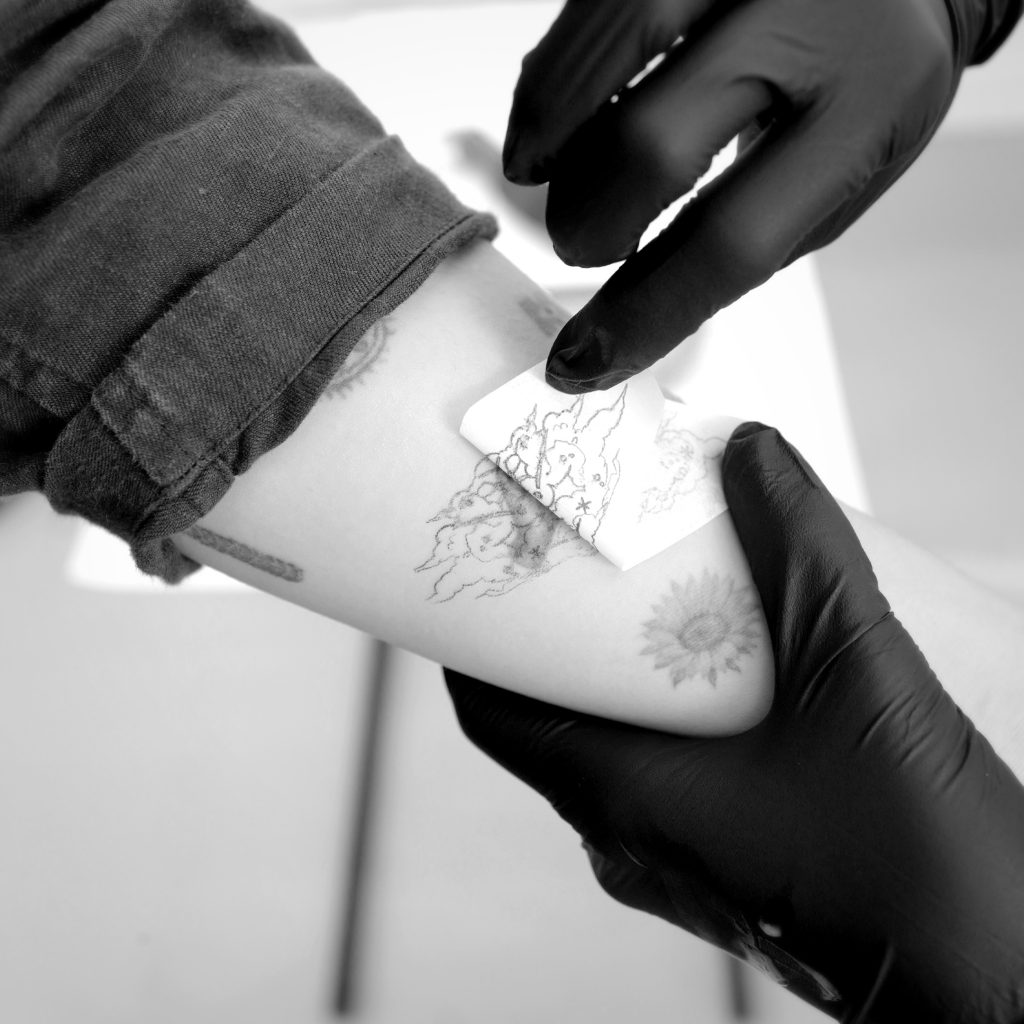 Can you tell us about the process behind your tattoos?  I discuss with a client the design they want and what we can do based on this. After that, I search for a reference image and create an appropriate design, then show it to the client. It usually takes three or four hours to make a design, but it depends on the details.
After the client confirms the design and I make any necessary modifications, tattooing then takes four to five hours. This is from the stencil to the photo shoot. This can also vary depending on the design or size.
Do you prefer to work in black and grey or colour? Both black and white and colour have their own charms, but I prefer colours. This is because even if the image is the same you can create a different atmosphere depending on the colours you use.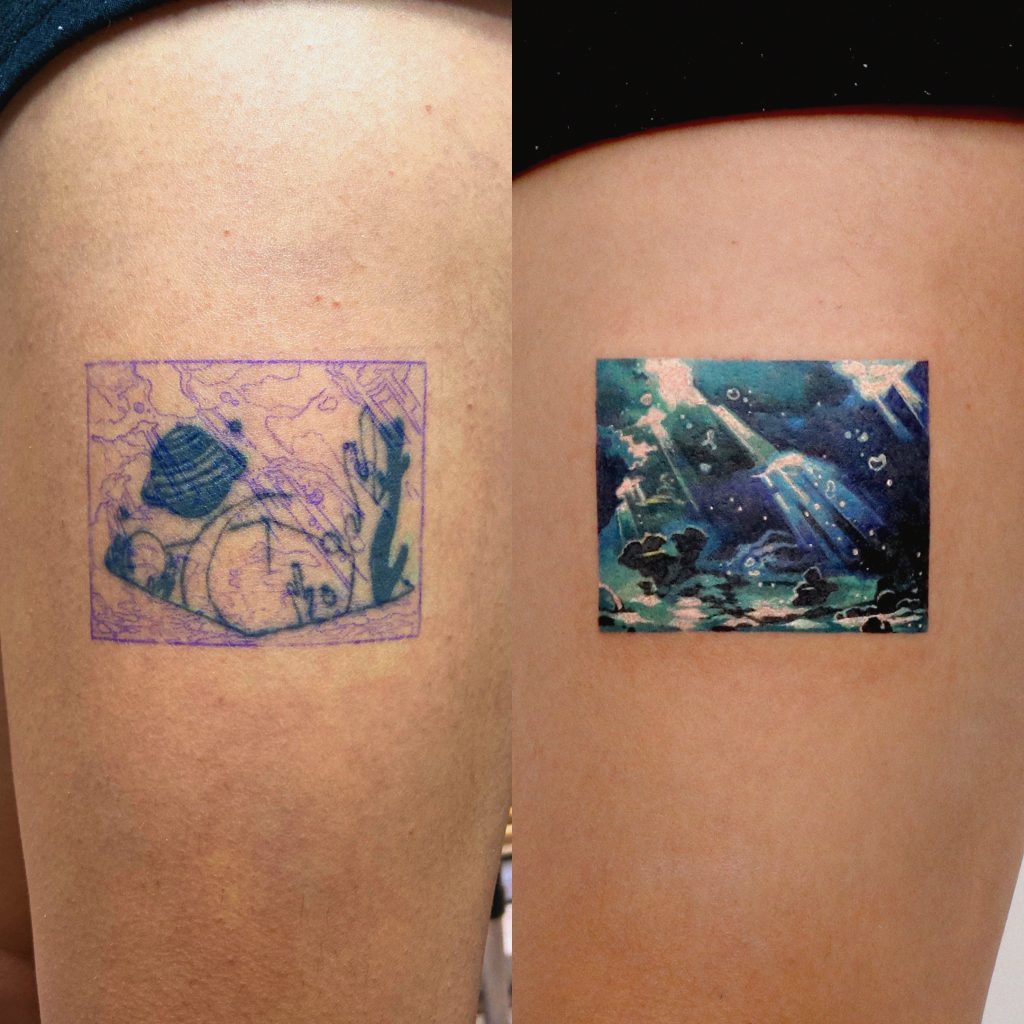 What inspires you? I get inspiration from a variety of things. Sometimes I think of design from novels, plays and music. But the most important thing for me is to always look at various pictures. The type of picture doesn't matter as I try to encounter an array of arts, because anything from modern art to commercial design can inspire me.
What do you like to tattoo and what would you like to do more of? My childhood dream was to become a writer like Antoine de Saint-Exupéry. Not only did he write a beautiful novel, but he also drew his own illustrations. I love how pictures and words can tell a story in different ways. It's a vague dream, but one day I want to be someone who delivers what they want to say in writing and illustrations.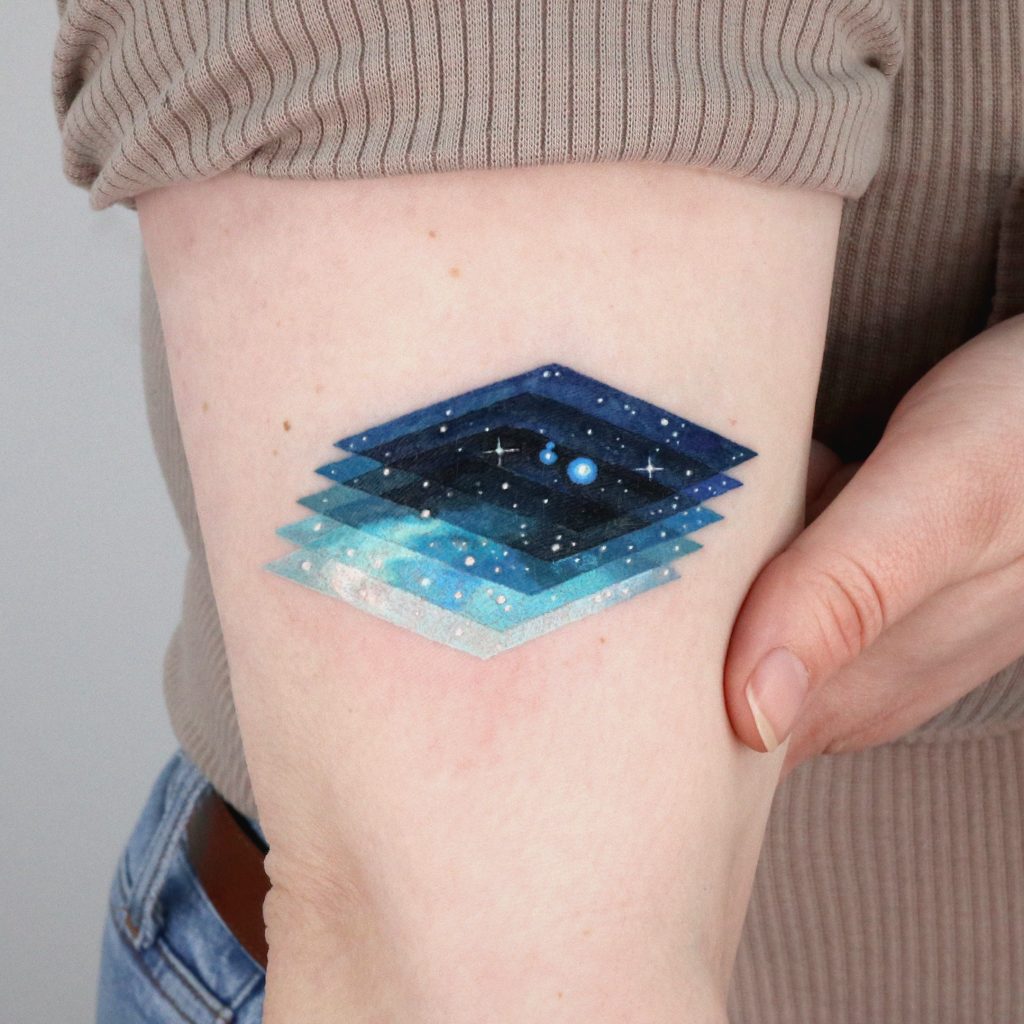 You specialise in cover-ups can you tell us more about this? Cover-up tattoos are making new tattoos on existing tattoos, scars, dots, etc. When designing cover-up tattoos it's best to design them in darker or similar colours than the existing tattoos. In addition, the condition of the existing tattoo or scar determines whether the procedure is possible or not. There needs to be a discussion between the artist and client before anything can happen.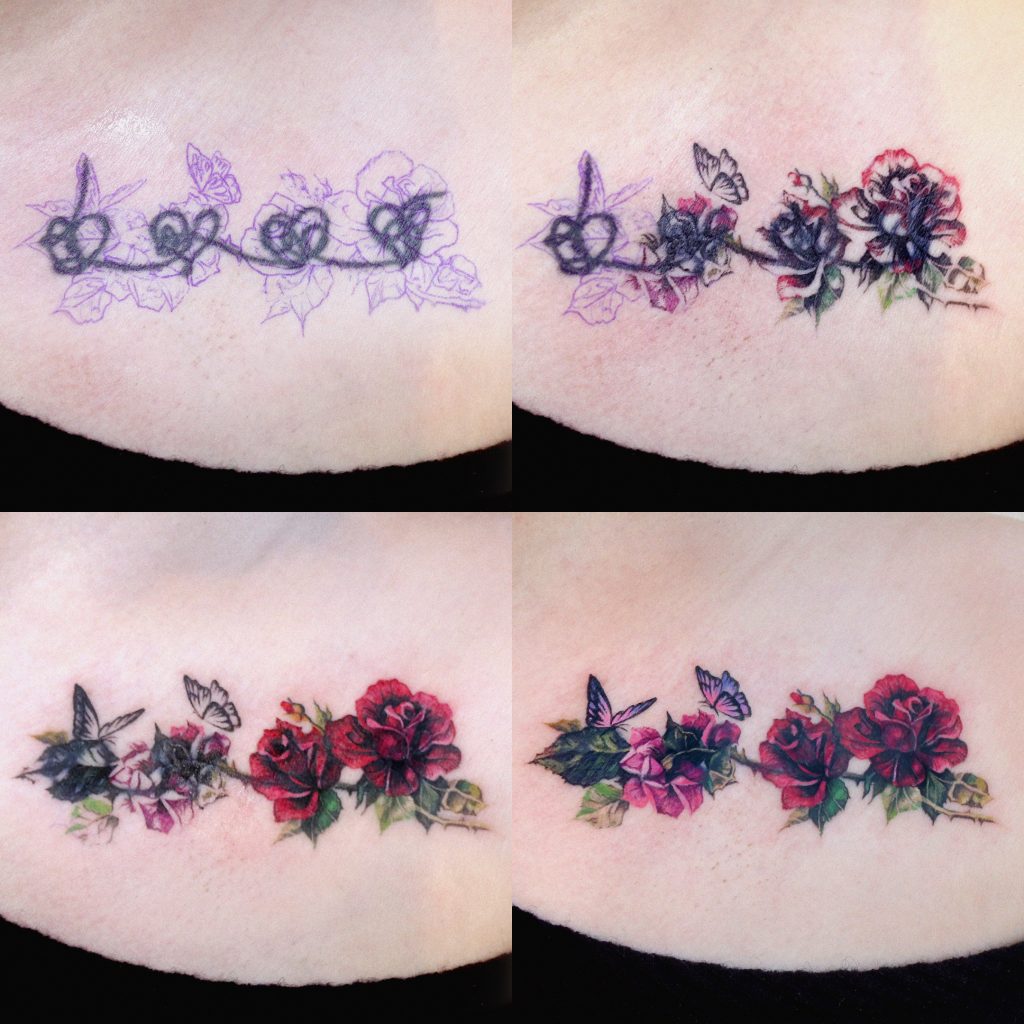 Are there any challenges when covering tattoos? If your tattoo is too dark or you have a lot of damage to your skin from when you got it, you will have difficulty in proceeding with the cover-up tattoo. The damaged skin is slightly convex compared to the other skin. which makes it difficult to paint a new colour onto it.
In the past, tattoo machines and needles were not as delicate as they are these days so, some people's skin was damaged during the tattoo process. I'm always more careful when I design cover-ups like this.
What would you like our readers to know about their cover-up options? If you want to cover your existing tattoo there are some things to consider. First of all, you're better off choosing a colour similar to or darker than your existing tattoo when you ask a tattoo artist for a design. You can try covering your tattoo with a brighter colour, but you may see your existing tattoo after everything has healed.
Secondly, you should be aware that the cover-up tattoo should be bigger than your existing tattoo. Thirdly, if you want to get a bright cover-up tattoo you'll need to remove the existing tattoo with one to two sessions of laser treatment. After that, when your skin is fully regenerated you will be able to choose a brighter colour.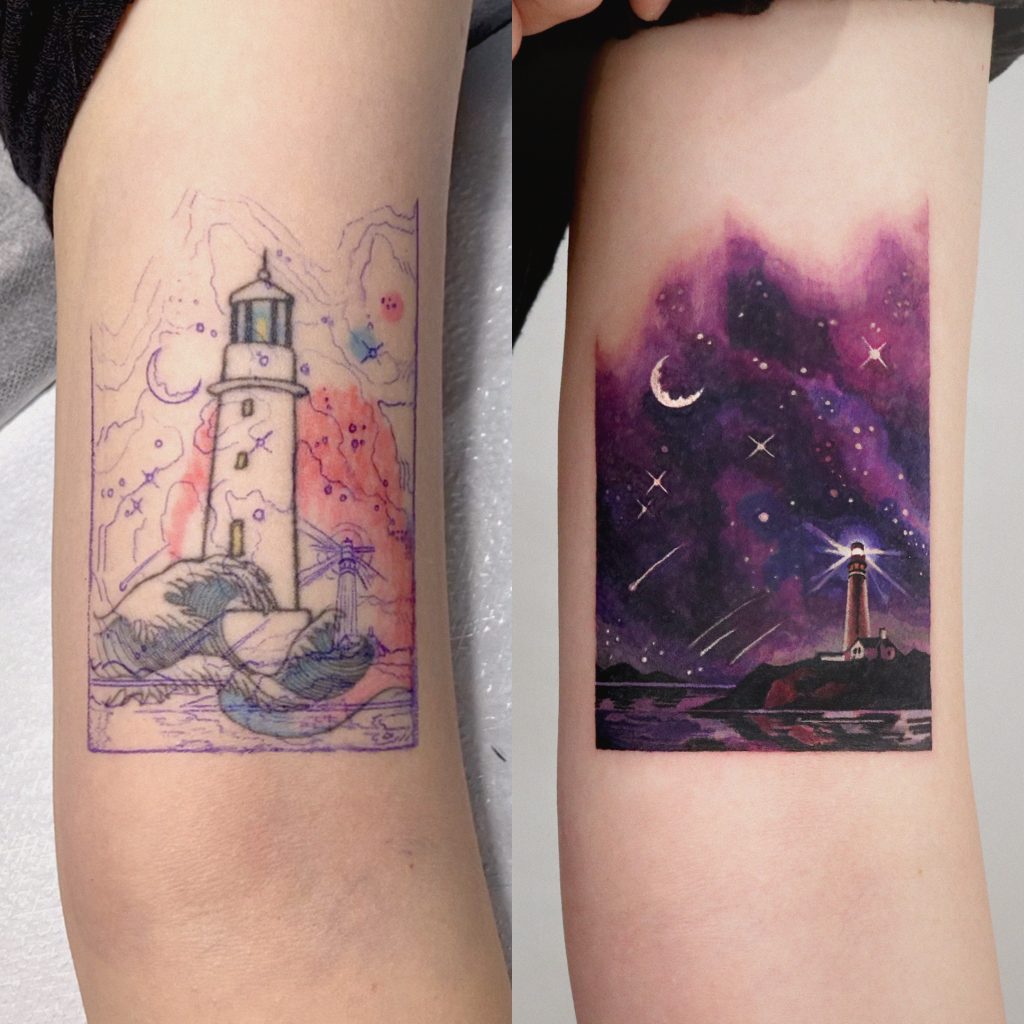 Can you tell us about your own tattoos? Are you a tattoo collector? I've only got four tattoos so I wouldn't call myself a tattoo collector. My first tattoo is a drawing of the earth, it's my Instagram profile picture. When I learnt to tattoo I had to practice on real skin so I tattooed myself. It's not great but I'm satisfied with this tattoo because it encompasses memories and my initial intentions.
My other three tattoos are about my family; I have a tattoo for my mother on the back of my neck, one for my father on the inside of my arm and tattoos related to my sister on my thighs.
What is the tattoo scene like where you are? In Asian cultures older generations have negative perceptions of tattoos. Some of them think tattoos are related to gangsters and violence – they think it's a dark culture. However, this perception is changing in the younger generation. Most people in their 20s and 30s are open to tattoos as a way to express their individuality. They also regard tattoos as fashion, accessories or art.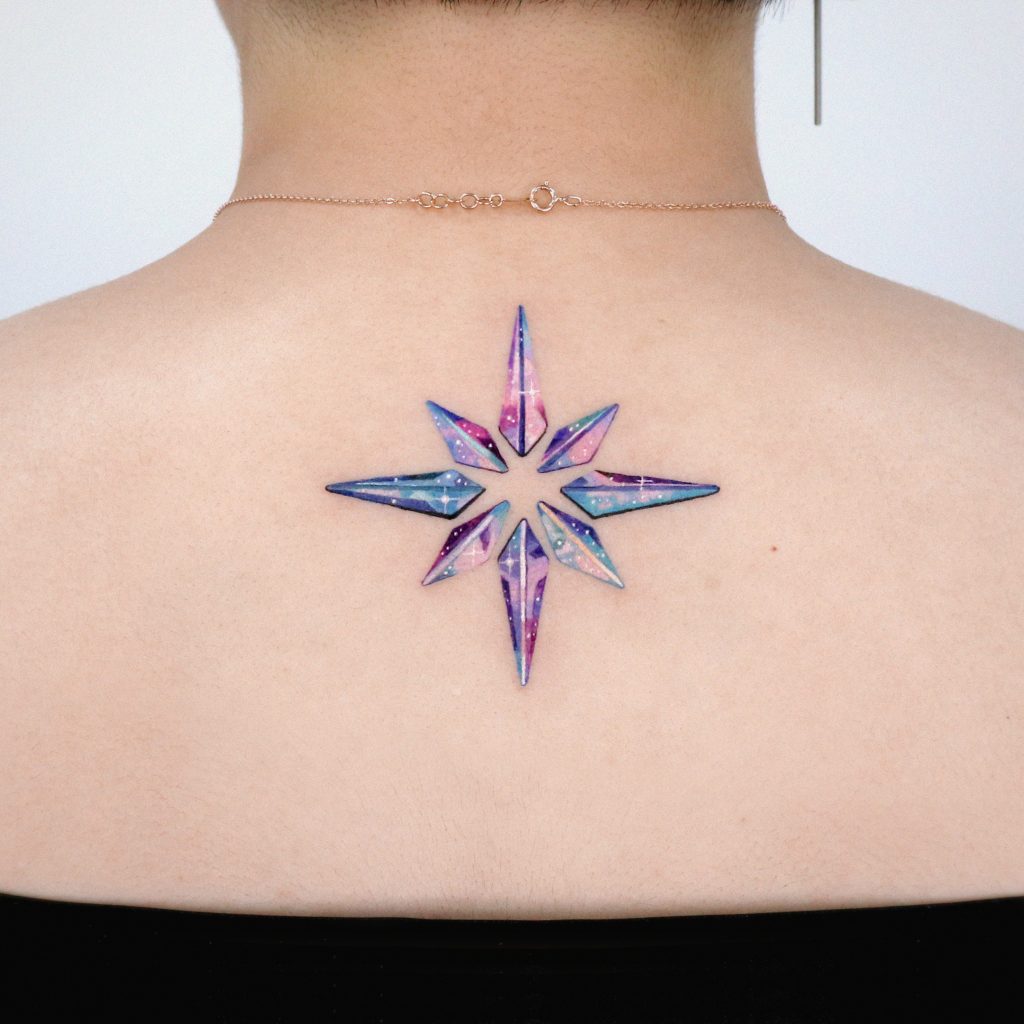 What moment in your career are you most proud of? I have met a wide variety of clients in this job and they often tell me their tattoo stories. The most memorable moment for me was the day I gave a cover-up tattoo to a client who had a tattoo associated with bad memories that she wanted to forget. The tattoo was very thick and big, so she couldn't erase or cover it.
She said she was grateful that I covered the bad memories with happy ones. Moments like this are the proudest moments of my career.
How have you been affected by the pandemic? Before the pandemic I met so many foreign clients and I'm thankful that they came to Korea to get tattooed by me. The pandemic made it difficult to travel between countries and I lost the opportunity to meet foreign clients. I hope the pandemic will be over soon so I can meet everyone again.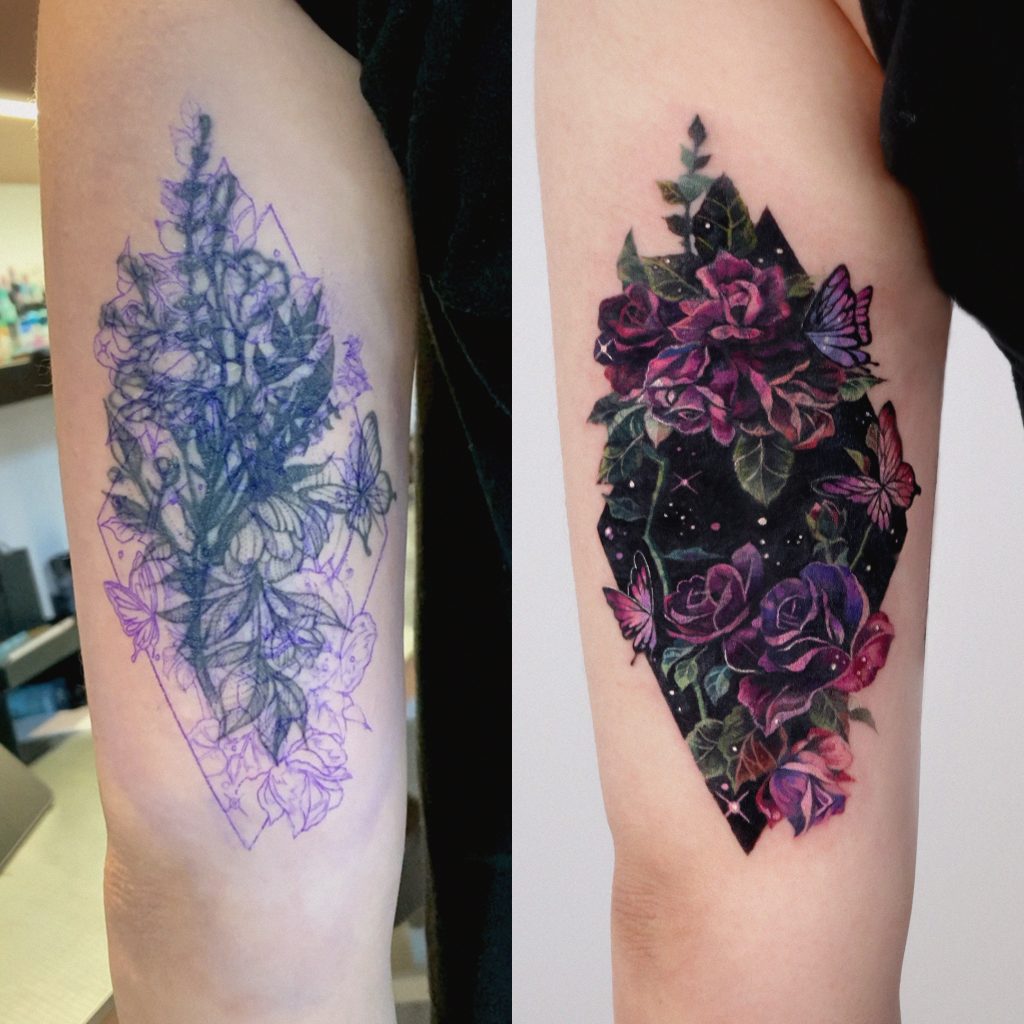 Make sure to follow @tattooist_sigak for more incredible tattoos and astounding cover-ups.