Tattoos Ideas
Interview with tattoo artist Jade Chanel – Things&Ink
We chat to Jade Chanel, tattoo artist and owner of Vaporwave Tattoo, in East London, about her passion for tattooing and journey to authenticity…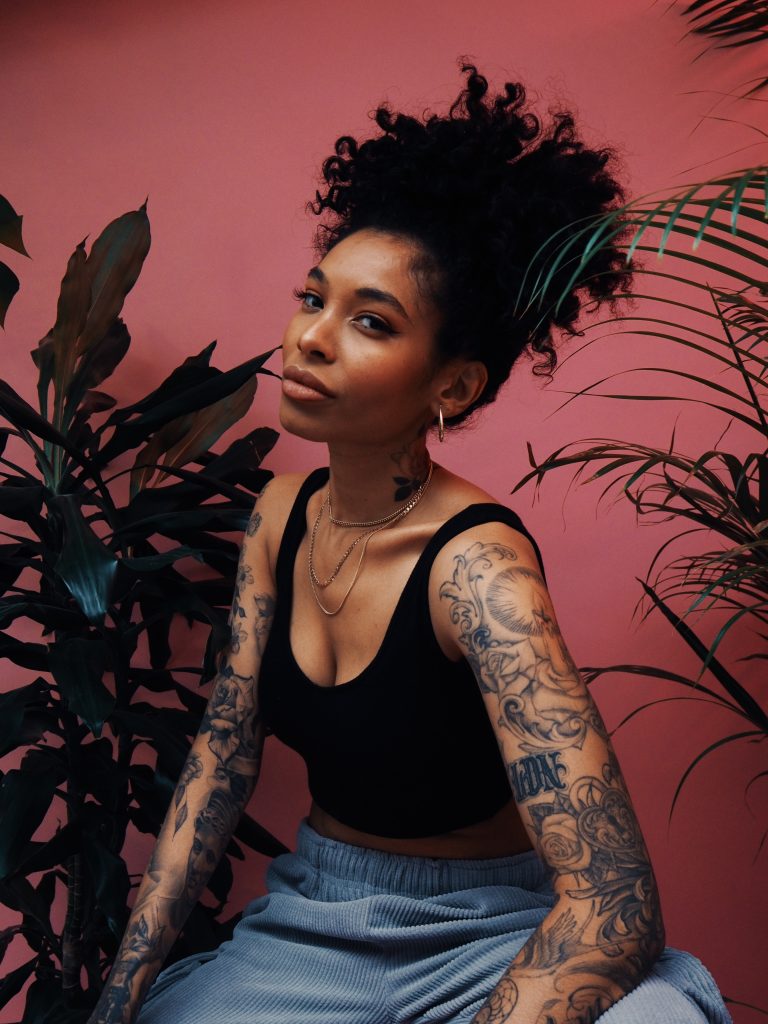 What inspired you to become a tattoo artist and how did you become one? I've always loved creating. From when I can remember, I was making things, crafting, painting and drawing. Being a visual and kinesthetic learner, I'm very expressive and I love using my hands as a tool.
When I was 18 years old, I started getting tattooed because I loved the way they looked, then it all just snowballed from there. I continued getting more and more tattoos and I then fell in love with the craft. I started apprenticing at Lowrider Tattoo in Bethnal green when they first opened in 2015.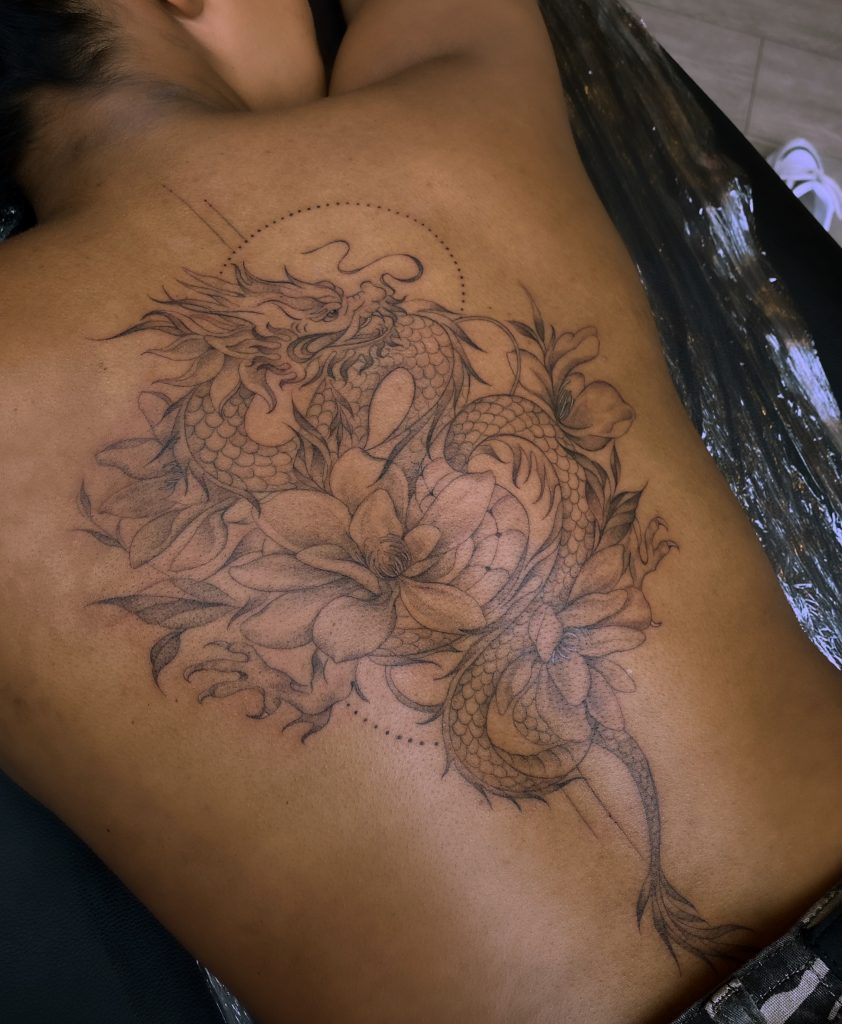 Can you tell us about your experiences in the tattoo industry? It's been challenging at times, especially being a woman of colour. I started tattooing when I was 24 and I was lucky, growing up in the heart of East London where culture is diverse.
I had this idea that I needed to "fit in" to feel safe and to do well in the industry, but I learnt very quickly that the best thing to do was to just be myself.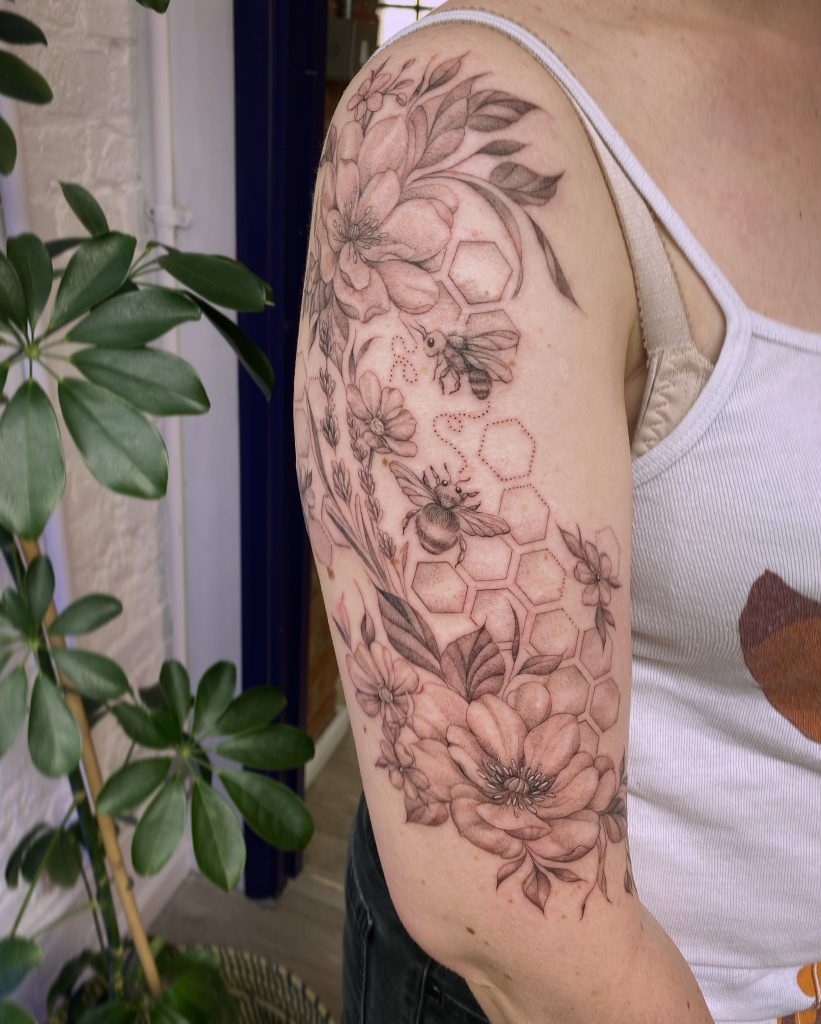 How would you describe your work? I'd describe my style as fineline, black and grey. I love precision and detail I can focus in on. I also love that my work has a delicate feminine feel and I'm always striving for fluidity.
Have you always tattooed like you do now? When I started tattooing in 2015, I used bigger needle groupings, so my linework was a lot bolder. I also did a lot of dotwork and mandalas.
After using a single needle, I never really looked back. It just felt right for me and what I was trying to achieve.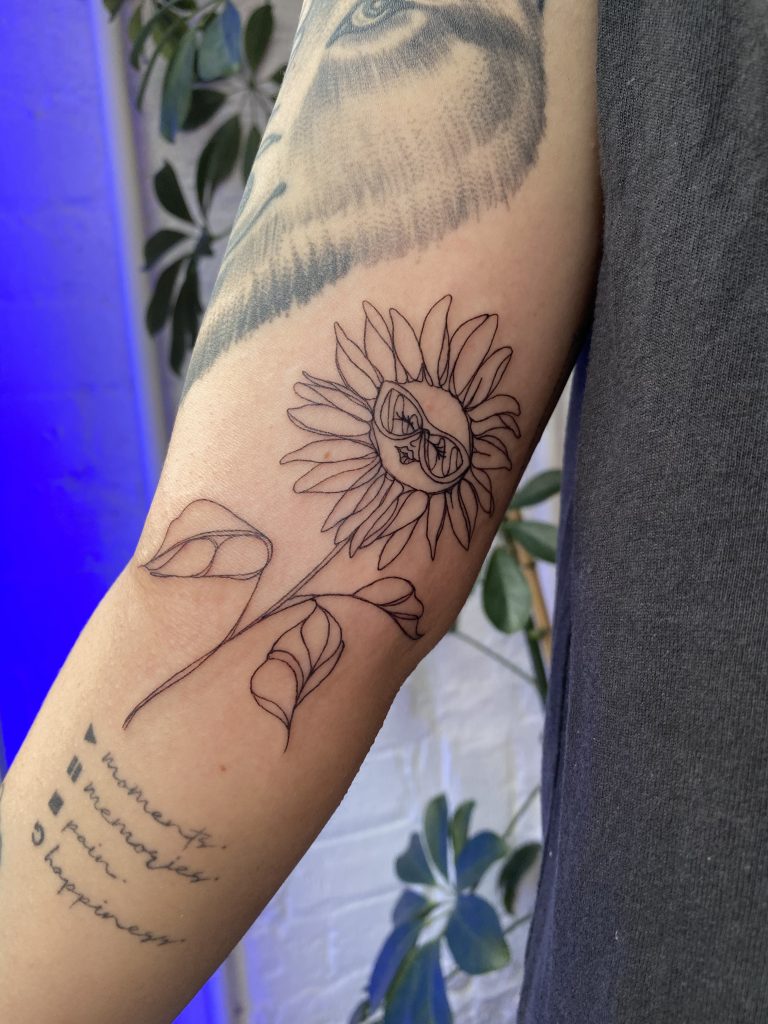 Can you tell us about the process behind your tattoos? A client contacts me via my website using a form which has all the details needed to spark an idea for a custom design. If it's an idea I'm happy to work with, I will send over more details and a booking link.
I make tattoos I feel would look best in the space on the body. Aesthetics are everything. Yeah, so I draft my ideas using key words and references, then I start drawing. It seems quite simple but it's not!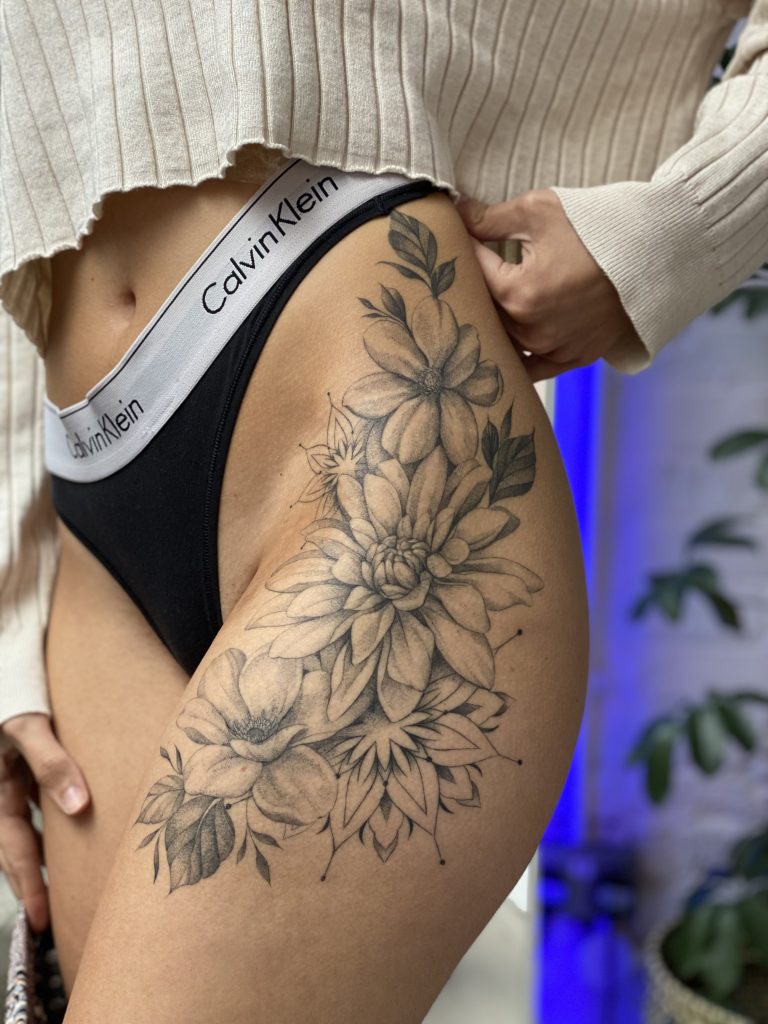 What inspires you? Most of my work is custom based on ideas given to me by my clients. We bounce of each other. Also, being an artist in this social media era, we're constantly over exposed to stimuli that influences our "styles" as such.
I'm constantly asking myself what inspires me, it's so hard to say. Too many things.
You've done flash designs inspired by music, are songs a big part of your tattooing? Music is a huge love of mine. I literally have a soundtrack for so many moments in my life. Being that it's another form of expression, they coincide perfectly! I'm always listening to music when creating so that's how that idea came about.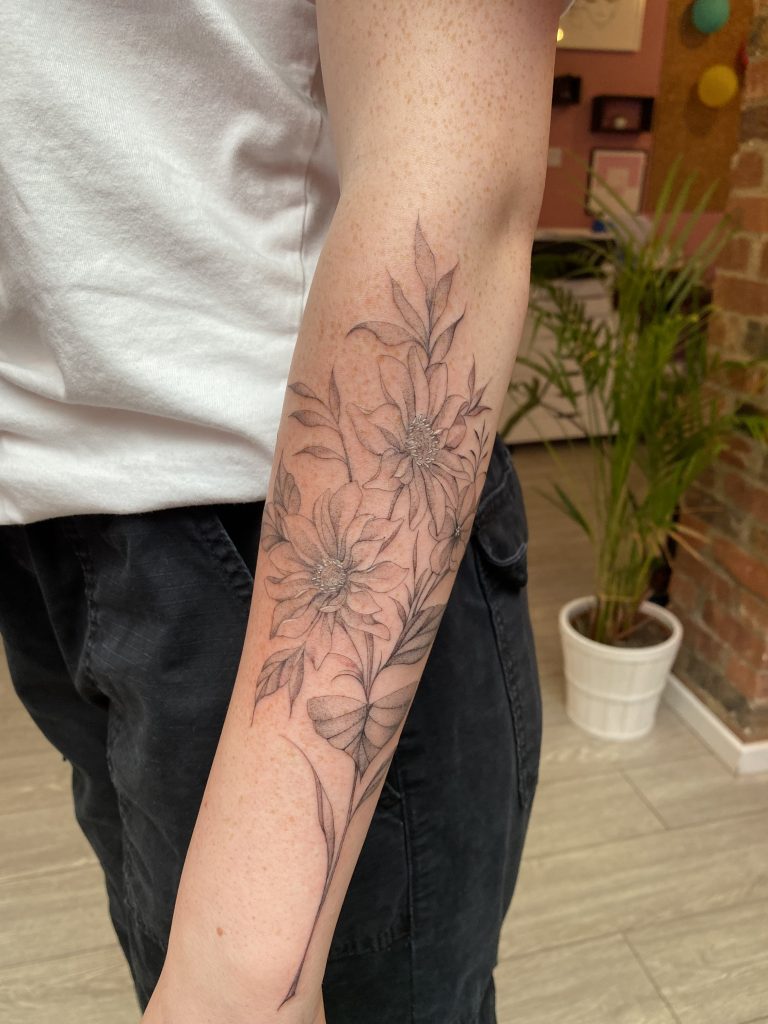 What do you like to tattoo and what would you like to do more of? I really enjoy tattooing, and this is a question often asked by clients. One of my favourite things about being a tattoo artist is that no day is the same. New design, new client, new energy. New challenges keep my work exciting! I'd love to do a lot more larger scale projects that cover entire limbs.
Can you tell us about your own tattoos? Are you a tattoo collector? I love collecting tattoos! I never imagined I'd ever have this many, but the saying about it being addictive is true.
It's a transformational journey. I've been tattooed by incredible artists, some of which are my friends. It's special that I get to wear their work on me forever.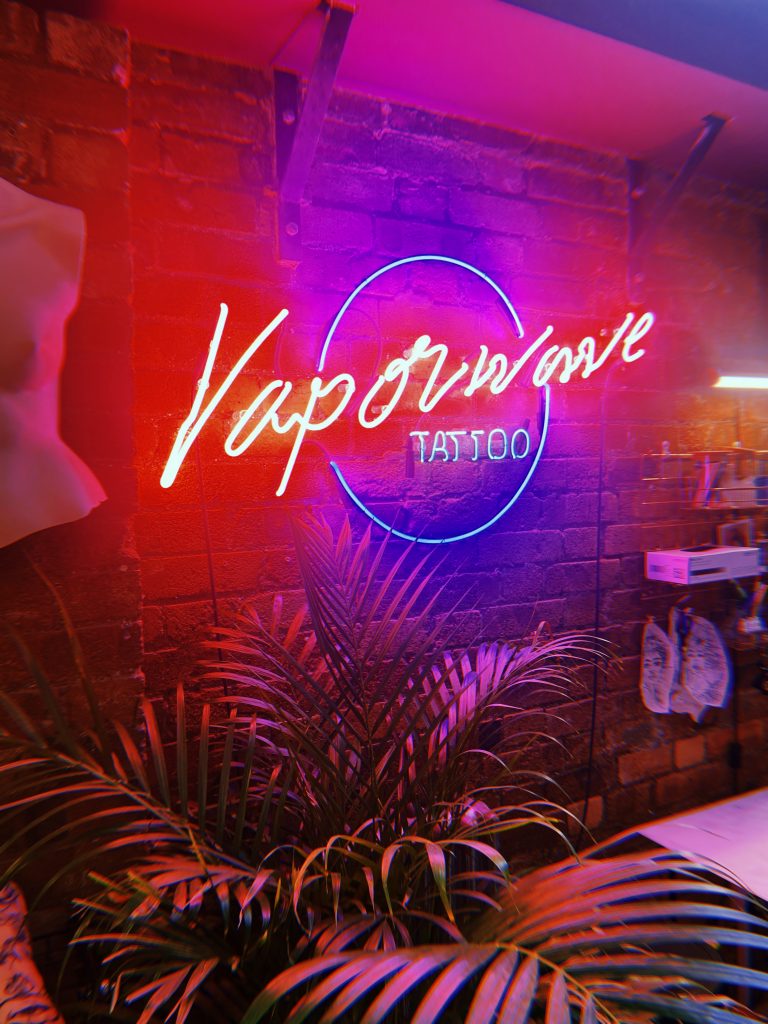 You have your own tattoo studio, what's this side of the tattoo business like? When I decided to open my studio, Vaporwave Tattoo, it was important for me to not run it like a business as such and create a hub for artists to feel free to flourish.
It's exactly what I needed and what I felt the industry needed. It's really challenging because I really love my job as a tattooer and that's what I wish to give all my time to. I've always found admin difficult, and it hit me like a ton of bricks when I started this venture.
I'm always having to find balance between being an artist and being a studio owner.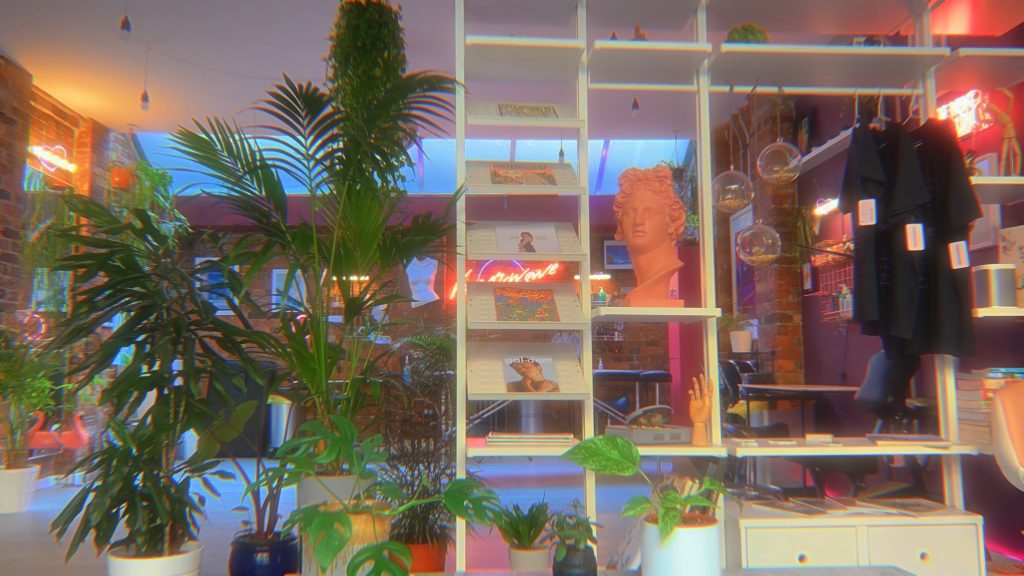 What's Vaporwave Tattoo like? It's full of life and colour. It's a peaceful but vibrant, safe, welcoming and inspiring space. I'm not even being biased, it really is something special.
The choices of colour and the running theme is basically a portal to my soul, my youth, growing up in the 90s! I've crowned myself the DIY Queen after this project. All the décor, fixtures, fittings etc. were chosen and installed with my bare hands. It really is a labour of love!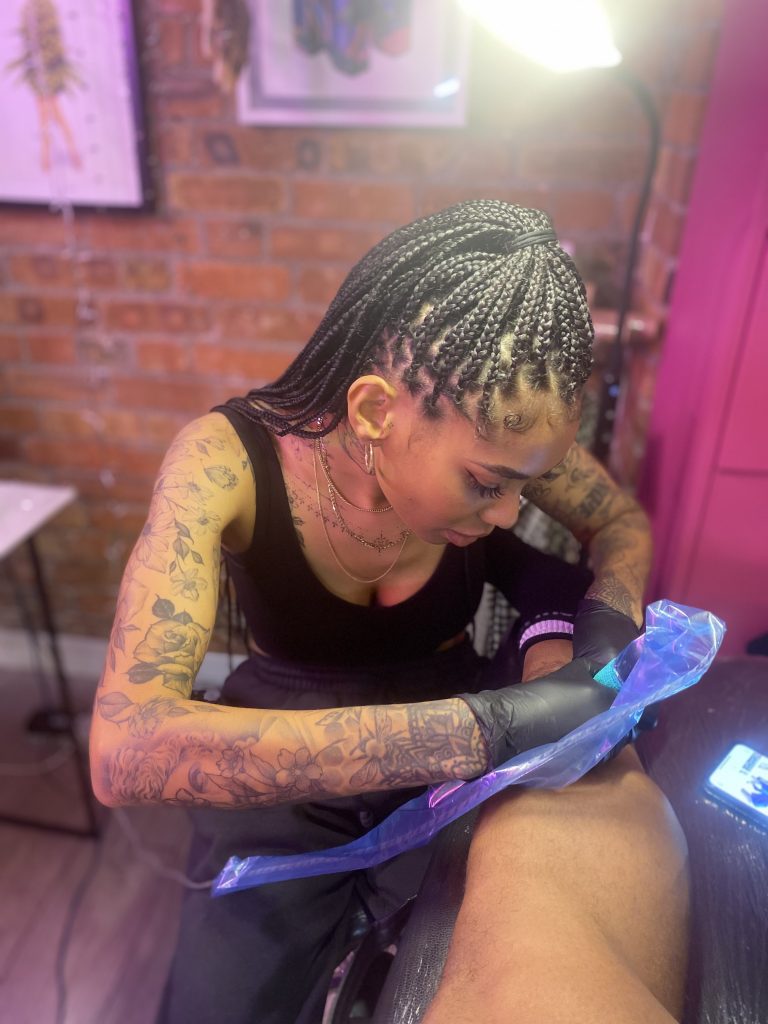 What moment in your career are you most proud of? All of it. There's not particular moment I can think of as it's just been an exciting, challenging journey and each part holds such great significance.
It's a beautiful feeling, knowing that I've been trusted by loads people, to decorate their bodies and create ever lasting memories.
Follow @jadechanelp and @vaporwavetattoo for more tattoos and studio news.