Maret aka @lordenstein_art, creates incredible tattoos at Capsule.3, a private studio in Berlin, Germany. Here she tells us about making tattoos that tell a story, her most memorable tattoo experience and her fun tattoo collection…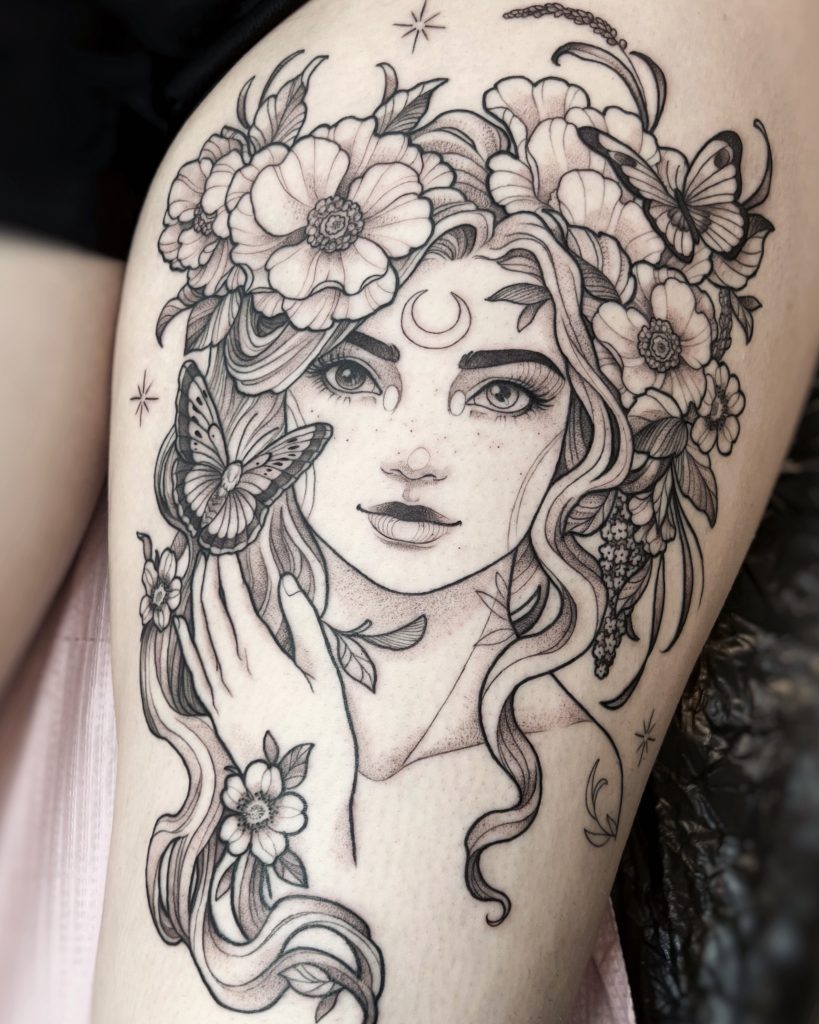 How long have you been a tattoo artist? I slowly started tattooing friends and people I knew in 2014 and I became a full time tattoo artist in 2016. I tried to get an apprenticeship in 2005, when I was 15 years old, but at that time it was quite impossible.
How have you seen the industry evolve since you began? I was interested in tattooing as a child, but even then I had the impression that the scene was very male dominated. Women were mostly just cover girls on magazines and the tattoo shops were full of male tattoo artists – the environment seemed hard and rough. But that didn't bother me and I really wanted to be a part of it.
I'm glad that the scene has opened up a lot more. There are more styles and different ways into tattooing as a career is possible. More variation exists and everyone inside a tattoo studio can feel like they're in good hands.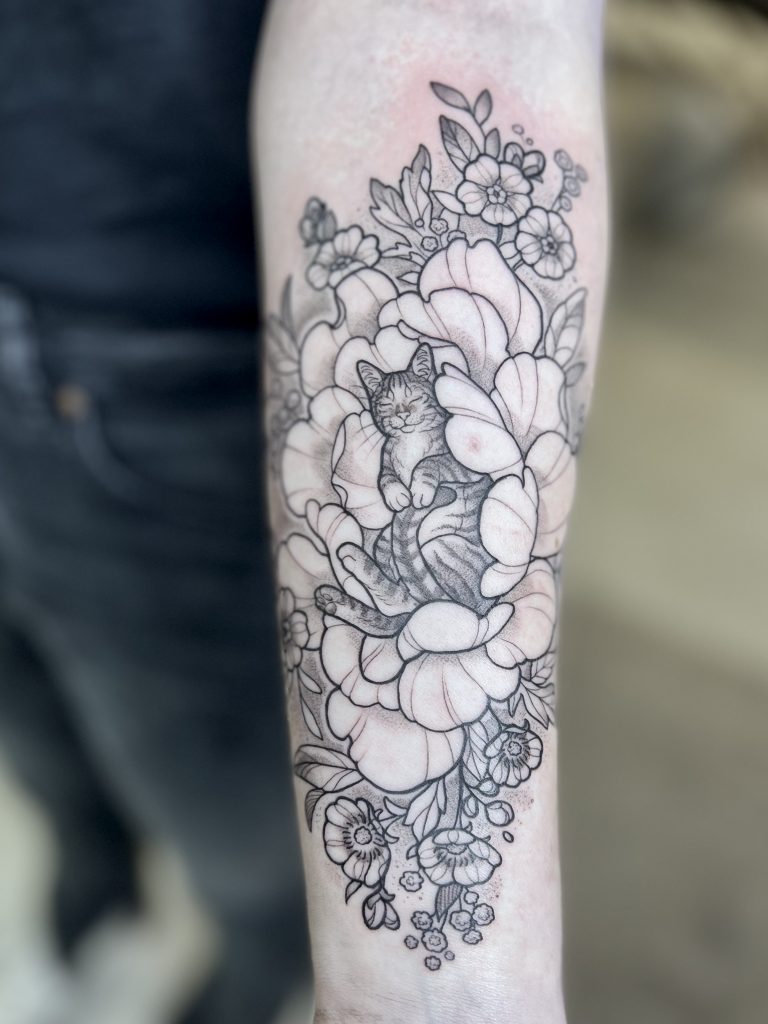 How would you describe your work? Has your style changed since you started? I would describe my work as mostly driven by linework with some shading to set the contrast. I love dreamy, beautiful or cute designs and a "clean" image instead of chaotic or abstract designs. Saying that, when I started out I would sometimes work in a more abstract way, I also would use bigger lines and apply dots instead of light shading – I wouldn't do this anymore.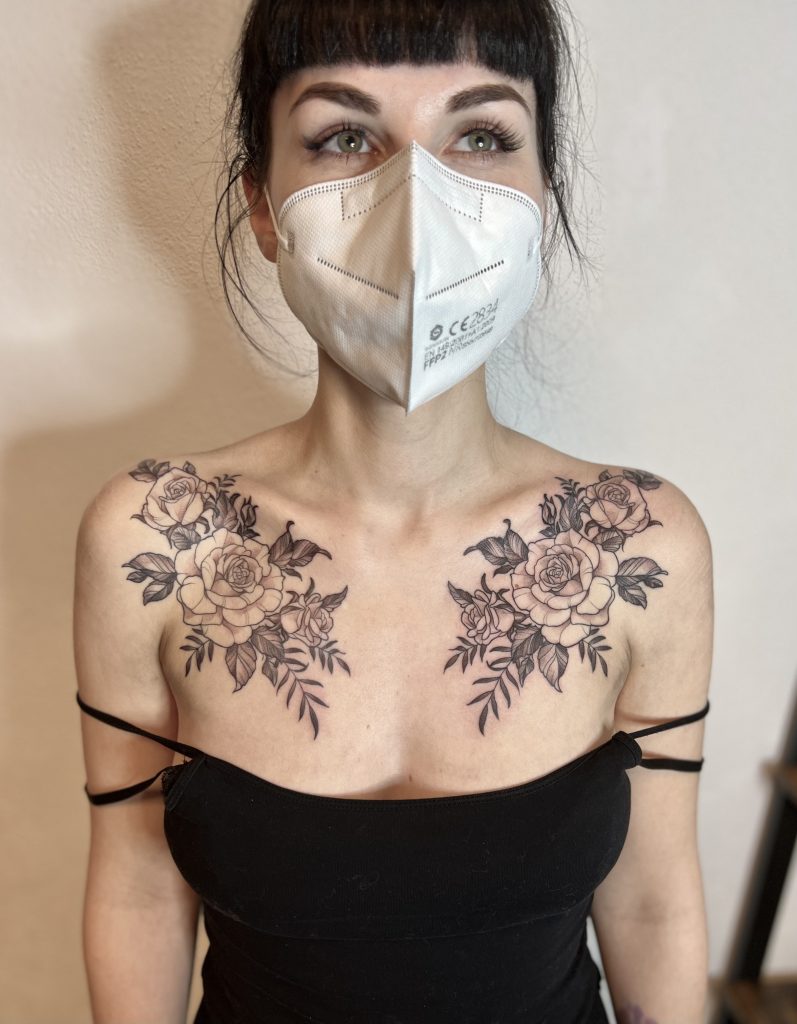 What drew you to linework rather than colour? As well as aspiring to become a tattoo artist I wanted to become a manga artist. I found the implementation of shadows and structures with black ink especially exciting. I have always liked to work with fineliners instead of pencils.
What appeals to me is that you can't correct what you've drawn, but instead you have to accept it.
I think I felt more comfortable with black lines and with a few exceptions, no one has ever asked me for a colour tattoo. So, from the beginning I have stayed with the technique I felt most comfortable with.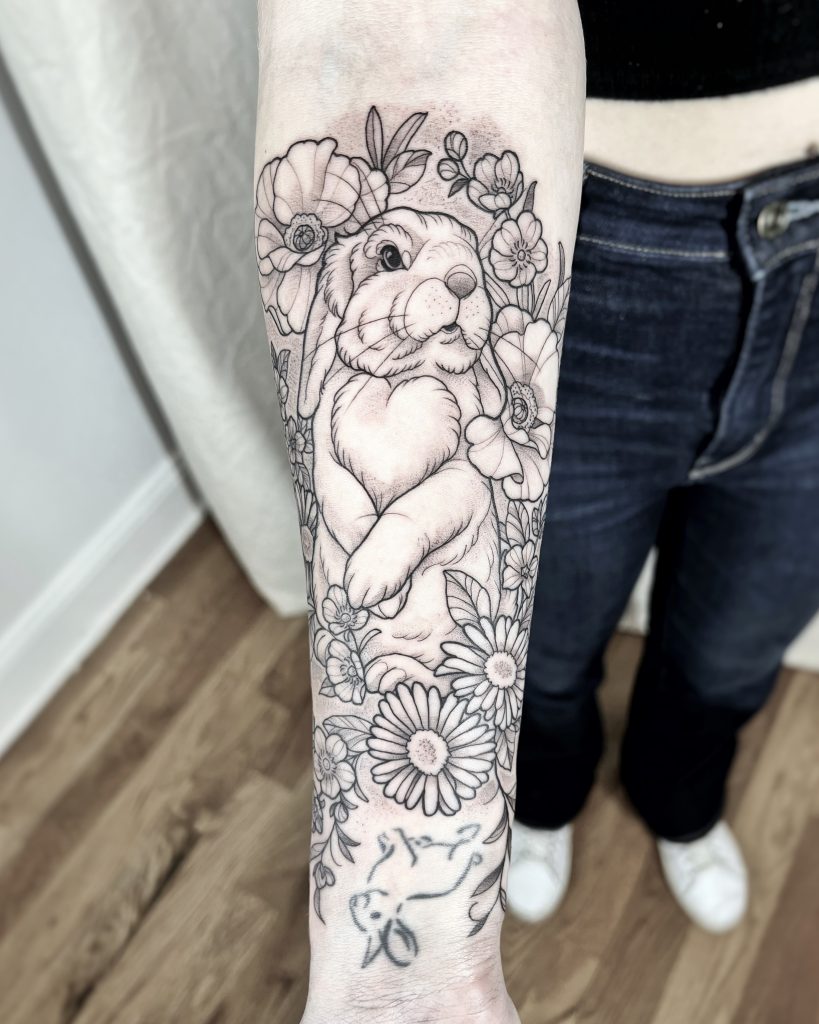 What inspires your tattoos and what do you like to create? I like to create cute and joyful designs, but sometimes they also include a hint of melancholy.
I love it when they tell a story or when I can hide Easter eggs in there which you don't notice immediately.
I get inspired pretty easily by all kinds of stuff that's around me, sometimes it's just the light falling through the leaves of a tree or a butterfly sitting on a flower on my balcony. I also have a good collection of artbooks, including Studio Ghibli animes and others, which display a great collection of landscape designs.
In the end I want to create something that makes my customer happy and gives them a positive feeling.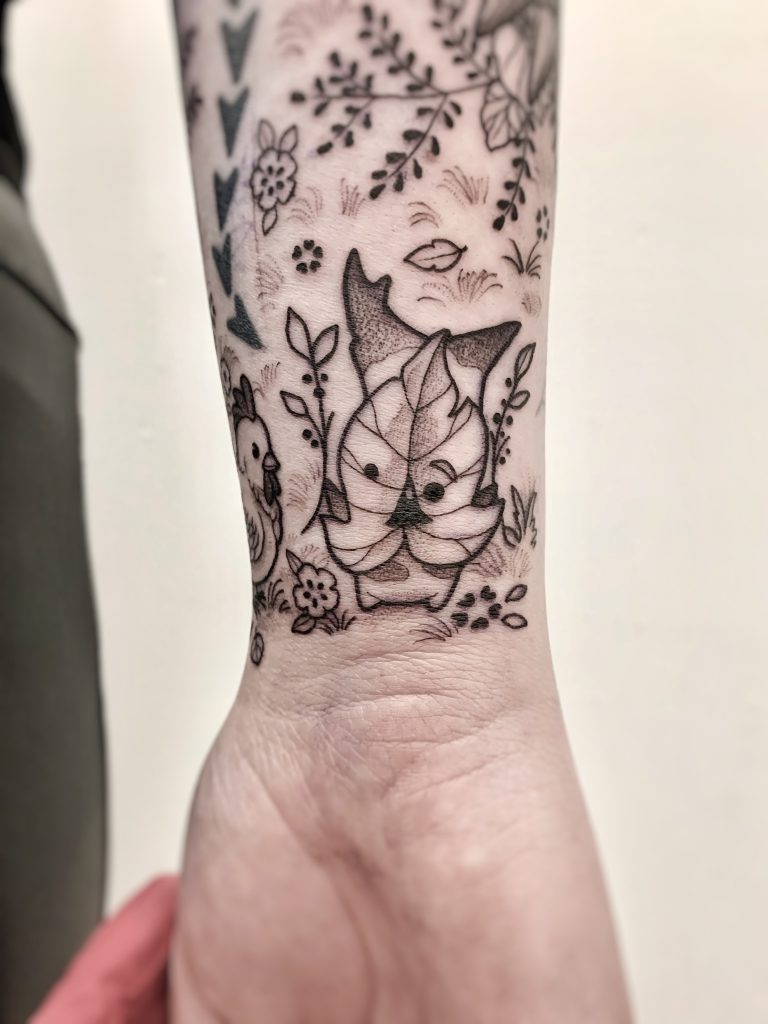 What's the tattoo culture like in Berlin? I feel the tattoo culture is very diverse and modern. From the classic old school walk-in shops to the private studios and safe spaces, everything is there – stylistically as well. Nevertheless, I sometimes feel that the scene could benefit from more networking and communication between the styles of tattooing.
But, then again there are events like joint art exhibitions that break down these discrepancies by inviting everyone to join in and contribute a design in their style. In my opinion, there should be more of these.
Also tattooing should finally be officially recognised as an art form, which unfortunately has not been the case in Germany so far.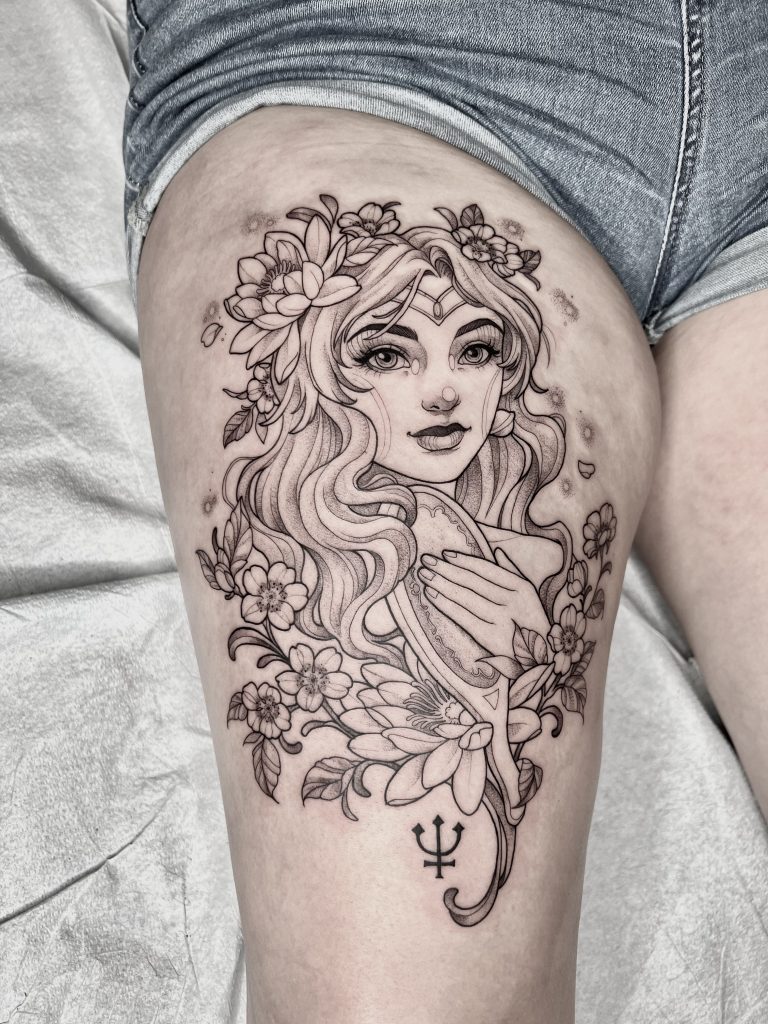 Do you have a tattoo experience that sticks out in your mind? Almost all of my experiences so far have been very good, whether I have created the tattoo or been tattooed.
Getting tattooed in South Korea was a particularly special experience. I was quite nervous at first as I had to transfer the full amount for the tattoo months in advance. When I arrived in Korea, I was given the address which I was not allowed to share. I was also asked not to post anything on social media.
The shop looked like an apartment building from the outside and the inside was like a small office. Little by little the equipment was taken out of different closets and corners and a tattoo shop emerged. Tattooing is still illegal in South Korea, so everything is done in secrecy.
In addition, the tattoo artist took a long break every hour and had two assistants on site. Rarely have I seen a tattooist allow themselves so much selfcare, although it would do us all so much good! Who doesn't know the constant back pain and eating unhealthy snacks quickly between appointments?
Everything there felt peaceful and mindful.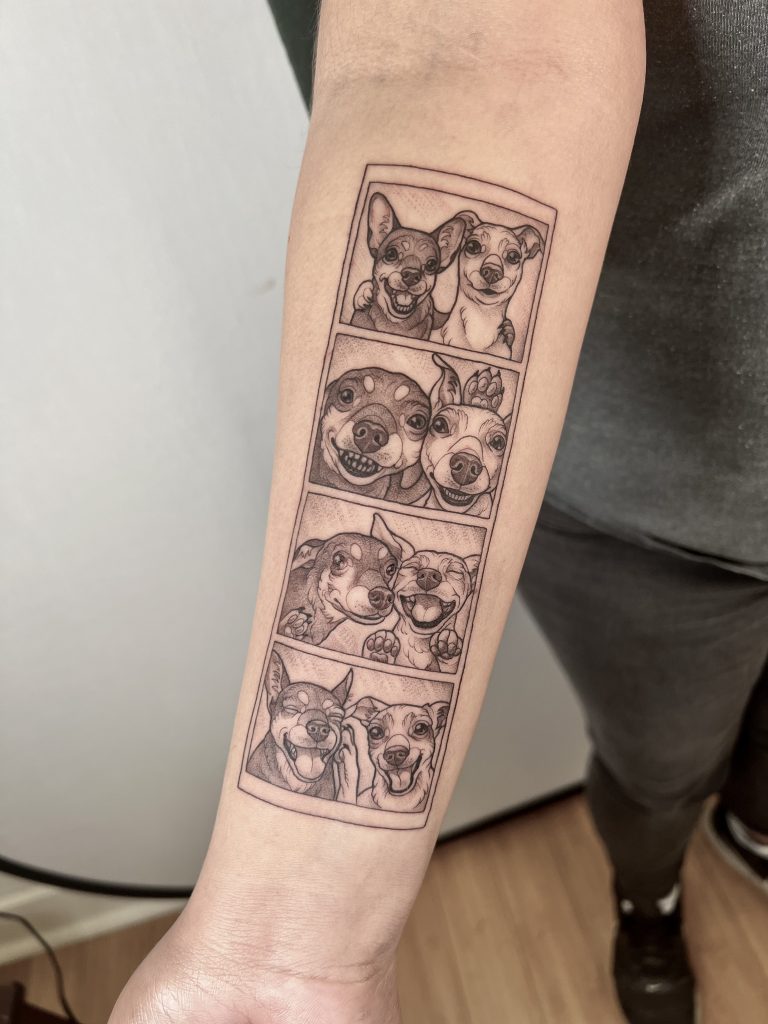 Can you tell us about your own tattoo collection? My right leg is mainly a collection of tattoos from friends, acquaintances and people I've met during guest spots. Most of the tattoos on my leg have something in common – they all do show llamas or alpacas. I just love these animals and they are so funny! Many of them are doing things that reflect me, like eating ice cream. One sleeps on the back of a snail, because in life I generally need a little longer to tackle things or find my way. This leg is obviously also a bit more colourful.
Otherwise I like a lot of black and now and then a coloured accent. I also prefer dark and bold designs. For example, on my left leg I have a centipede which crawls into the open mouth of a woman's face and on the side of my thigh I have a huge Hydra. I especially like the contrast between the dark colour and the free (open/not tattooed) skin.
Perhaps you can tell that I was a big fan of the classic tribal as a child and that it had a lasting aesthetic impact on me. However, only on myself.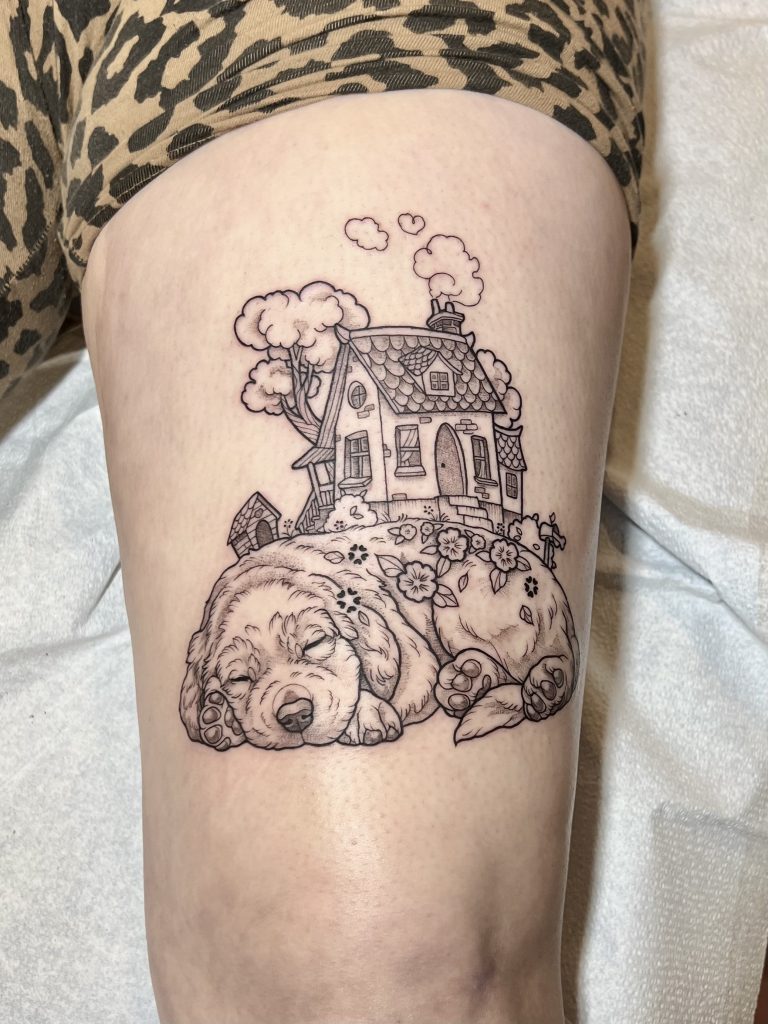 What's been your proudest and happiest moment in your career so far? I have a few and new ones are happening all the time. Mostly it's when a tattoo artist I admire tells me that they like my stuff and follow me. Or when clients keep coming back to me for more tattoos after many years.
I have been doing this successfully for eight years now, that makes me very happy.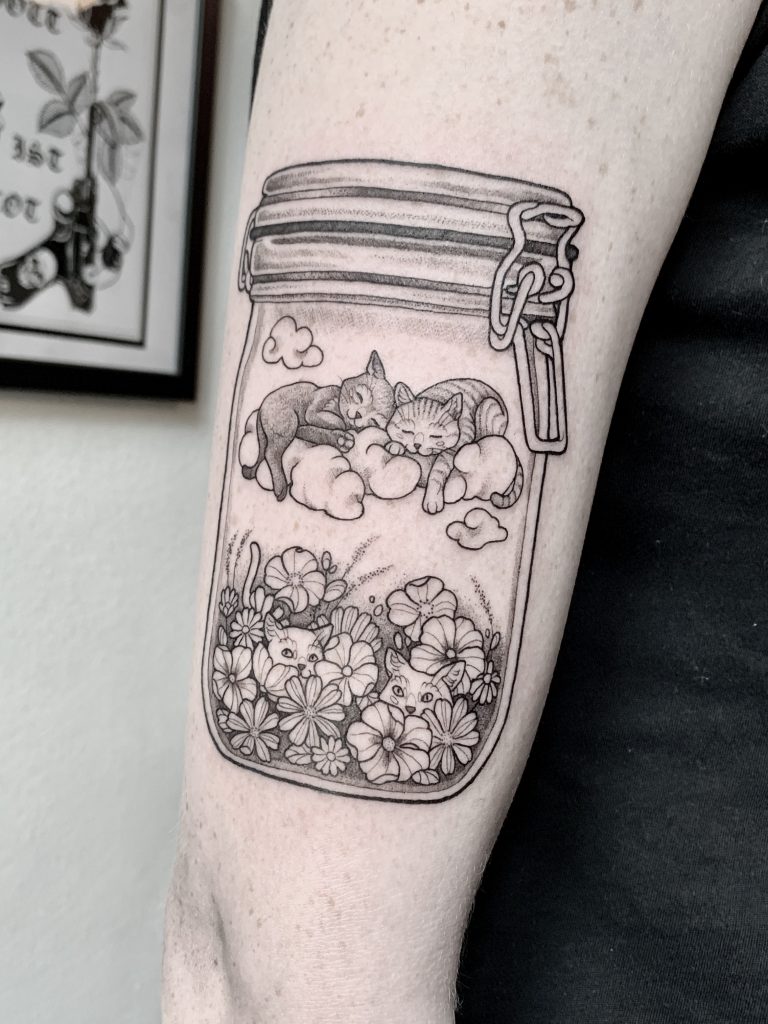 What do you do when you're not tattooing or drawing? I spend most of my free time playing video games. I used to paint with oil but haven't done that in a while, because I don't have the space for it at home. Otherwise I like to go on long walks or ride my bicycle. I also went back to university in 2020, so there isn't too much time left to do anything else really.
Follow @lordenstein_art for more amazing tattoos and sign up to her mailing list for updates.