Tattoos Ideas
Interview with tattoo artist Nicola Asura – Things&Ink
Nicola Asura creates surreal blackwork tattoos at Lightbearer Tattoo in Graz, Austria. We chat to the artist to find out more about the process behind his large scale pieces, what inspires his work and future plans…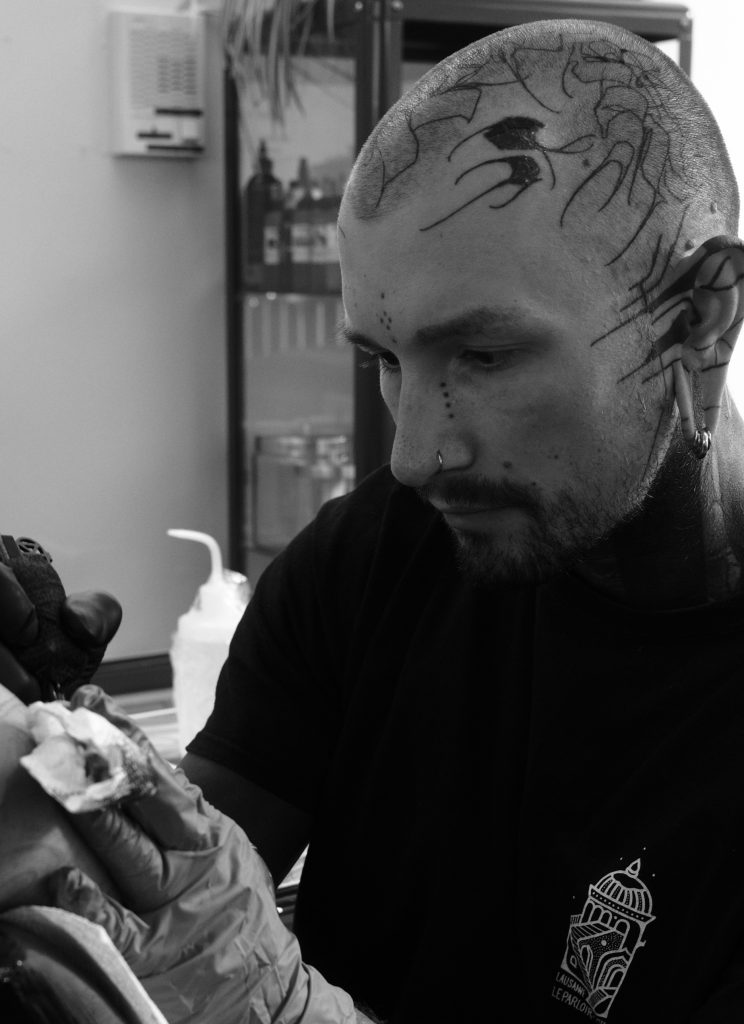 How long have you been a tattoo artist and how did you get into the industry? I've been tattooing for around five years now. I made my first contact with tattooing culture when I got into the post/hardcore music scene 10 years ago. Seeing all those band members covered in ink sparked my interest in tattooing as an art form.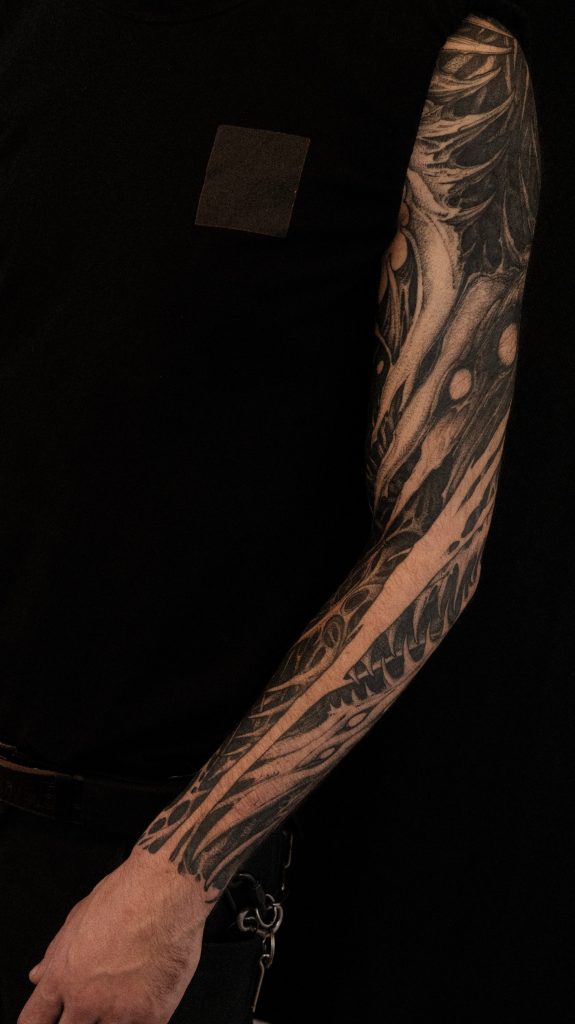 Do you have a background in art? Coming from a very creative family, both my parents were architects, I grew up with a pen in my hand. I always enjoyed doodling on everything I could find, although I would say that there is a big difference in doodling and really mindfully learning how to actually draw.
A year into tattooing (four years ago) I made the decision to see art and drawing as a full time job. I made the move to become the artist I imagined myself to be.
Instead of just doodling mindlessly I made a plan to get better at drawing which included:
Choosing a specific topic (birds at that time)
Limiting myself to only draw that topic.
Learning everything about the topic through books, videos and studying how they move, their anatomy etc.
Drawing and sketching mindfully 6-8 hours every day, at least five days a week
Very quickly I started to see progress. Soon I wasn't only getting better at drawing birds, but also other things, because I grasped the concept of learning how to get better at drawing. For me, this system worked.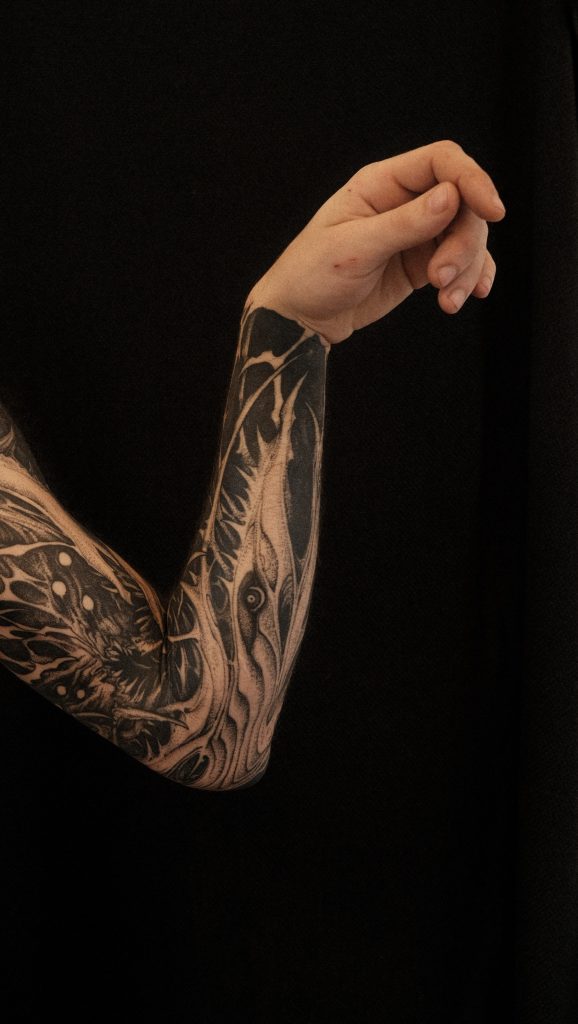 Why did you want to become a tattooist? Before I got into tattoos my dream was to become a concept artist for Blizzard (Video Game Company) and draw orcs and other creatures for a living.
When I got into tattooing I realised that there were artists that came up with their own creature designs to decorate the body and naturally I was more drawn to that, than the video game direction.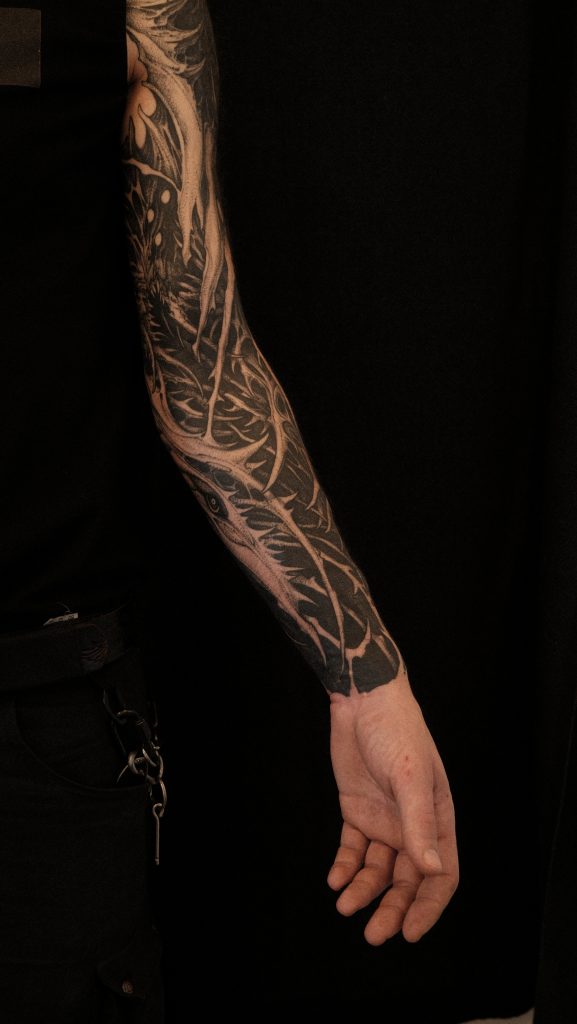 How would you describe your style of work? Surreal creature elements cast on skin in a bioorganic way so it complements and works well with individual body shapes. Or just blackwork, for the more broader term.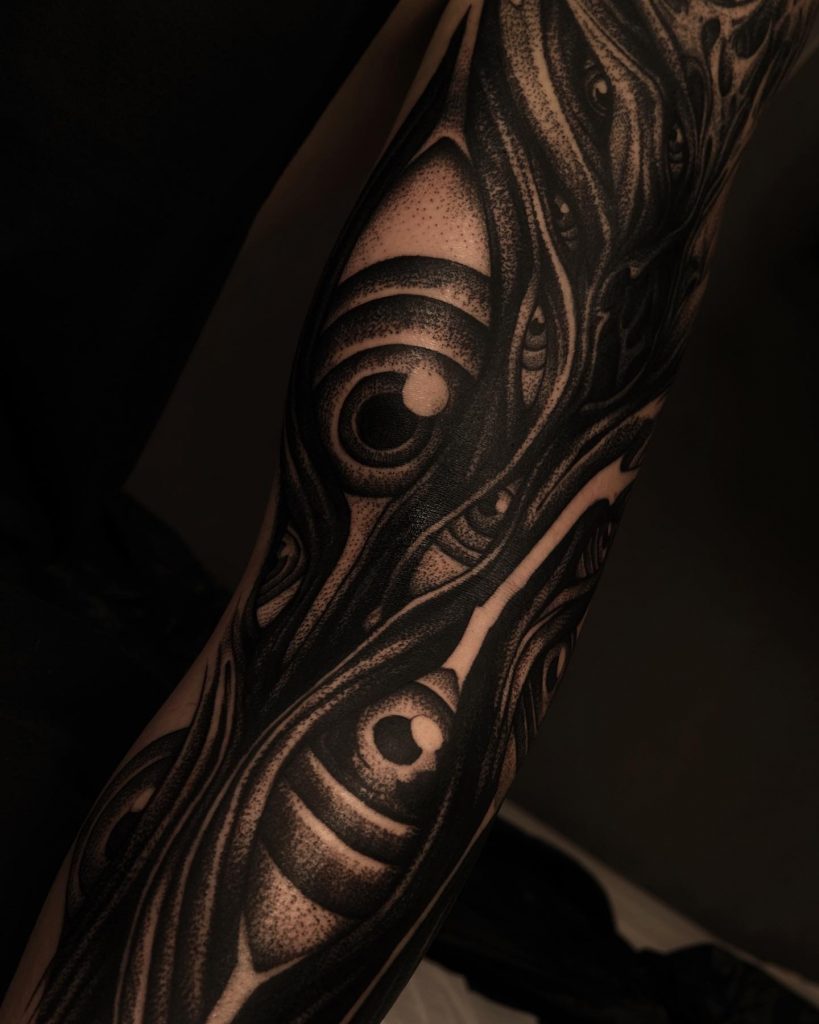 How has your work evolved since you started tattooing? My style, if I can call it that, currently evolves at a very rapid pace. Back when I started out my tattoos were more stiff, stickeresque and bold.
Nowadays the priority of all my design processes is aligning the concept on skin with the body shape to create a certain flow. My work is definitely more fluid and open than a few years ago.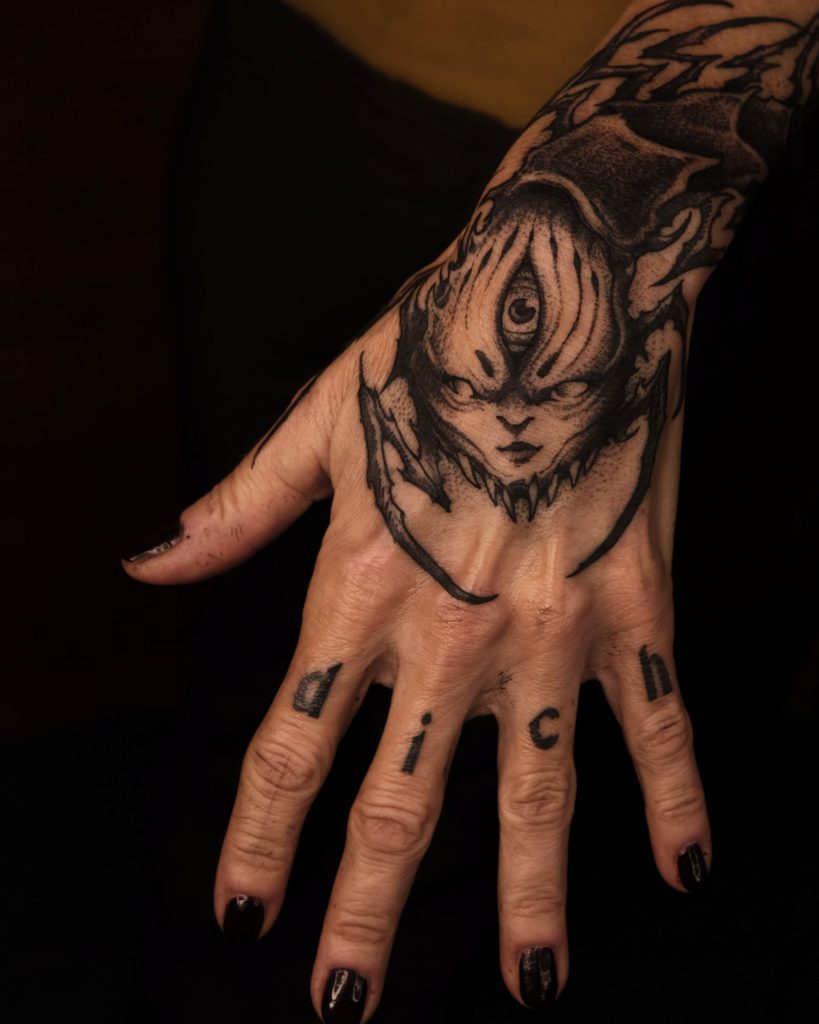 Can you tell us about the process behind your large scale pieces? Every client of mine, when I am not on a guestspot, has to come in for a consultation before we meet for the first tattoo session.
During that consultation the client will tell me their idea, placement and size. Then I know if I am up for the motif and idea, I can tell them how I envision the idea in my head and how that will or won't work with their idea of placement and size. It's a very important dialogue that has to be had in person. That way my client and myself, can speak our minds and figure out a baseline for our future project.
After making sure we are on the same page regarding the concept I'll take pictures of the body part. Either I print out the picture, or trace it with paper from my iPad. I always start out drawing traditionally with graphite and tracing paper which I can have multiple layers of.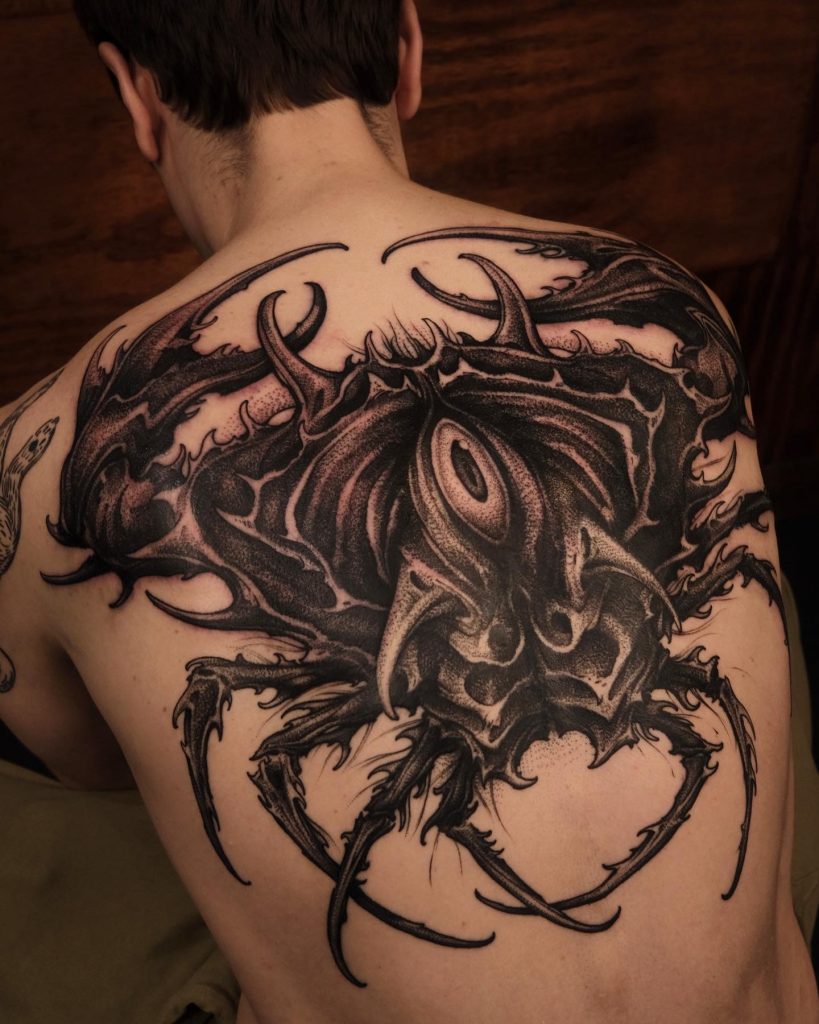 Once I have a concept on paper that I feel completely satisfied with I then take a picture and import it into the procreate app. This allows me to very quickly experiment with changing shapes and sizes of certain parts in the drawing.
As I, most of the time, work freehand (no stencil, drawing on skin), I don't need to make a stencil so having this concept visualised is already more than enough for me to work with. On the day of the tattoo I'll show my client the rough concept which I then draw on skin, layering it with multiple coloured pens.
This allows me to really work with body lines and shapes making sure I can make the most out of every project with my knowledge at that moment in time.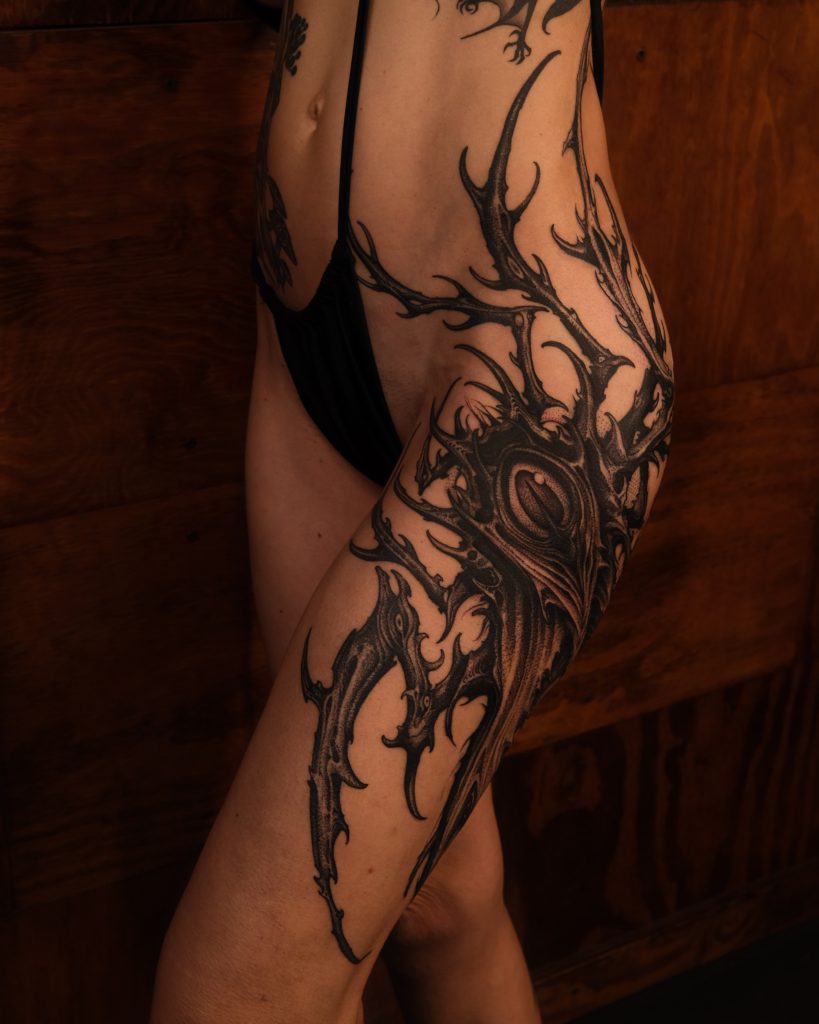 What's your favourite subject to tattoo and what would you like to do more of? The themes that I always love to dive into are fantasy, creature design, surrealism and flora / fauna.
Usually I just take something from each theme and mush it into one design concept, it always depends on my client's idea!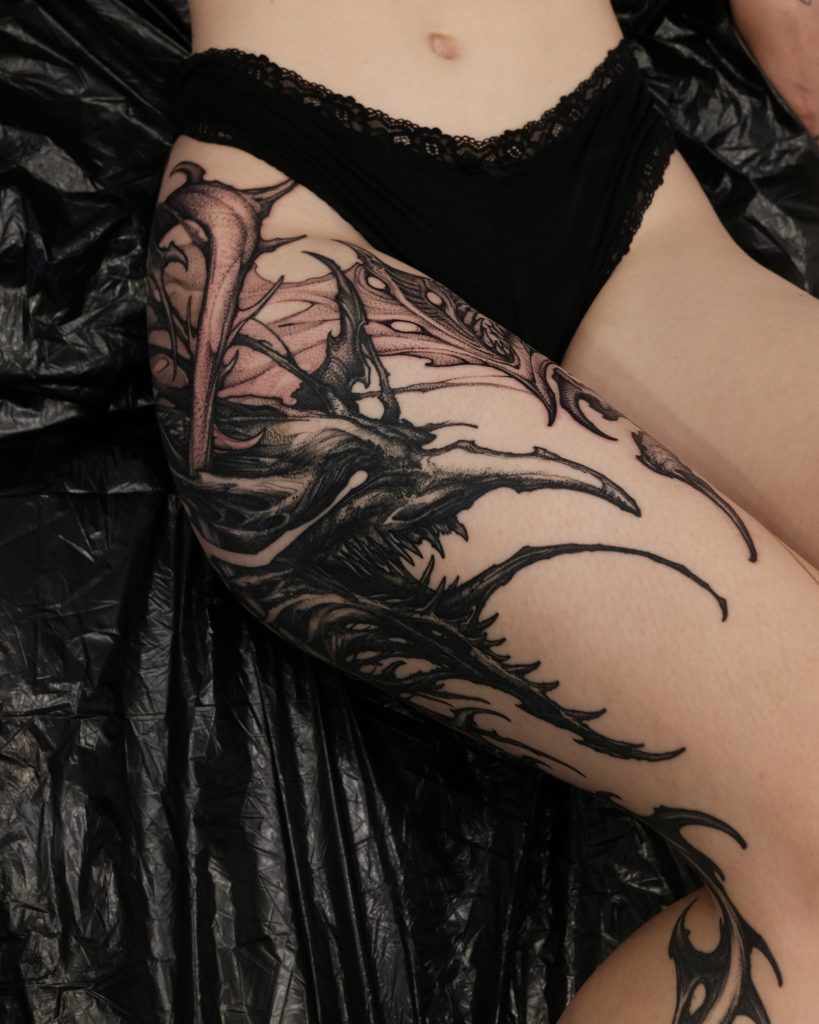 What's the tattoo scene like where you are? Currently I am located in my hometown Graz, in Austria. There are few contemporary tattoo studios, it is definitely more on the quiet side concerning tattoos compared to other cities.
Do you have any guest spots or travel planned? For now I am quite cosy in my resident studio, maybe some trips to Berlin this year!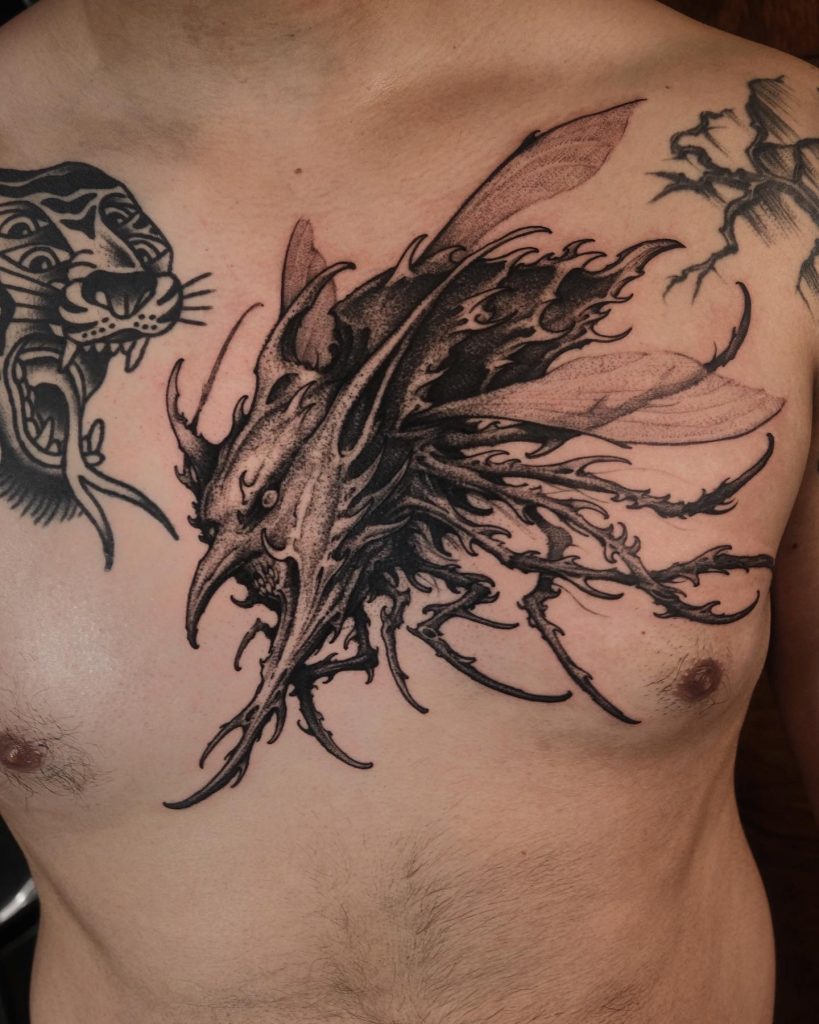 Can you tell us about your own tattoo collection? Are you a collector and do you have any future tattoo plans? I did collect a lot of tattoos from artists I admire. Anrijs Straume (UK), Stefan Halbwachs (AT) and Gara (KR) for example. Gerhard Wiesbeck (DE) and I started my bodysuit to cover/blastover lots of older tattoos, so that is still ongoing and takes a lot of time.
What's been your proudest moment in your career so far? The proudest and best moments are always meeting other likeminded passionate (possibly even obsessed) tattoo artists and delving into tattoo techniques, machines and ways we can shape the body together.
These talks are precious to me as I love to get lost in those topics and have long conversations where our eyes light up as we're sharing knowledge and learning more from and about each other.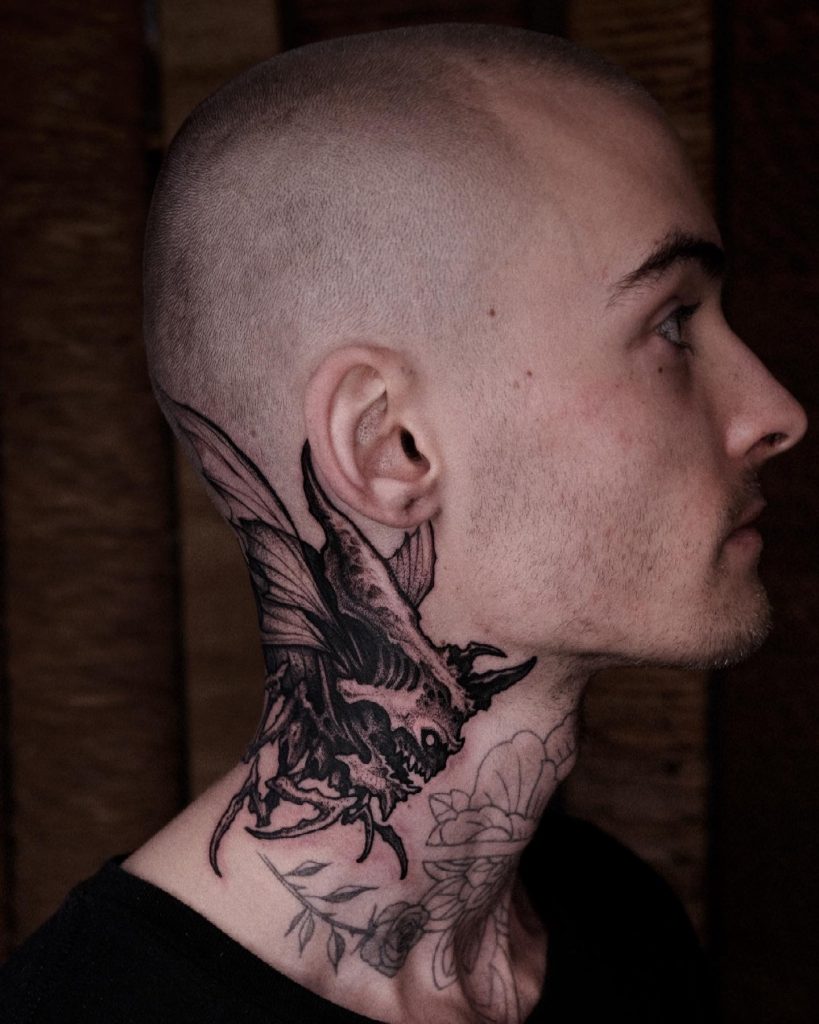 What do you do when you're not tattooing? Drawing and preparing for tattoos. Also being out in nature with my dog Aslan, bouldering (indoors/outdoors) and playing video games.
Where do you see yourself in five years? Hopefully doing bodysuits. I'd love to work on full body concepts, creating surreal creature landscapes on skin that you can see and make out from further away.
Follow @nicolaasura for more fantasty tattoos and large scale pieces.