Artist Norang creates exquisite tattoos at Sol Tattoo Studio in Seoul, Korea. We chat to the tattooist about the inspiration behind her work and how she hopes her tattoos will help the wearers to love their bodies…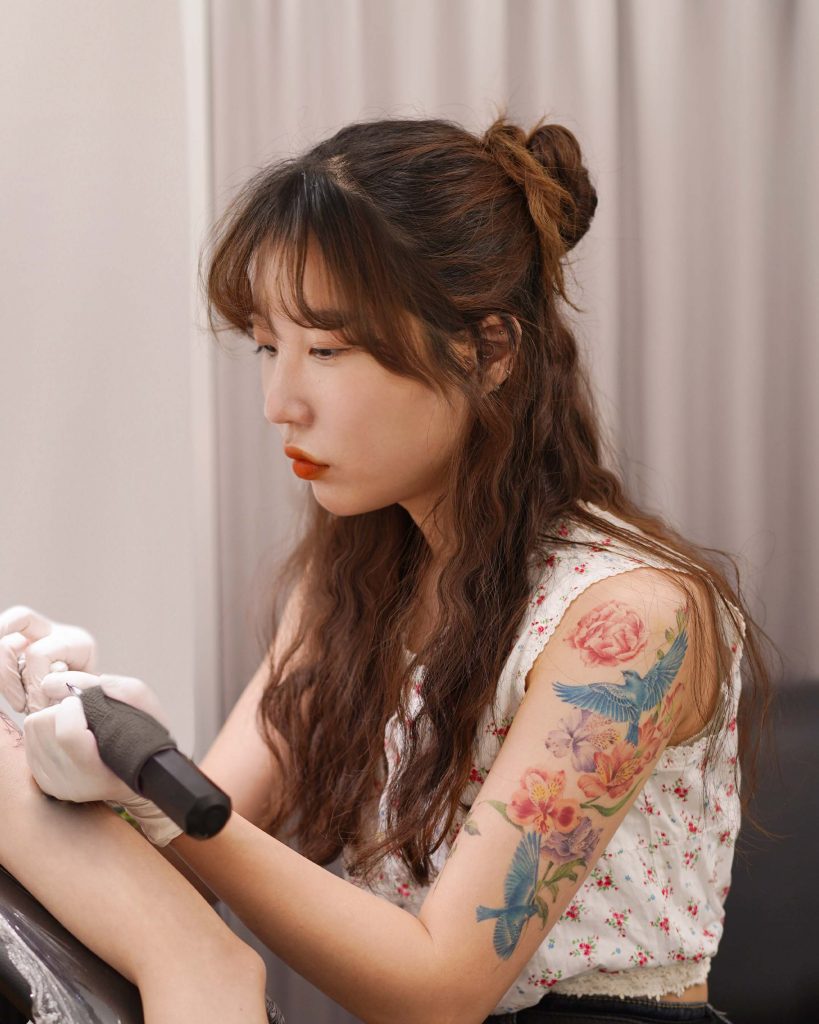 How long have you been tattooing and how did you become an artist? It's been two years since I started tattooing and getting tattoos. I've been painting since I was very young and I've always been interested in this field.
There was a moment where I had to make a choice about my future and that's when I realised that I liked to paint pictures with my hands. I thought about what I could do with my favorite pastime. I found a special world called tattooing and jumped in without hesitation.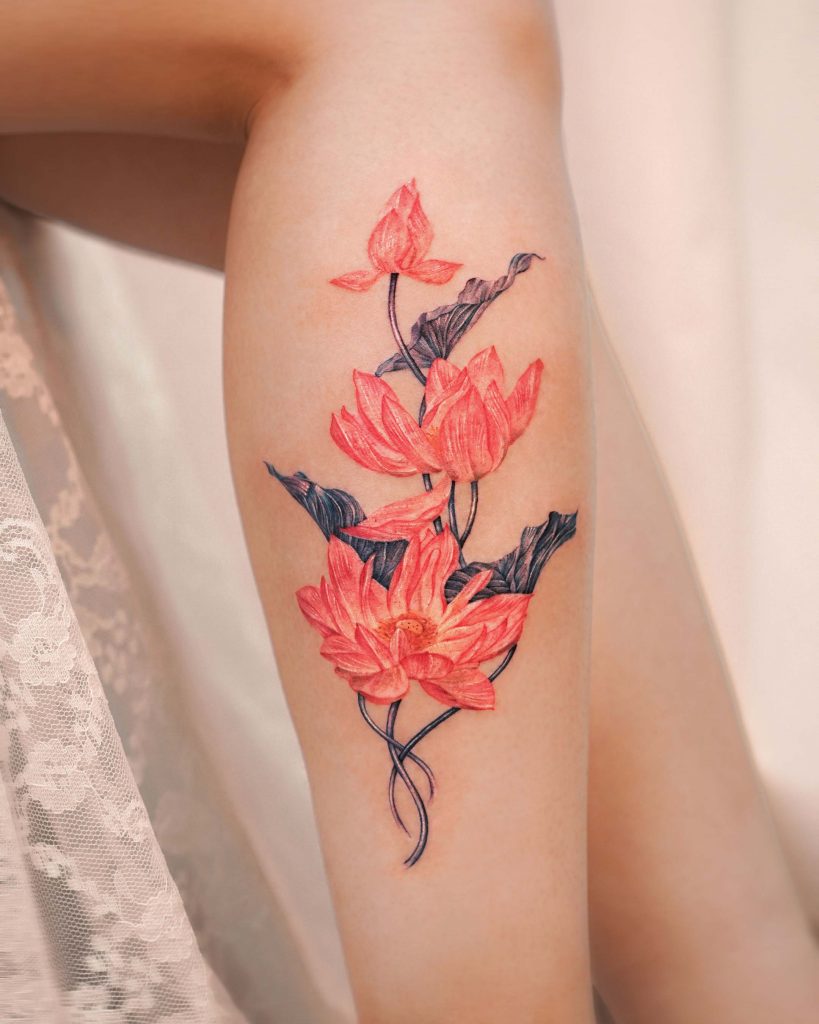 If you weren't a tattooer what would you be? Maybe I would be an illustrator. It would allow me to express my art through my hands, like tattooing does. The charm of it all is that I can combine colours as I think of them and stories appear as I draw. In my free time I draw and give my illustrations to my friends.
What's your favourite thing about being a tattooer? That the people who visit me like my paintings. It's amazing to me that they want to engrave my art on to their bodies. I also like it when they are happy when they see my finished work.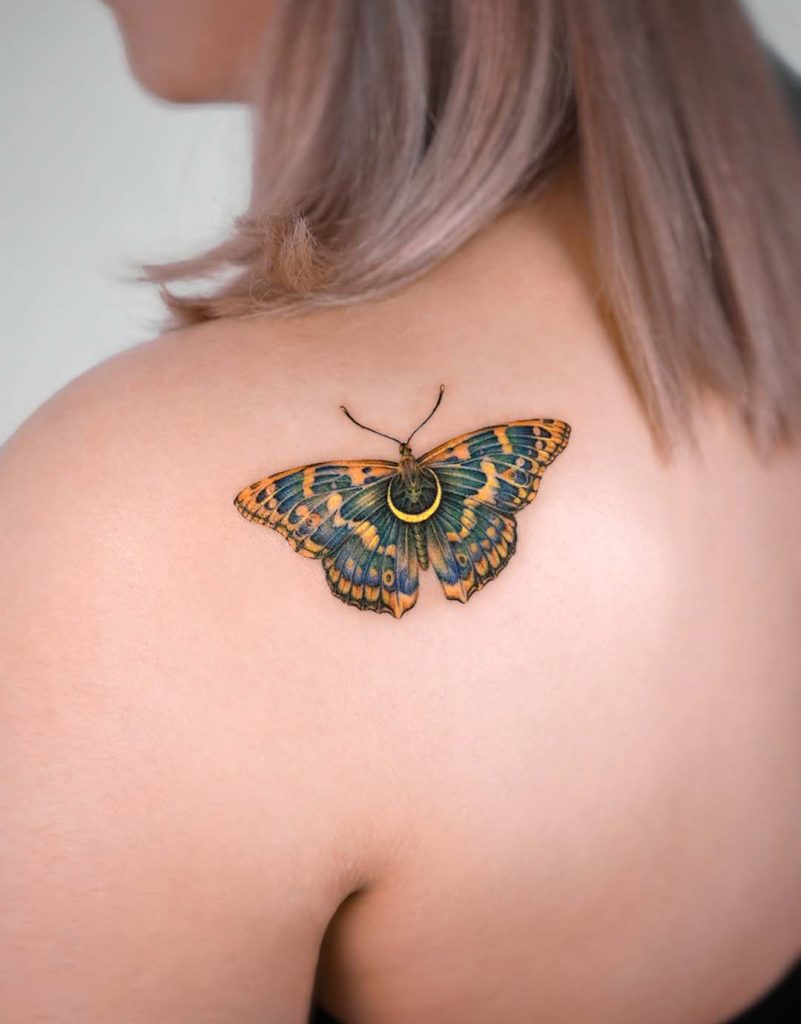 Can you tell us about your experiences in the tattoo industry? I feel a great responsibility in every moment, because I do work that is indelible to the human body. This also includes how I try to get my customers to have a tattoo of what they really want. It's been two years since I started tattooing, but I still try to work with the same mindset.
How would you describe your work? Fairy tales for adults. I want to beautifully express the same innocence that still remains within these stories. I interpret all the designs I see with my own viewpoint. The charm of my tattooing is to make the things around me more delicate and special.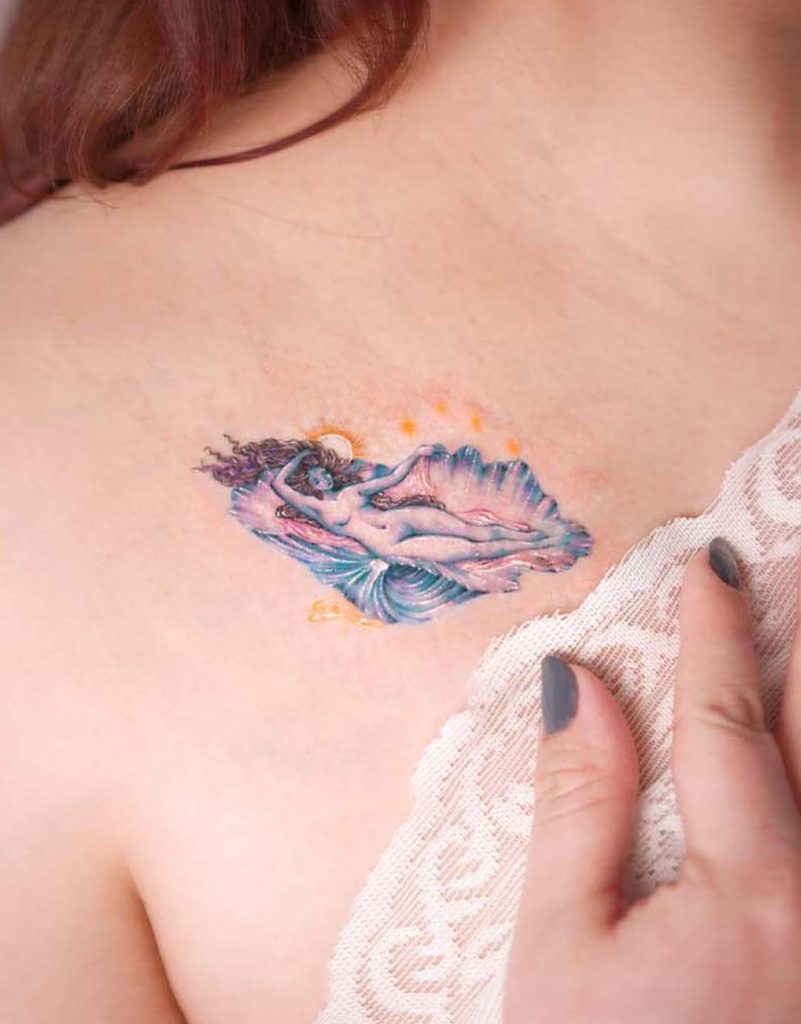 What inspires you? Twinkling things like stars in the night sky and things with delicate patterns. I also like symmetrical natural objects such as birds and butterflies.
There's a novelty to the wonderful forms of nature that man cannot imitate. When we try, what is produced is special, it is this that gives me comfort and allows me to dream.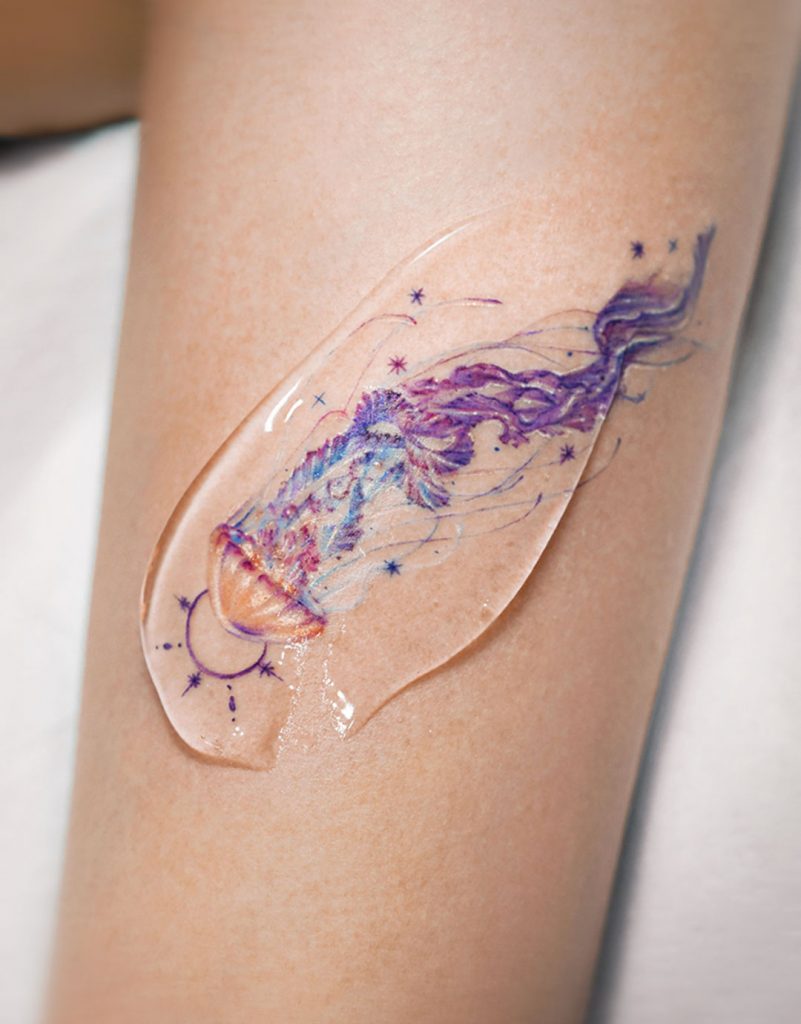 Do you have a favourite tattoo artist or someone who inspires you? My tattooist colleagues and my close friends. Thankfully, I have a lot of friends who have unique and creative minds. I'm always grateful to them for giving me fresh and artistic stimulation.
Can you tell us about the process behind your tattoos? I always try to draw the same theme from different angles and poses, or a new combination. Sometimes, when I do this there are unexpected designs and colour combinations that come out.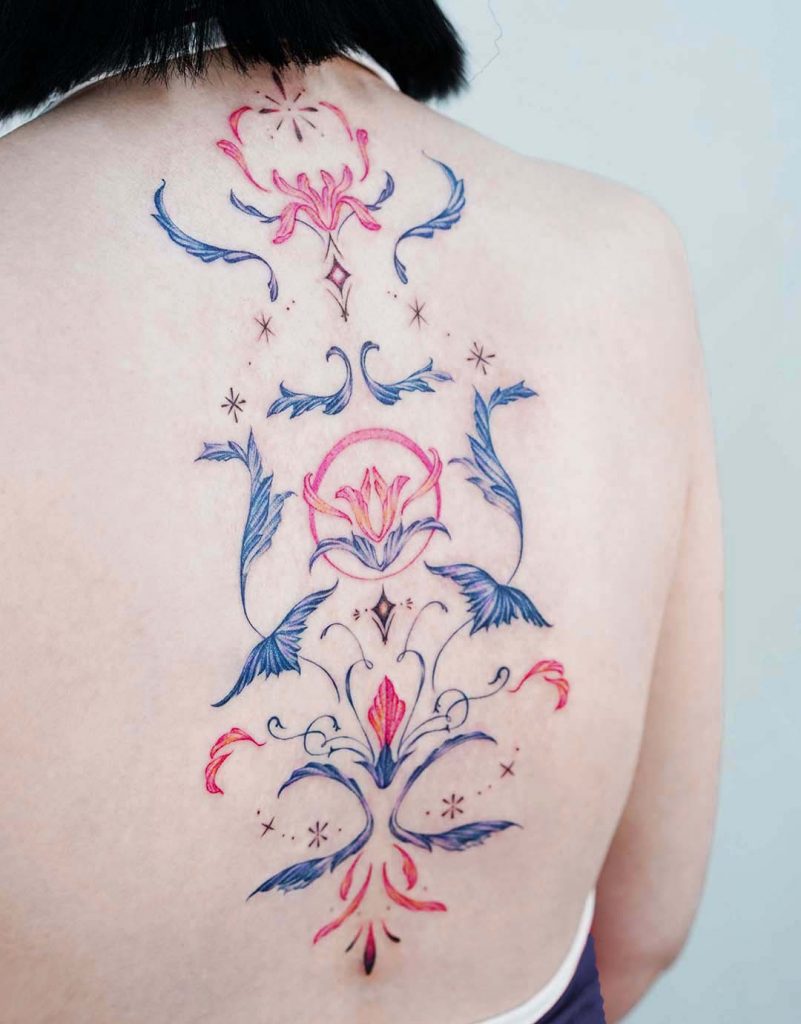 What do you like to tattoo and what would you like to do more of? Working with various objects is very fun for me. I like to reproduce the form and the delicate lines I see through tattoos. These days, I am interested in flower shapes, so I want to develop these in my own style.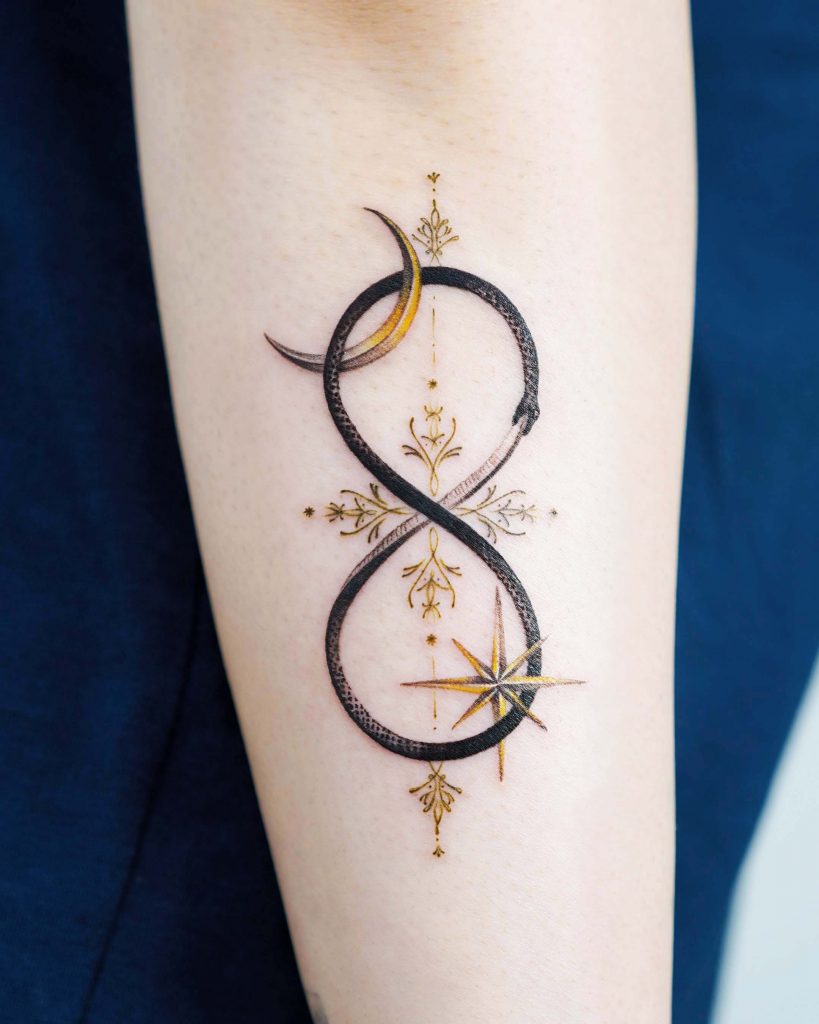 Can you tell us about your own tattoos? Are you a tattoo collector? My first tattoo is an ornament on my finger without much meaning. I didn't get another tattoo for a long time after that, because I wanted to be careful about the tattoos on my body.
Then last spring I received my long awaited and much cherished flowers and birds from @soltattoo on my arm. I will continue to fill my body with flowers that I like.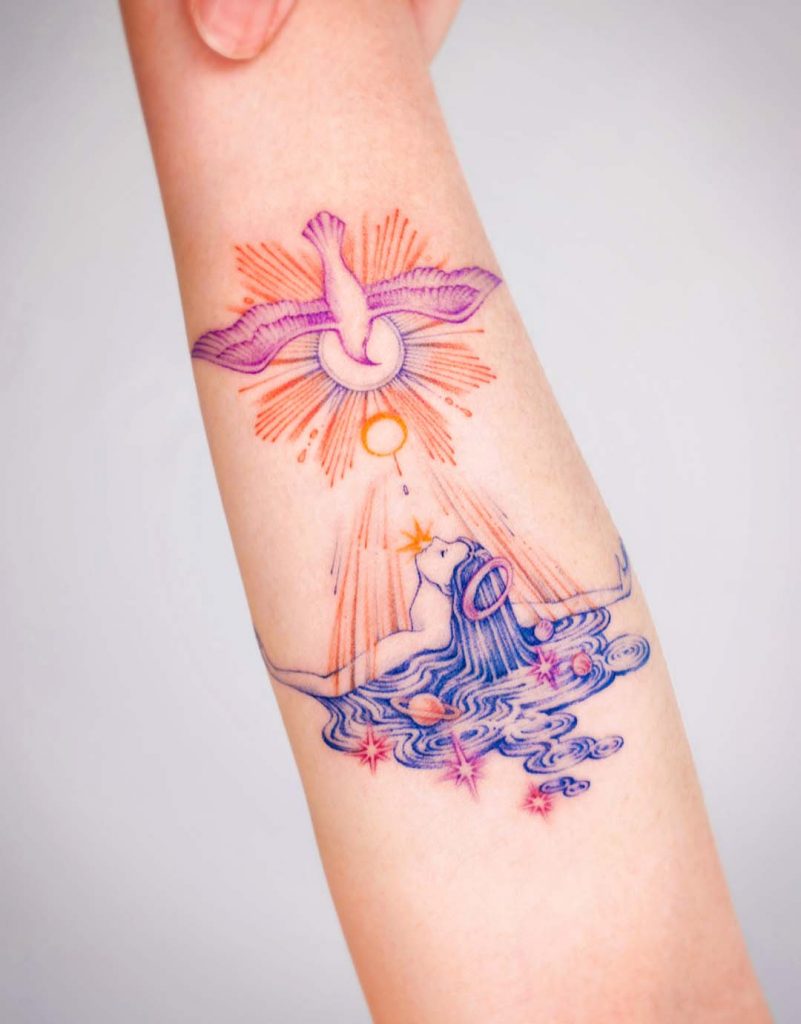 What moment in your career are you most proud of? There are so many that I can't choose. As a tattooist, I think the way I can draw a design to better fit a person's body is the best. I hope my clients can love their body more with my tattoos.
What's the tattoo scene like where you are? Our country is the only country where tattooing is illegal. As a result, a lot of generations generally distrust tattoos and tattooing. But ironically, for many young people, it's a means of self expression. I think there are so many talented tattooists in Korea. I hope that someday Korea will be welcoming of tattoos.
Follow Norang on Instagram for more beautiful tattoos.