Tattoos Ideas
Interview with tattoo artist Sergei Titukh – Things&Ink
Tattooist Sergei Titukh from St. Petersburg, Russia works in one of the most stylish and atmospheric studios in the city centre – INKME. Born in a small town in the Rostov region (South of Russia), he moved to St. Petersburg in 2005 to study and never left. Read on to find out more about this incredibly talented blackwork artist…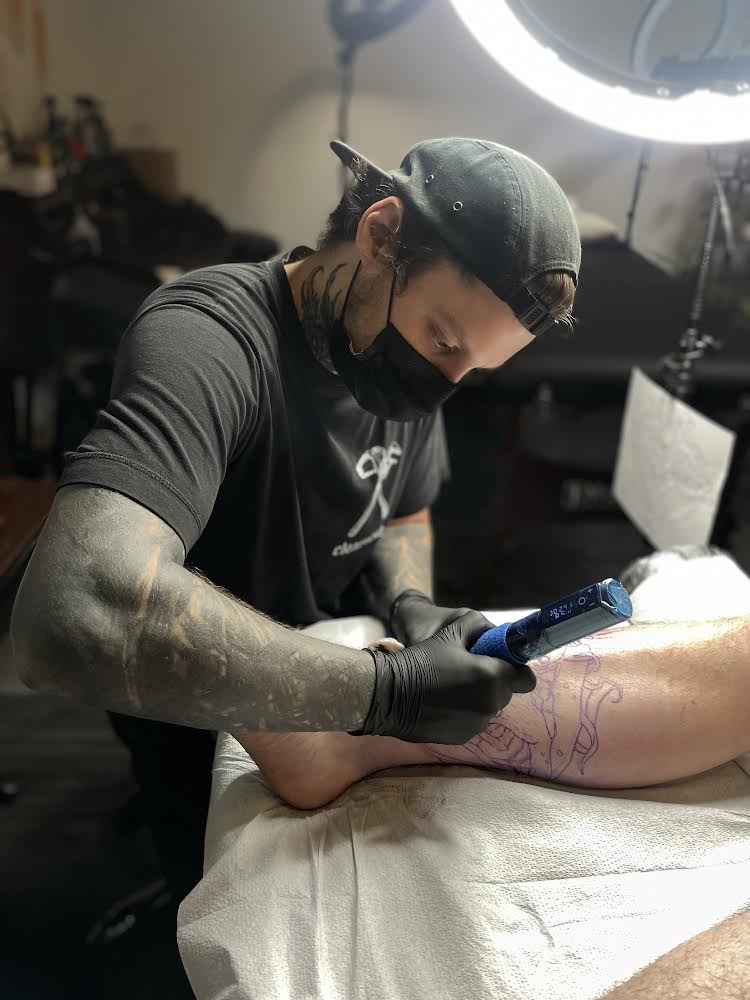 What inspired you to become a tattoo artist and how did you become one? In 2005, when I moved to St. Petersburg I entered the Maritime Academy, but six months later I realised that it didn't interest me and I changed to the faculty of design. At university there were practical classes in drawing and painting that gave me a good foundation for artistic development. It wasn't until I started tattooing that I began to develop my drawing.
Then in 2007 I became interested in rock music, which for me was the first step towards tattoo culture. I wanted to buy a guitar and grow my hair long while I started going to rock gigs. The underground atmosphere really pulled me in – I wanted to be a rock star. I did become one; I bought a guitar and gathered the band together. At that time I wasn't ready for tattooing, but my hobbies gave impetus to it.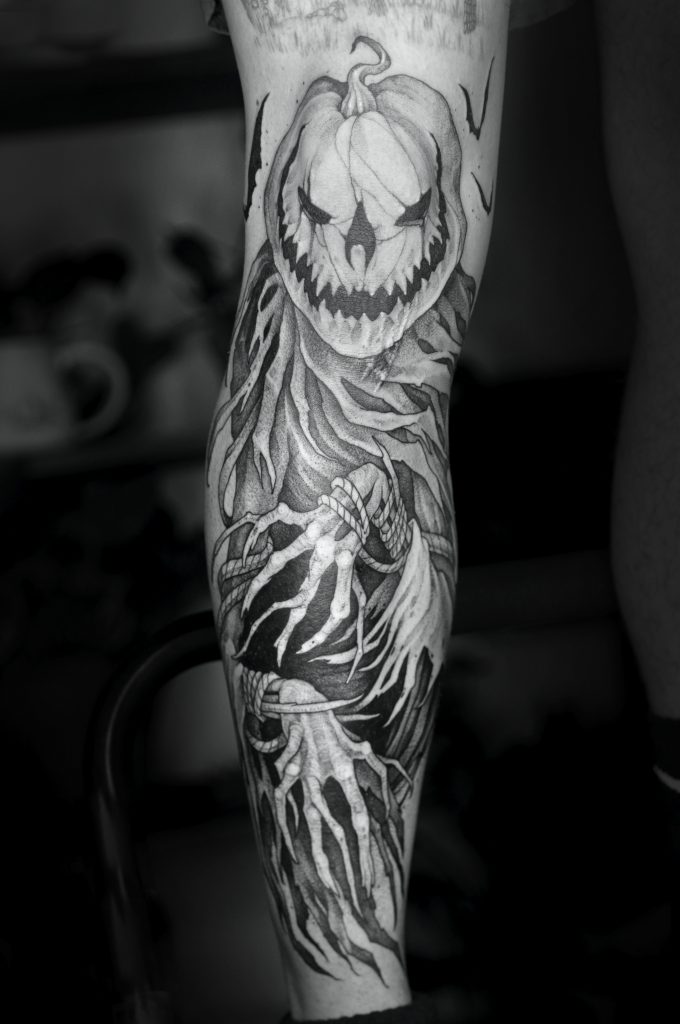 How did you become an artist? I have drawn throughout my life and always had friends telling me to become a tattoo artist. But my way into tattooing was a long one. After uni and my rock years, in 2010 I decided to find a tattoo shop where I could learn, but the tattoo training was too expensive. At the time I didn't have much money, there was a cheaper piercing course and as body modification was generally interesting to me, I decided to become a piercing master.
I joined the community, met many interesting and talented people who, at that time, were at the top of the tattoo culture. I didn't study tattooing professionally and lost interest as I went deep into piercing for a while. It wasn't until 2014 that I become excited about tattooing again. This time I bought my own machine and started teaching myself. I tattooed myself at first, I still have these on my legs and they still seem pretty ok!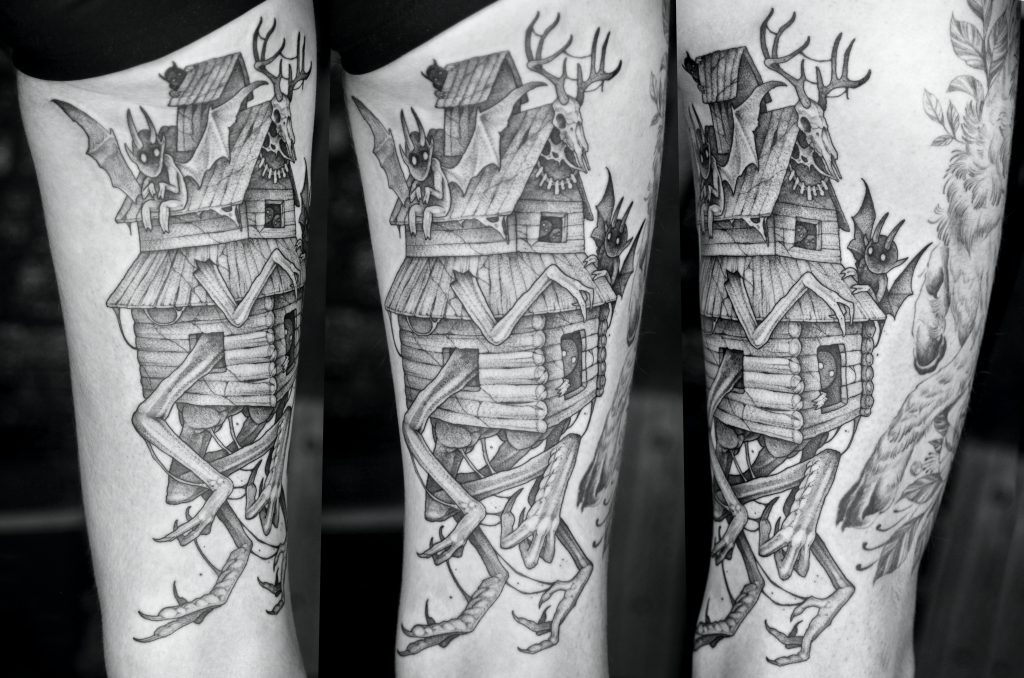 After the third tattoo on myself I felt confident that I could tattoo my friends. I worked from home and bought all the necessary equipment. I have always taken the responsibility of tattooing very seriously. So I made myself a mini studio in my apartment with everything needed for sterilisation and so on, as I was very worried that I could harm someone's health.
But I didn't work at home for long as I applied to a new studio specialising in graphic black and white works – Blackyard Tattoo. The guys took me on and I was incredibly happy that I would be working in a real tattoo shop. I worked there for two years and developed as tattoo artist before opening my private shop. I then travelled in Europe and the USA and since the end of 2019 I have been working with the INKME team.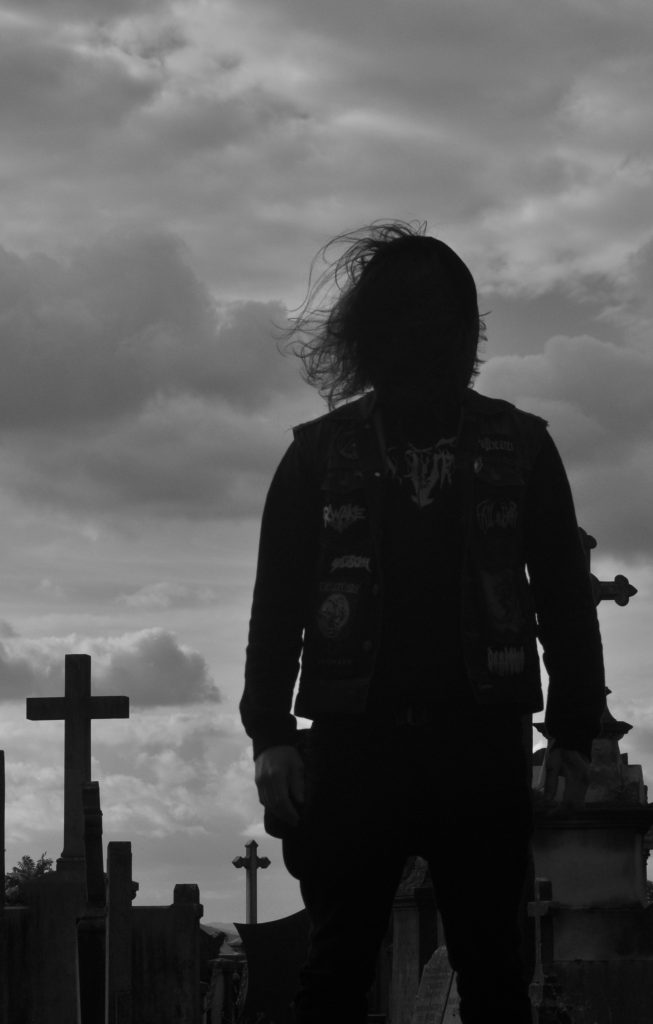 How would you describe your style? My style is black graphics and my monsters are my calling card. At first I didn't know exactly what I would tattoo, my first sketches were in dotwork and linework. But then my eye was caught by the dark and mystical works of Russian tattooers. Now I understand that this kind of black tattooing was just gaining momentum at that time and I was lucky to catch this wave.
I then tried to make a few of my monsters, the designs were simpler as I drew on paper while trying to understand how I'd do it on skin. At that moment a vision of what my tattoos should be formed and over time I honed my technique. I can't name a specific style for my tattoos; I work with black ink and make creepy monsters. I'm drawn to mythical and fantastic stuff. I often use the same elements in my sketches: poses, hands, claws and paws, thereby trying to preserve my author's vision.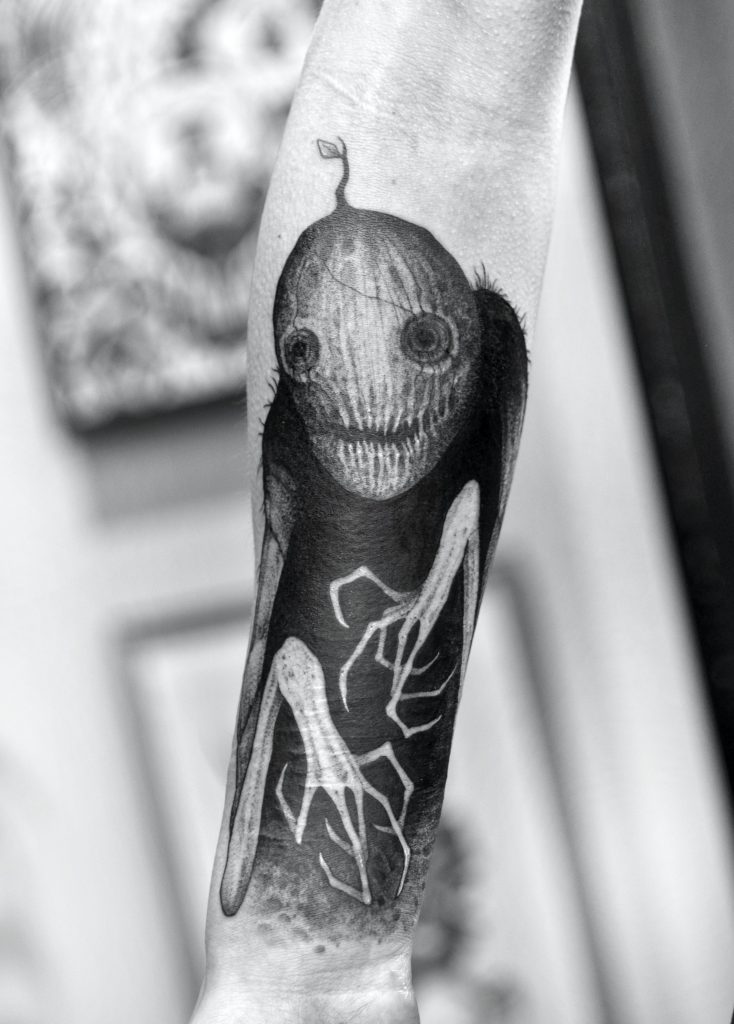 Can you tell us about the process behind your tattoos? More often designing a new tattoo is quite a lot of work. The time has long passed when people just went into the studio and chose a design from ready-made flash sets. Now individuality is valued, so an original design is developed for each customer. I never repeat my own or other people's work. Thanks to design programmes and gadgets I can develop the design and make edits if needed. However, I sometimes miss the "live" element of drawing on paper and often, with pleasure, take a pencil in my hand.
There are clients who come just for my style and give me complete freedom when creating a design or choose a ready-made design, I really appreciate it. I find this a comfortable way to work and I create a design based on my own imagination as I have no frames and restrictions.
But there are those who come with their idea based on existing characters, with this I try to implement everything in my own style as much as possible. As a rule people don't mind this because they came for my style, I thank them for this!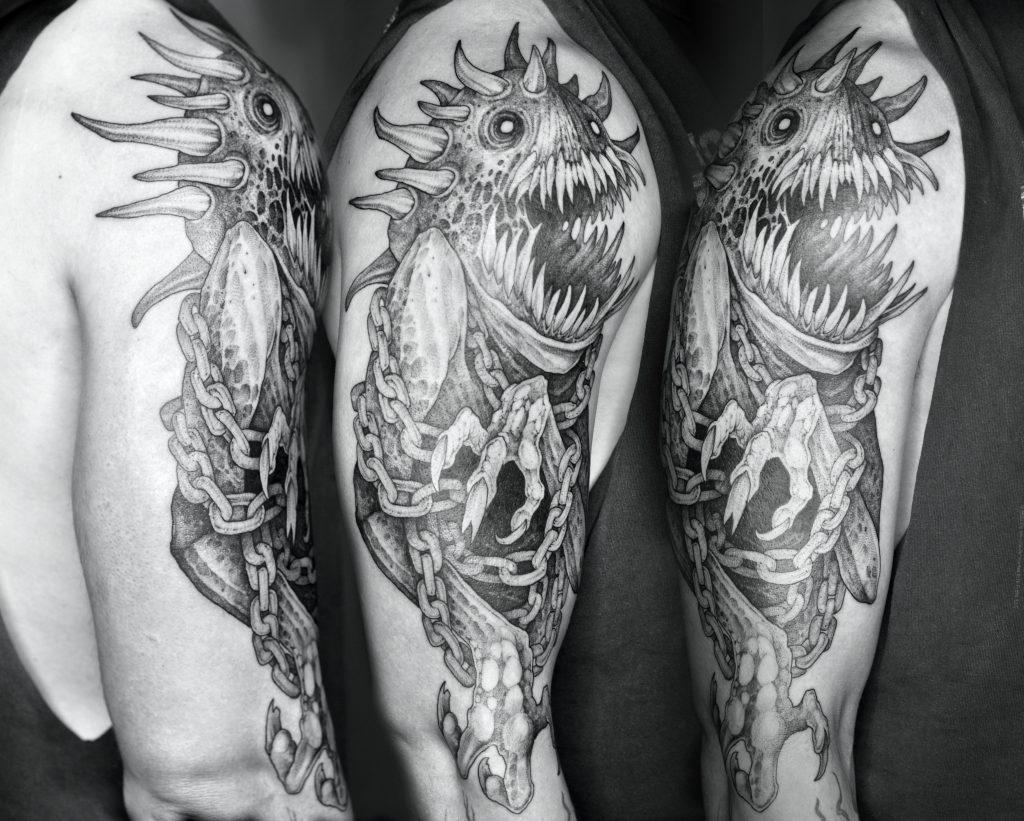 What inspires you? find inspiration in nature, horror movies, stories about witches, mythical creatures, and music like black metal, doom metal and stuff like that.
What drew you to work only in black ink? I just have no passion for colour drawings and working with a large palette of colours. This also applies to my own tattoos; my first tattoo is a sleeve based on my own sketch. At first I was delighted with the result but the sleeve features colour. After a while I become uncomfortable with the colour on my hand as my preferences changed and now it's covered with blackwork.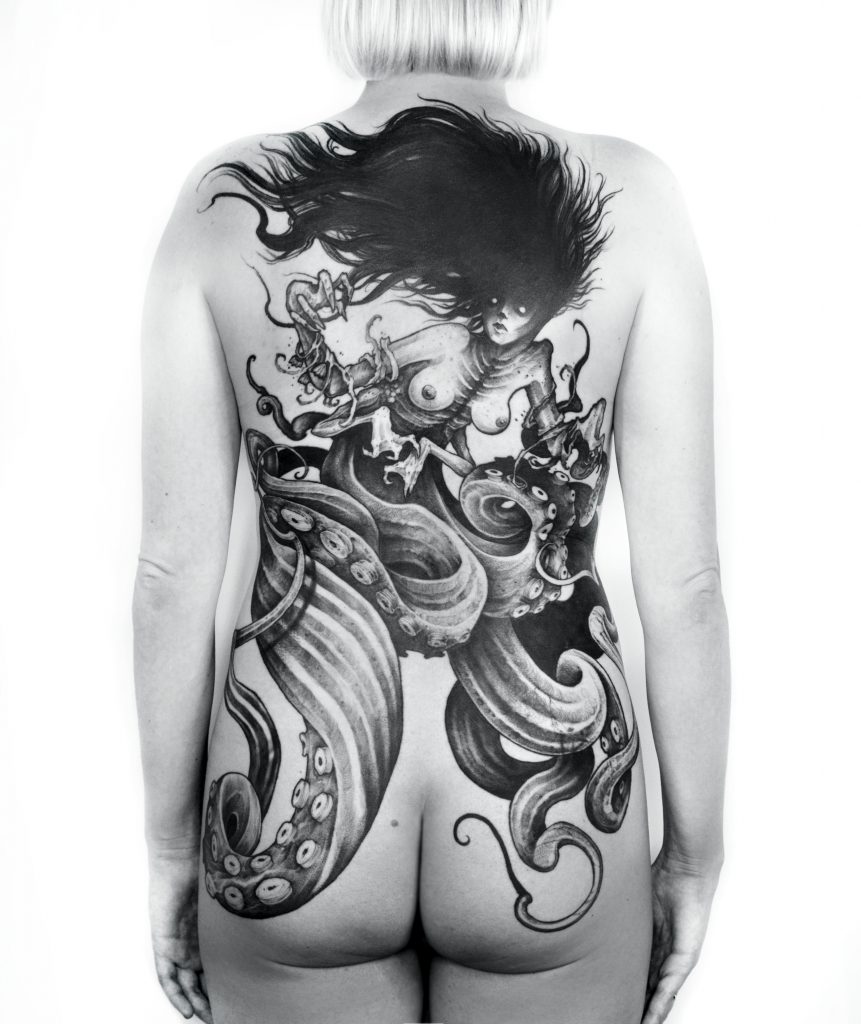 What do you like to tattoo and what would you like to do more of? I would like to do more large-scale projects, such as on the back or torso. Spaces where a customer doesn't have some kind of framework on the body that he is trying to fit a specific design into.
I'd like to create more experimental tattoos with transitions from one part of the body to another, such as from the back to a leg. I'll be incredibly pleased to work on such ambitions projects.
At the moment, my portfolio is diluted with existing characters from movies, books and games which are usually commissioned by my customers. Although it may upset my clients I'd like to do less of this kind of work and pay more attention to the universe of my monsters.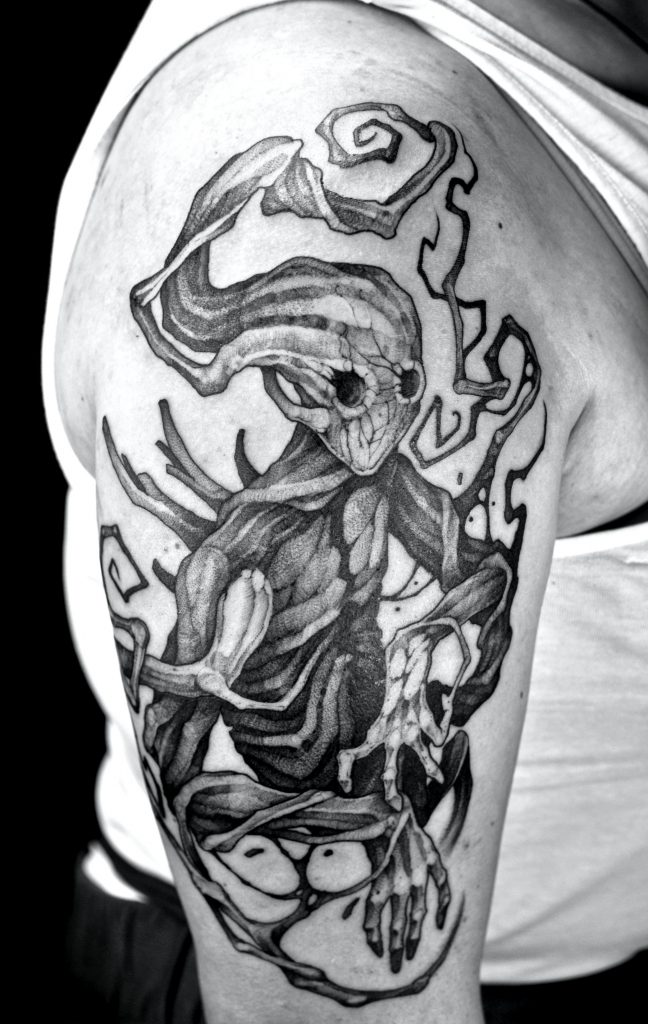 Can you tell us about your own tattoos? Are you a tattoo collector? As I mentioned, I did a few tattoos myself while I was studying. Most of my tattoos are from my friends and tattoo artists I have worked with. Naturally they are also all dark and black and white. I don't chase tattooers with big names, if I like a sketch and the quality of the master's work I will gladly get a tattoo from him. But I also don't do thoughtless and impulsive tattoos, they must be in harmony with my tattoos and coincide with my inner states.
I have ideas on how I want to close the remaining areas on my body, but all the tattoo artists I want to go to are in different countries. So I don't know when I can make an appointment with them.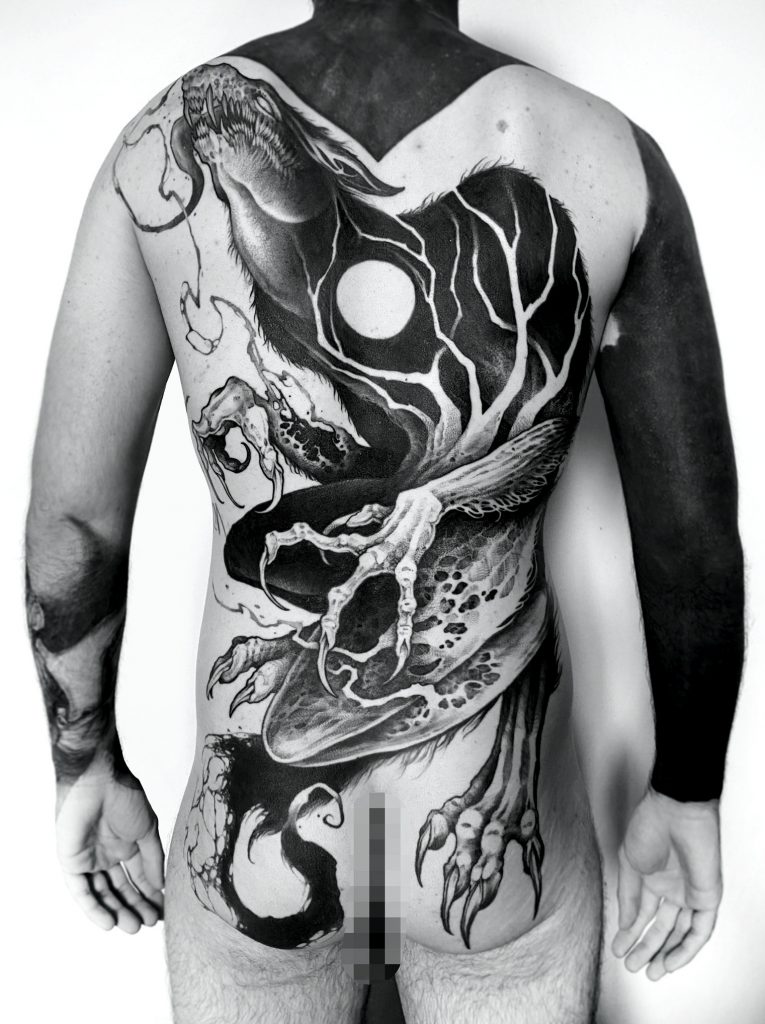 Where can people get tattooed by you? I always announce my plans on my Instagram @t_i_t_u_k_h. You can also email me at [email protected] with any questions. Actually I love it when people write to me saying that they would like to get a tattoo from me, even if at that moment I am on the other side of the world.
These requests are important because they help me plan my guest spots. I collect these in a database and if I get a sufficient number of applicants in a certain region, I will visit there with pleasure.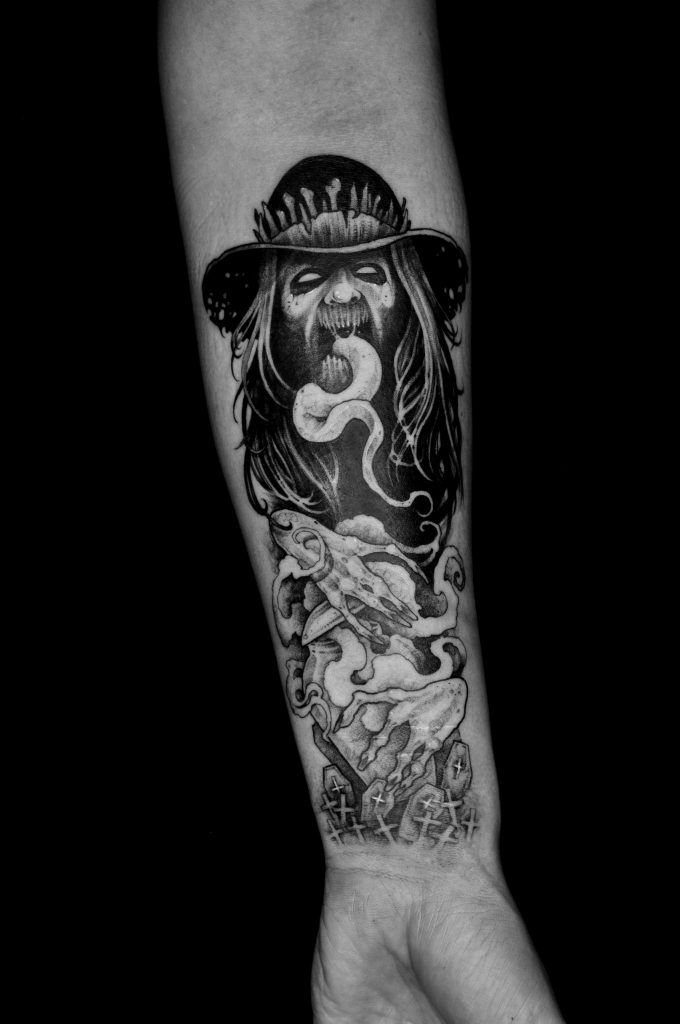 How does guesting compare to tattooing in one studio? When working in a particular studio the work process is well-established and you don't need to worry that there will be no necessary equipment. There's an already formed team, it's like a second home.
When working as a guest artist, especially if you are going to the tattoo shop for the first time you need to foresee everything in advance. I've been lucky with the studios I've stayed in as the people were open and willing to help.
The best part for me is new acquaintances; I can happily say that the guys from all the studios that I have visited have become my friends. Although the pace during these trips is fast and you get very tired, so there must be a balance and time to rest.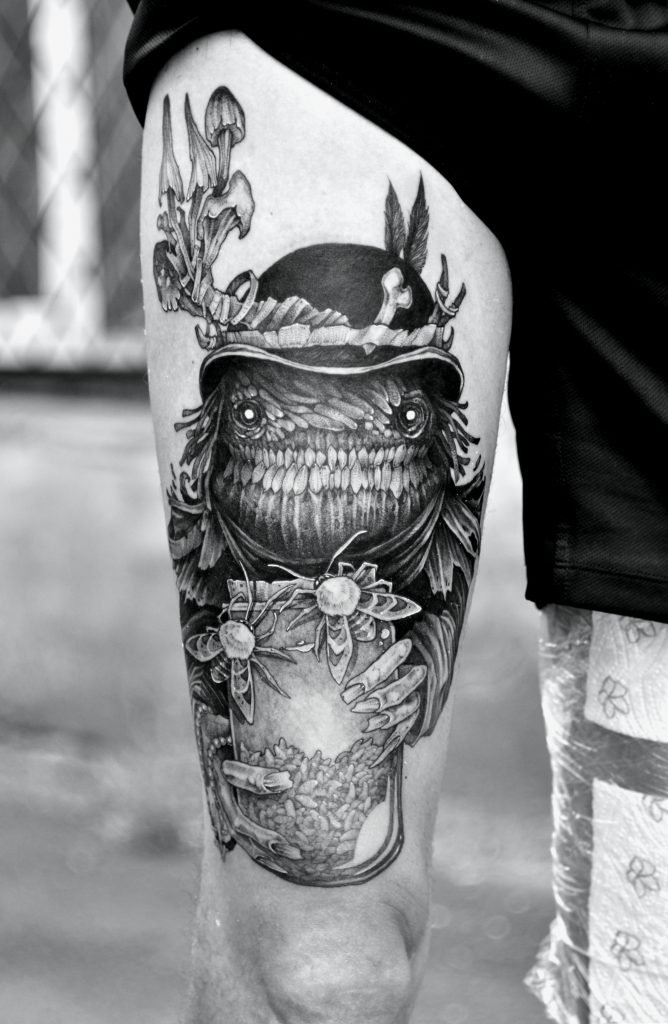 What's the tattoo scene like where you are? St. Petersburg is the cultural capital of Russia. There are a lot of creative and versatile people here. So when it comes to tattoos everything is fine, the older generation is already used to it. There's practically no condemnation and there are many good studios and artists. I can happily say that tattooing in Russia is at a high level and I often hear people mention different tattooists with different styles abroad. Because of the great competition, tattoo artists must constantly improve and upgrade their technique.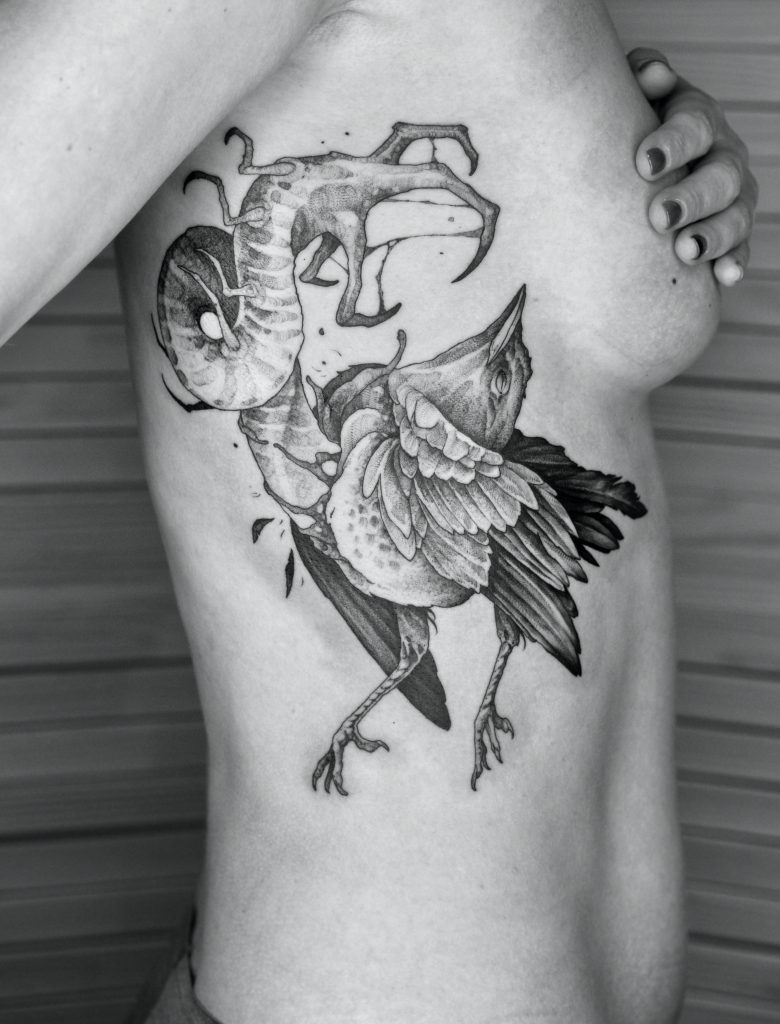 What moment in your career are you most proud of? For me, the most important achievement is that I found my dream job and I'm now I am doing what I love.
Make sure to follow Sergei for more awesome horror-inspired tattoos and find out where he's tattooing next.