Tattoos Ideas
'My studio is welcoming, but I make it clear who we don't want here' – Paula Castle, tattoo artist – Things&Ink
We sat down to have a chat with tattoo artist Paula Castle, who owns Black Sheep Tattoo in Bristol. Paula is one of the most passionate and creative people in the tattoo world. And our chat covered everything from her fave subjects to tattoo to the deep-rooted misogyny in the tattoo world and the importance of safe spaces. Make yourself a cuppa and settle in for the ride…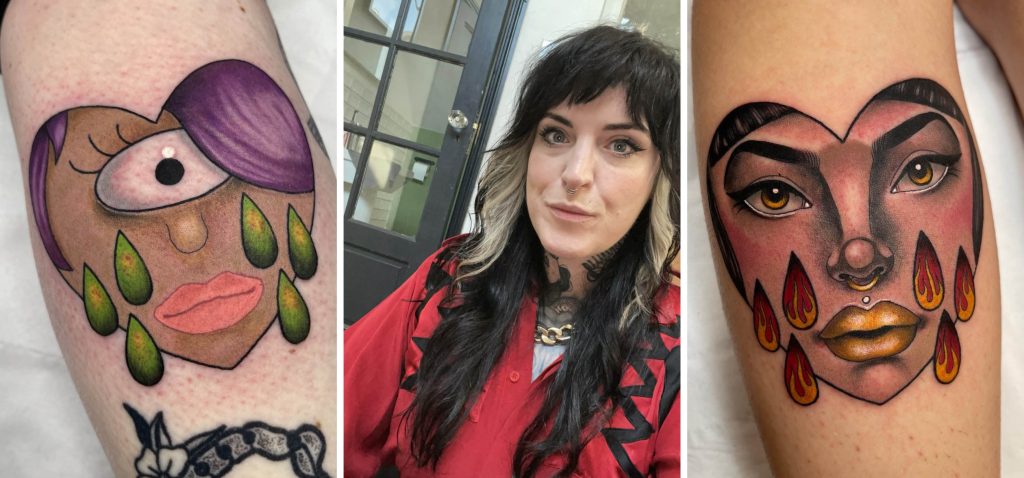 We absolutely adore your tattoos, tell us more about them, your style and any themes that people love coming to you for…
I did my version of a crying heart as a sticker in 2017. Then in 2020, one of my clients said to me, I want your sticker tattooed on me. I loved doing it. And if I really enjoy doing a tattoo, my favourite thing to do is come up with different themes for that design. It's just a really fun and interesting way to work. When people give me challenging themes, it's fun working out how to do it or how to represent something. The crying hearts are especially fun to theme.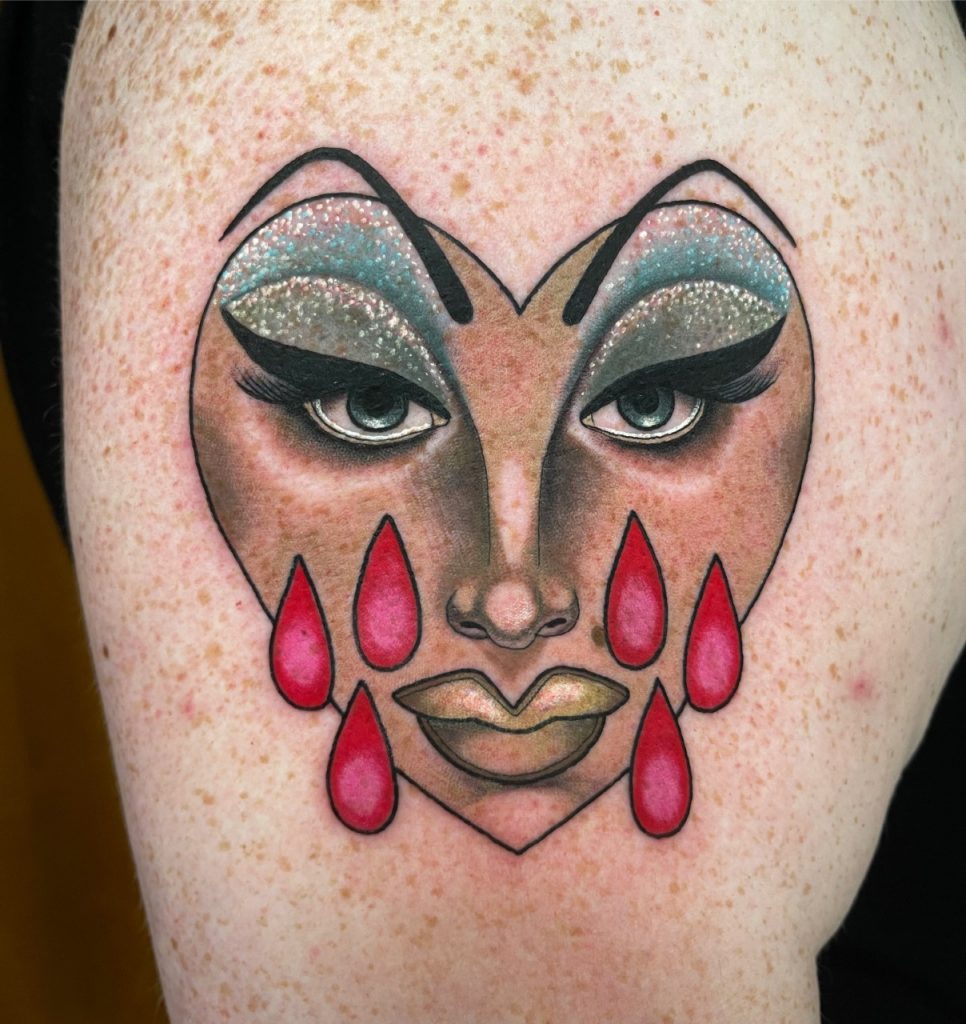 I've also done a few tickets, too. I've done a couple of those as memorial tattoos. It's a nice design to incorporate dates into, without it being overtly memorial. I did one recently that was a ticket for a festival that my client had been to with her dad, and she lost her dad during Covid. I put a few important dates into the ticket. The problem with things that are obviously in memory of somebody is they lead to people asking questions. Sometimes that might be welcome, but for some people, they never feel comfortable sharing that stuff. Some people want something that doesn't scream RIP.
Another fun design I've done recently is a rear view mirror tattoo – another design that's good to add themes to.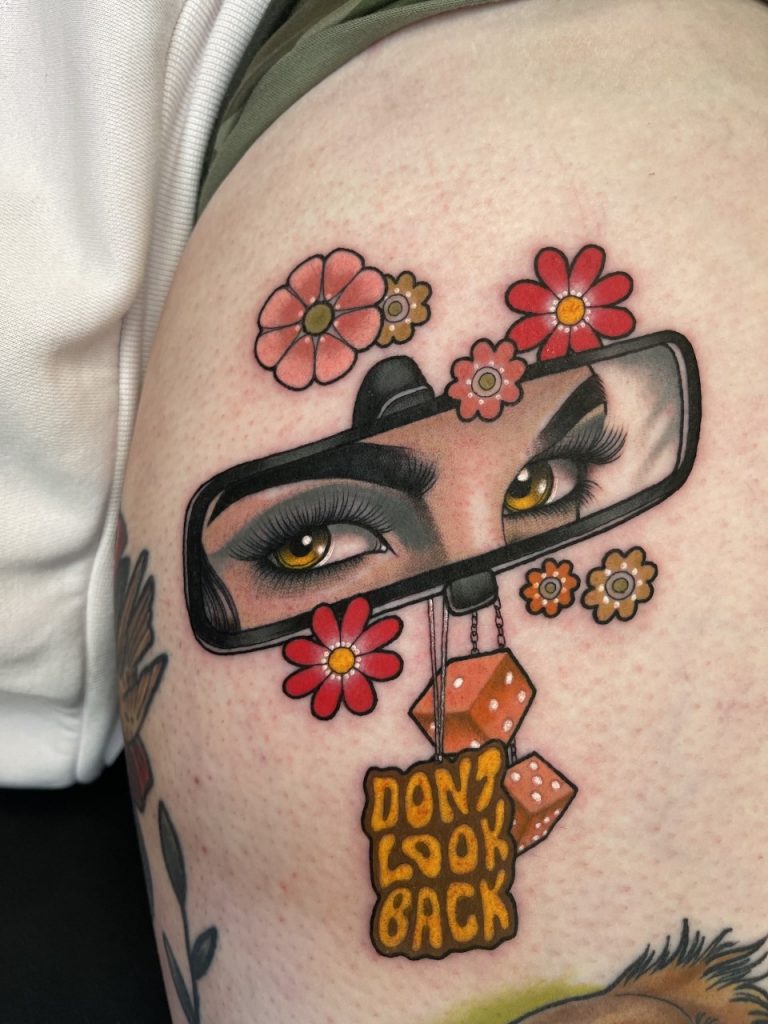 Do you have a favourite tattoo that you've done? Or a favourite by someone else that you can't stop thinking about?
There's a tattooer called Josh Todaro who does traditional pieces. He did a portrait of Adam Sandler from The Wedding Singer – and Oh My God. "Somebody kill me please". And it's my most favourite tattoo I've ever seen. I just love it so much. One of those tattoos I wish was on me. I still look at it all the time.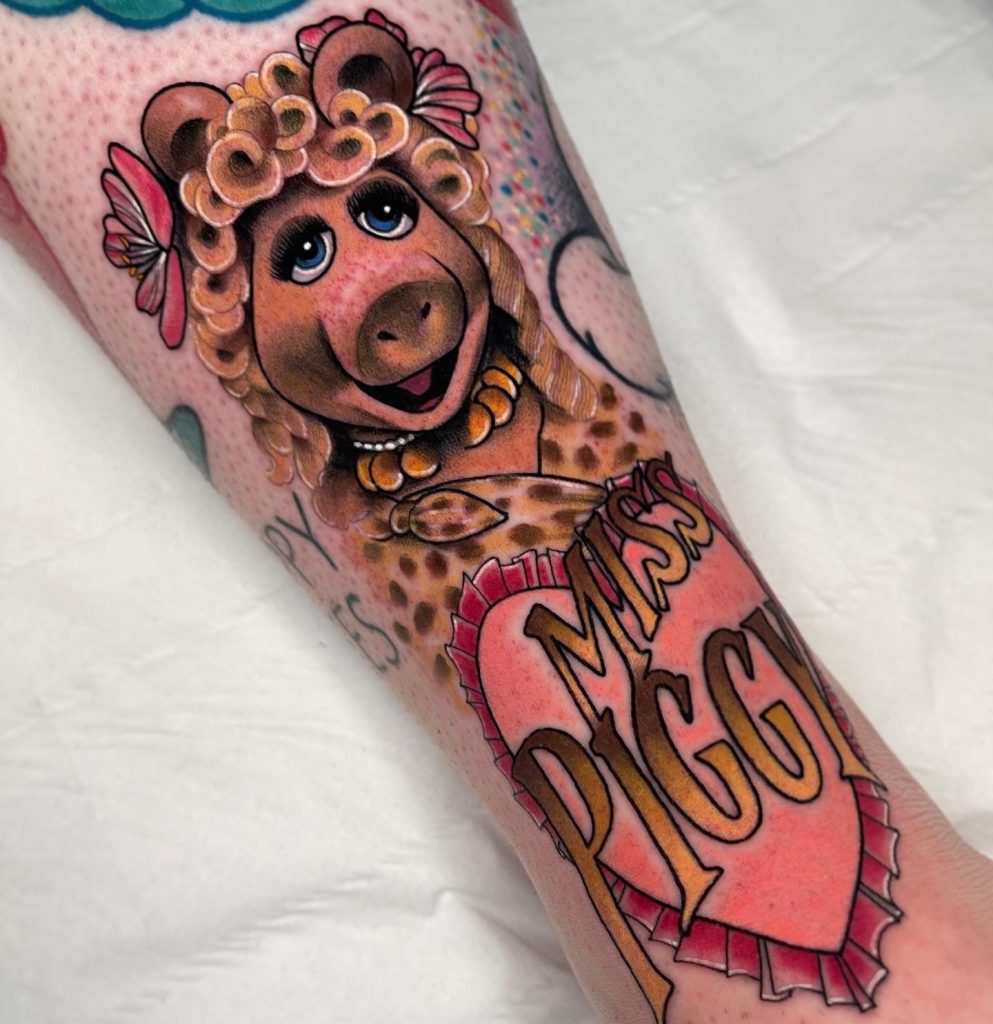 As for me, it's such a hard question to answer. But I just did my first ever Muppet tattoo – Miss Piggy from Treasure Island. I just kept giggling the whole way through tattooing it, because I absolutely love The Muppets. 
One of the reasons I love tattooing so much is because my favourite tattoo is always the most recent one I've done. It just feels like that's constantly continuing forever – it doesn't get old. 
Do you have lots of regular clients that always come back to you?
I love, love, love building relationships with clients. I enjoy time with people that I've tattooed before, because it's like catching up with an old friend. I've got some people that I've been working with now for the best part of my career. I've seen people move through life in such positive ways – going through beautiful moments like marriages and buying houses and having children. Then likewise, I've had long-term clients who sadly lost parents or gone through other stuff and I've been able to offer them support. 
It's been interesting, I was diagnosed with ADHD last year, and so many of my clients are also neurodivergent. I'd love to understand if there's a correlation, whether neurodivergent people gravitate towards other neurodivergent people without really knowing that they're doing it, you know.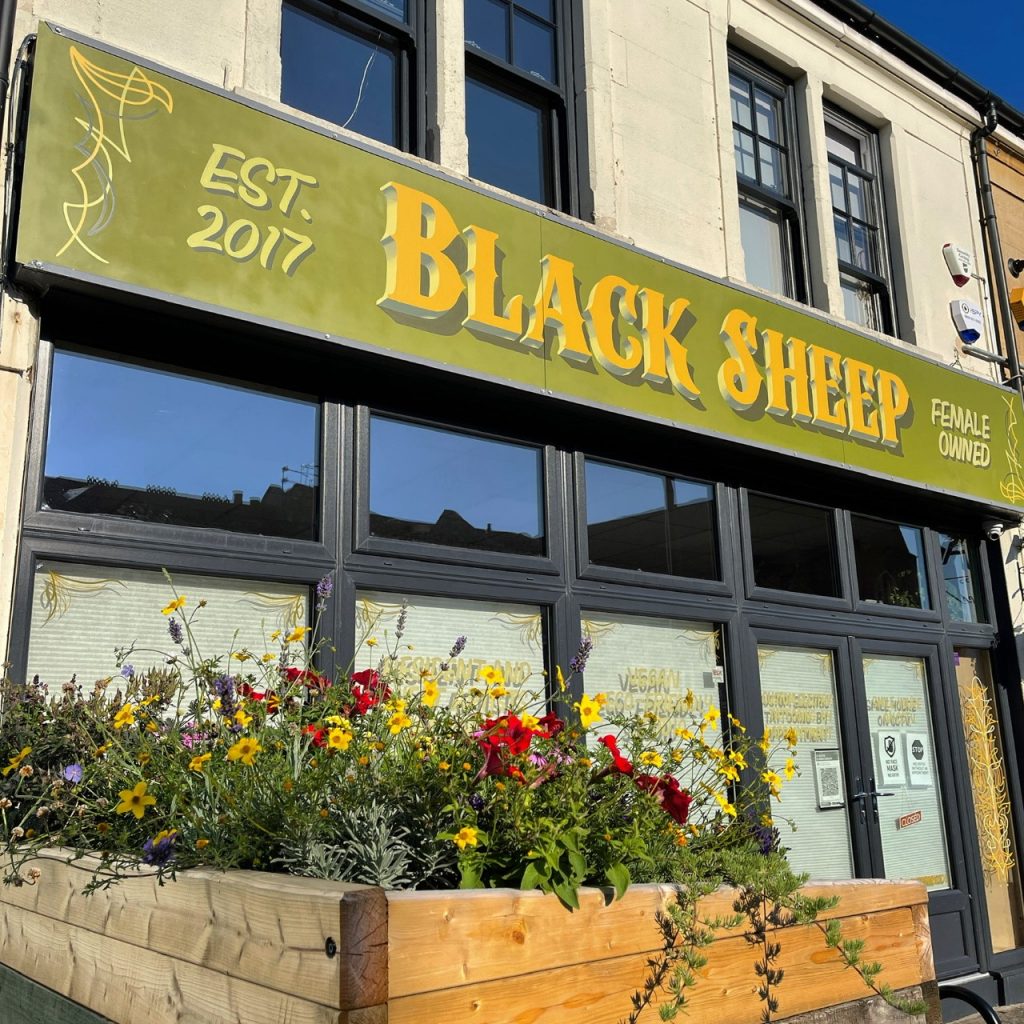 Tell us about your shop, Black Sheep Tattoo in Bristol. We know tattoo shops can sometimes feel like intimidating places if you've never been in one before. 
I try my best to make the studio safe and welcoming for everybody, but also I've taken as many steps as possible to make it really clear who we don't want here. I think that's just as important. We're trans friendly, queer-owned, female-owned – it says female-owned on my sign outside – like I'm very upfront about it. I don't want people in my studio who are going to make not only my artists, but any other clients feel uncomfortable. And that's always been of the utmost importance to me. The clients that we have here really reflect that.
We have eight artists and a studio manager and tattooers who do regular guest spots. Then we also have The Tooth Pixie, who does a couple of days a month offering tooth gems. And Amanda who comes one Saturday every month and does brow lamination and eyelash tinting. When it comes to body modification, it it isn't just about permanence. I love integrating to offer more than one service. Which brings people into a tattoo studio who've never thought about tattooing before, and might have a preconceived notion of what a tattoo shop is like.
Breaking down those kinds of social barriers is still something that's really important. We have a responsibility to tattooing – and especially tattooing for women. It's still an extremely male-dominated industry and it's misogynistic, from a systemic point of view. Even now, you open a tattoo magazine and every supplier advert has got a half naked woman in it – it needs to stop.
We're ready for change, why isn't it happening quicker?
It's those little micro aggressions of misogyny in advertising and in, you know, the percentage of sponsorships and things that go to men over women in the industry, that leads to inappropriate behaviour with clients in studios, and sexual assault and sexual violence against female clients and artists.
These things can't be fixed by me opening a studio and not standing for that behaviour in my studio, the only way to fix the problem is to address the people doing the things in the first place. It's not on us to fix it. But it is the responsibility of the suppliers and the media that work within tattooing to fix the systemic misogyny within tattooing, because it's not acceptable anymore. And it needs to stop.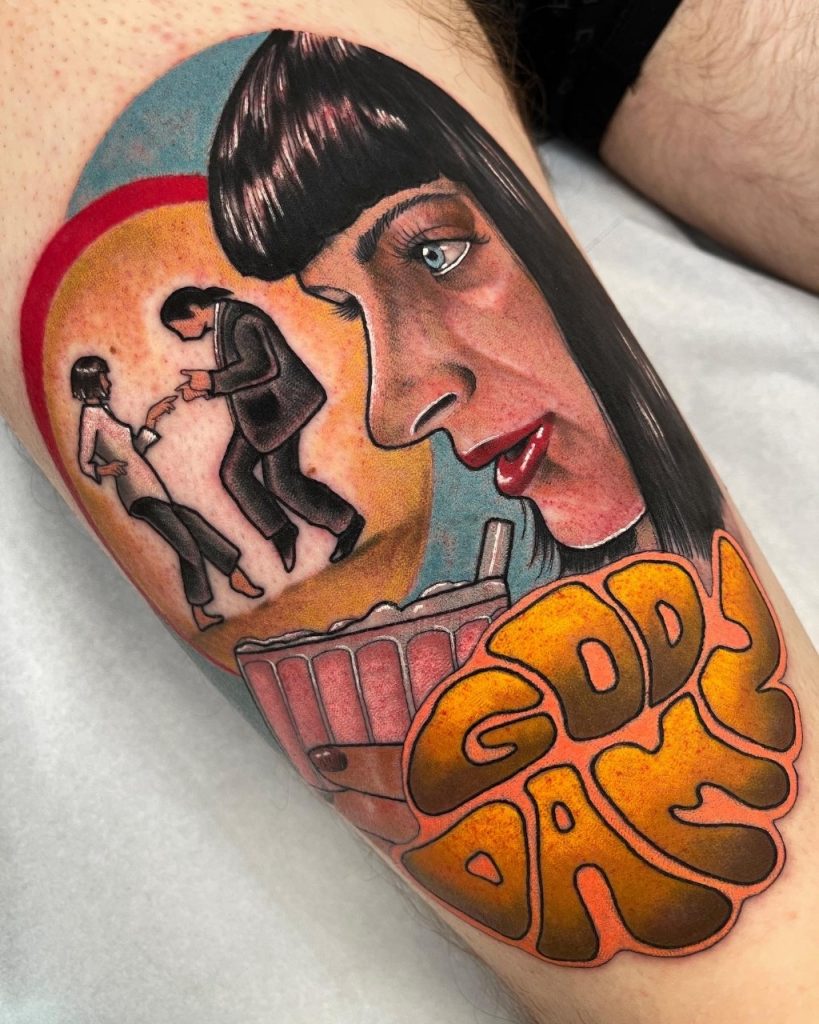 It's my tenth year tattooing this year. It feels like such a milestone. It's definitely been a roller coaster. But it's so hard having your own studio. If I had been able to find a space to work in that was like mine, I would absolutely not choose to be a studio owner. If anybody's really unhappy where they are, don't think that the solution is to have your own place. It isn't always the answer. But yeah, all I ever wanted was to have somewhere that I could truly be myself – like, you know, somewhere not to feel embarrassed all the time. That's all I ever wanted was to not have that feeling anymore.
Follow Paula on Instagram @paulacastletattoos