Tattoos Ideas
Reclaiming the Narrative – a new tattoo installation at the NMMC by Black and POC tattoo artists – Things&Ink
We're so excited to reveal that The National Maritime Museum Cornwall has opened a brand new temporary exhibition: British Tattoo Art: Reclaiming the Narrative, which is now open in Falmouth.
Reclaiming the Narrative features 14 pieces of artwork by Black and POC tattoo artists, all working in the UK today. The artworks represent a celebration of contemporary tattoo art on Black and brown skin. The installation forms a powerful artistic response to the museum's critically-acclaimed 2017 exhibition Tattoo: British Tattoo Art Revealed, which was the largest gathering of real objects and original tattoo artwork ever assembled in the UK. 
The artworks represent both a celebration of tattoo art – especially on Black and brown skin – and a thought-provoking and powerful challenge to National Maritime Museum Cornwall's own cultural decision-making around the original 2017 exhibition, Tattoo: British Tattoo Art Revealed. There were omissions (the 100 Hands for example were all created on white / male tattoo practise skin) and the exhibition should and could have been approached differently. There should have been more conversations – and this new addition to the exhibition is acknowledgment of that. It's time for change, to admit where mistakes have been made.
These works are also intended as a positive intervention into a wider, necessary conversation around diversity of representation – historical and contemporary – in the story of British tattoo art. Reflecting on the original exhibition approach, these works have been commissioned to address omissions and cultural biases contained in the narrative of the 2017 exhibition, and are intended to be a direct  intervention into a wider, necessary and vital conversation around diversity of representation in the story of British tattoo art.
The installation has been guest curated by our editor Alice Snape (who also curated the 100 Hands, the centrepiece of the original exhibition) and created in partnership with lead artist Charissa Gregson aka Glasgow-based Tattoo artist Rizza Boo, of Shadow Work Tattoos.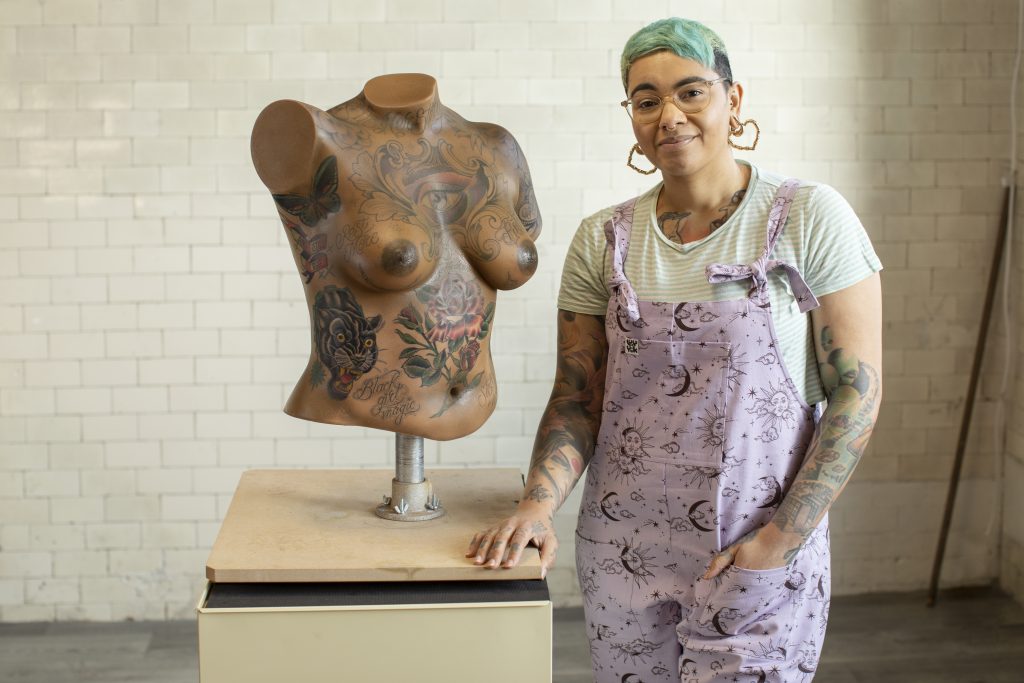 Here's what Charissa Gregson / Rizza Boo, owner of Shadow Work Tattoos, Glasgow had to say about the exhibition:
"Following the brutal killing of George Floyd in 2020, people all over the world have been engaging in more conversations about social injustice, police brutality, institutional racism and anti-Blackness. We saw this echoed through the tattoo community with clients and tattooers sharing some of their experiences of anti-Blackness within the industry, ranging from subtle microaggressions to outright racism. There were conversations about the lack of appreciation and representation of black artists, insensitivity when tattooing cultural subject matter, the harmful effects of whitewashing photos of clients to fit a specific aesthetic and the general lack of knowledge and misinformation around tattooing darker skin.
"We know that representation matters. This exhibit feels like an important addition, showcasing the work of Black and POC tattooers, making sure we are included in this particular record of tattoo history. It is a small sign of progress that the plaques and silicone arms used in this project are now available in a slightly more diverse palette, which one would hope will continue to expand. Offering a wider range of colours, skin tones, so that even more people would see a representation of their skin included in an exhibition like this. 
"When asked to contribute to this project, it was obvious to me that we must get more artists involved. A single piece by one artist would only be the illusion of diversity and give a false impression of the cultural and artistic diversity that actually exists in our communities. Holding space for more artists and giving platform to their creativity gives a truer look at who is tattooing in Britain right now. With this project we seek to disrupt and challenge some of the misinformation, give voice to the individual artists and allow us to share some of our collective story."
Reclaiming the Narrative is open now at the National Maritime Museum in Cornwall:
The exhibition includes:
Charissa Gregson's tattooed torso, Starry Crown, which celebrates the Black female body and forms the centrepiece of the exhibition.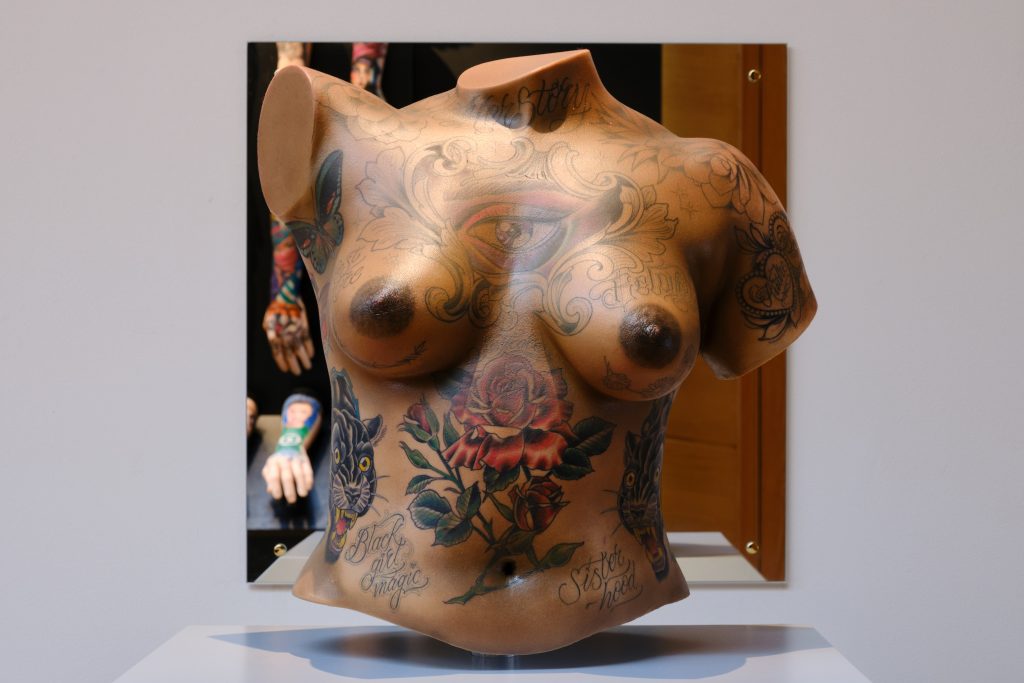 Additional designs on synthetic skin plaques including works from: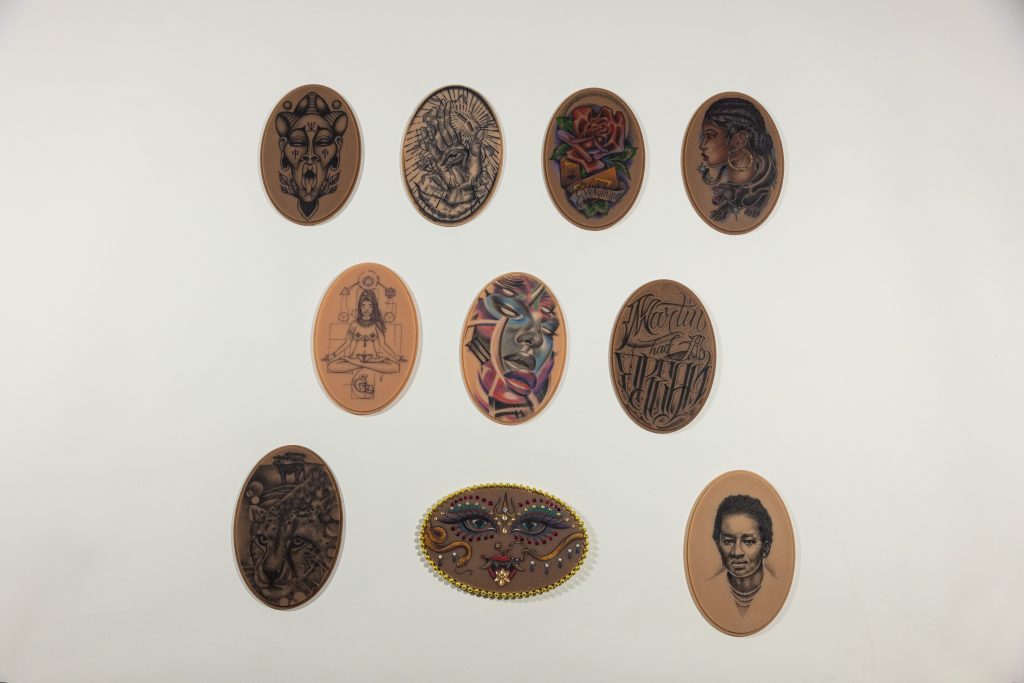 Manni K, Jolie Rouge
Natasha Jackson, Prophecy Tattoo and Piercing
Lord Montana-Blue, The Good Fight Tattoo
Sarah Louise Powell, Neon Wolf Tattoo Studio
Samantha Bee, INKLOUNGE Tattoo Studio 
Rakhee Shah, Xotica Tattoo Company 
Nish Rowe, Blu Xion Tattoo 
Jade Clark, Heart of Glass Tattoo
Samuel Ayobami Paul, Artkilledme
Ash Tyson, Ouroboros private studio  
Yasir, Fake Skin Tattoo
Jezz-lee Wood, Samsara Tattoo Parlour
Pedro, Grey Area Custom Tattoos