Tattoos Ideas
Roll flowers and Carrie Metz-Caporusso – Things&Ink
Michigan based tattooer Carrie Metz-Caporusso (They/She) is known for her "roll flowers" tattoo project. A collection of tattoos that celebrate diverse bodies and defy the notion that you need to change your body to get tattooed. We chatted to Carrie about how authenticity and inclusivity have a space, not just at Lucky Monkey Tattoo studio, but in the world of tattooing…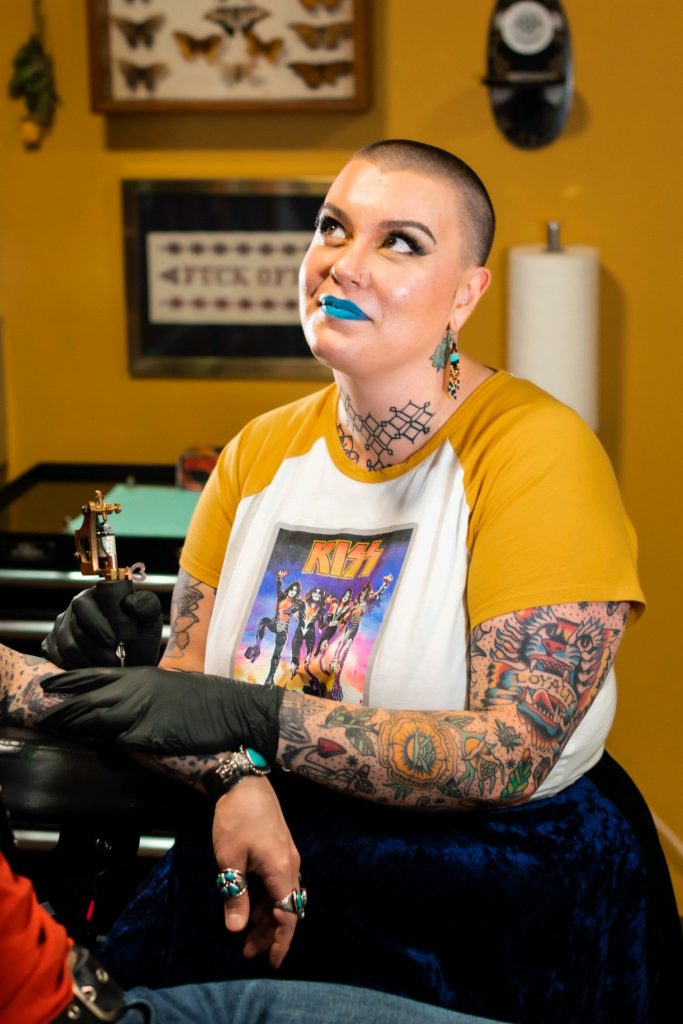 What inspired you to become a tattoo artist and how did you become an artist? It wasn't until my best friend mentioned that I should be a tattooer that the notion even crossed my mind. But once it did, I couldn't stop till I got there. After going from shop to shop around the Tampa area with no luck, I finally broke into tattooing when I met my partner. I had a whirlwind romance and apprenticeship. It was such an exciting time in my life. I did my first tattoo on myself in 2011 and started professionally tattooing in 2013.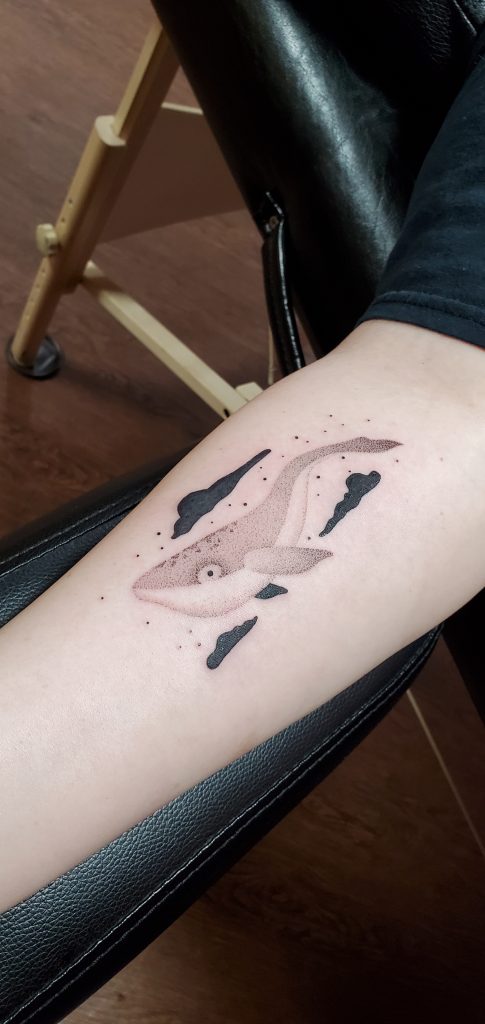 What inspires your work? My work is inspired by what I want to see in the world, or how I'm feeling. My "not a girl flash" came out of being misgendered and it was therapeutic to get it out of my head and onto paper. Same with the roll flowers. I design what's on my mind and it's a bonus that people feel the same way and they resonate with me and what's in my heart.
It seems the more authentically me I am the more people seem to like my work. It's a beautiful thing.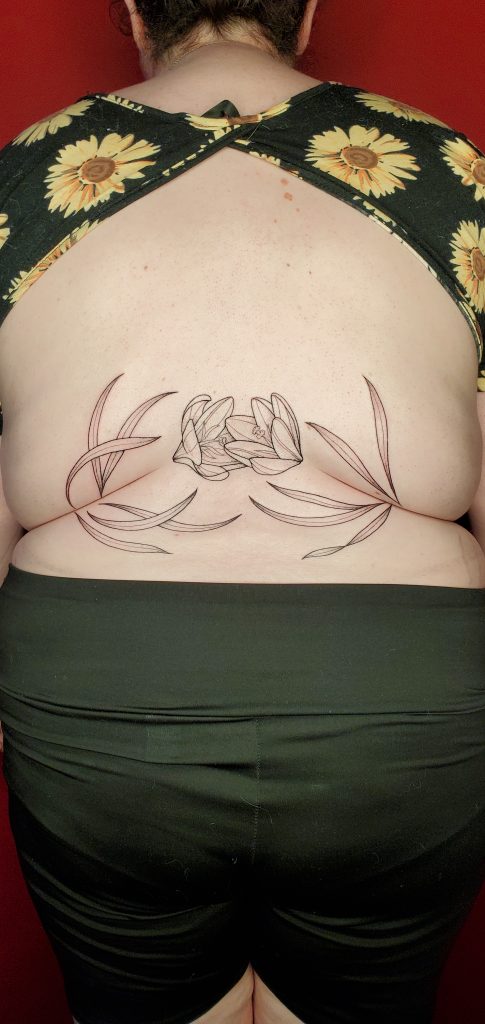 How would you describe your tattoos? I describe my tattoos as whimsical black and grey illustrations. I've tattooed like this most of my career, although I did start off learning American traditional, because it's a strong base for most styles of tattooing. This is how I drew since before I started tattooing so it was only natural to find my way back once I had the basics down.
What do you love to tattoo and what would you like to do more of? I love tattooing anything nature inspired, I'm a plant collector so drawing plants and flowers makes me happy.  I'd love to do more tiny tattoos. I love trying to find the balance between making a small tattoo and designing something that will last a life time.  It's a fine balance and I like the challenge.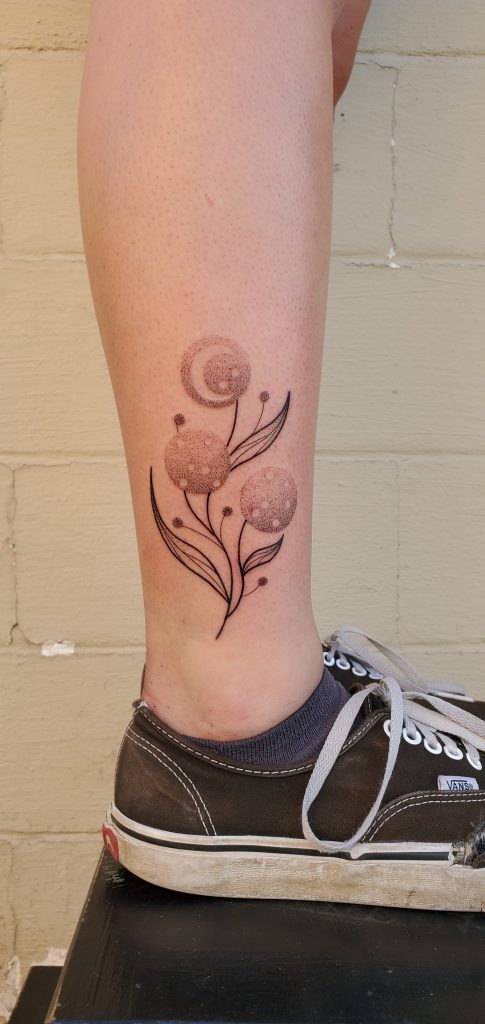 We love your beautiful pieces which celebrate the body of the wearer, what inspired you to start creating 'roll flowers' and what's the process behind your pieces? I had personally felt a sense of ownership over my fat body once I started decorating it. I heard other fat folks wishing they could get tattoos on their backs and tummy etc. but had to wait till they were thinner.  I knew if I could come up with something specifically for us, that would highlight and work with our bodies, I could change some minds.  So I sat myself down and brain stormed until I came up with roll  flowers.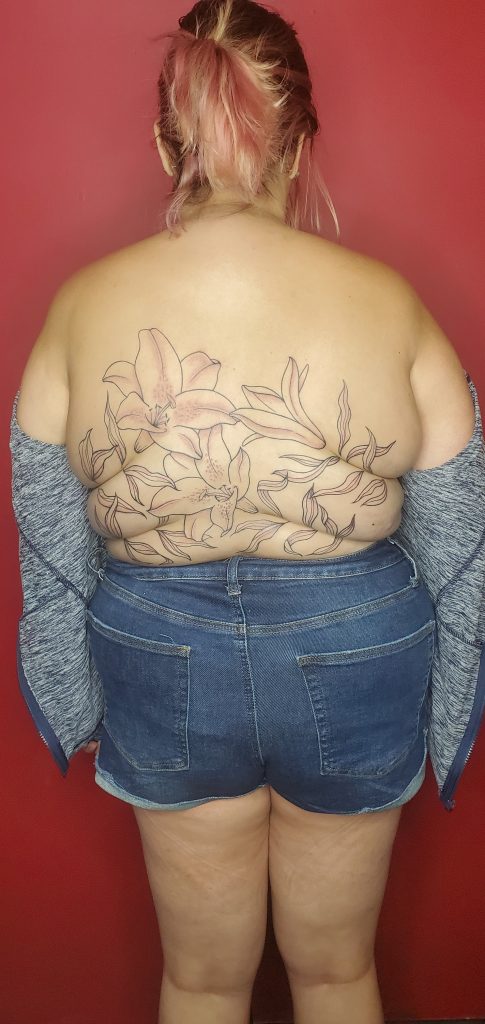 What advice would you give anyone who is worried about getting tattooed because of their body? My advice is take the plunge! When I started viewing myself as art, that's when my confidence grew. With that being said, the world of tattooing is still very fat-phobic, sexist, racist, ableist etc. so be sure to work with someone who represents you. And don't be afraid to ask thing such as "do you have photos of work on fat folks" or "have you tattooed people with melanated skin". If you don't see yourself represented, they may not be the right artist for you. 
How can the rest of the tattoo industry be more inclusive, especially towards fat bodies? I think one of the biggest things tattooers could do is share photos of diverse bodies. Representation is so important. Worry less about trying to curate a "perfect" aesthetic by posting the same thin/white bodies with desaturated pics and show your range. It hit me hardest when in my comments people mentioned they've never seen themselves represented in tattoo photos before.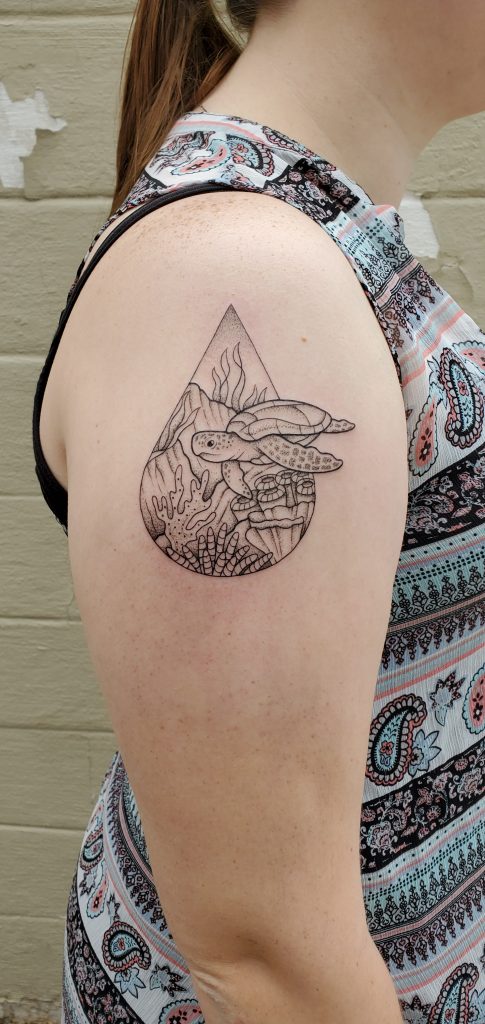 Can you tell us about your own tattoos? Are you a tattoo collector? Since I am married to a tattooer, most of my tattoos are by him. Although Tony is my teacher I still can see how he's  grown and changed over the years on my own skin. I love to see where we've started and where's he's at now. Tony is a constant source of inspiration and it's an honour to be covered in his work.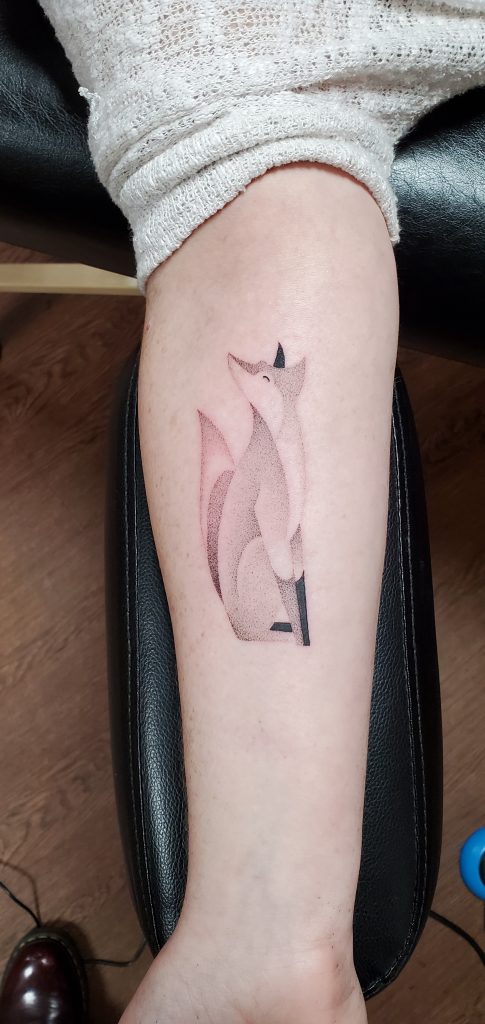 Have tattoos helped you to see your body differently or changed how you see your body in any way? For me getting tattooed is absolutely magical, with every tattoo I add I feel more and more like myself. Tattoos have helped me to see that I am living art, and art should be appreciated, loved and admired. 
Follow Carrie on Insta for more celebratory and illustrative tattoos.