Stretch marks, scars, stretchies, tiger stripes… whatever you call them, most of us have them, and that's okay. But what about when you want to get a tattoo where you have a stretch mark or a scar? Can you tattoo over them, will the tattoo look alright? We spoke to a couple of tattoo artists to find out…
Hannah Gehrke, Red Tattoo and Piercing, Leeds
As someone who is absolutely riddled with stretch marks (which hindered me a lot in my teenage years, thanks, puberty), I am absolutely unbothered by them and I fully empathise with those who aren't so comfortable with having them. 
If you do have concerns about them and are looking to get tattooed, the best thing to do – if you feel comfortable – is to send over a photo of the area so I can have a look, and we can further discuss the best way to make a tattoo that'll look good and last a lifetime!
When someone is looking to cover up stretch marks or scars, I firstly like to make it clear that putting a tattoo over them does not remove them. The tattoo is a distraction – no one will primarily notice stretch marks or scars when there's a fun tattoo over them!
I'd also say, with scars especially, make sure they are completely and totally healed before getting a tattoo over them. It's a lot safer and you'll have a more pleasant experience. Otherwise, as I say to all of my customers, get into a routine of moisturising the area a week or so before your appointment! The more soft and supple the skin, the easier it is to work with, but I feel that's just a general rule for life though. Get on that daily moisturiser, folks!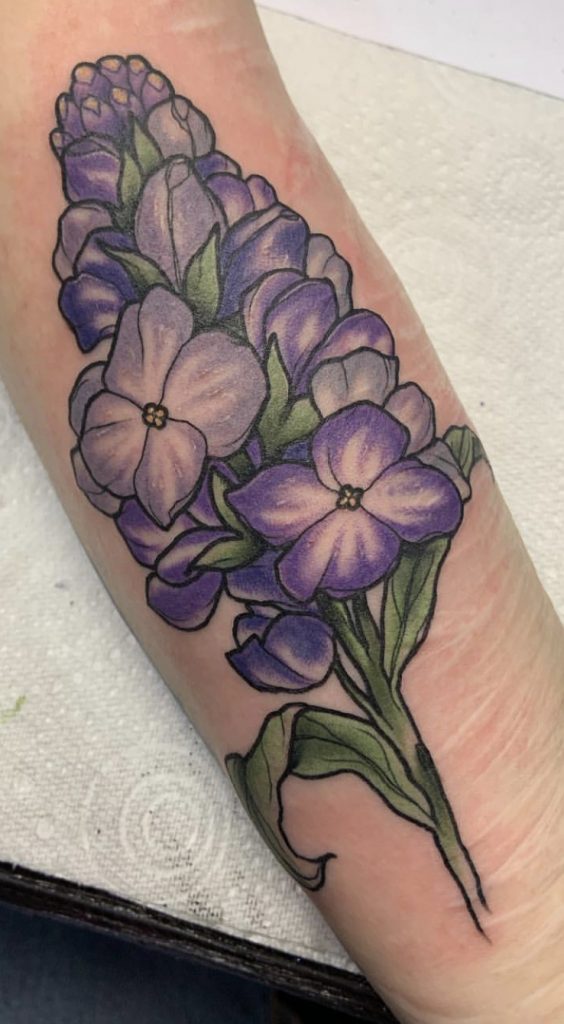 Notes for artists:
There's no particular dos and don'ts when it comes to tattooing scars, but the style of tattoo does have to be taken into consideration depending on what the individual's skin is currently like, and I do like to have a thorough consultation before going ahead with anything so we can get a good end result.
Scars, especially those that are raised, do tend to be a little physically tougher to tattoo, but that doesn't mean you can just hammer anything into them; you still have to be careful especially when it comes to doing line work. Go slightly too hard and you've got yourself a ticket to Blow Out City, somewhere we want to avoid!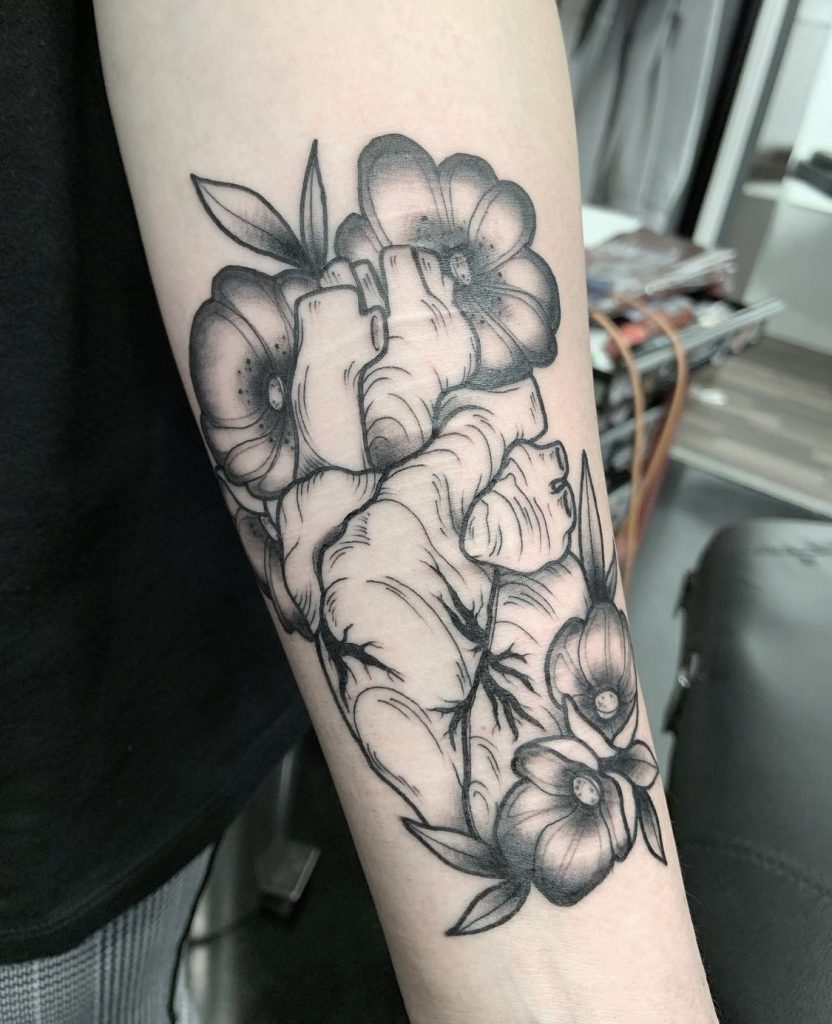 Stretch marks tend to swell and raise quicker as the skin is thinner and more delicate, which can sometimes make them a little tricky. As long as you're not too heavy handed and it's applied correctly, line work and colour/shading usually heal and last well. They can sometimes take longer to settle back down to normal during the healing process though, and do need to be babied a little more.
Katherine Alexander, Perseverance Tattoo, Inverness, Florida
I promise you, any good artist will not care about your stretch marks or scars. You don't need to be scared, worried or self conscious. We're here to help you feel good and make you some beautiful art! If you are ever uncomfortable in an artist's chair for any reason, please speak up! For any reason at all. Tattoos are a very personal thing and your comfort always matters first and foremost. We are at YOUR service, don't forget that!
Honestly, just do it. There's nothing wrong with stretch marks, but if you are wanting to redecorate them with some art, don't be afraid!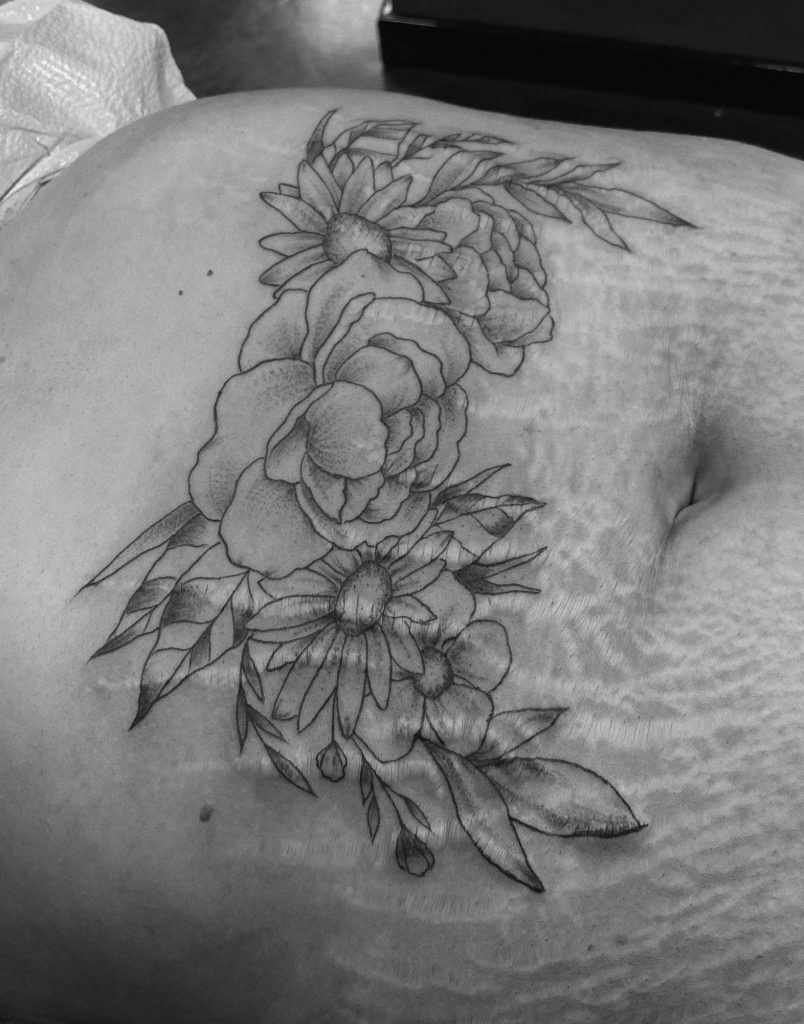 It doesn't feel super different to tattoo, but it depends on the scar and stretch mark. It can depend on depth, how it healed and how old it is. If anything, it may be a little more tender in some areas but it isn't going to feel any worse than a regular tattoo. It is a little tricky to actually do the tattoo, it can blow out or not take the ink. It just takes a little extra time and care! So make sure you research your artist as well as talk to them about their work with scar tissue! Don't be afraid to look around until you find someone you trust and would like to work with.
There isn't much prep out of the ordinary that you need to do before your appointment, but it is always good to use moisturiser. Just keep the area clean and make sure there isn't any irritated or open scar tissue and you'll be good to go, just like any appointment.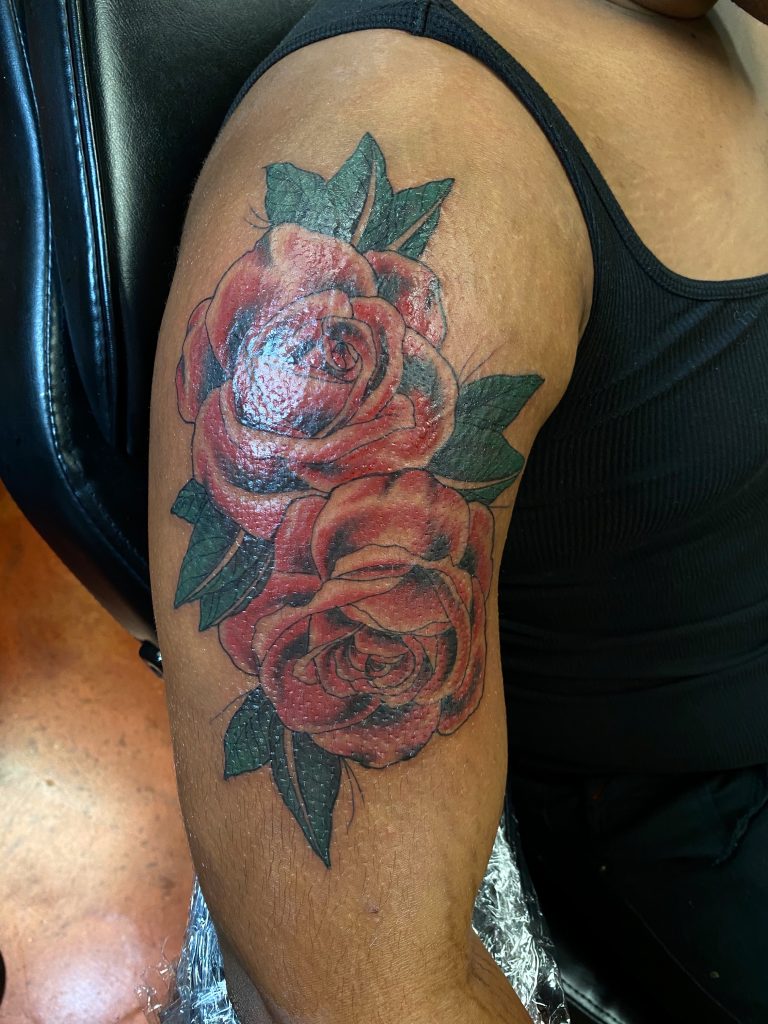 As far as aftercare goes, just give it some extra moisturising and keep it hydrated and it should heal as normal! It's always good to apply lotion even after it's healed to keep it looking nice, and your skin will thank you. The scars may be a little irritated and swollen after the tattoo is done, but that is normal, they will go down once everything is healed!
Have you got a tattoo over scars or stretch marks and would like to share them with us? Tag us in your photo on Insta and we'll share them in our stories!