At Things&Ink we're a curious bunch – we want to know about your tattoos. Why did you get that design? Why that artist? Tell us EVERYTHING! So we're introducing our tattoo stories series, as a way to get to know you all better (and be nosy). Here's Cicely Rae Jackson (she/her) sharing her tattoo story…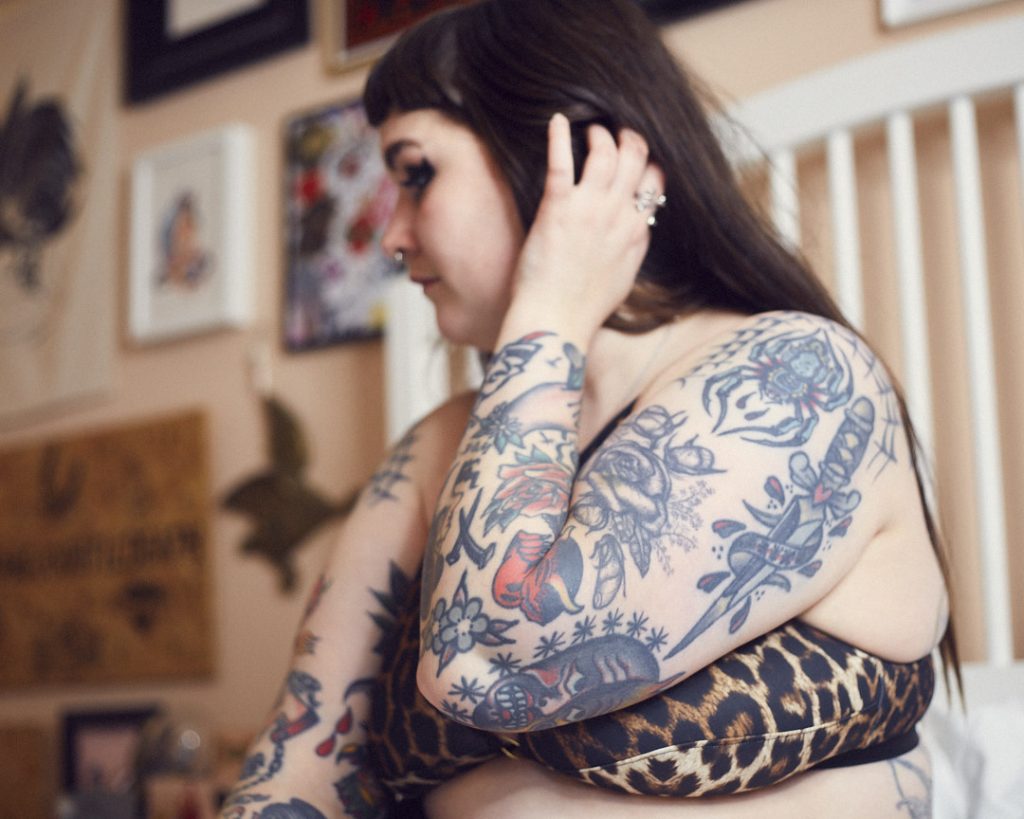 Hello! My name is Cicely and I live in Holmfirth with my husband Josh and our two kids Lilith and Abel. I create content for a living and spend the rest of my time hunting for treasures in our local charity shops!
How old were you when you got your first tattoo, what was it and do you still like it? I was 17 or 18 when I got my first tattoo. It was a pretty dodgy studio and there were a lot of red flags that would stop me going ahead with the tattoo now, but I was young and inexperienced!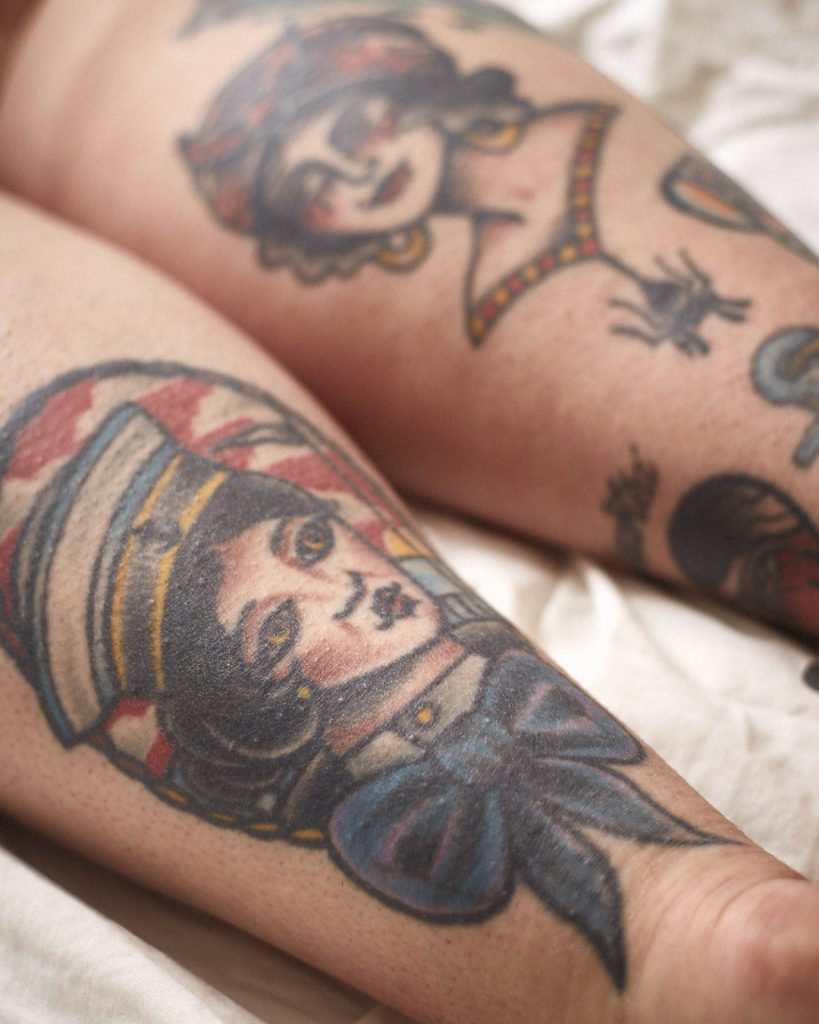 I asked for a bow on the back of my ankle (they were super trendy back then ). I was never shown a design and the guy tattooed directly on to my leg without a stencil or freehand drawing, but I was happy enough with it for a couple of months. I then went to another studio and had it coloured in to try improve it, but it still wasn't amazing. I later had it covered up with a bigger lilac bow, but you could still clearly see the original bow underneath.
So I eventually went to a great artist who worked it into another tattoo and covered up it up with a navy bow.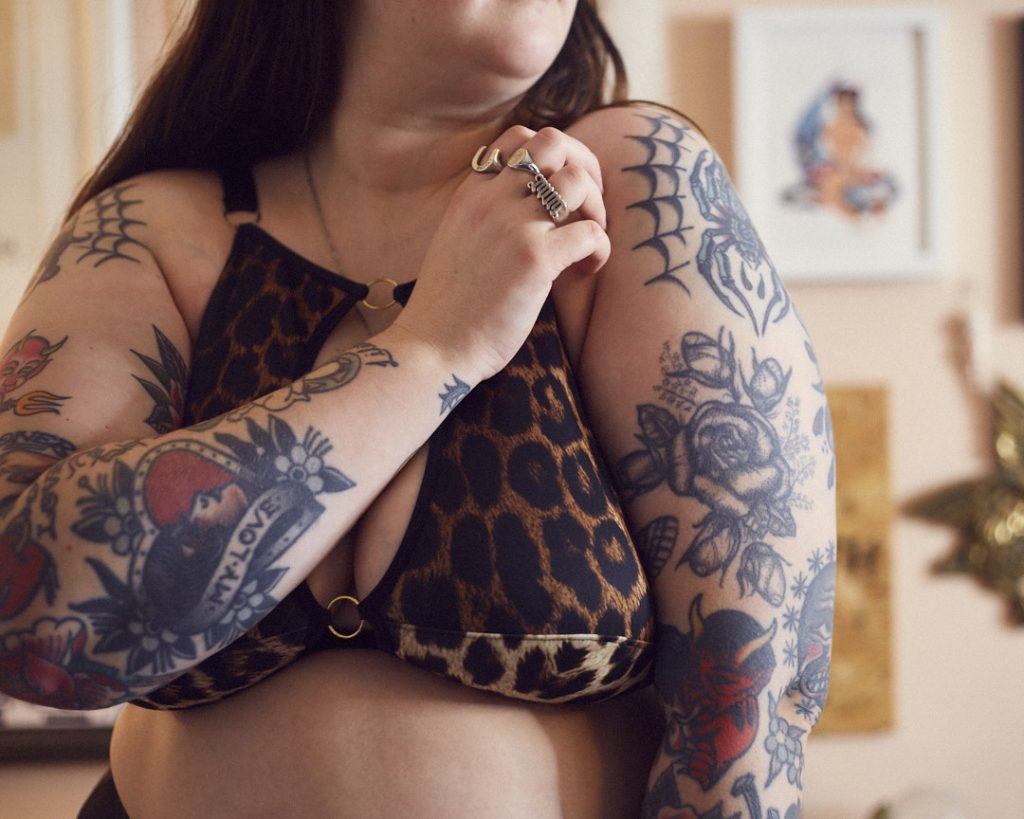 What made you want to get tattooed? I've always loved the look of tattoos and grew up with a mum who really supported us in expressing ourselves and I just knew I wanted to be covered in tattoos at some point in my life.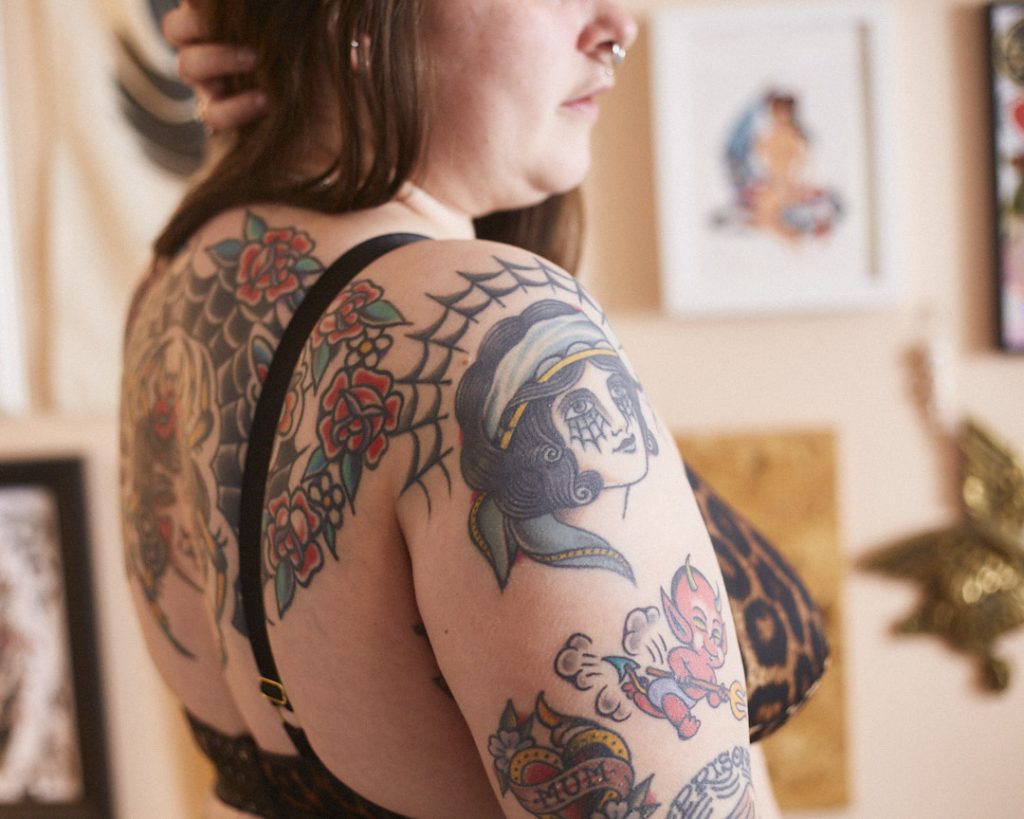 Can you tell us about your tattoo collection, any favourite pieces, artists or experiences? The majority of my tattoos are traditional designs or done in a traditional style. I love how bold they look and how they sit together.
One of my favourite memories of getting tattooed was when my sister and I took a trip down the country to Hastings to get tattooed by Cassandra Francis. We got a hotel room and stayed for the weekend, it was such a great adventure.
When I chose my wedding dress I knew I needed my shoulders tattooed. That was such exciting wedding prep going to shedwolf in our local town to get them done in the lead up to the wedding.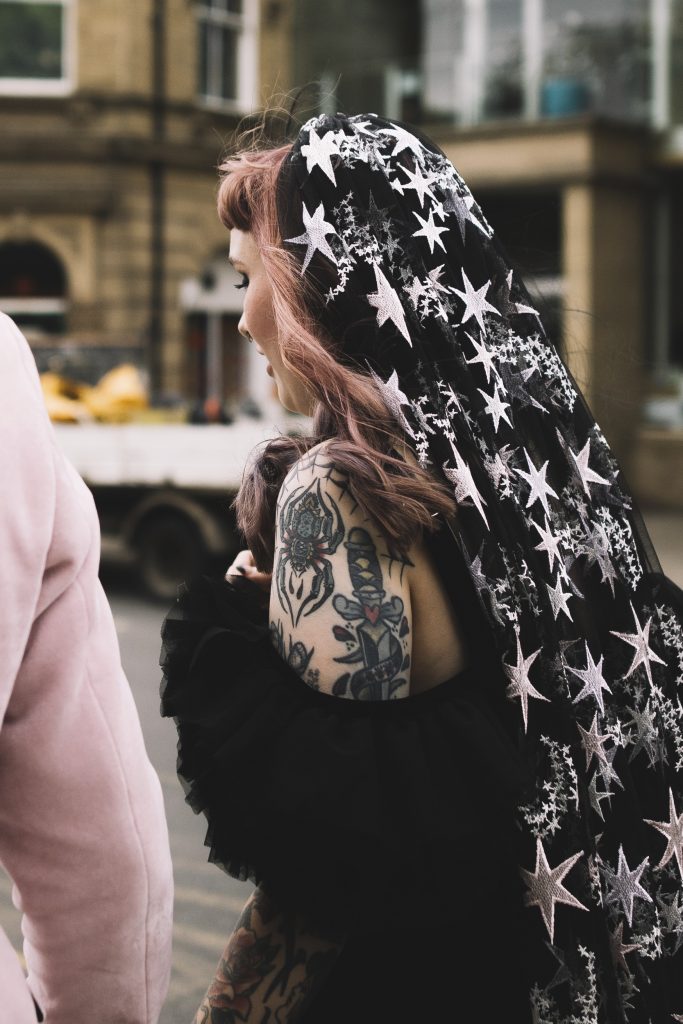 Jemma Jones has done kewpie baby tattoos of both our children, on both me and my husband. They are the same but different and I love how they represent the kids' names.
One of my pride and joy tattoos is a crying lady head by Danielle Rose. She did a guest spot in Manchester on my birthday and it was meant to be. I had had a big year of crying, including a break up and getting this tattoo was a lovely end to that!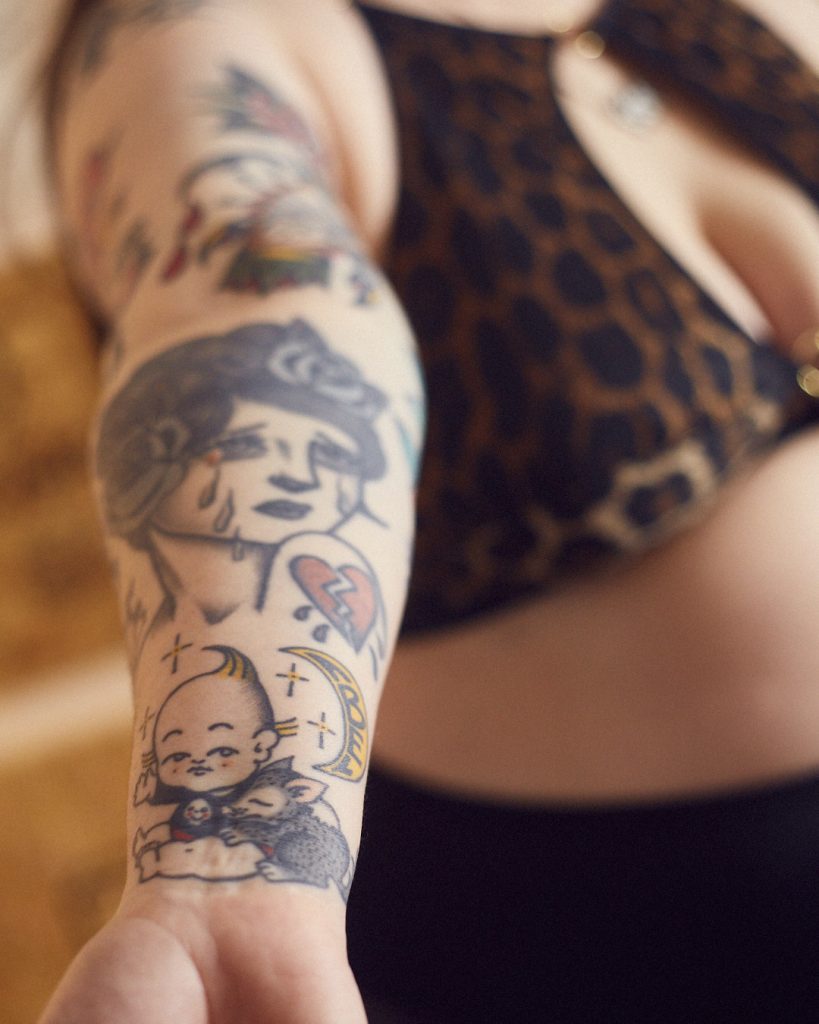 Do tattoos have to have a meaning? Not at all! Personally I consider my tattoos a collection of art from talented artists, I have a couple that mean a lot to me but I'd say 85% have no meaning!
What sorts of reactions do your tattoos get? I'm always happy to discuss my tattoos with people that have a genuine interest in them, the style or specific artists etc. I'd much rather people talk to me about them than just stare. 
The negative reactions to my tattoos have predominantly been from family members or people of the older generation. A manager, at one of the jobs I had as a teen, was really against my tattoos being on show as I worked on the women's wear floor of a department store. The same rules didn't apply to the staff on the men's wear floor and we had a lot of disagreements about this!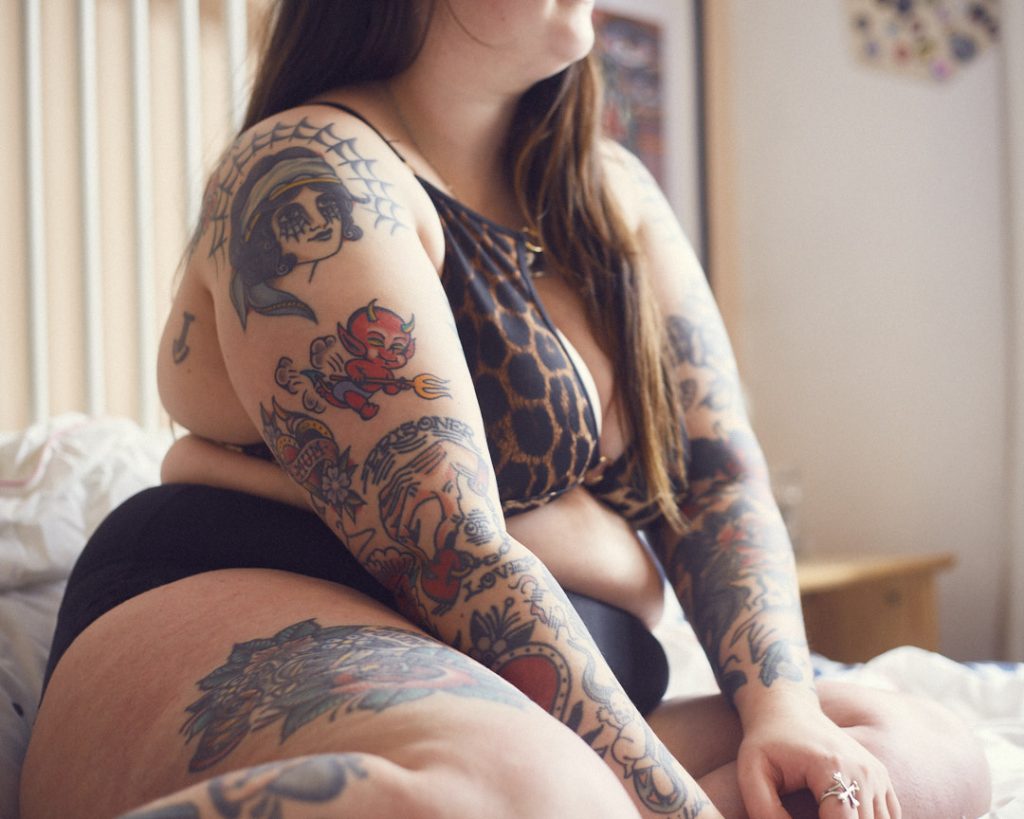 Can you tell us about your experience as a tattooed mum? My experience as a tattooed mum has been on the whole, a positive one. When my daughter was younger and we would go to different baby groups, I would always be conscious that other mums would judge me but I think a lot of that was in my head.
I've also found tattoos to be a really lovely talking point with like-minded mums at these kind of baby groups or in the playground! If my tattoos put people off wanting to approach me as a mum friend then more than likely we wouldn't get on anyway!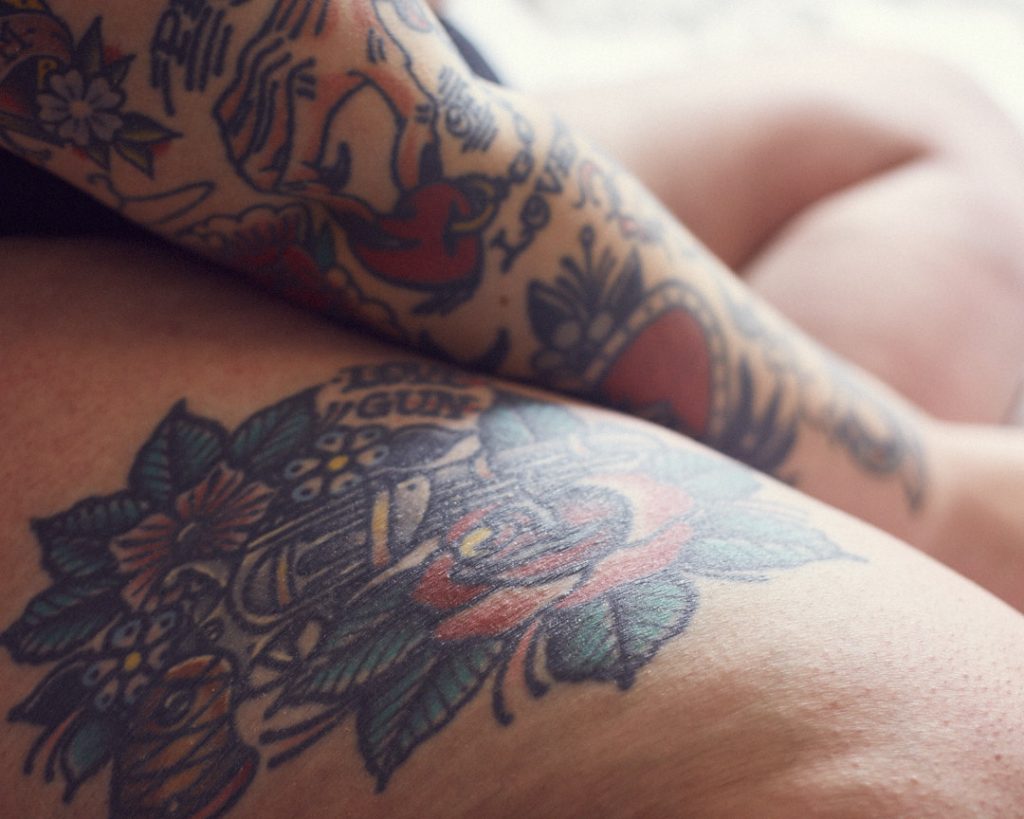 What do your children think of your tattoos? They don't really seem to notice them, I guess as they have been part of me for their whole lives. Sometimes my daughter will try to look for matching items that me and my husband have, like snakes or babies. My daughter's friend refers to my tattoos as my patterns and she always wants to feel them.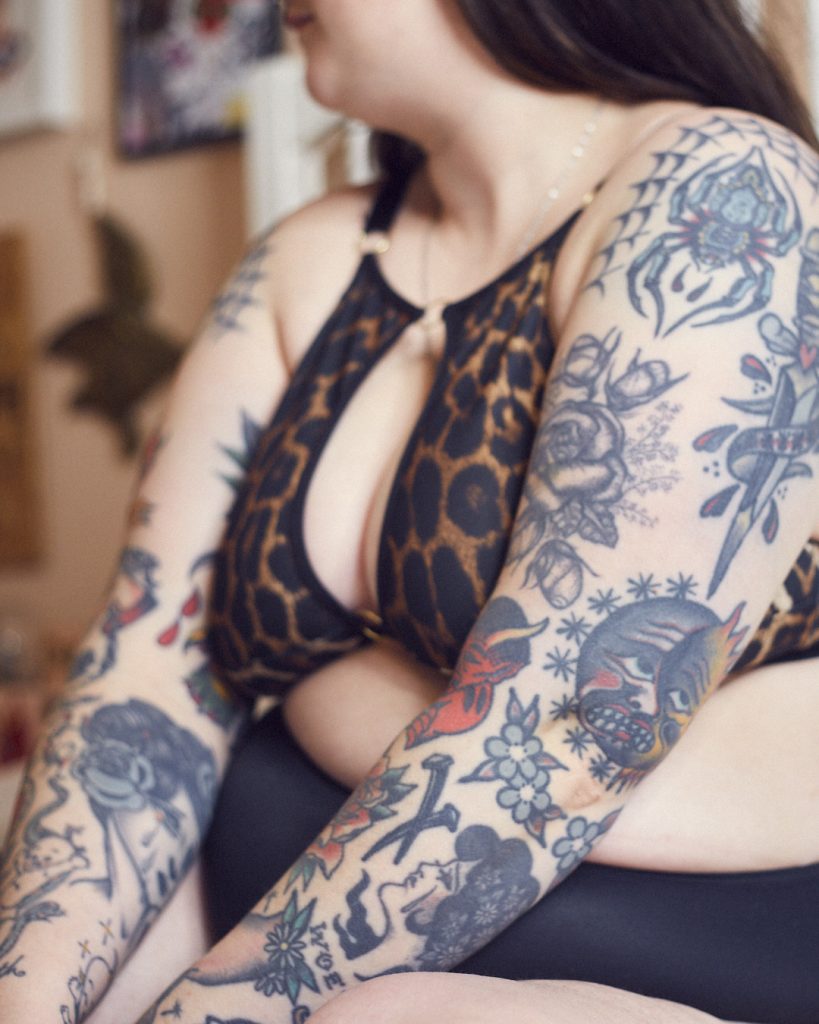 Do your tattoos help you to view your body differently? I absolutely adore my body and I think my tattoos have played a big part in that. Sometimes when I catch a glimpse of myself in the mirror or see a photo that includes a lot of my tattoos, I feel so happy as this is exactly how I've always wanted to look.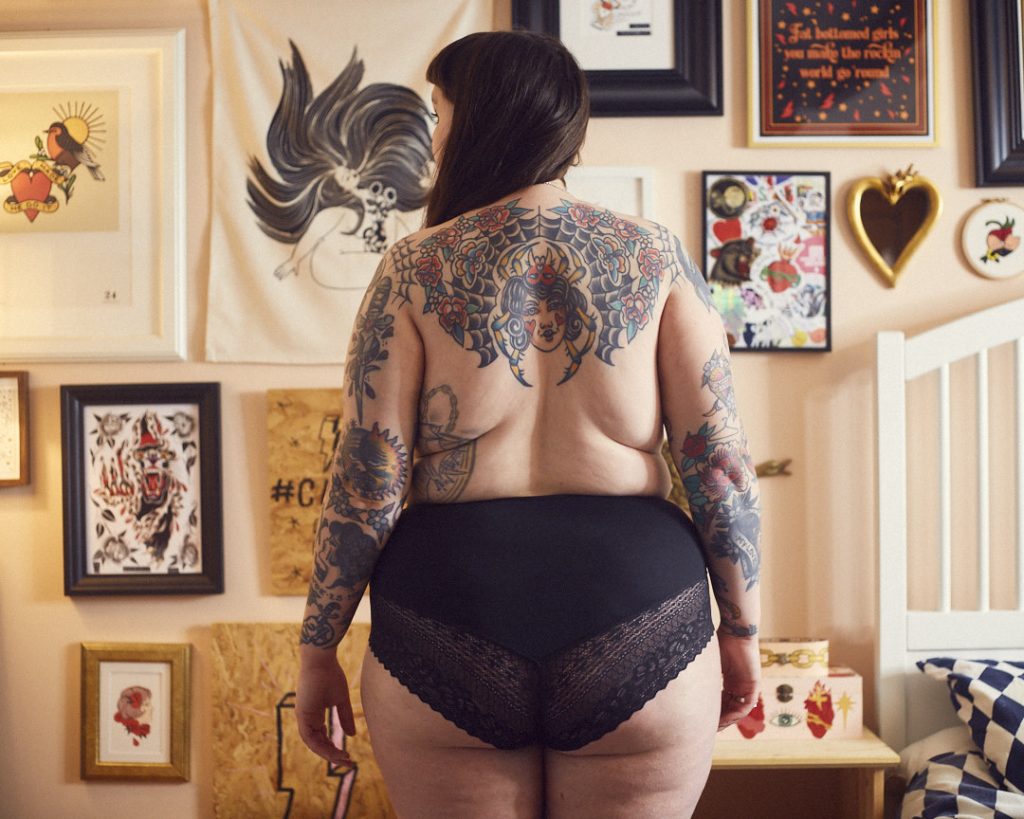 Do you have any future tattoo plans? I would be completely covered if I had the money and the time! The next one I have booked in is my fingers and I would love to start on my chest this year.
Be sure to follow Cicely for charity shop treasure hunts, adorable kids and craft inspiration.