Internet
3 Different Ways to Do Keyword Research
One of the most important, highly valued and high return activity in the SEO field, keyword research begins by just entering a word in the search query box. Essential to a website's success, keyword research can prove to be a boon if implemented correctly and can lead your site to higher ranking success.
In this article, we will be quickly covering 3 different ways to go about doing keyword research. So, let's get started:
1. The Usual Way of Keyword Research
It's now extremely easy to find out the right targeted keywords for your website using ahref's free keyword research tool . You can retrieve search volumes, suggestions, and generate combinations quickly.


You can narrow down based on the global results or on the basis of countries. In fact, you can even retrieve the search volume for every keyword in a particular city or country.
Once the results are generated, you will see the full list of keywords along with the related terms, Google & Amazon auto suggestions, Facebook, Quora and Twitter search for that particular keyword as well as the latest Google trends. You can even export these keywords in CSV or XLS format.
There's also a difficulty checker in the tool which can help you gauge the approximate difficulty for a certain keyword. Apart from that, you can also view a breakdown of the strongest and weakest sites competing for that keyword.
And lastly, you can optimize your keywords better through smarter targeting. There are inbuilt user intent parameters – terms that are commercial, e-commerce related, questions, positive or negative in sentiment.
2. Keyword Research by Finding Out Competitor's Keywords
Another smarter way to approach keyword research is by finding out the keywords your competitors' are ranking for. This is made easy using Mondovo's Competitor Keywords.
To get started, you only need to enter the website URL, select exact page or across the domain, select the country and click on Search.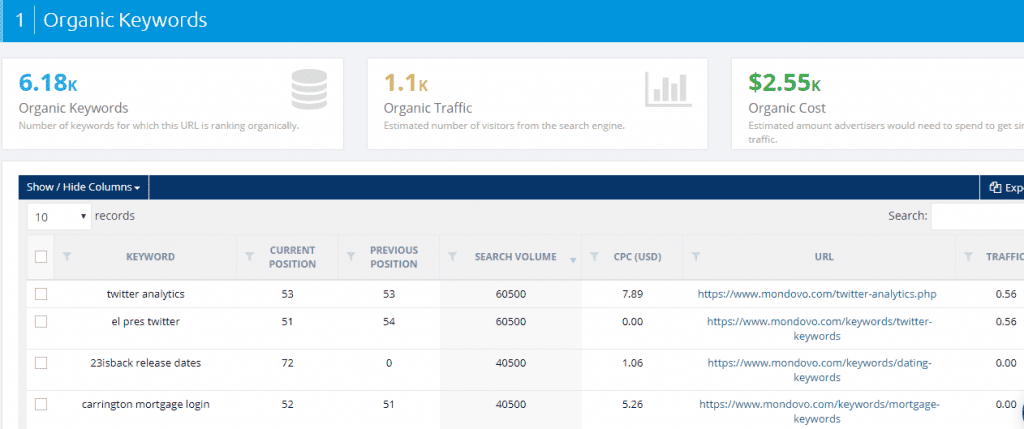 Once the report is generated, you will see the number of organic keywords the site or a certain page is ranking for.
Using the filters available, you can then filter the keywords based on current position, previous position, search volume, CPC and traffic.
You can also see the AdWords keywords, if any, along with the ad copies.
Using all this data, you can then optimize your own website, your own content, blog articles etc. to rank for some of the most competitive terms and beat your competitors at their own game.
3. Keyword Research Through Search Volume
We all are familiar with Google Keyword Planner wherein we can get search volume data for a set of keywords. However, the problem lies with Keyword Planner showing the data in ranges wherein as a search marketer, the ideal solution would be to have the exact search volume data.
This problem is resolved by the Bulk Search Volume tool. You can now get to find the exact monthly search volume as well as the CPC cost.

Apart from that, you can also get the exact search volume for keywords for any language and in any country. There's also the difficulty score that can tell you how easy/difficult it is to target a particular keyword. And lastly, you can also get to know the related keywords for a particular keyword entered by you.
So, if you're running an advertising campaign or if you're looking for the right set of terms for your website or for a blog article, using the bulk search volume tool is indeed the right choice for you.