Internet
Best Alexa Skills That Will Actually Surprise You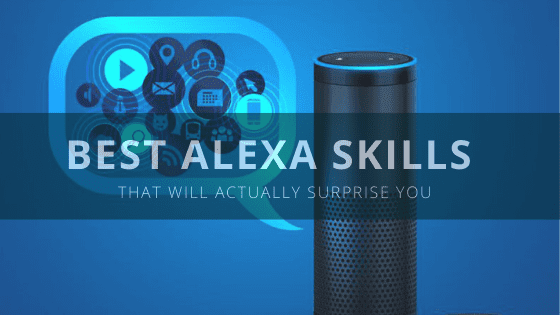 Technology has changed the way we live. A few decades back, we couldn't even imagine making a video call to a person sitting in another corner of the world. With every technological advancement, mankind is treading towards greater development. From smart gadgets to machines, every invention has leveraged the human lifestyle. 
There's no doubt in asserting that technology has placed the world right into our palms. Gone are the days when people used to learn about the world through newspapers or books. Now with smart gadgets, everything is just a few scrolls and clicks away. Whether you want to know the weather of another country or order something online, technology has made seemingly everything possible. 
Amazon Alexa: The Futuristic Technology
Human assistance devices are one of the revolutionary inventions of all time. Assisting humans in their day-to-day lives and helping them complete certain tasks, these human assistance devices are a great help for humans. Amazon Alexa is a virtual assistant by the Amazon. It was introduced in 2014 when Amazon launched its Amazon Echo which was primarily a smart speaker. It deemed to control your music and other smart commands with your voice. Gradually with the advent of technology and some tweaks, Amazon Echo emerged as a smart service for controlling smart home appliances with your voice commands. From lightbulbs, humidifiers, TV to thermostats, you can manage your smart devices with Echo speakers. 
Amazon Alexa Revolutionizing Business Space
Not just effectively assisting the households, Amazon Alexa is also revolutionizing the business realm as well. Alexa has powered a major corporate house and e-commerce development company in ways you can never imagine. Irrespective of the size and structure of the business, Alexa skills can streamline your business proceedings and extend an automated workspace for you. There are several businesses in the industry that have already adopted Amazon Alexa as their virtual assistant device as relished its multiple perks. Do you want to know what Alexa can do to your business, then read on…
There are plenty of Amazon Alexa skills that are used to make things easier. For businesses, as well, there are a set of Alexa skills that everyone must be acquainted with.
If you haven't yet heard about the Alexa skills and commands, you can use to amplify your productivity, wait no more and read on to discover those amazing skills:-
Track Track Track
You would be surprised to know how good is Alexa in tracking things for your business. Alexa has a to-do list command that helps you keep track of your events and add these events to Alexa. For instance, you can just "Alexa add 5:00 clock appointment with the client", Alexa will immediately recognize your voice and add the event to "to-do-list". Not just adding, Alex will give you a regular notification regarding the event till you command Alexa that the event is completed. You can use this Amazon Alexa skill to put up reminders and make a comprehensive to-do-list. Trust Alexa, and it won't forget anything you say. 
Manage Travel Itineraries
Are you witnessing issues managing your business trip? Alexa can help you in that area. If your business is engaged in frequent business trips to different places, it comes important to keep track of such trips and manage them efficiently. This Alexa skill help business people to interact with Alexa in their natural language in order to plan or book a trip. It also helps in getting alerts from travel agency regarding any flight delays, cancellations, terminal changes, etc. You can also customize the skill and integrate weather updates, driving directions, site maps, etc. Don't forget that you can even book a cab through Alexa to get to the airport. 
Control Conferences
Conferences are important for managing business and managing conferences can be a daunting task. There might be several conferences going on at the same time in your office, and it becomes difficult to keep track of everything. Don't worry, Alexa does the work for you. With this Alexa command, you can join a meeting. If you are unable to attend the conference for some reason, you can integrate the essential components of a conference like remote controllers, dialers, mobile apps, room displays, etc., to Alexa skills. The in-built artificial intelligence will smarten up your conference room and make it more efficient than ever. 
Calendar and Scheduling 
Alexa skills work with every calendar and contact provider. Whether you want to schedule a meeting to mark your calendar for a special event, this Alexa skill will help you make things easier for you. If you are using multiple calendars and contact providers, you can simply integrate them and create a custom Alexa skill according to your requirements. With this skill, Alexa can tell you the availability of a person from your contact list and schedule a call as well at the earliest. Knowing the availability of the person, Alexa will automatically schedule a meeting, call, and conference, enabling maximum productivity. This way, you can schedule your things accordingly. 
Content Marketing
Alexa can surprise you with the skills. Have you ever thought Alexa can help you enhance customer experience? If not, then you must know that this customized Alexa skill has helped businesses boost their customer relationship by offering high-quality content regarding product and services. Thoroughly analyzing the market, and understanding the customer requirements, you can customize Alexa skills to generate creative content. This Alexa skill also helps in maintaining consistency in the voice of your brand. Personalized Alexa skills and customer-oriented CTAs has helped businesses in boosting their website conversion rates. Alexa skill is focused on marketing your product and services through interactive and innovative voice content. 
Smart Inventory Management
It's true that inventory management is one of the daunting tasks to manage in business. Whether small or large business enterprise, inventory management is an important task to accomplish. Consider replacing your traditional methods of inventory management with voice-activated inventory management. Amazon Alexa is revolutionizing the way businesses manage inventory. Alexa skills can empower you to access and control inventory information anytime, anywhere. Though Alexa cannot help in prepare reports, it will read those reports to you, so that you can manage inventory on the go. Seek assistance from Amazon Alexa whether you want to make any changes or instruct your employees regarding any transformations in the inventory system. 
Task Management Application
There are different tasks involved in a business, and it becomes essential to manage these tasks. Alexa skills will help you manage your tasks in the most efficient manner. Using voice recognition, you can seamlessly add tasks to your to-do-list and decrease the use of smartphones. Alexa is easily compatible with all your task management applications, so you can directly integrate them to manage your tasks on the go. Alexa will take data from your task management applications and precisely remind you of the important events and constantly updates you regarding any changes in the same. 
Expense Management
Just like task management, managing your expenses is also an important process. Alexa, with its artificial intelligence power, will help you track and manage your finances as well. This Amazon Alexa skill will enable you to know the unpaid bills, the status of your budget, your expenses and savings, financial goals, etc. If you think Alexa can only remind you regarding the bill and let you know about your financial obligations, then Alexa might surprise you here as well. Amazon Alexa is beyond just a voice to your bank account, and it will also provide you with credible financial advice by monitoring your current bank data. Isn't that amazing?
Customer Support
Customer support is the most crucial element of your business that creates a credible position for your brand in the market. Amazon Alexa skill can be customized to help customers by providing them voice assistant round the clock. On the basis of your products and services, you can create Amazon Alexa skills to address your customer queries and issues. This Amazon skill is created to register customer issues and develop a service request at the backend system. Not only providing your business with a seamless way to receive customer request, but this Alexa skill also enables you to reduce the response time and enhance customer satisfaction. 
Virtual assistant devices have made our lives simply better. Amazon Alexa is one such amazing smart device that takes voice commands to control smart home appliances. It was no sooner when Alexa incepted into the business world and started extending its assistance to boost the efficiency of a business. 
Undoubtedly, this artificial intelligence-powered device has changed the way humans interact with machines. It is quite surprising how Amazon Alexa has acquired a place in the business realm. We are just scratching the surface of Amazon Alexa skills, and there are a lot of hidden potentials that this intelligent device can extend to businesses. 
The above mentioned were a few of the skills and commands everyone must know to handle their business proceedings in the most efficient manner. 
Learn these skills and make Alexa a prominent part of your workspace and make it even more flexible and automated.

Mark, a digital entrepreneur from NYC. He excels in business acquisition, content optimization, and growth strategies. Mark started his career by buying, growing, and selling businesses he bought from Flippa. He's an SEO enthusiast and enjoys sharing his insights with the DBT community. With his expertise, creativity, and commitment, Mark continues to shape the digital landscape while staying ahead of the game with the latest trends and techniques.
When he's not immersed in his entrepreneurial pursuits, Mark enjoys the simple pleasures in life. A perfect evening for him consists of pizza, wine, slow jazz, and working on his projects.