Tattoos Ideas
Cheeky Blackwork: Interview with Tattoo Artist Alice
Tattoo artist Alice (@oneskinnyleg) creates "cool tattoos for cool people" at Sanctuary Body Art in Edinburgh. We caught up with the artist to find out more about her style, inspirations and hopes for the future…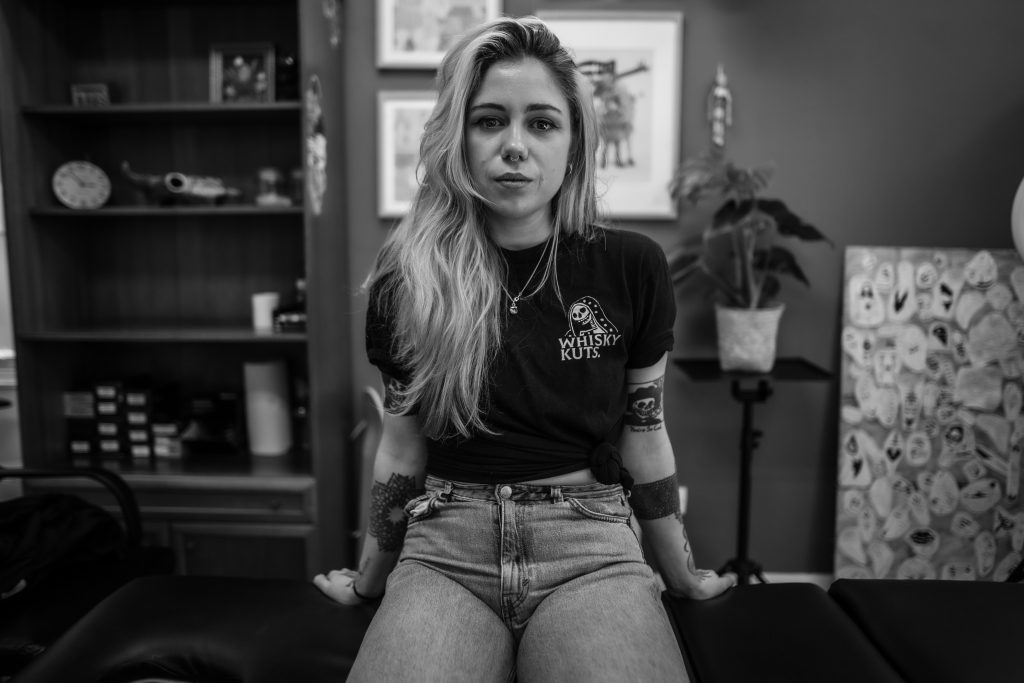 How long have you been tattooing? 
My first tattoo was October 2021 – so you could say it's been since then.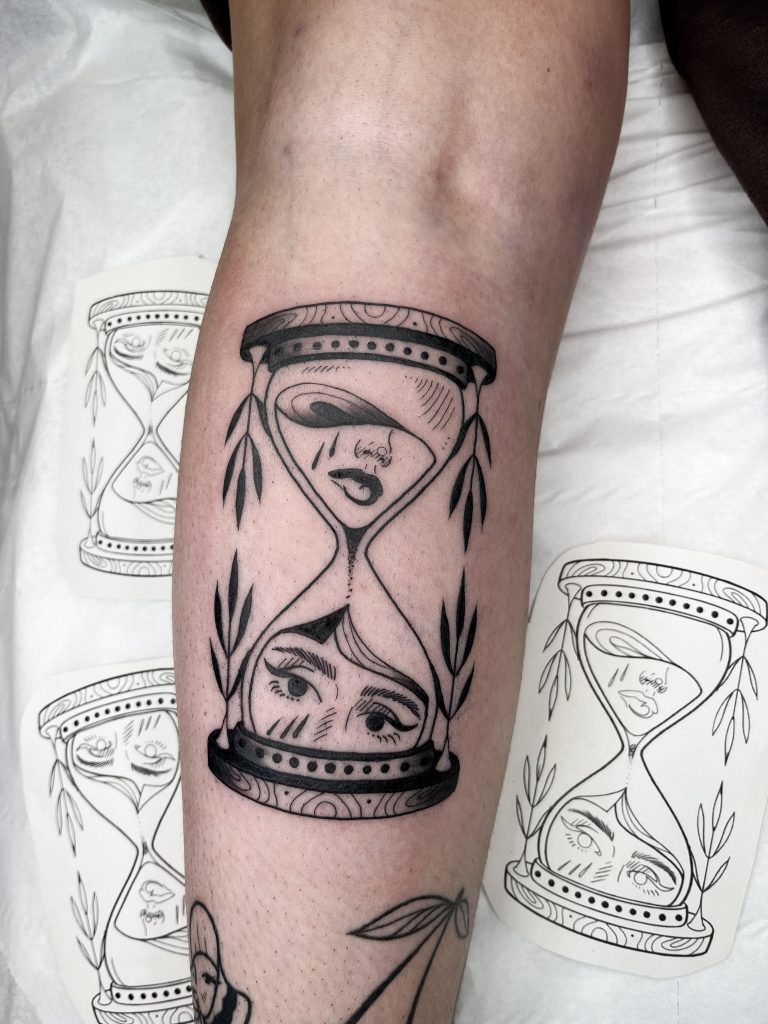 What inspired you to become an artist?
As soon as I started getting tattooed, I knew that's what I wanted to do. It was a horrible itch I needed to scratch. I knew the remedy was tattooing, but I couldn't reach the ointment at the back of the bathroom cabinet. You get the idea with this dermal analogy, so I'll stop there. I got my apprenticeship aged 29 – a bit late to the party, but I normally am anyway.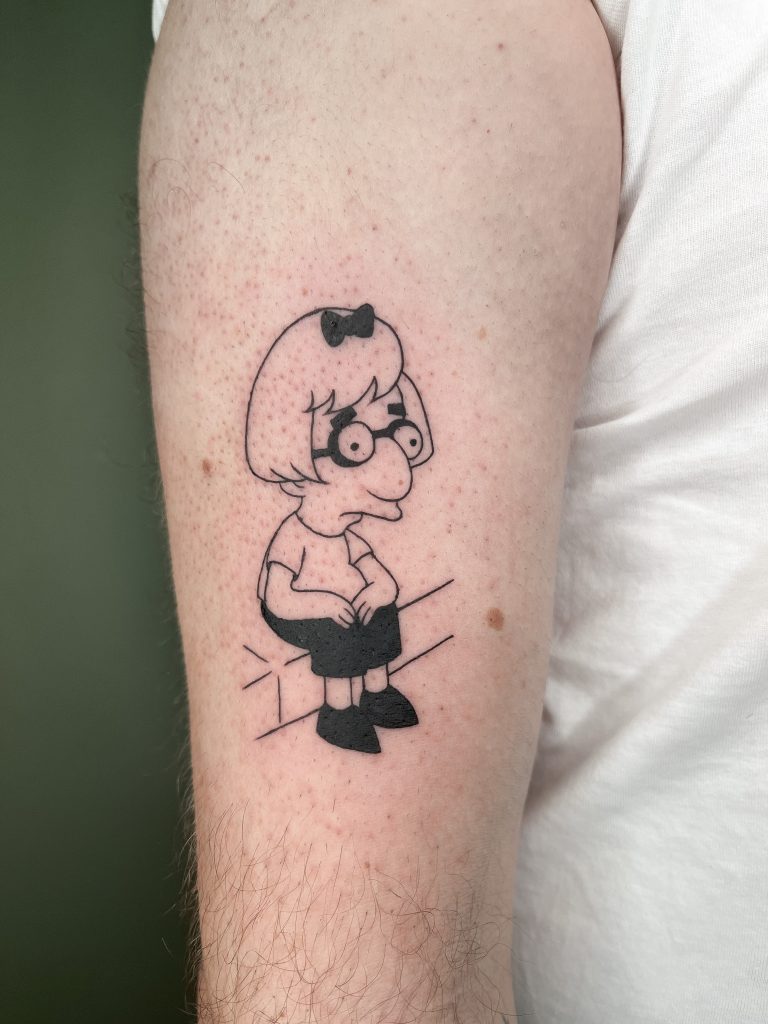 What's your earliest memory of tattoos? Did you want them as a child?
I didn't think about them much until I was 16, then they were all I thought about. I desperately wanted some Death Cab for Cutie lyrics down my forearm – not just one line, like actual verses.
I also tried to get my fingers tattooed when I was 18. It was in a shop in Yorkshire where I went to school, and it was pretty much just in the living room of a terraced house. I got told to come back when I had more than zero tattoos.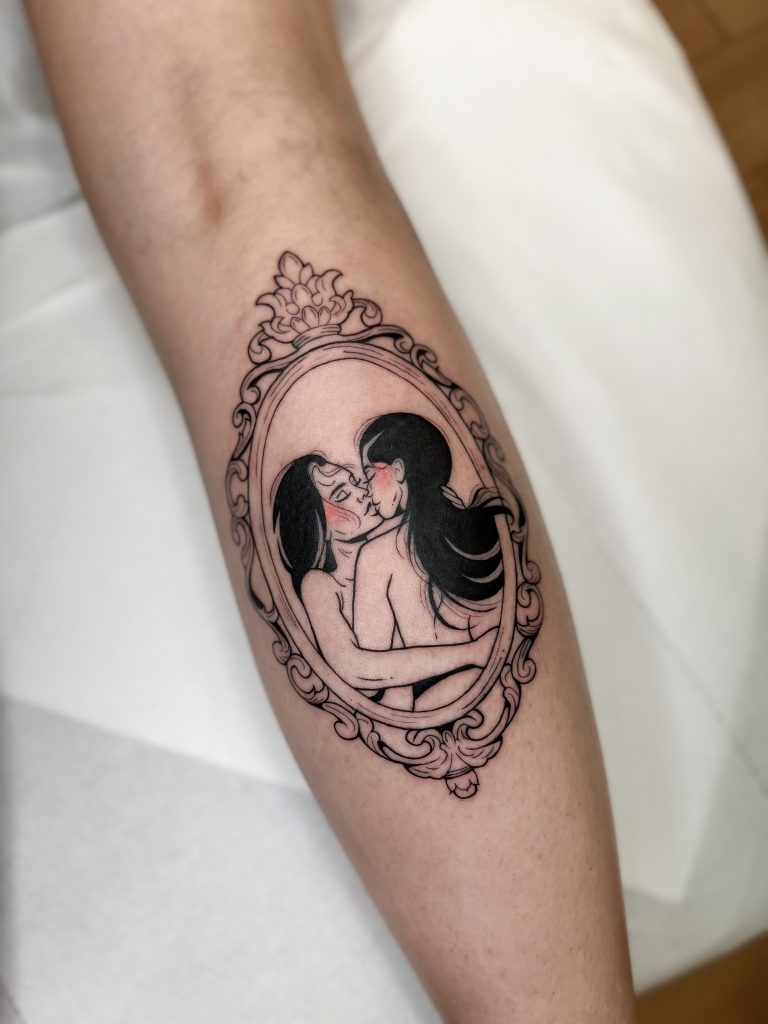 Can you tell us about your own tattoos and your first tattoo?
My first tattoo was a falcon on the back of my arm. It's been described as looking like a fish and a cannabis leaf, but never a bird. I wanted it to be as small as possible so this is absolutely my doing. 
Some recent cool stuff by Edinburgh pals Justin Yaroma, Enrique Vega and Sophie Bellingham, all of whom I can't recommend enough.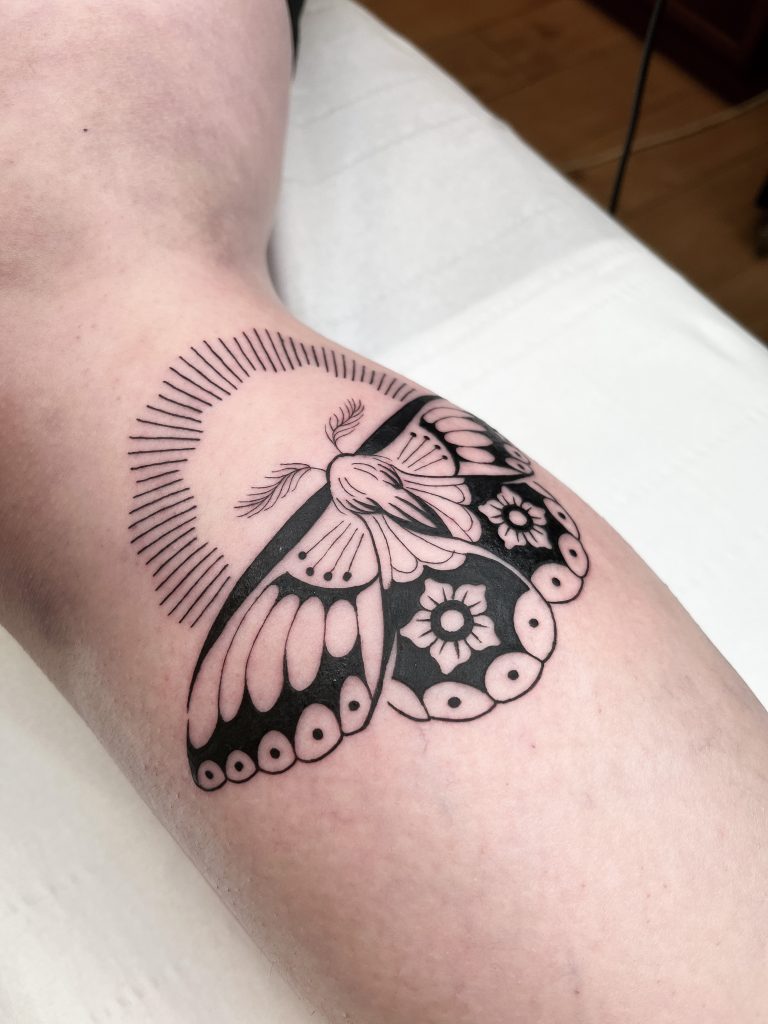 Do you have a favourite tattoo experience?
I had just the most fun with Justin Yaroma. We laughed a lot and I left the studio a better person with a banging tattoo.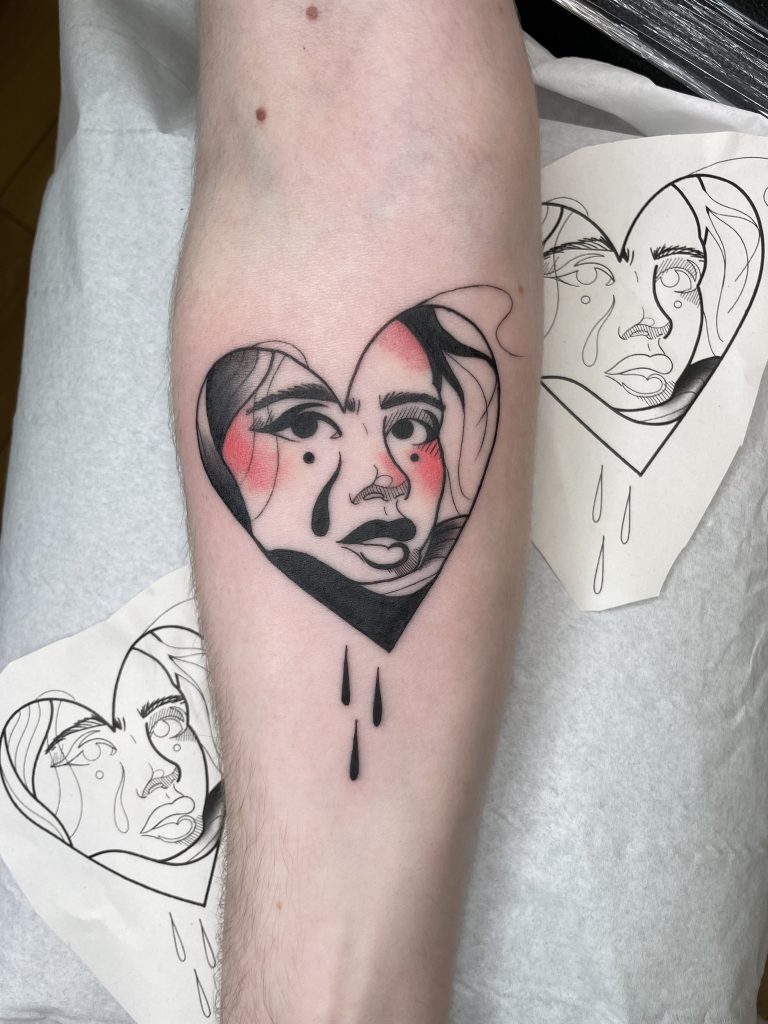 Do you have a background in art or anything creative?
Growing up I worked on my mum's stables picking up a lot of horse shit. Over the years, I became an expert – my muck-heaps were something of an artform and have been known to make builders cry.
During lockdown I started drawing digitally for the first time, made a bunch of t-shirts which sold alright, and then managed to get an apprenticeship from there. Cheers, furlough!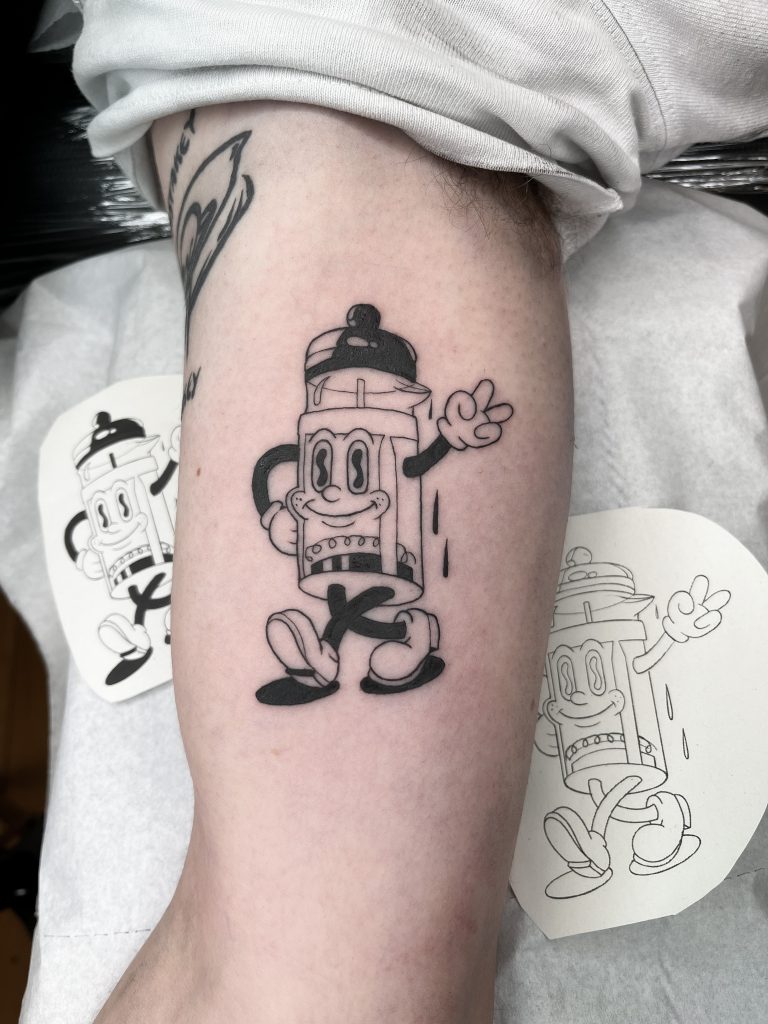 How would you describe your work? What drew you to this type of tattooing?
I would describe my work as cheeky blackwork plus cats.  
I was inspired a lot by the work of tattooers Sad Amish & Matt Bailey during the immaculate conception of One Skinny Leg as an art Instagram page. I love the way the artists can express so much movement with lines and solid black – nice bold ideas and bold tattoos.
I was drawn to this type of tattooing as I love the contrast of solid black against the skin.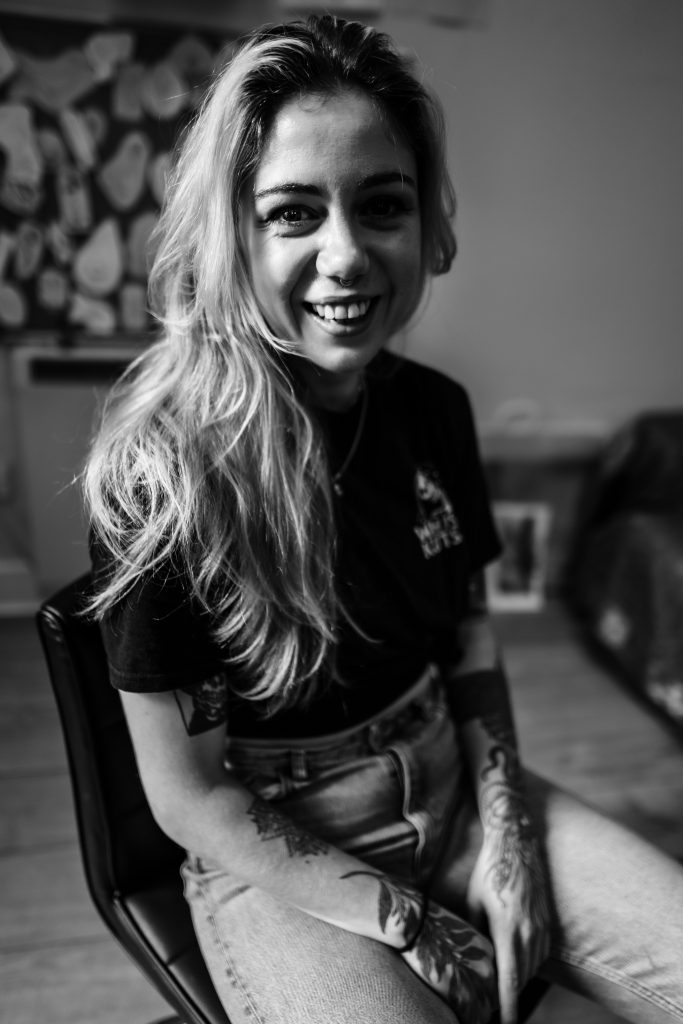 What do you like to tattoo and what would you like to do more of?
I like to tattoo lady faces, and I would like to tattoo more lady faces. I'm really digging a big bold line at the moment so anything with this I'm super excited to do. Shoutout to my customers who have an awesome range of weird and brilliant ideas – always down for more of these.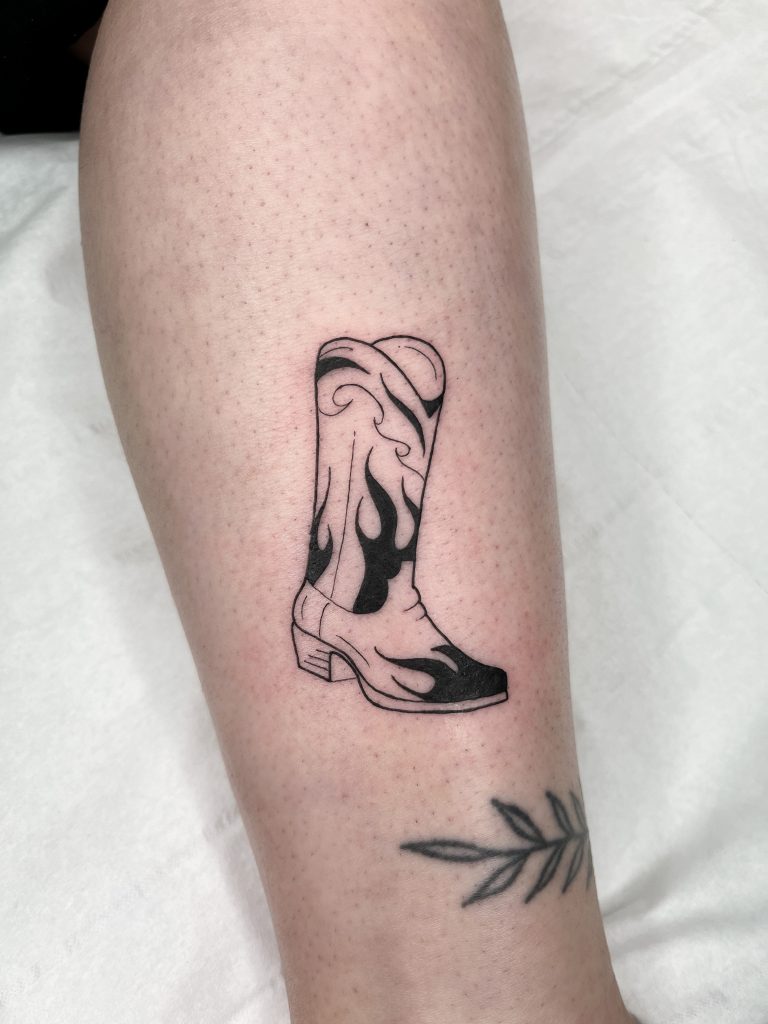 What inspires your pieces and flash?
Things I think are cool get added to the list. Cars are cool. Fire is pretty cool. Cars on fire? Yeah, that makes it. I'll probably do some cowboy flash –  everyone who's anyone has wanted to be a cowboy at some point. Christian imagery is iconic too, so a little pinch of that.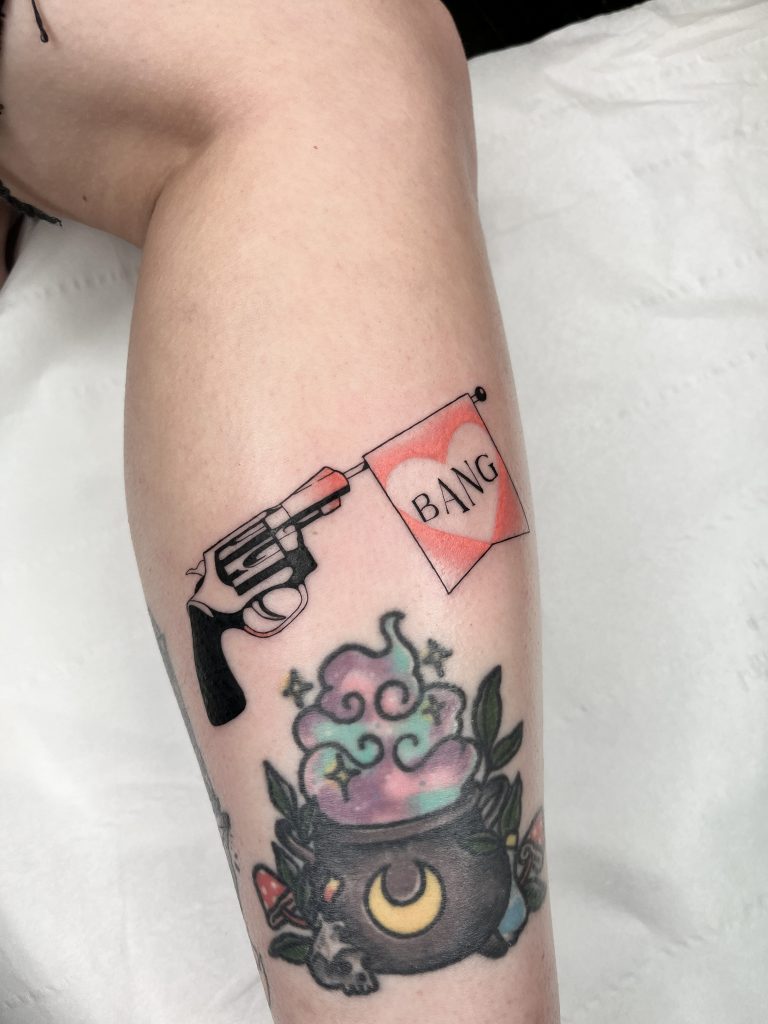 Where do you see yourself and your art in the future?
Looking forward to my first guest spots next year. I'm super happy to be in a warm and welcoming studio – so looking forward to growing and improving within a supportive environment. 
Make sure you follow Alice (@oneskinnyleg) for more fun blackwork tattoos.
We're always talking to amazing tattoo artists, check out our latest interviews.