Kitchen
Easy Ice Cream Cupcakes | A No Bake Dessert
Ice Cream Cupcakes are a simple no bake summer dessert idea! An Oreo crust, topped with ice cream, chocolate sauce, whipped topping, and sprinkles are perfect for a party or a quick sweet treat!
Make sure to try my DELICIOUS Brownie Bottom Ice Cream Cake! It's a family favorite!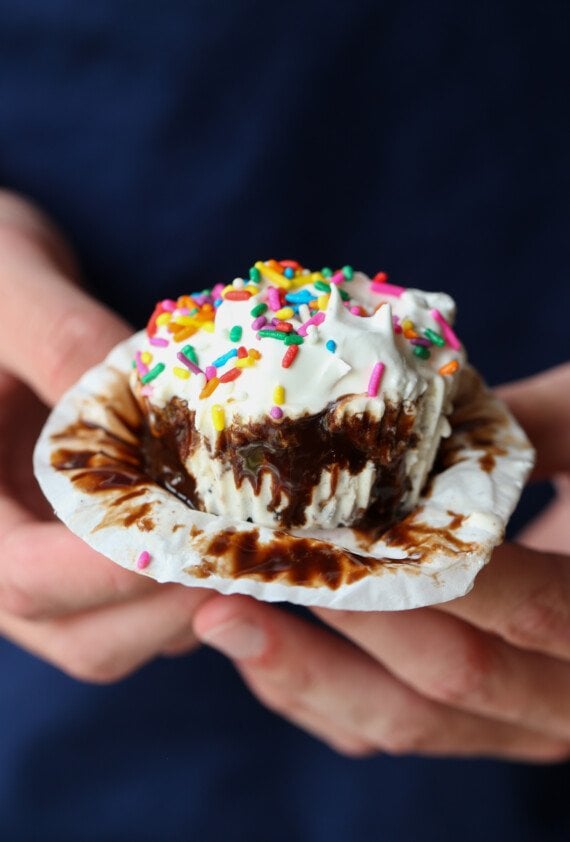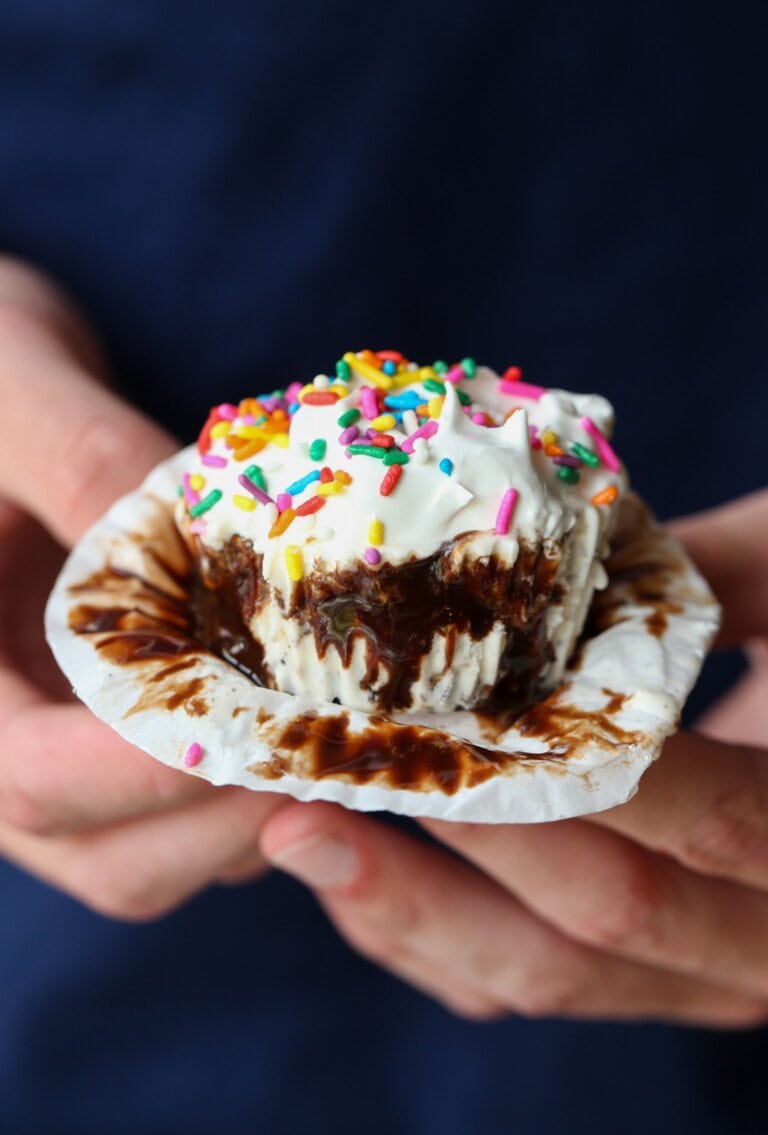 Ice Cream Cupcakes Are the Perfect Party Dessert!
These easy Ice Cream Cupcakes are as great for a party as they are a sweet treat on a weeknight! You can make them in advance and have them ready for your next pool day or BBQ! They are totally customizable, so you can really get creative with the flavor combos. My favorite is the version I am sharing today: No Bake Oreo Crust topped with Cookies and Cream Ice Cream, whipped topping, and sprinkles!
No Bake Desserts Are A Summer Staple!
Ice Cream desserts are great year-round, but especially in the summertime. This is an easy dessert idea that can be made way in advance, or just to keep in your freezer when the craving hits. Ice Cream Cupcakes are a ton more fun than ice cream cake, because you don't have to worry about slicing and melting and serving! Just grab these out of the freezer when you're ready…literally grab and enjoy!
More Ice Cream Dessert Ideas: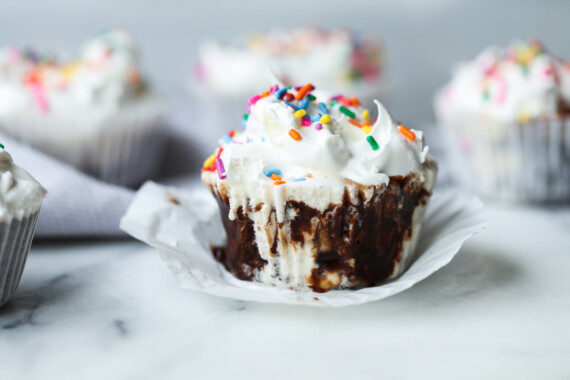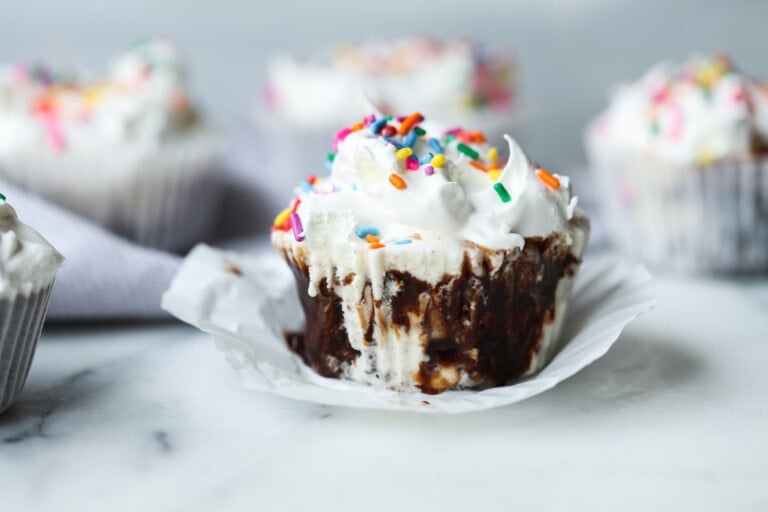 Ingredients:
Oreo cookies
Melted butter
Cookies and Cream Ice Cream
Chocolate syrup
Whipped topping, like Cool Whip
Sprinkles
How To Make Ice Cream Cupcakes
The great thing about these mini ice cream cakes are how easy they are to make. This is a great recipe to get the kids involved with as well!
Crush your Oreos and mix them with the melted butter! Press them evenly into cupcake liners in a muffin tin!
Scoop out your favorite ice cream flavor and top the crust with the ice cream.
Drizzle a little chocolate sauce on top of the ice cream and add a dollop of whipped topping.
Dn't forget the sprinkles!
Ice Cream Cupcakes Flavor Ideas:
The beauty of these cupcakes is that you can really get creative with the flavor combos! Here are a few ideas that we love:
Nutter Butter Crust + Peanut Butter Cup Ice Cream + Melted Peanut Butter Drizzle
Golden Oreo Crust + Birthday Cake Ice Cream + Hot Fudge Sauce
Mint Oreo Crust + Mint Chocolate Chip Ice Cream + Chocolate Sauce
Oreo Crust + Chocolate Ice Cream + Hot Fudge
Golden Oreo Crust + Butter Pecan Ice Cream + Caramel Sauce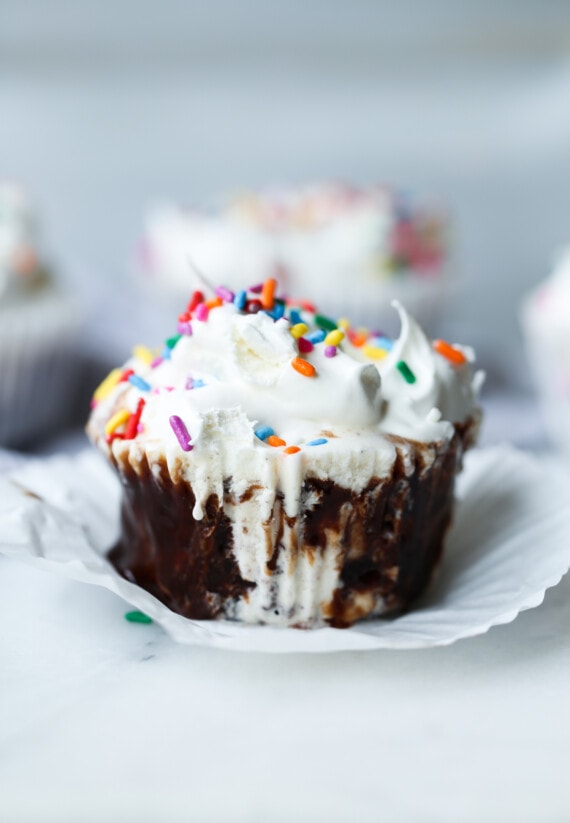 How To Store:
Ice Cream Cupcakes need to be stored in the freezer. I like to place them in a long and shallow plastic container and make sure they're sealed airtight with a lid. If you don't have a large container here is an easy method that works:
Place the cupcakes on a platter and flash freeze them so the topping gets firm. This will take up to an hour.
Cover the platter tightly with plastic wrap.
Then cover the plastic wrap with aluminum foil. This method ensures that they are airtight and they won't get that funny freezer taste.
My recommendation is to store these for up to 30 days for best freshness!
---
Description:
These easy Ice Cream Cupcakes are the perfect summer treat! AND customize them anyway you like with different ice cream flavors! 
---
Ingredients:
12

Oreo cookies, finely crushed 

3 tablespoons

butter, melted

4 cups

(1- quart) cookies and cream ice cream

1/2 cup

chocolate syrup

3 cups

whipped topping

Sprinkles to garnish
---
Instructions
Line a muffin tin with cupcake liners. Set aside.

In a medium bowl combine the crushed cookies and melted butter. Divide the mixture between the 12 cupcake liners and press firmly into the bottom.

Top each crust with 1/3- cup of ice cream and press in evenly. Drizzle 1- 2 teaspoons of chocolate syrup on each cupcake. Top with 1/4- cup of whipped topping and sprinkles.

Cover and freeze for at least 3 hours.
---
Notes:
Store airtight in the freezer for up to a month
Keywords:: cookies and cups, ice cream, oreo cookies, chocolate sauce, cupcakes, no bake
Want To Save This Recipe?
PIN for later: