Tattoo artist Olesia (@lescrowtattoo) creates large-scale gloomy tattoos consisting of clear lines, contours and shading, which she coins 'Gravure' tattoo. We chatted to the Ukraine artist based in Los Angeles about her love of mythology, tattooing style and more…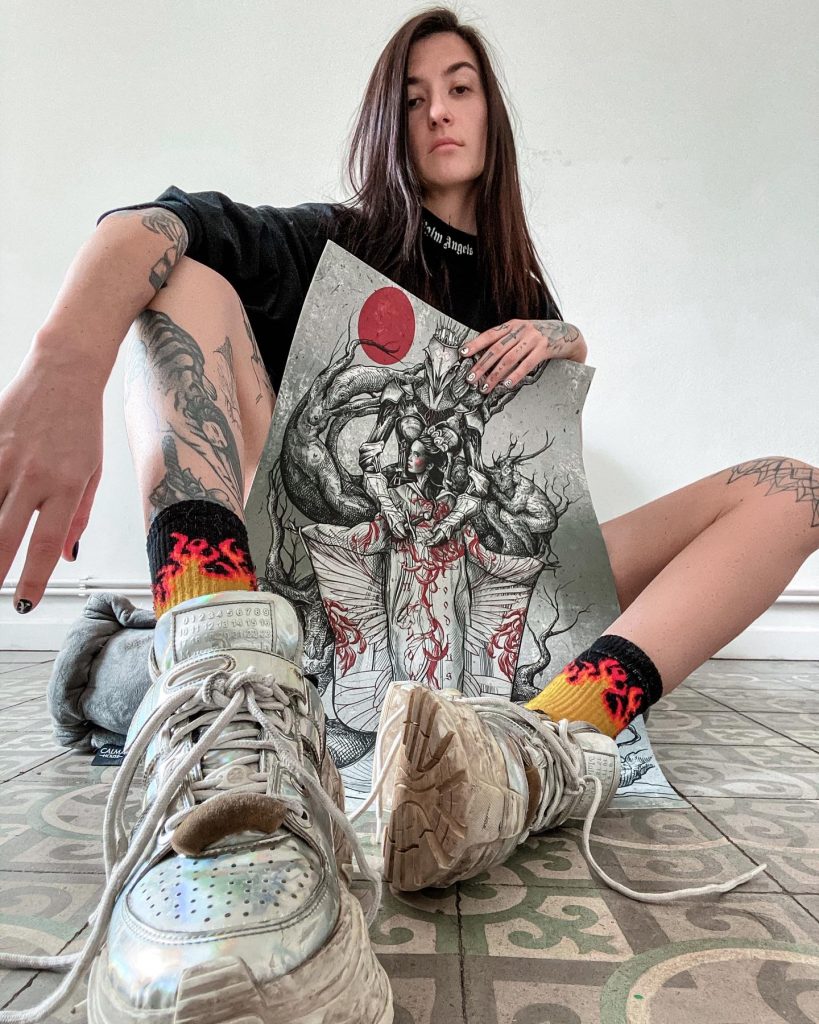 "I create a drawing in an engraving style based on Greek mythology, and then I transfer it not to wood or metal in order to make an impression, but to the skin of a person to keep it there forever. From my perspective this is synthesis of the arts which is timeless"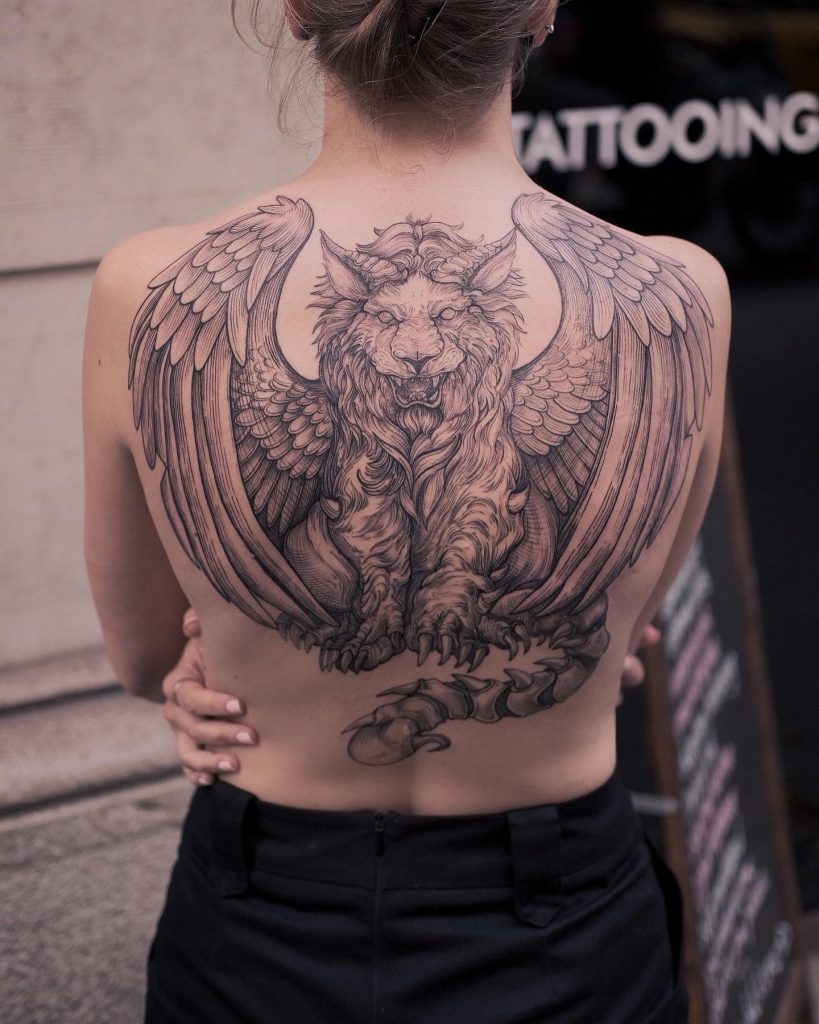 What's your earliest memory of tattoos or tattooing?
My first tattoo was a gift for my first girlfriend. It was first letter of mine and the name. Veeeeery trivial I know…but it's a warm memory.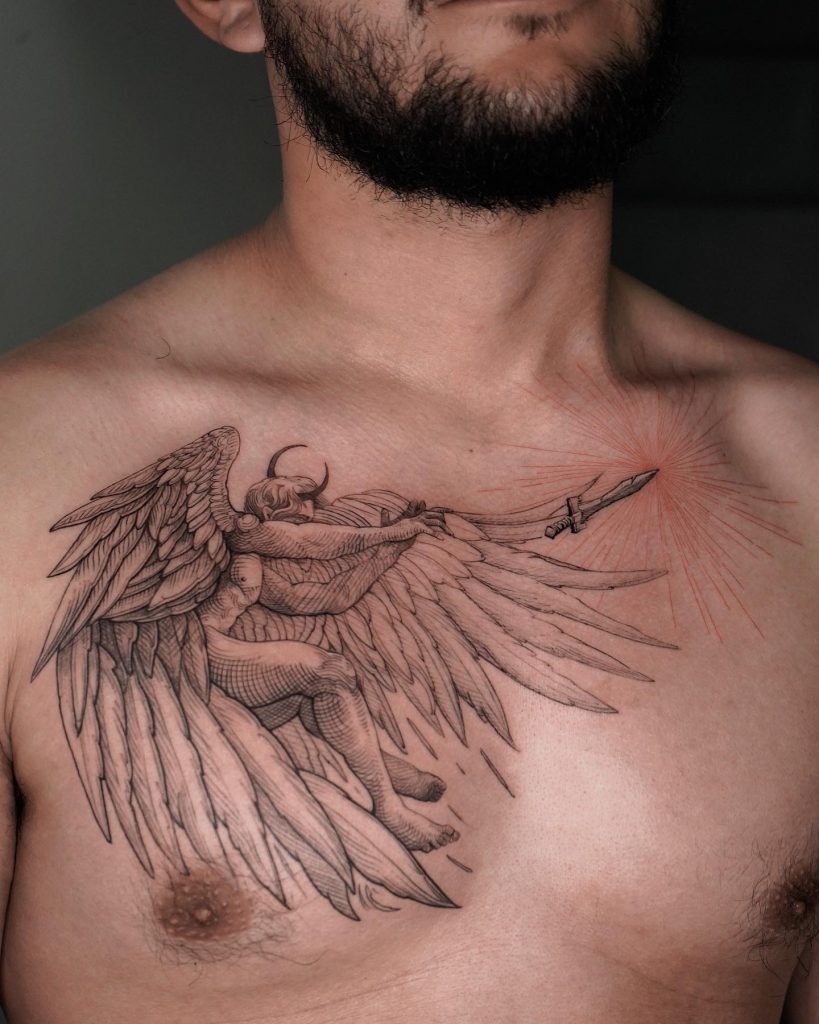 How long have you been a tattoo artist and how did you become one?
I've been tattooing for 12 years now. Since I was a girl I loved drawing and contemplating nature, but my mother and teachers said my art was strange and gloomy, which stopped me from pursuing my art.
After school, I entered the Art Academy at the Faculty of Design and Architecture. I didn't want to become an architect, but studying helped me with the basics of compositions. I eventually got a job at my friend's tattoo studio.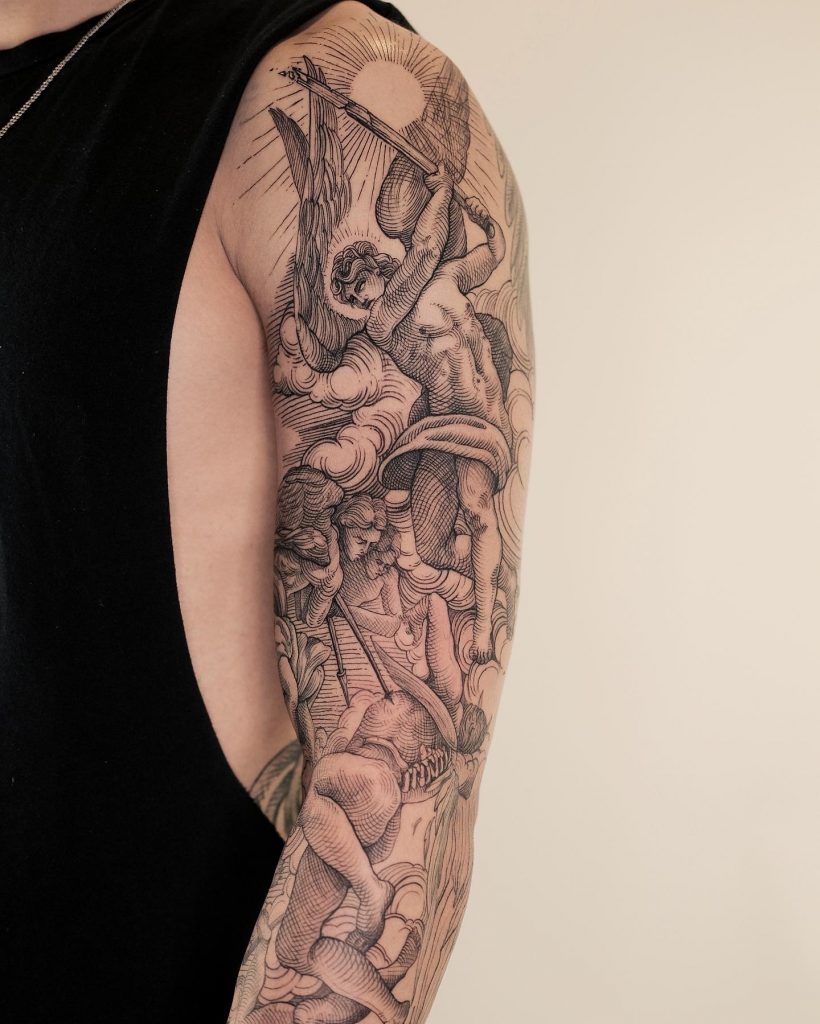 Can you tell us about Gravure tattoos?
Gravure tattoos have become my own niche. It's characterised by large-scale pieces, often inspired by Greek Mythology, which are gloomy in nature expressed lines and shading.
As I learnt to tattoo I found an audience who revered my style and trusted what I was creating. After several years of experimenting and tattooing in Barcelona and Europe I honed my skills and what made me unique, that's when I moved to LA.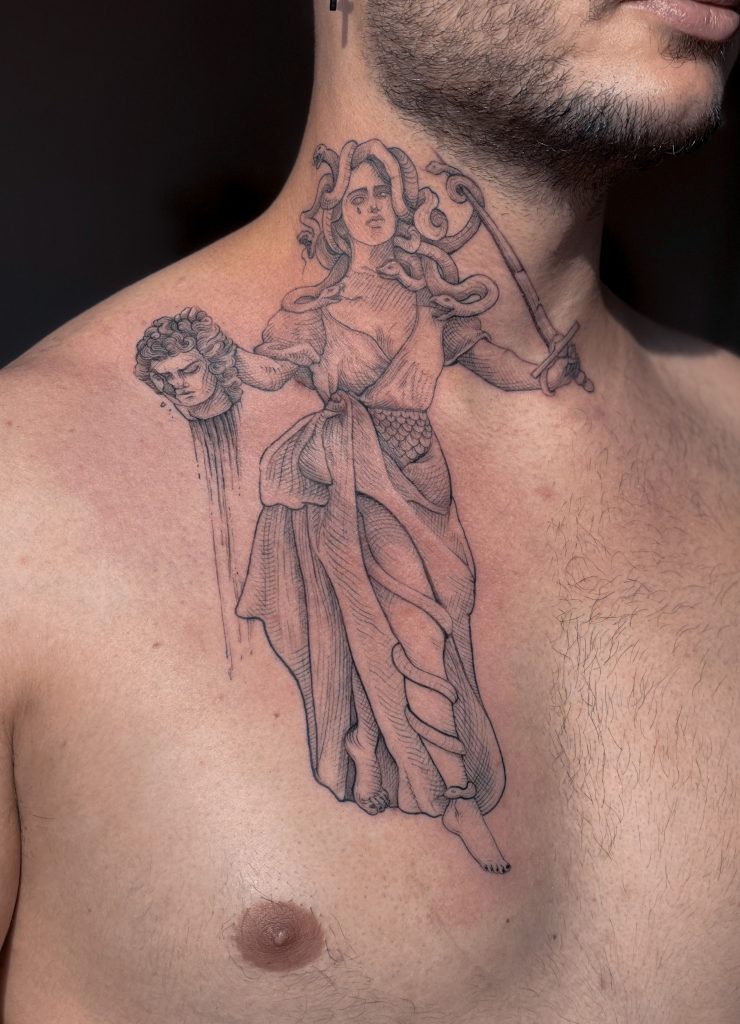 What in particular draws you to Greek mythology?
In Greek mythology I am attracted to how perfect the image of a person can be. In general, they knew a lot about the beauty, mind and earthly pleasures.
Do you have a favorite story or a Greek God?
I like all the stories about Hades and Persephone. For me they are like a movie- «only lovers will survive».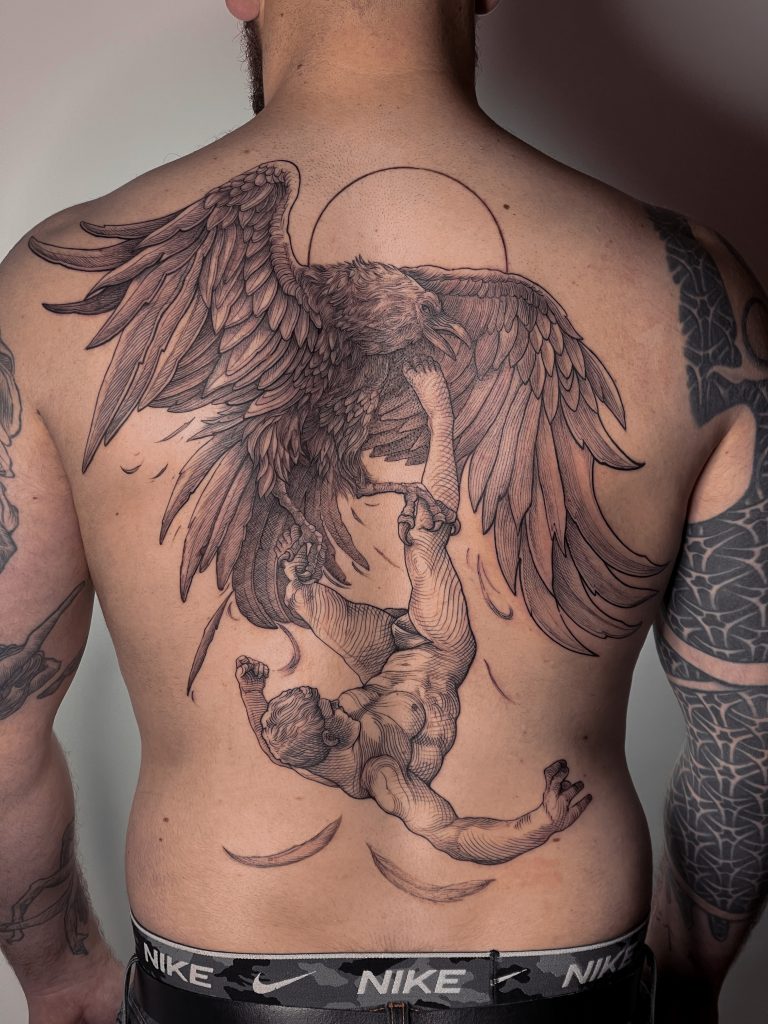 How do you see your tattoos evolving in the future?
I don't know, maybe I'll be in slavery to AI, like all of us! Most likely I will remain just an artist and it doesn't matter where my drawings are whether they're used for illustrations, bodies or some kind of engraving on robot panels.
I hope one day I will write a book about my inner travels and will illustrate it too, it's the dream of my life.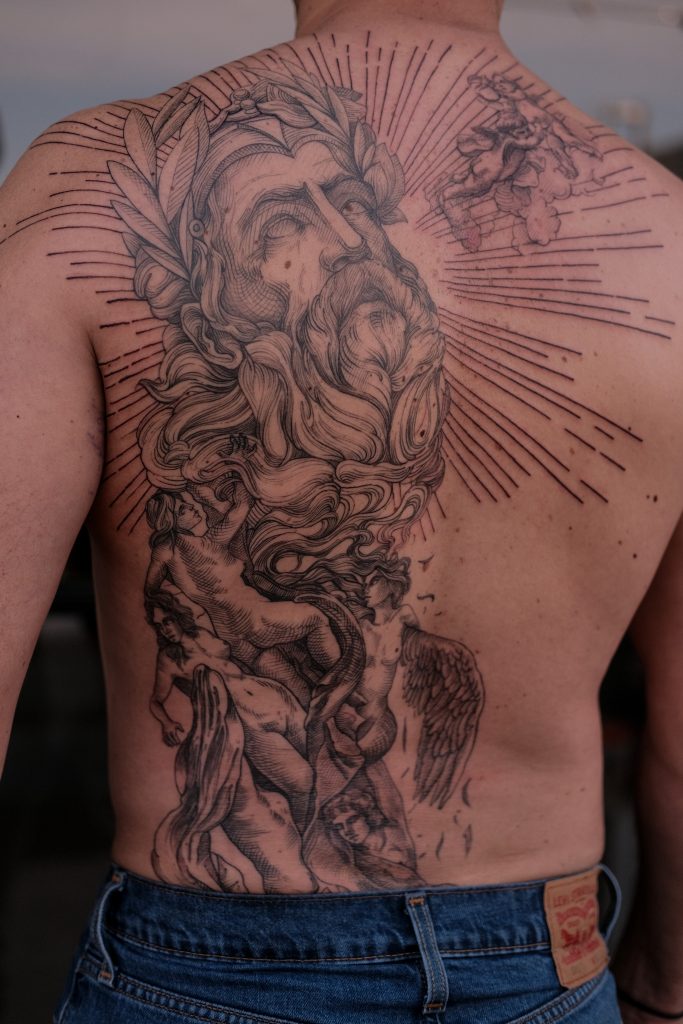 You describe your work as gloomy, do you have a gloomy personality?
I'm definitely the queen of darkness inside , but in society I am a very cheerful and sociable person, the one who will make everyone laugh, unite and gather for a party
(I can't live without the fun of sarcasm and nightlife). But yes with myself I'm blue and gloomy.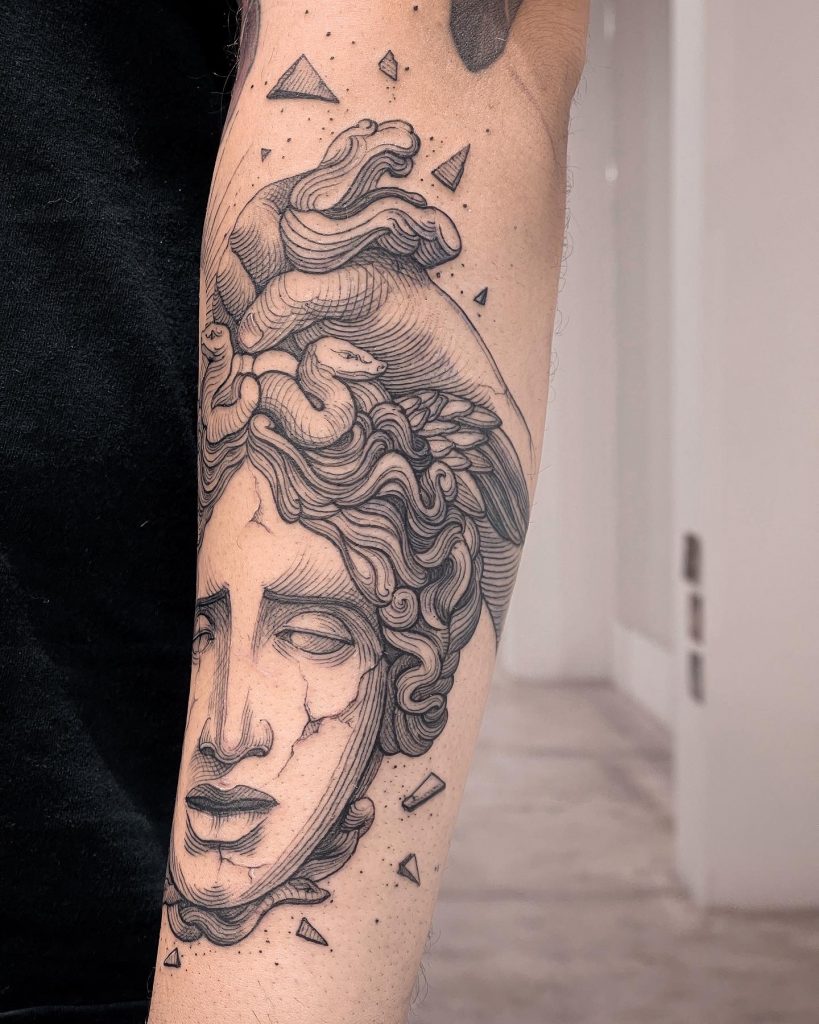 How do you feel when you're tattooing?
For me, this is a moment of concentration, meditation and also a time when I can combine work with knowledge (during the sessions I always listen to audio books or lectures on history) just imagine those feelings! Your body's here creating a world on another person's body and your mind is separately traveling through the pages of novels or the past! This amazing sensation is disturbed only by pain in the neck or back.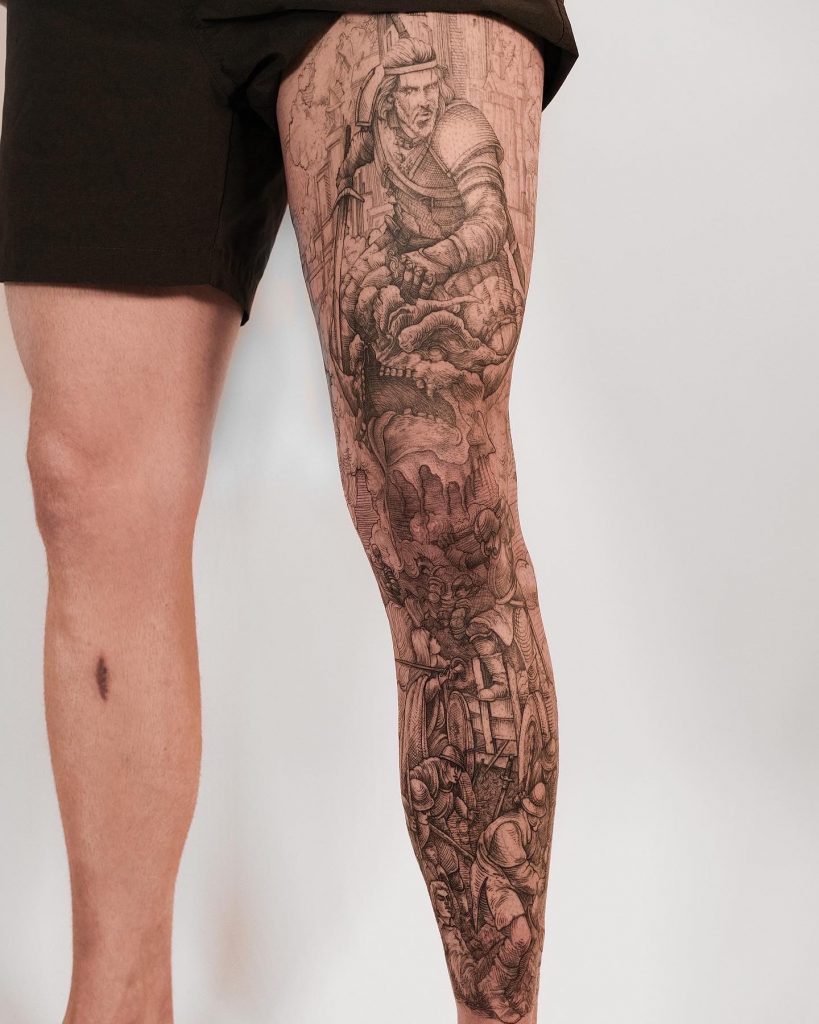 How does the LA tattoo scene compare to other places you have tattooed?
I moved to LA half a year ago, so I haven't fully felt the difference yet. But if we talk about the public itself, the clients here are very grateful and open to everything new more than, for example in Spain, despite the fact that my style here is something new because America is the founder of traditional and realistic tattoos, especially in colour. And of course, the scale of the country doesn't allow you to stay without work for a long time.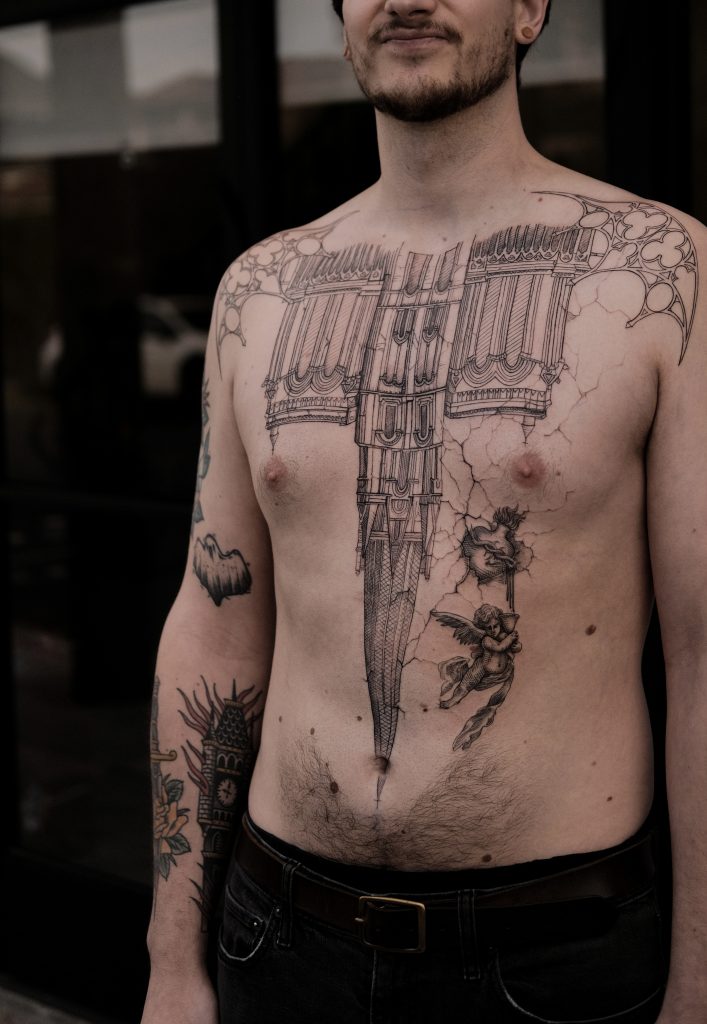 Where's been your favourite place and inspired you the most?
My favourite city, no matter how trite it may sound, is Paris. But it's just for my soul cause my lovely poets are buried there. If you mean tattoos – New York is the best city for work and spending money. I'm a fan of the big city vibe!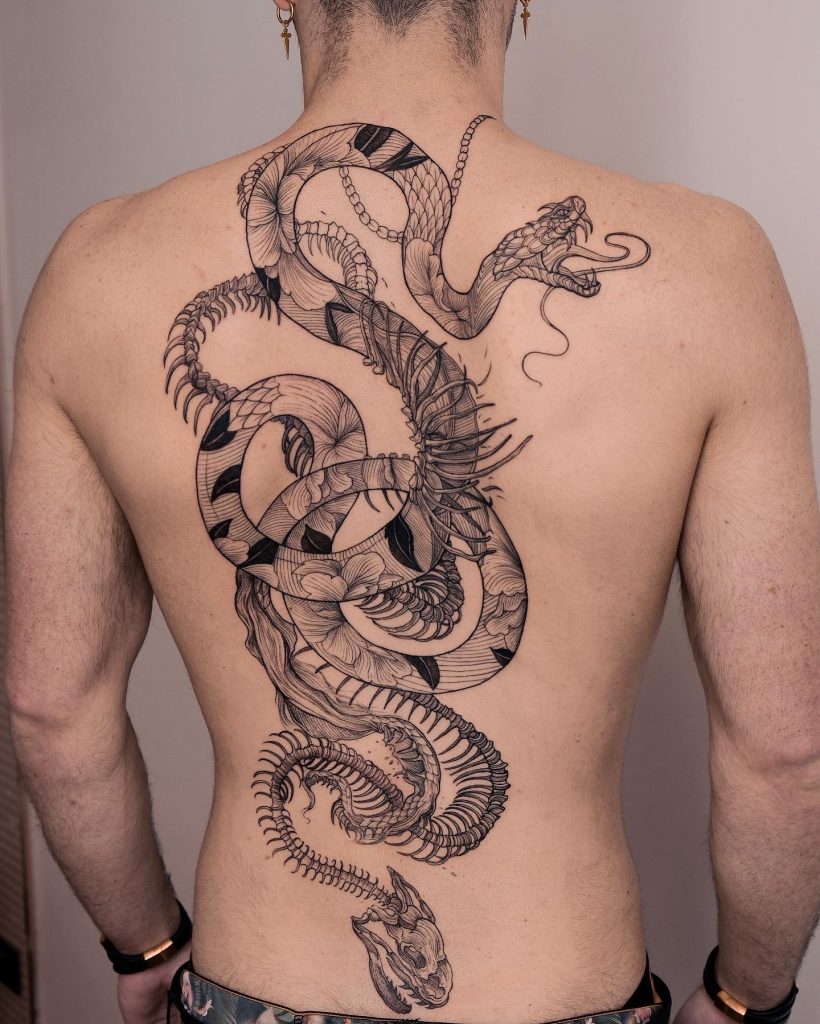 Can you tell us about the tattoos you have on your own body?
My tattoos look more like a diary of small disconnected stories, each one belongs to a certain period. I dream of a big project for the whole of my back, but ideas change every year, so my back is still waiting for the right idea.
Follow Olesia @lescrowtattoo on Insta for more gloomy Gravure tattoos.
We're always talking to amazing tattoo artists, check out our latest interviews.