Tattooist @dino_oriental creates striking blackwork tattoos with red constrasts at @10kf_Hollywood in Los Angeles, CA. We chatted to the artist about his recognisable style, journey into the industry and plans for the future…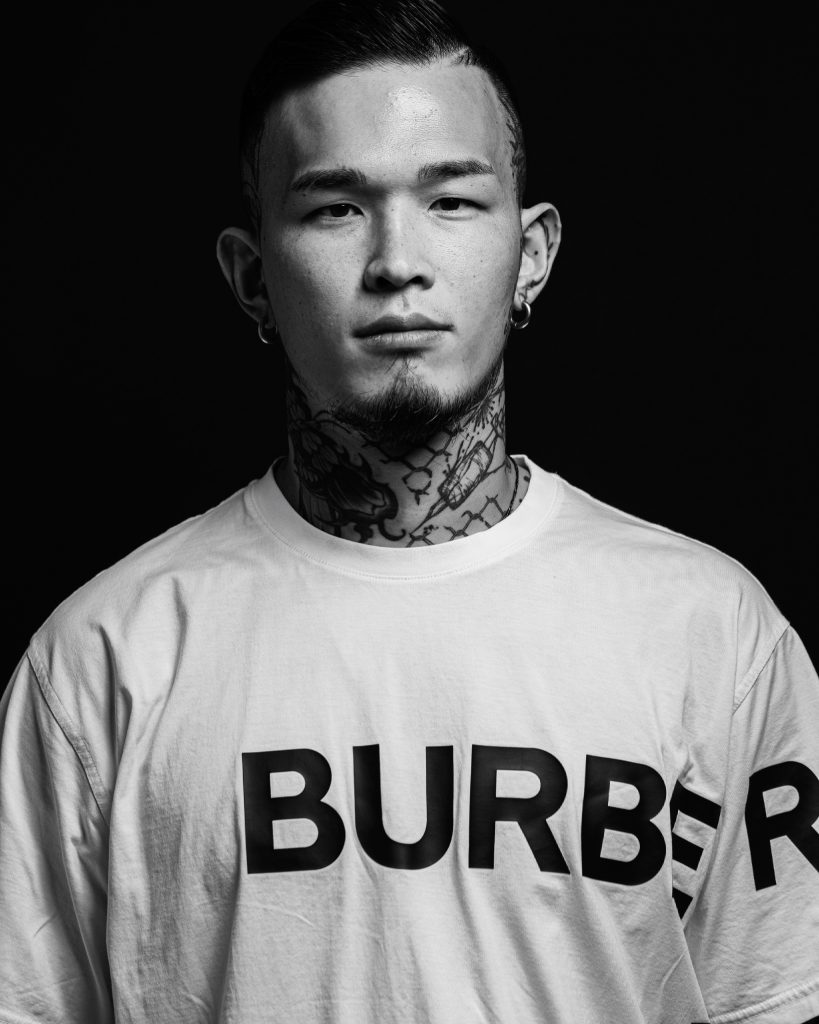 How long have you been a tattoo artist, how did you get into the industry and why did you want to become one? I have been making tattoos for about eight years. I was a professional Korean soccer player before I became a tattoo artist.
Unfortunately, I had to have six surgeries on my left ankle which meant I couldn't play soccer any more. I should have had a back up career ready but I found my second career a little later.
I have liked getting tattooed since I was young and my favourite soccer player, who played for Liverpool in the English Premier League, became a tattoo artist. Seeing this I became motivated to emulate his life and career, I then chose a job as a tattoo artist for my second life. So, I studied, watched YouTube videos, searched the internet, bought machines and supplies, and started my second life as a tattoo artist.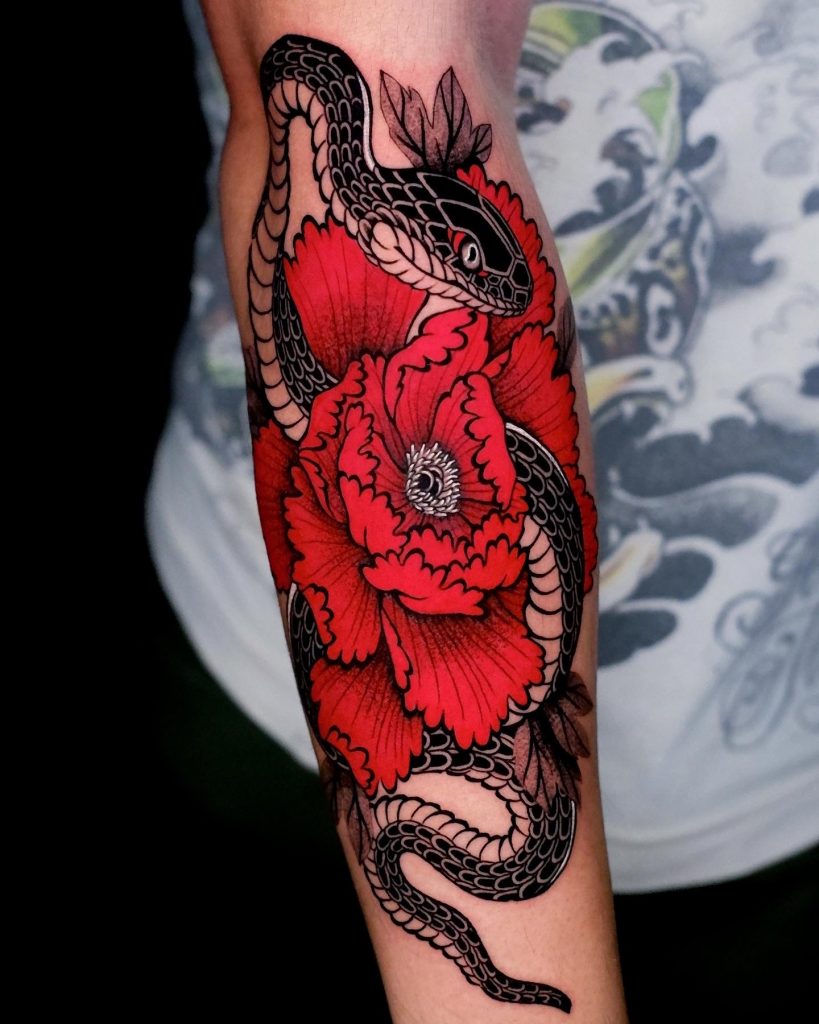 How would you describe your style of work? All of my designs are based on the traditional Japanese painting 'Ukiyo-e'. Many of these traditional paintings resemble and feature legends and historical stories, which is why I get a lot of my inspiration from these traditional paintings.
I also like pictures that have a strong contrast. That's why I usually use red colour ink to create a strong contrast between the black and red. I try to create a beautiful and strong atmosphere by using brush lines accompanied by many other lines. This helps to create a classic yet sophisticated feeling in my work.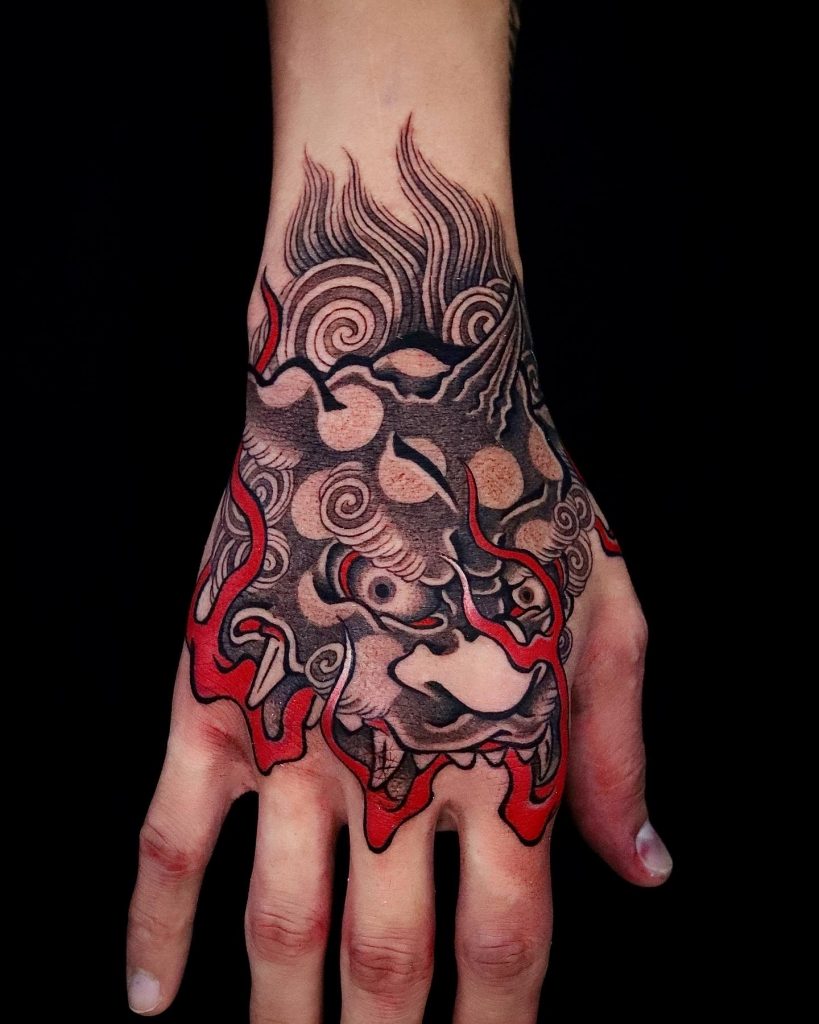 Does your Korean heritage influence your art? I mainly do traditional Japanese style tattoos, but I get a lot of inspiration from Korean history and paintings. Japan and Korea have a similar history. Sometimes I get some of my ideas from traditional Korean paintings and study how the paint works.
When I lived in Korea I visited Korean temples; each temple has various traditional murals and I found inspiration in them. As I said above, most of my designs are based on the traditional Japanese painting Ukiyo-e, but I can also get a lot of inspiration and ideas from Korean heritage.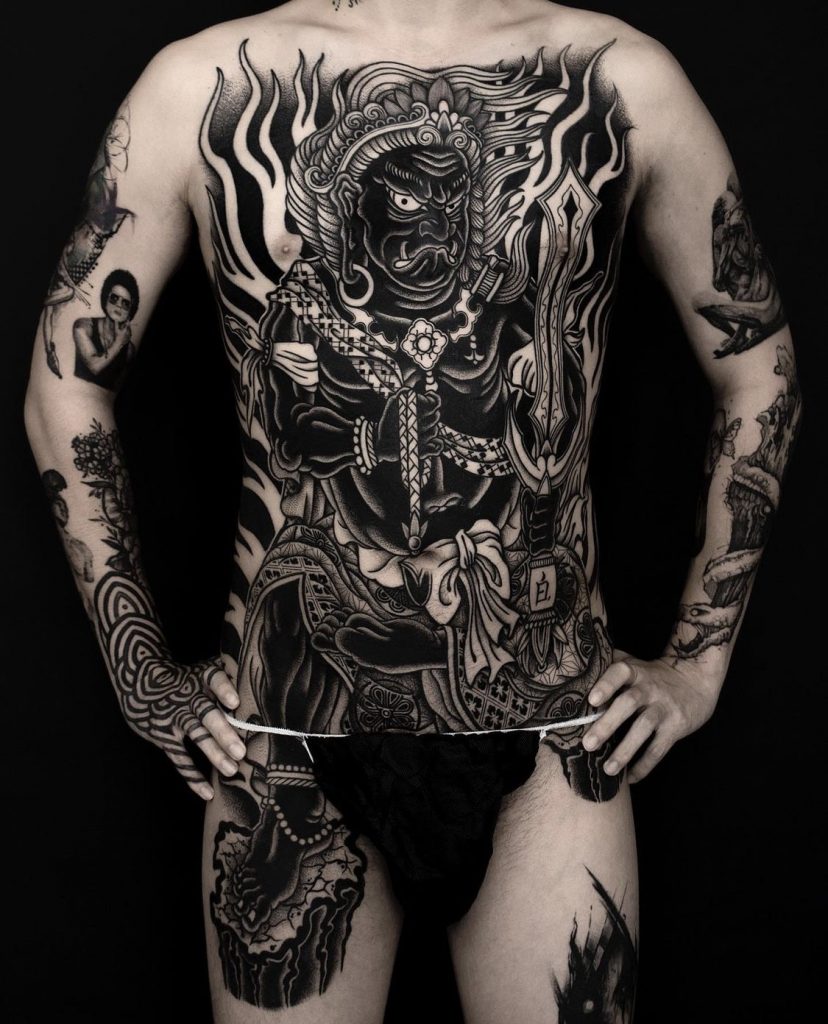 You typically tattoo in black and red ink, can you tell us more about this? I like art to have astrong contrast. A few years ago I went to the London Tattoo Convention to study the work of other artists. Looking at the body suit contest I spotted one model in particular who was tattooed in a style I liked the most and wanted to create. The tattoo had a very strong contrast, and it was very clear and intense even from a distance.
So, I tried to find a way that I could make this kind of contrast my tattooing style. I wanted to make it beautiful so choose red as I think it's a beautiful and intense colour. I also like using the red to create a strong contrast, intensity and beauty when it harmonises with black.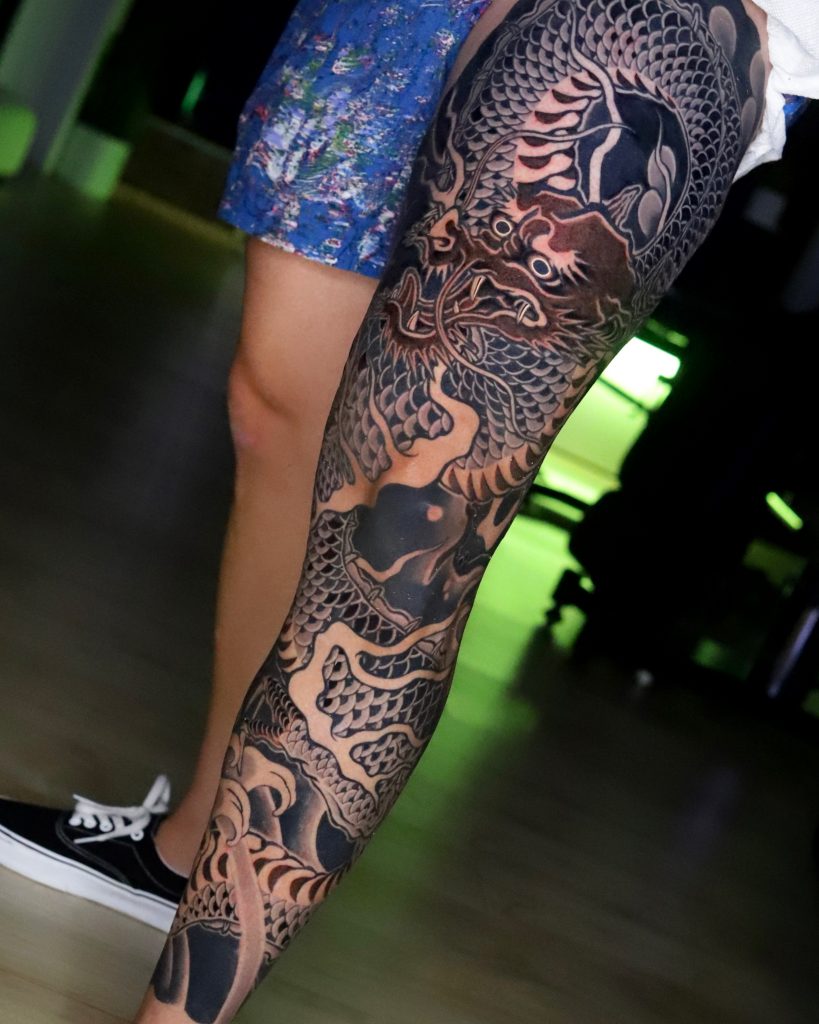 What's your favourite subject to tattoo and what would you like to do more of? I like to tattoo dragons the most. Although sometimes when I tattoo the dragon's shadow the scales drive me crazy or I feel bored as I have to make hundreds of scales. But the sense of accomplishment and the look of the design is ultimately really cool and beautiful.
Also dragons are interesting to learn about, I like finding different styles of dragons. They're mythical, legendary animals whose appearance is individual to the East or West or even each artist. I want to make my own style of dragon to feature on murals, bowls, clothes etc.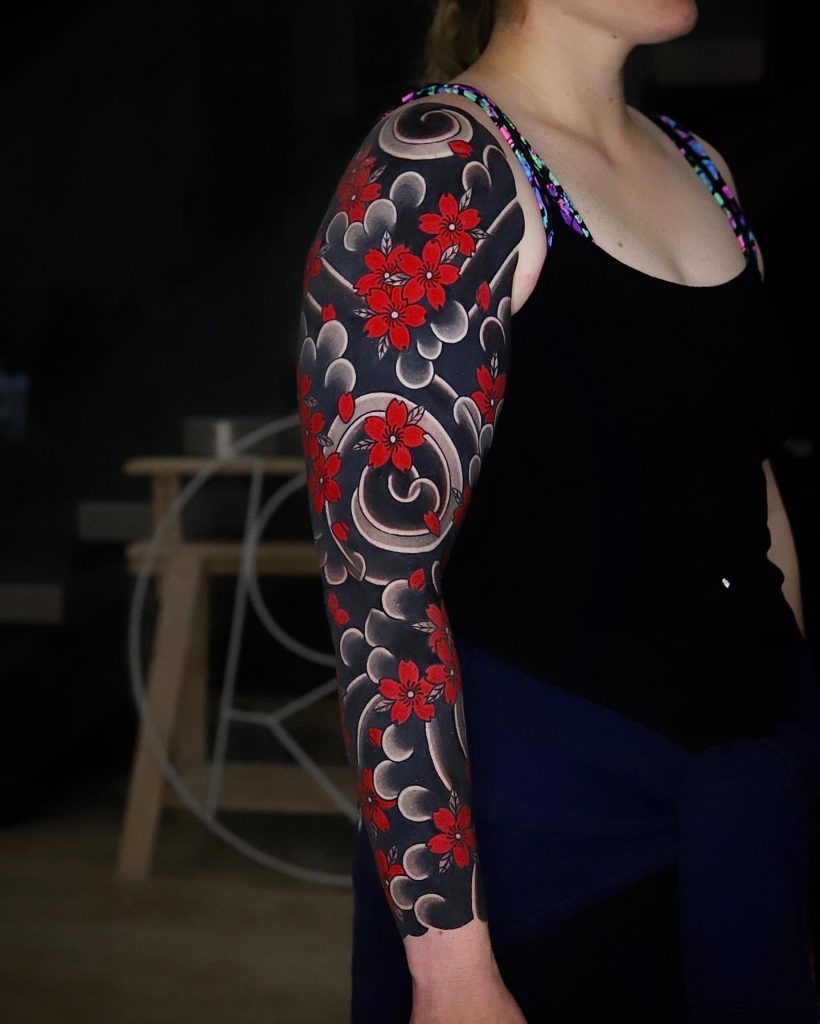 What's the tattoo scene like in LA? I'm living a very satisfying life here, making tattoos for now. There are so many artists and special and unique people in LA. As such, there are a lot of tattoo shops, and there are great artists in various tattooing categories. Everyone likes to enjoy the tattooed life, it allows them to express their indivulaity and capture precious moments and things on their bodies.
There are people from different countries here which makes for fun tattoo projects. While talking to them, I learn their country's culture and I can make tattoos that resemble their meanings for them. A project that starts with new people and people who like my work, always makes me excited and happy.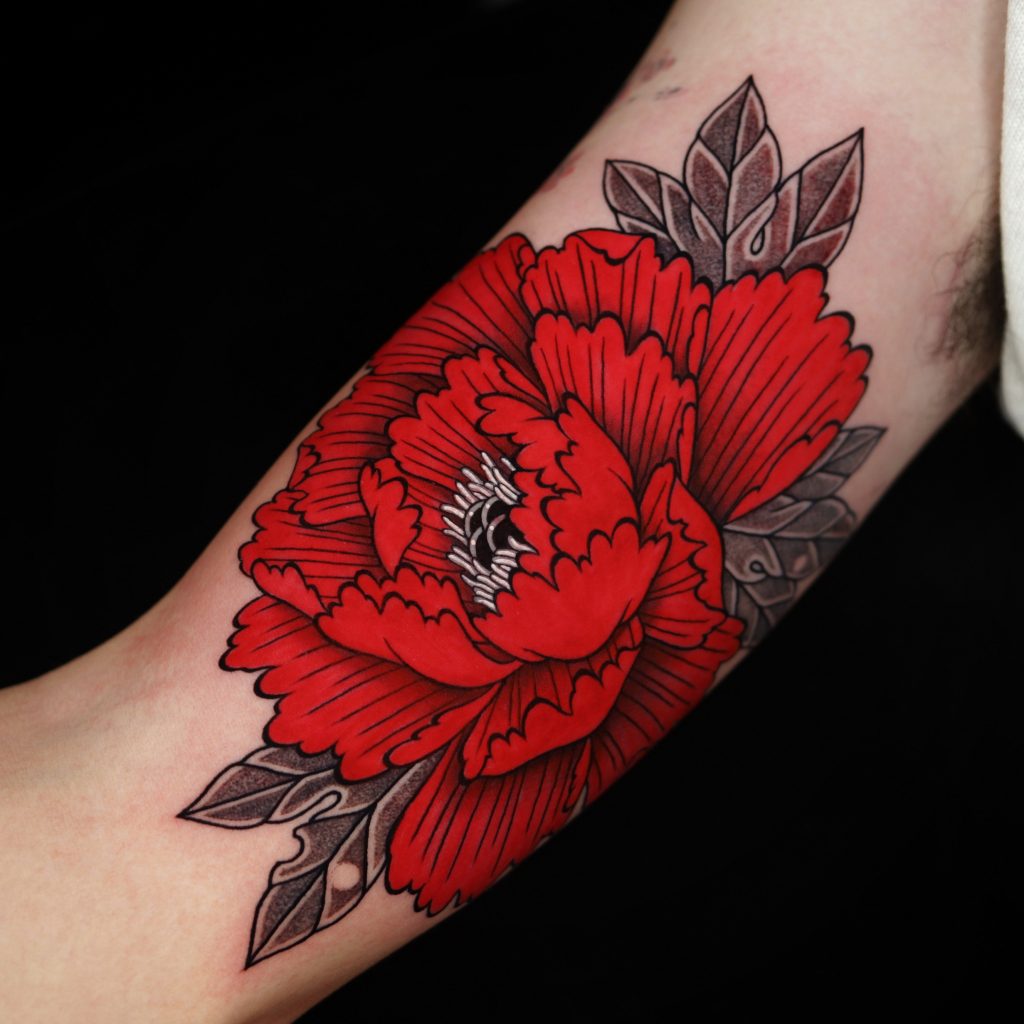 Do you have any guest spots or travelling planned? My plans start with the Philadelphia Convention in January. I then have plans to tour Asia in March, New York in May and Europe in July and September. I'll be at conventions and doing guest spots.
I haven't been able to travel as much as I would have liked, so I'm keen to get travelling again. It's a good challenge in my career and allows me to create interesting prjects with lots of different people.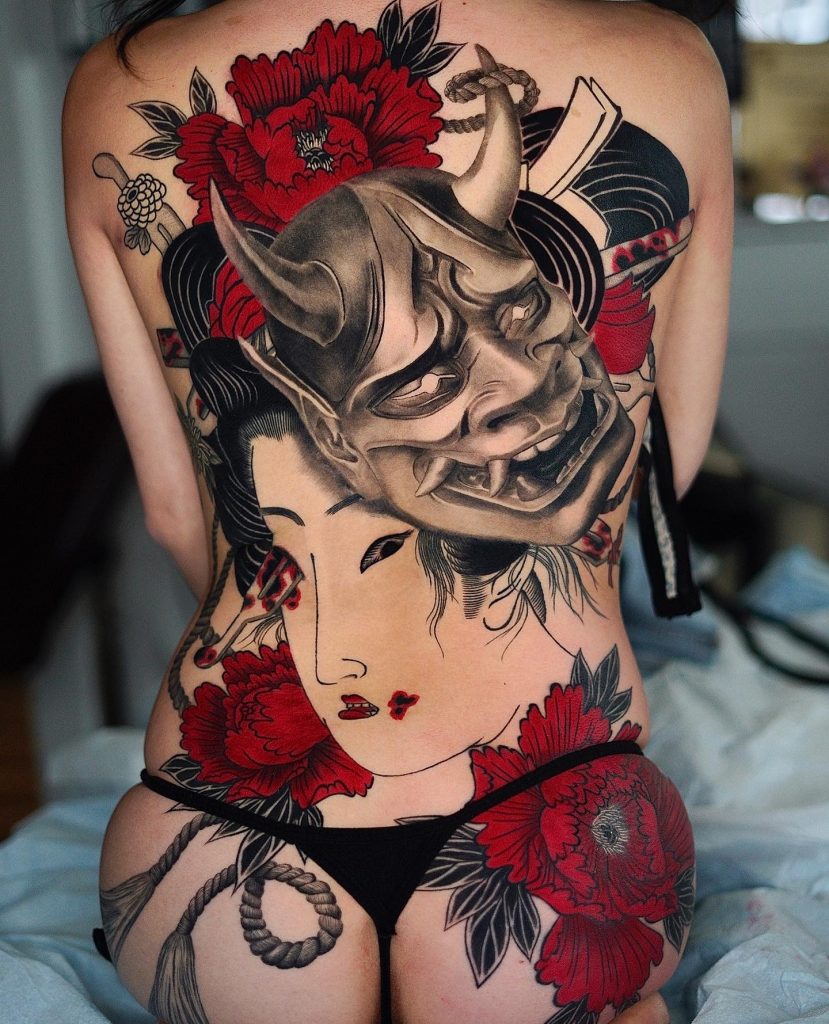 Can you tell us about your own tattoo collection? Are you a collector and do you have any future tattoo plans? I have tattoos almost all over my body, but I got most of my tattoos from my tattoo artist friends, my wife and I did some myself. 
My legs have a lot of cover-up tattoos because while I was learning to tattoo I tried various designs on myself. I also have a lot of blackwork on my upper body as I did blackwork style tattoos being I did traditional Japanese tattooing.
I have got a lot of my tattoos from my Korean friends and friends I have met while travelling. They're all precious to me. In fact, I've forgotten the names of some of the tattooers who have tattooed me, but I still like to look at those tattoos and reminisce. I'll continue to travel round the world and get tattoos from my good friends and artists.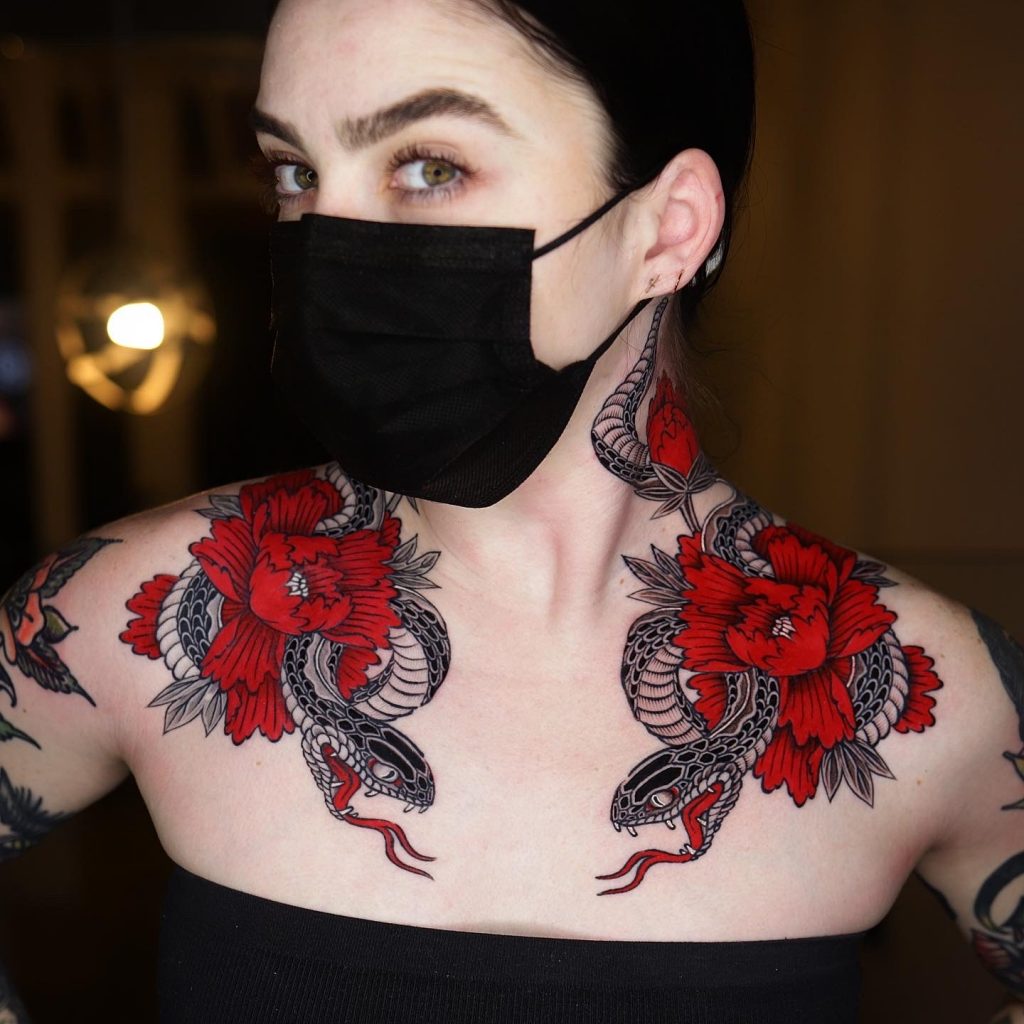 What's been your proudest moment in your career so far? My happiest and proudest moment was when I won first prize at the Taiwan Tattoo Convention. Amazing artists from all over the world attended and I was very happy that my efforts were rewarded when I won first place in the contest.
Some artists may not like these events, but for me, conventions motivate me and allow me to set goals to move towards. Looking at the works of countless great artists helps me see the differences between our works. I find my shortcomings, get ideas and things to try in my next tattoo. I feel like I can gradually find my own style.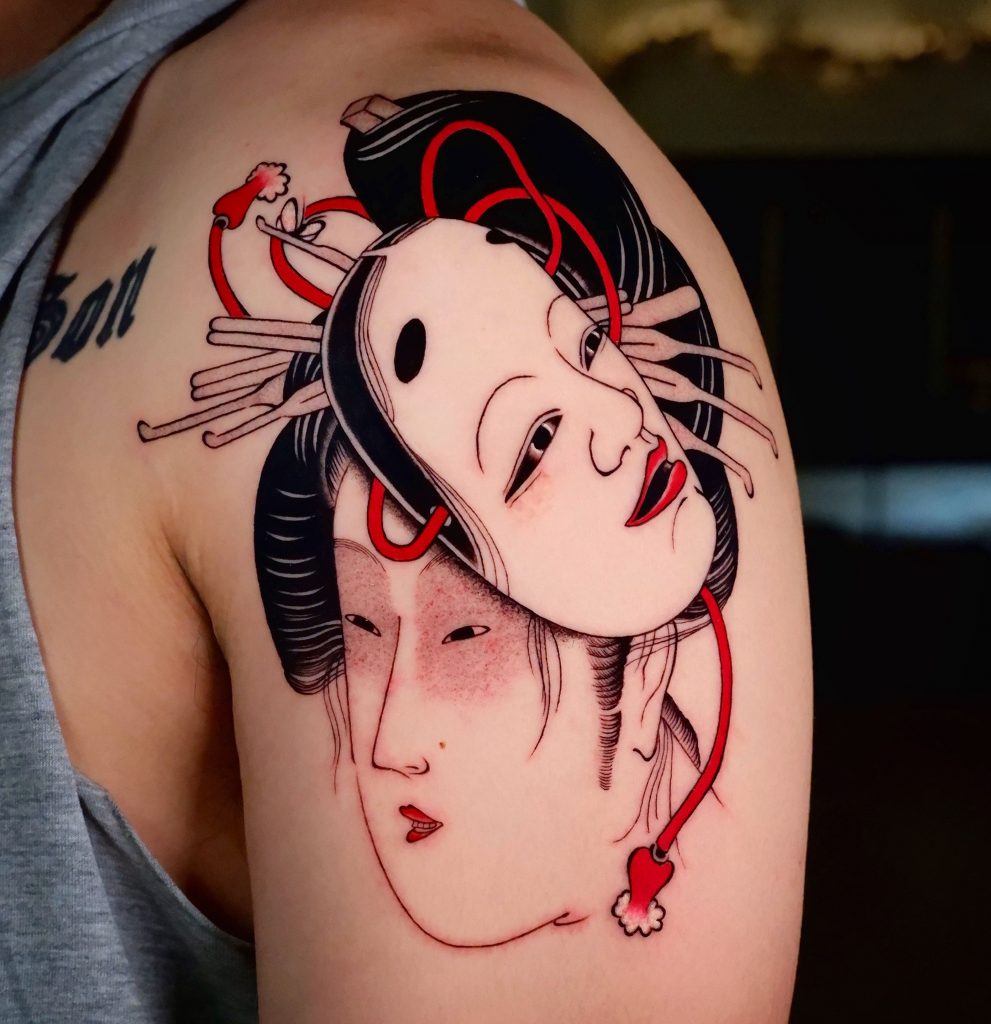 What do you do when you're not tattooing? When I don't get tattoos, I enjoy doing things that inspire me or exercising. I play golf, go mountain climbing or exhibitions with my wife. I also like to talk with her and organise my thoughts. Because she's also a tattoo artist, we understand each other, give advice, and have many conversations and hobbies together.
Also, due to the nature of my job, I have to sit down and work for a long time, so exercise is essential to me and it gives me a lot of energy. I am always organising my thoughts and making plans so that I can move forward with my goals.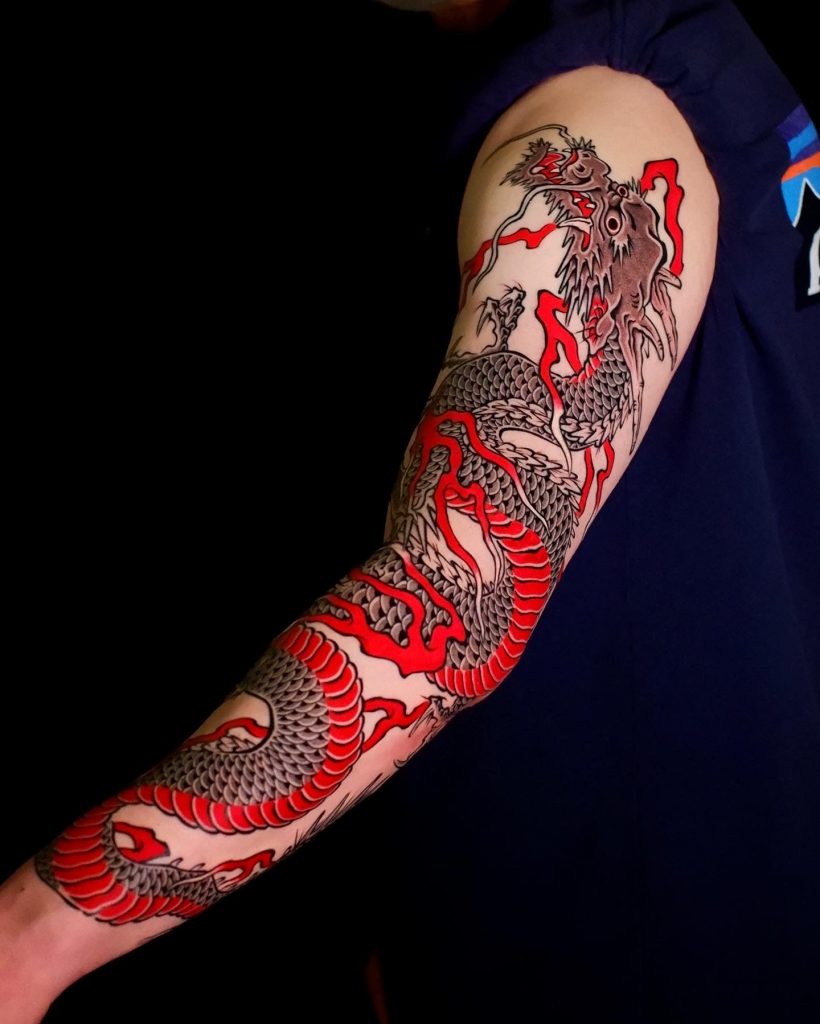 Where do you see yourself in five years? I'll probably have my own shop in LA and keep working on tattoos. I want to collaborate with the artists that I like and respect not just tattooing but other artistic outlets. My small goal is to not stop moving forward, not just in tattooing but in language studios and painting. I want to keep attending conventions and travelling the world. I'm sure in five years time I will be more developed and mature in all my abilities.
Follow @dino_oriental for more incredible tattoos and travel plans.