Tattoo artist Hussein Mistrah (@hussein.mistrah.tattoos) works in Detroit, Michigan after emigrating from Lebanon earlier this year. Having made a name for himself in a short space of time, we caught up with him to chat about his journey into the tattoo world and his goals for the future…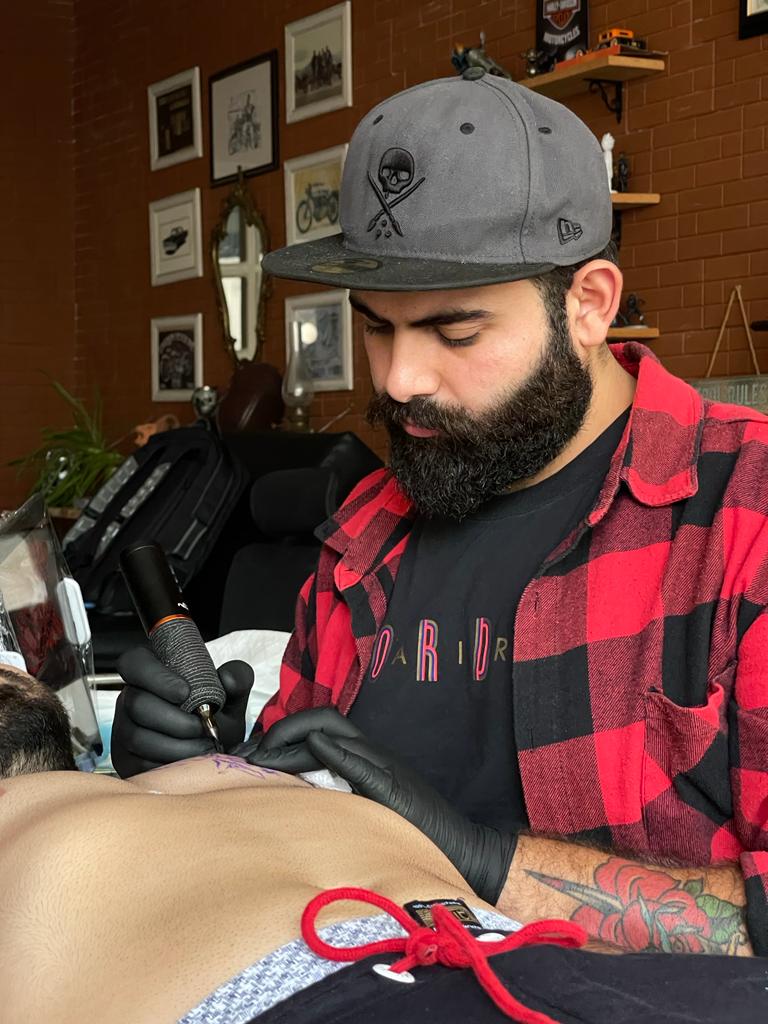 What made you want to become a tattoo artist?
As early as second or third grade it became clear to my teachers and fellow students that I was destined to excel in art. I can recall when I was about 8 years old my district had a contest that required the children to draw inside of a Picon Cheese container (similar to Laughing Cow here in the United States) and I won.
I later found tattooing and went on to attend university in Lebanon and obtained a Fine Arts Degree. I enjoyed sculpting the most but became proficient in many other mediums as well. The transition to tattooing full time came easily as I was able to make a career of creating and sharing my art with others.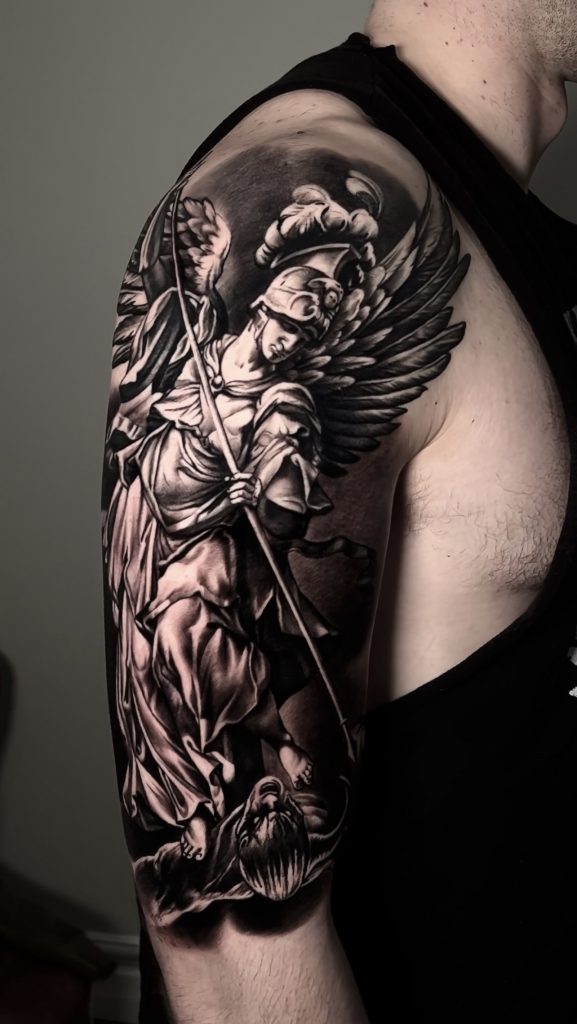 What's your earliest memory of tattoos? Did you want them as a child?
Tattoos were not common in Lebanon when I was young. I can remember drawing on my friends with a pen when I was about 13 years old. Shortly after entering university I found myself in a tattoo shop by chance and immediately became determined to pursue the craft. I have always been more interested in tattooing others than having them myself.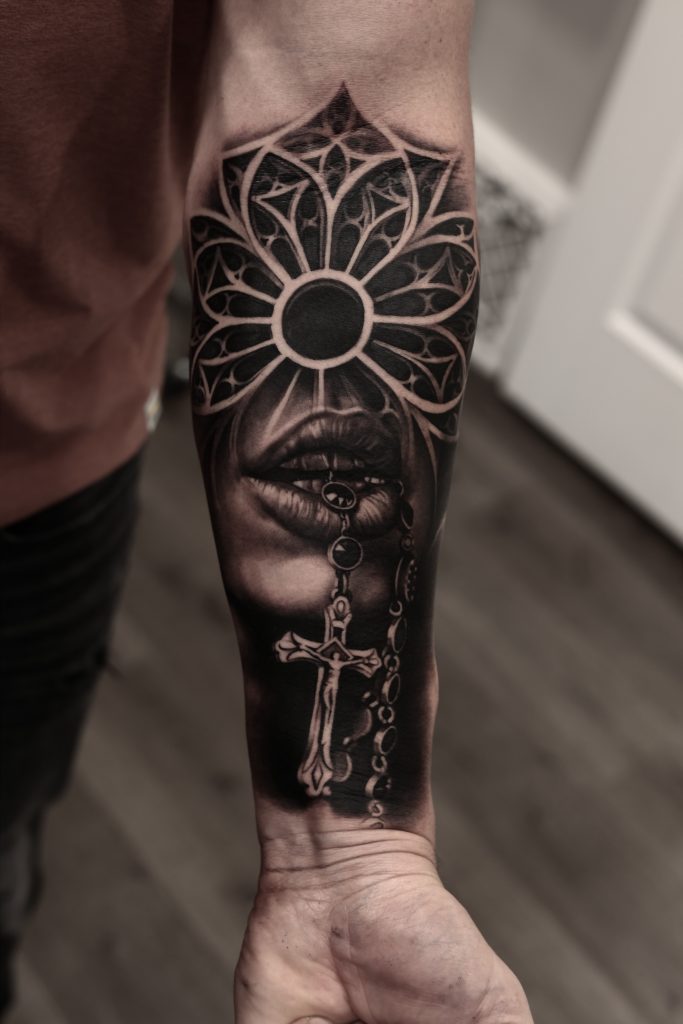 How long have you been tattooing for? How did you train to become a tattoo artist?
I have been tattooing for 12 years and I'm primarily self taught. My college education set a solid foundation for my work and I was able to apply that knowledge to ink on skin. There weren't many tattoo-specific resources available to me in Lebanon, but today I enjoy learning from other talented industry professionals when I attend conventions.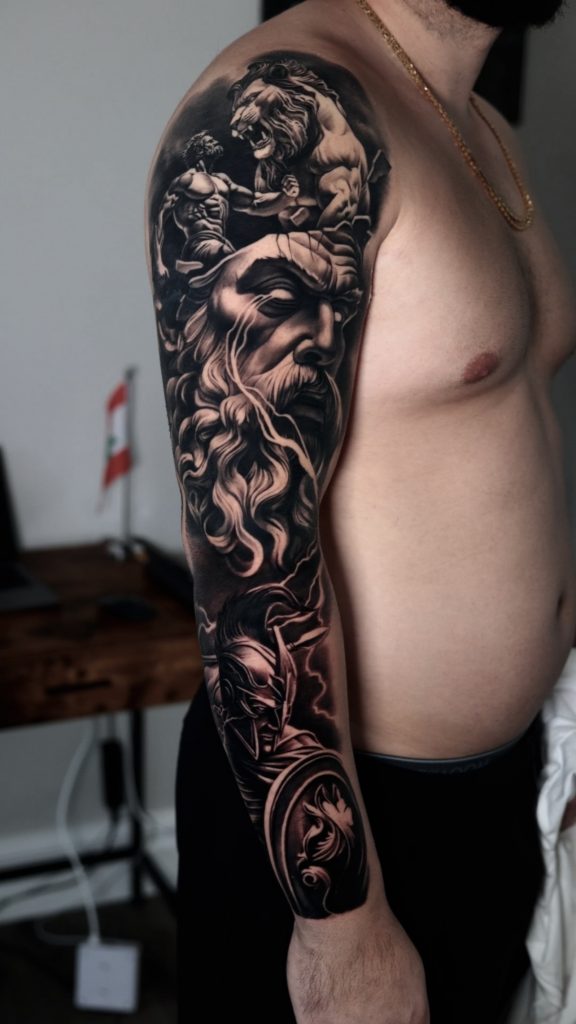 How would you describe your style of tattooing?
I specialise in black and grey realism and aim to achieve a specific balance of light and dark in all of my work. My preference in terms of subject matter include figures of Greek mythology, historical sculpture and portraits. When tattooing portraits I prefer to incorporate female subjects. I feel the eye is consistently drawn to the beauty of a female face which adds spirit and soul to my artwork.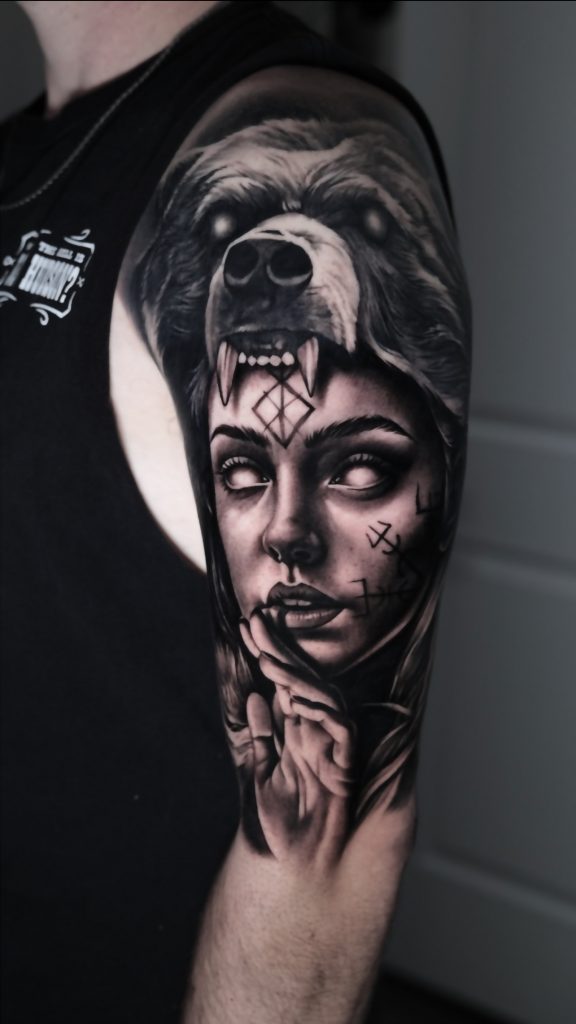 Do you prefer to work on flash or custom tattoos? How do you work with your clients on designs and ideas?
My work is exclusively custom and I spend the majority of my time on larger scale pieces. When a client approaches me I begin with the primary subject matter of their preference and expand upon it to create a cohesive and proprietary composition.
The day preceding an appointment I spend time organising my ideas and setting the groundwork which allows me to spend more time with my young daughter. I always give my clients freedom regarding placement and size, however I find it necessary to organise the major components of the canvas to best fit my style and technique for the most dramatic result.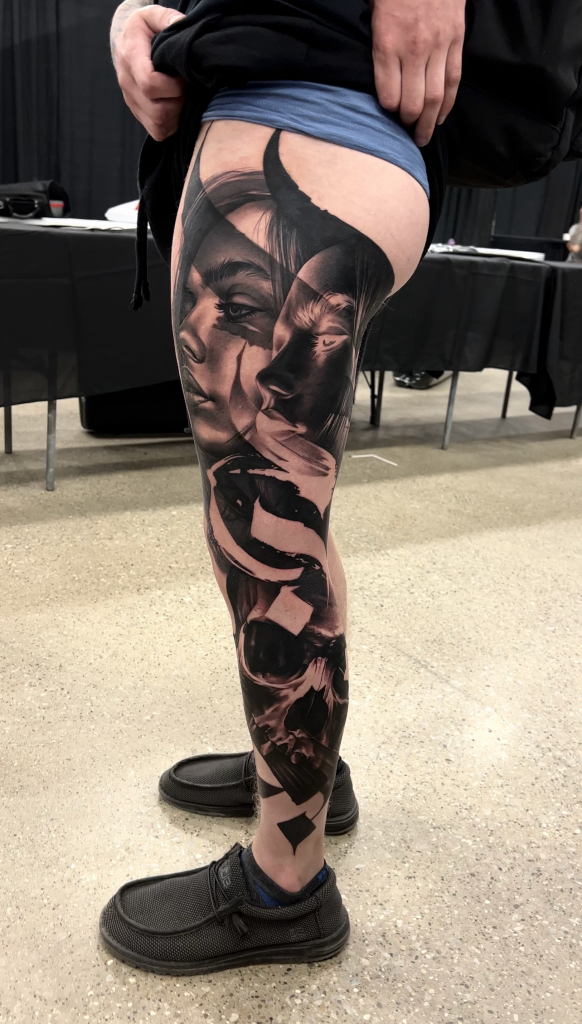 How can clients book in with you? Do you have a waitlist?
In order to best accommodate myself and clients I have found that booking in short segments is most effective and flexible. I open my books every three months and use Instagram exclusively for scheduling. I don't maintain a waitlist but interested clients can reapply in the next three month cycle.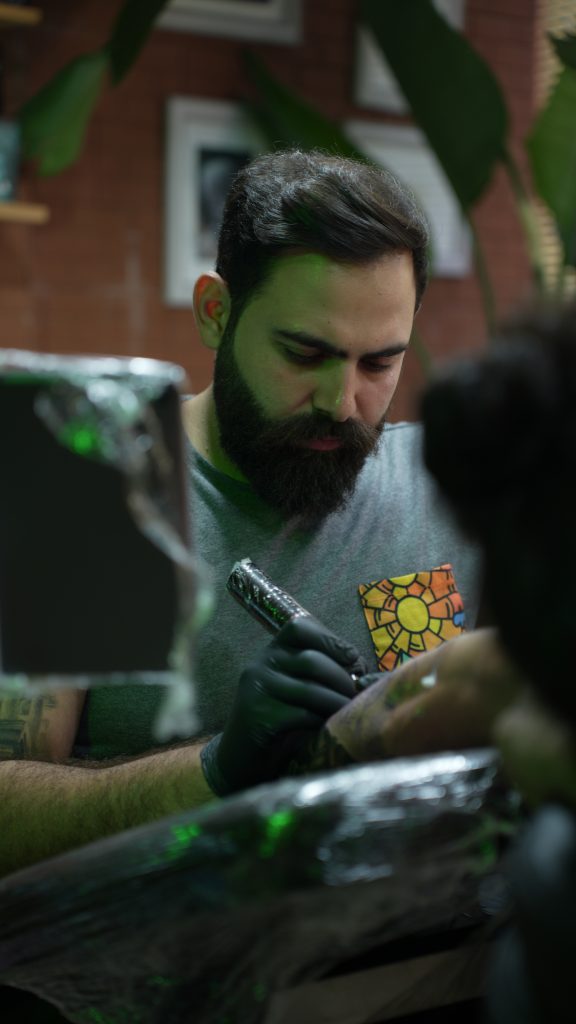 Can you tell us about your seminars, what do these involve?
I've had the privilege to present five seminars in Lebanon and two in the United States to date. I will be hosting my third US seminar in November 2023. Teaching other industry professionals presents a unique opportunity to focus on my personal techniques in a way that gives black and grey tattooers a new perspective. I place emphasis on balance, contrast and saturation with smooth transition and shading.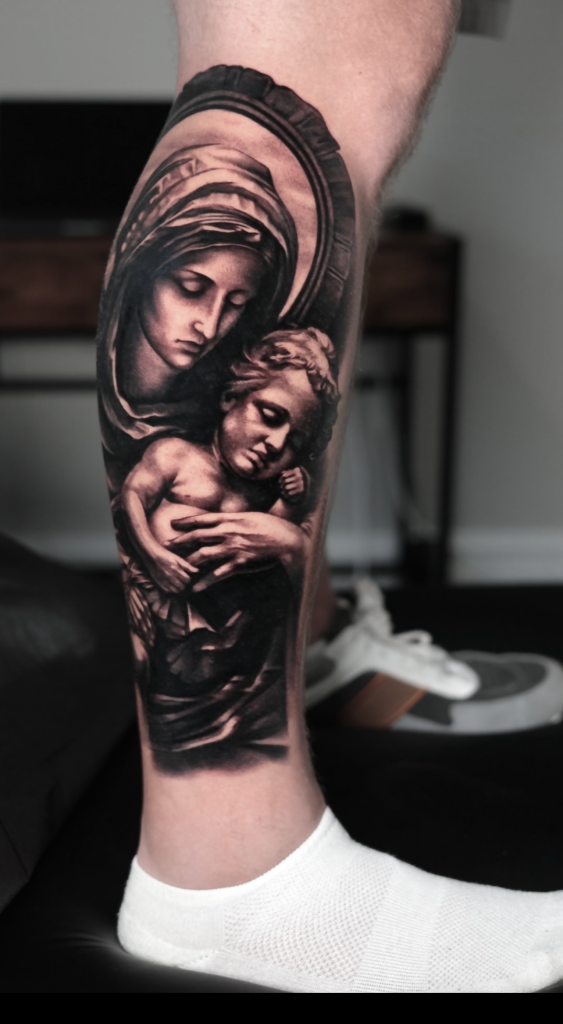 Do you have a favourite convention or place you've tattooed in?
My favorite convention is Tattoo Planetarium in Paris, France which I have attended twice in 2019 and 2022 respectively. This convention gave me the opportunity to meet several of my idols face to face and the calibre of work is extraordinary.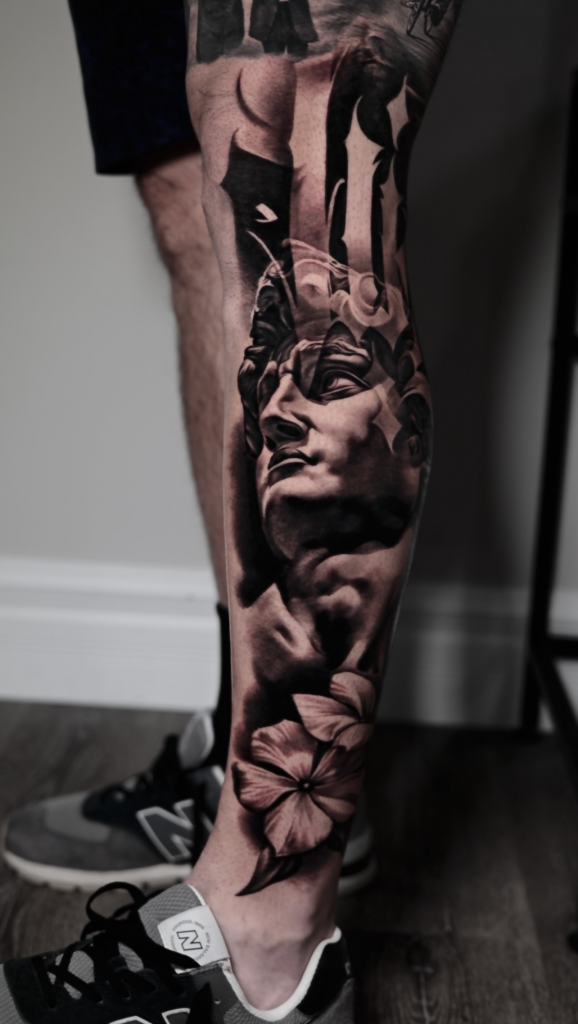 Can you tell us about some of the awards you've won? Do you have a moment you're most proud of?
When I emigrated to the United States I attempted to enter the Motor City Tattoo convention only three weeks after my arrival. They initially couldn't accommodate me on such short notice but I was ultimately given a small booth and was awarded Best of Show for Black and Grey work on the final day. It was not only validating for me but my first step towards achieving the American Dream.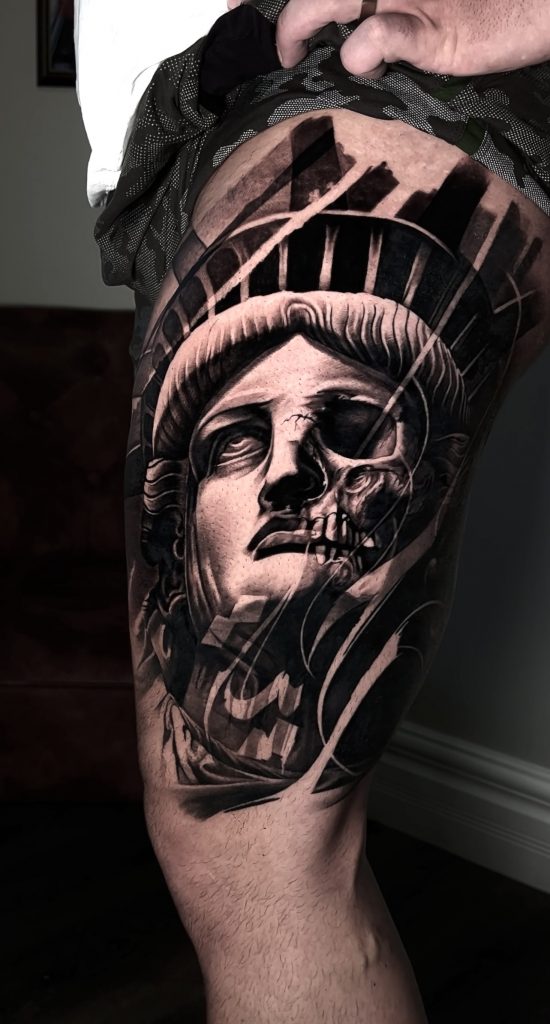 How does the tattoo scene differ in Lebanon and Michigan?
Tattooing in Lebanon is not prominent however it has grown as an industry since I began in 2011. Previously it was considered taboo but in recent years it has become more mainstream.
In the United States tattooing is obviously well established. I have found potential clients are willing to wait for appointments when they understand the quality of work they will receive.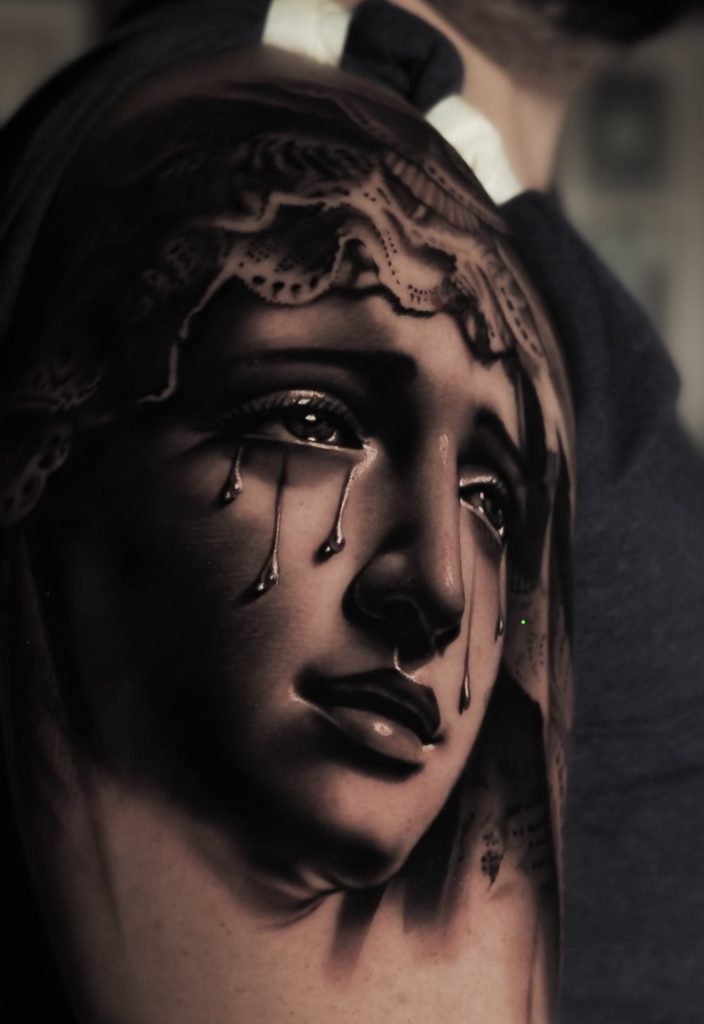 What do you think about the tattoo world itself?
Looking back on the experiences and opportunities the tattoo world has given me I have to
admit that if I was given the opportunity to start over I would choose this career again and again.
Tattooing has given me the means to support myself and my family but is more than just a job and I truly enjoy being able to make a living through my hobby.
What are your hopes and plans for the future?
I aspire to be recognised as an elite artist and become an esteemed member of the professional community. I have been lucky enough to meet some incredibly talented artists and hope to be among them someday.
Make sure you follow Hussein Mistrah (@hussein.mistrah.tattoos) for more incredible tattoos.
We're always talking to amazing tattoo artists, check out our latest interviews.