Tattoos Ideas
Interview with tattoo artist Neil Chetcuti – Things&Ink
Tattooist Neil Chetcuti works out of Skinlabel Tattoo Studio, in Malta. We chatted to the artist to find out more about his tattooing style, his love for the craft and the tattoo scene in Malta…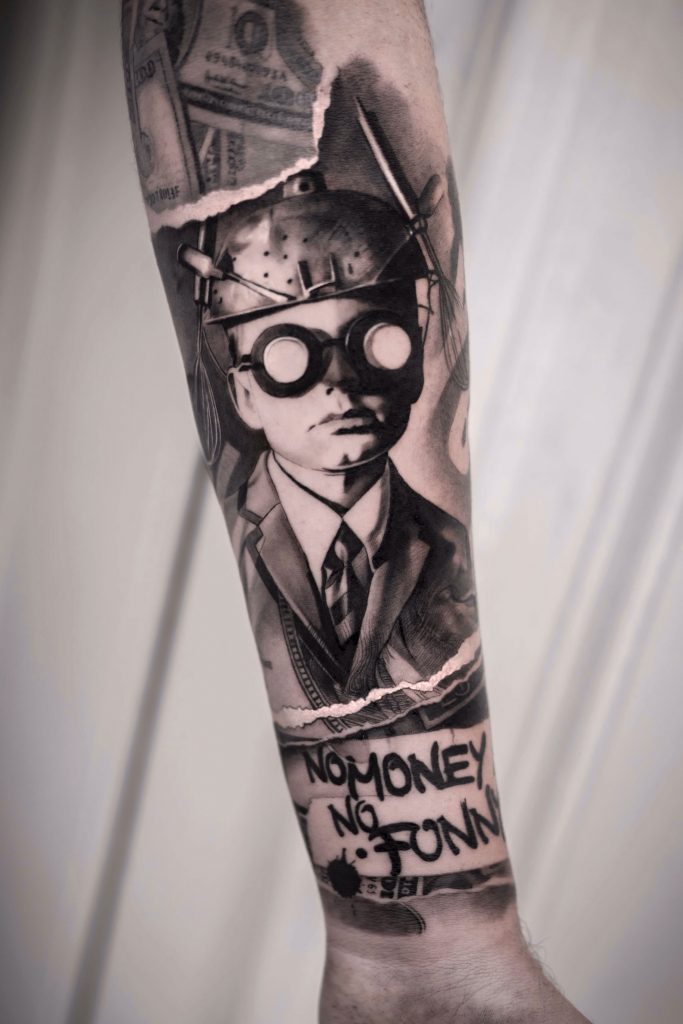 How long have you been tattooing and how did you get started in the industry? I've been a tattoo artist for six years now. My passion for art and sports started at a young age and I was mostly committed to football prior to my tattooing career. Back then I used to sketch something every day, however after suffering a knee injury that ended my football career, I had more time to focus on my art. I was posting more of my artwork online and received a lot of positive feedback, leading me to pursue a career in tattooing. I started my training in 2016 and became a professional tattoo artist in early 2017.
What inspired you to become an artist? Do you have a background in art? My passion for art stems from my family's history of artistic talent. Growing up surrounded by my great grandfather's paintings, I was always drawn to art and began drawing from a young age.
My interest in tattooing was sparked by watching programmes such as Miami Ink, and my appreciation for the craft grew over time.
During my rehabilitation for my knee injury, I received my first tattoo from one of the most sought after artists, Denis Sivak, who served as an inspiration for me to pursue a career in tattooing.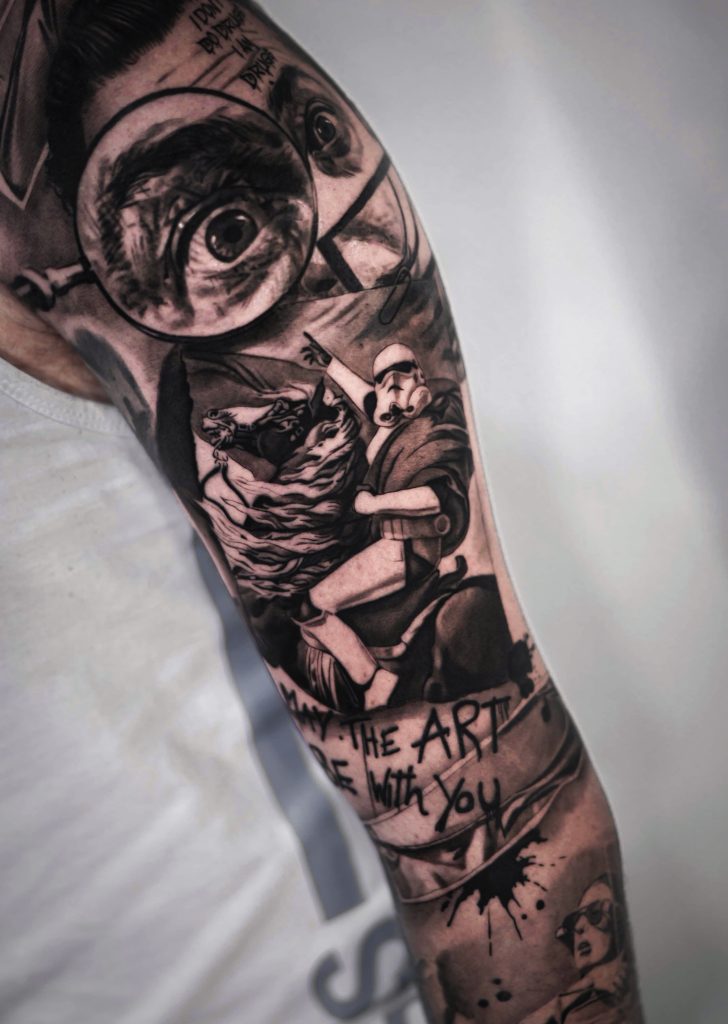 What drew you to black and grey realism? Have you always tattooed like this? I have always been drawn to black and grey realism because of my love for graphite and fine paper, which I used for creating most of my drawings. The contrast between black and grey creates a soothing effect which I find appealing. During my first year of tattooing, I experimented with different styles to broaden my knowledge and build my client base. Although I am interested in colour realism, I have noticed that people in my region (a warm, sunny island) tend to have tanned skin which is not ideal for colour tattoos.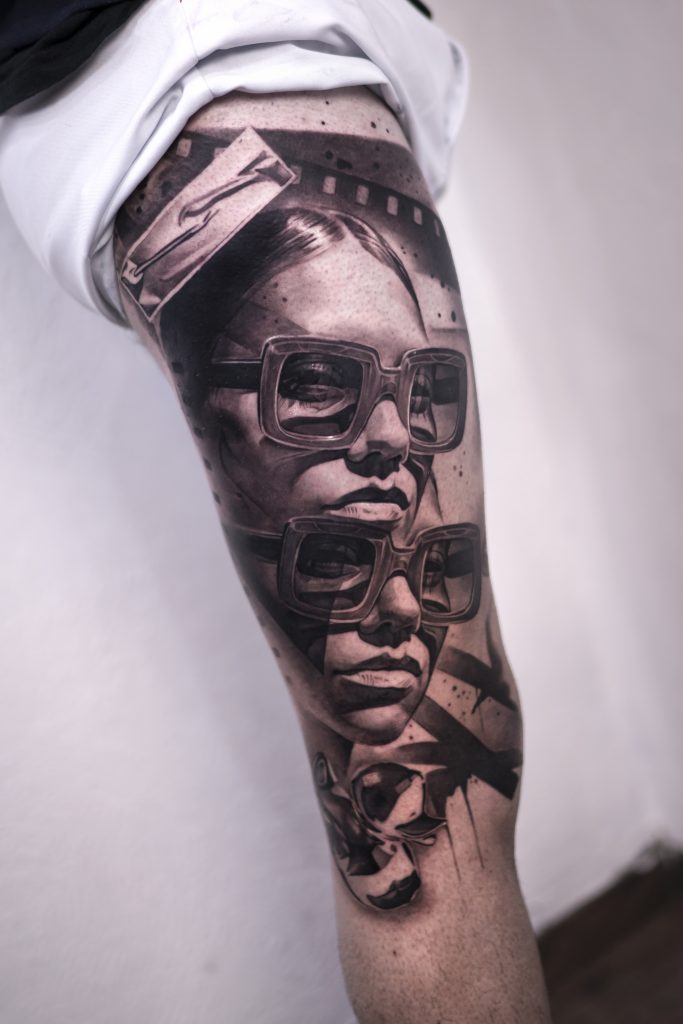 What inspires your designs? I dedicate a lot of time to creating designs for my tattoos because I believe that the design plays a significant role in the overall quality of a tattoo. I am always seeking inspiration from various sources, whether it be other forms of art such as paintings and movies, or from other artists who have been an influence on my work. Each new project presents a unique opportunity to create something special while still staying true to my style.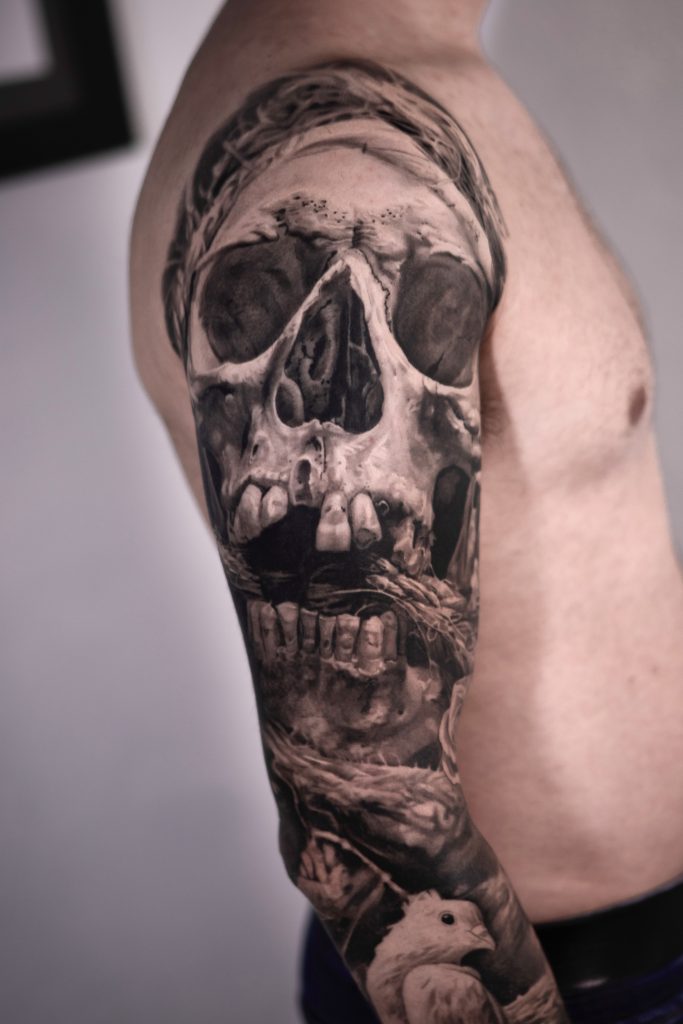 What do you like to tattoo and what would you like to do more of? I am currently fond of tattooing skull references but my preferences tend to change over time. I do not have a particular liking for furry references, but it may depend on the photo and the direction the project is taking.
I appreciate clients who are open to new ideas and give me the freedom to unleash my imagination and create unique, one-of-a-kind projects with original concepts, which I thoroughly enjoy doing.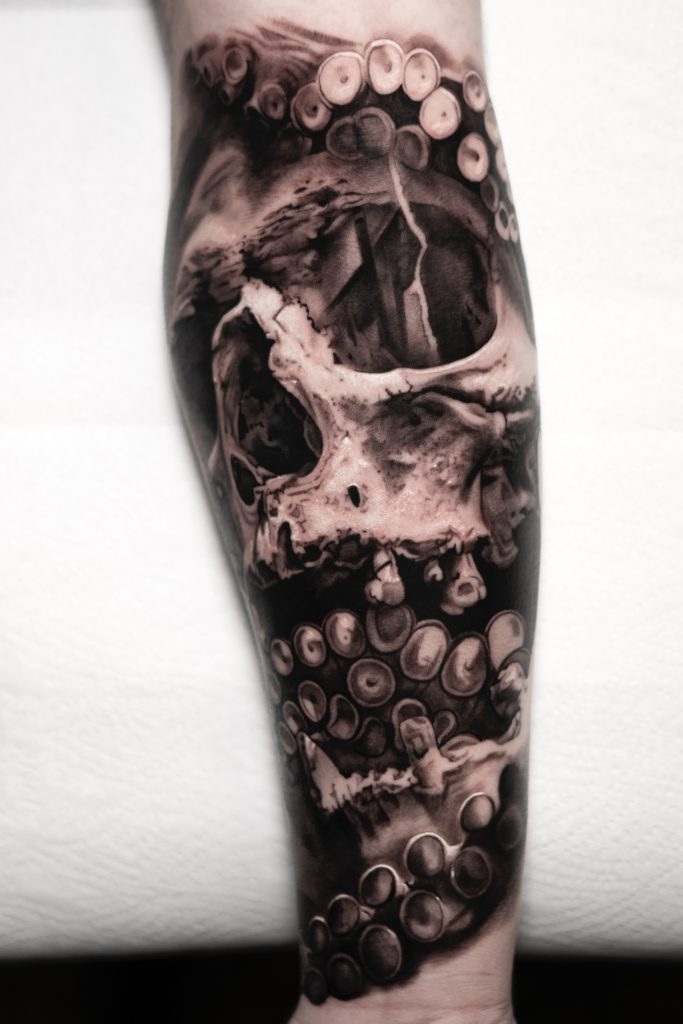 How do you see your tattoos evolving in the future? In 2019, I introduced a new aspect to my tattoos by incorporating wording, calligraphy, and especially graffiti elements. This addition has been a game changer for me as it adds balance to the contrasts in my references and enhances the flow of my work. I am currently feeling confident in my projects and my style, but the future of my art is always unpredictable. I am constantly searching for ways to push the boundaries and create unique pieces.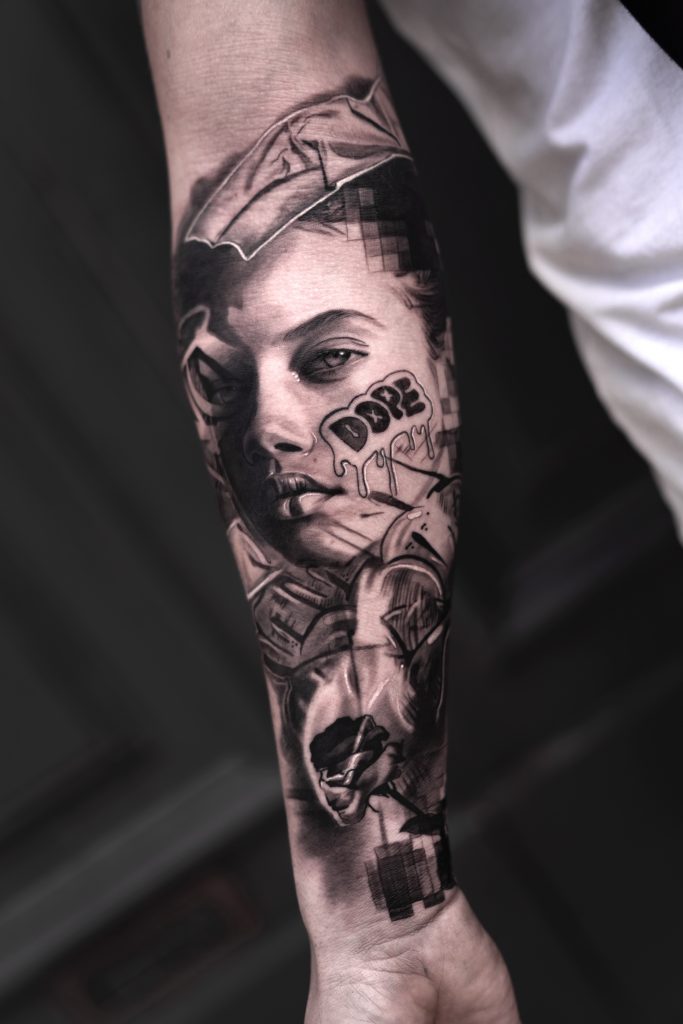 Where's been your favourite place to travel and tattoo? I've had the privilege of traveling to some amazing places for my work as a tattoo artist. While every place has its own unique atmosphere and charm, my favourite destination so far has been the Milano tattoo convention. It was a truly unforgettable experience to be part of such a large-scale event, surrounded by some of the best artists in the world. The convention offered a wealth of opportunities to learn and grow as an artist, and I will always be grateful for such experiences.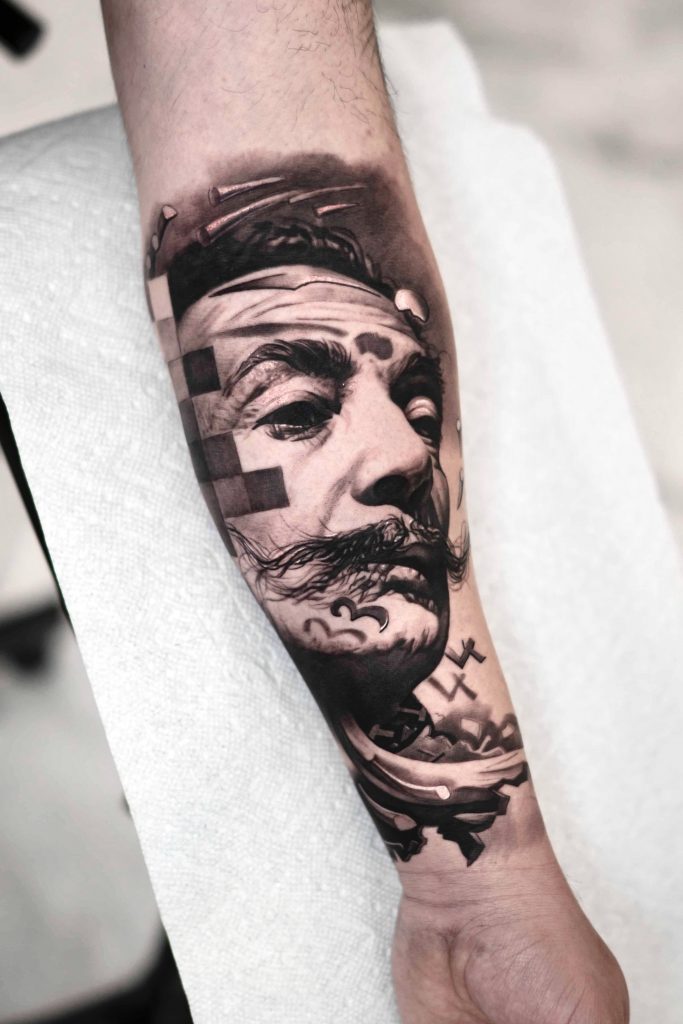 What was your first tattoo? Do you still like it? How has your tattoo collection developed since then? My first tattoo was a statue of the archangel St. Michael, which I got in 2014. Although I don't regret it because of its sentimental value, I have since filled up my left arm sleeve with various tattoos and come up with better ideas for the theme. My right leg sleeve, which was done by my mentor Matthew @Skinlabel, is a tribute to art and features portraits of famous artists such as Picasso, Dali, Frida Kahlo, and Caravaggio, along with recreations of their works.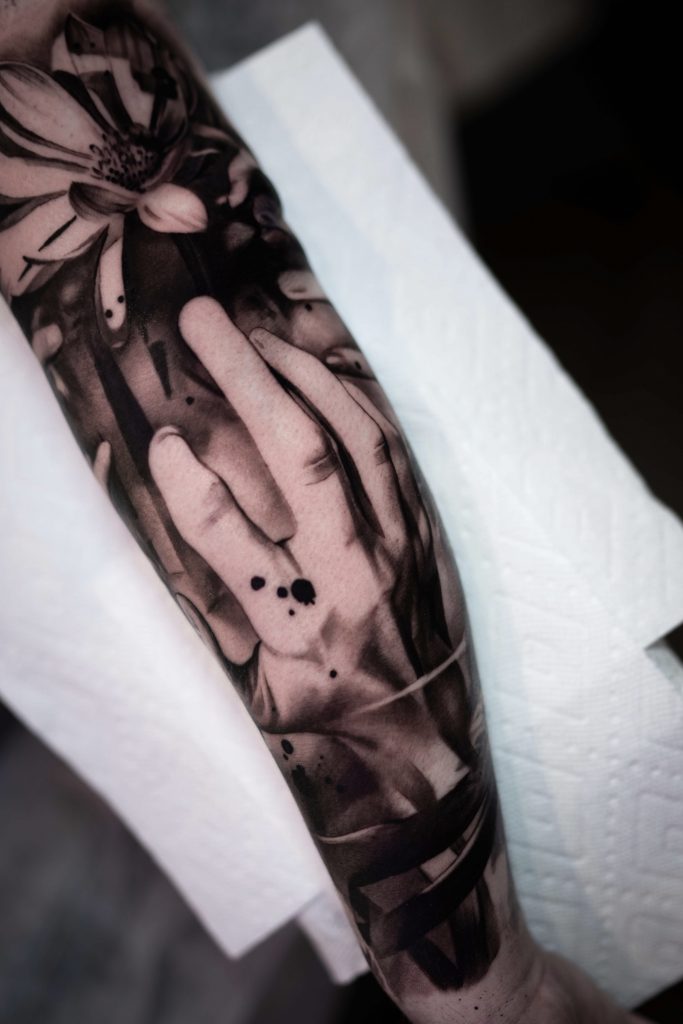 Do you have any travels or guest spots planned? I'm always open to the idea of traveling for work and doing guest spots, it's a great way to network and learn from other artists. My schedule is quite busy, but I try to fit in as many guest spots and travels as I can. Currently, I have plans to attend the Brighton tattoo convention in a few weeks. I also receive numerous guest spot requests, which are difficult to accommodate due to my busy schedule, but I do plan to visit some studios that I have been to before and maybe even explore some new ones this year.
What's the tattoo scene like where you are? The tattoo scene in Malta is growing and gaining more acceptance in society. Despite the increase in popularity, there is still some hesitation from certain parts of society and in workplace policies. However, this is changing, as demonstrated by the police force's acceptance of tattoos. The tattoo industry in Malta is competitive due to the relatively small size of the island, but this is a common occurrence in any industry. The increasing popularity of tattoos has also led to a rise in the diversity of styles and designs being seen.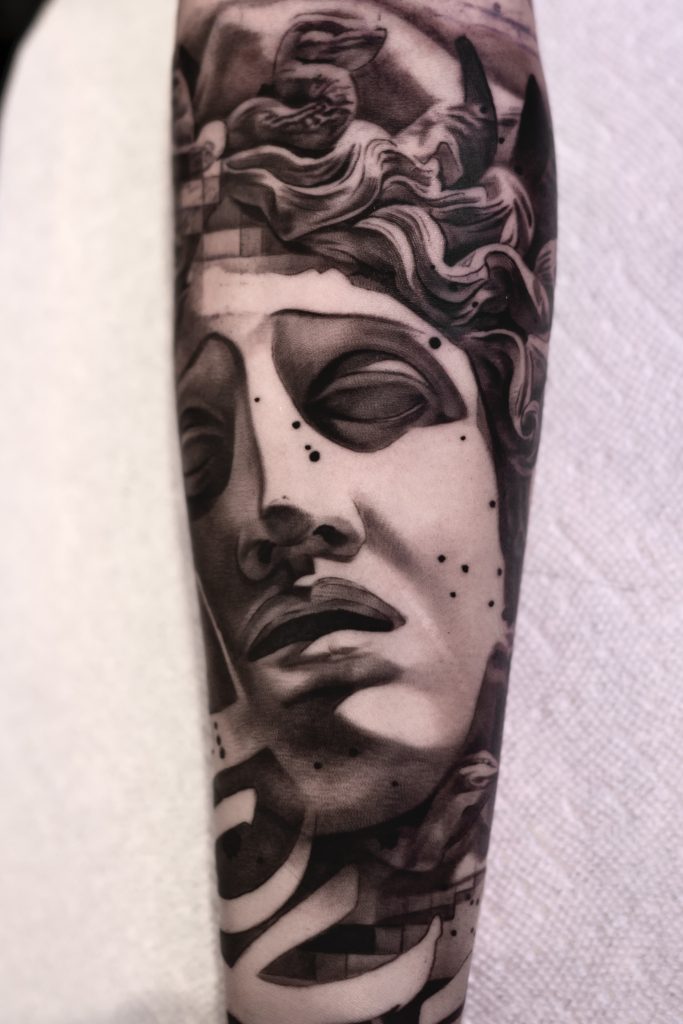 What do you do when you're not tattooing/drawing? When I'm not focused on my tattooing or designing, I like to prioritise my well-being by incorporating physical activity into my routine, such as taking walks with my dog or hitting the gym. I also enjoy exploring new food and restaurants with my girlfriend and friends, as well as taking trips to experience new cultures. I often take on new hobbies and am currently reading a book in my free time. Overall, I strive to find a balance between my work and personal life, and make the most of my time outside of the studio.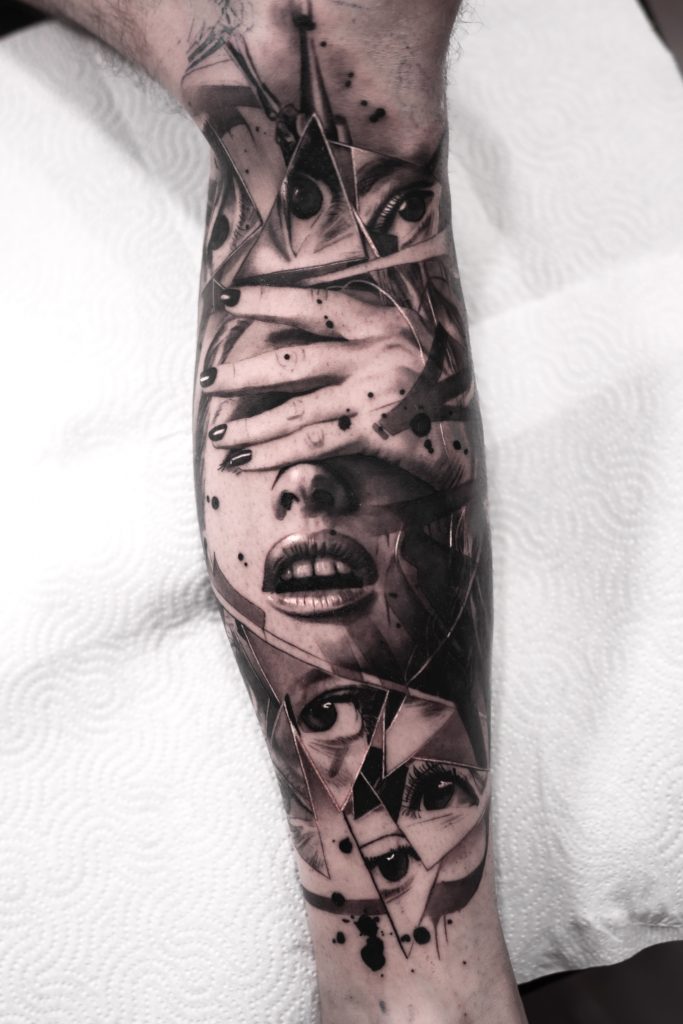 What moment in your career are you most proud of? It's been difficult to pinpoint one specific moment as my proudest in my career, but the recognition I receive for my work is what truly makes me proud. Whether it's at conventions where my work is acknowledged or while guest spotting, when I receive compliments and appreciation from other talented artists in the industry, it's a fantastic feeling.
It's not just about winning awards or prizes but knowing that others value my work and see its worth is what drives me to continually improve with each new project.
Over the years, I've dedicated myself to perfecting my craft, and these moments of recognition are a testament to my hard work and dedication to the art.
Follow @neil.tattoo for more incredible realisim tattoos.