Shreya is a multidisciplinary artist and traveling tattooist based in a private studio in New Delhi, India. We chatted to the tattooer about her organic textured tattoos, how their purpose is to bring more joy and connecting tattoo communities during the pandemic…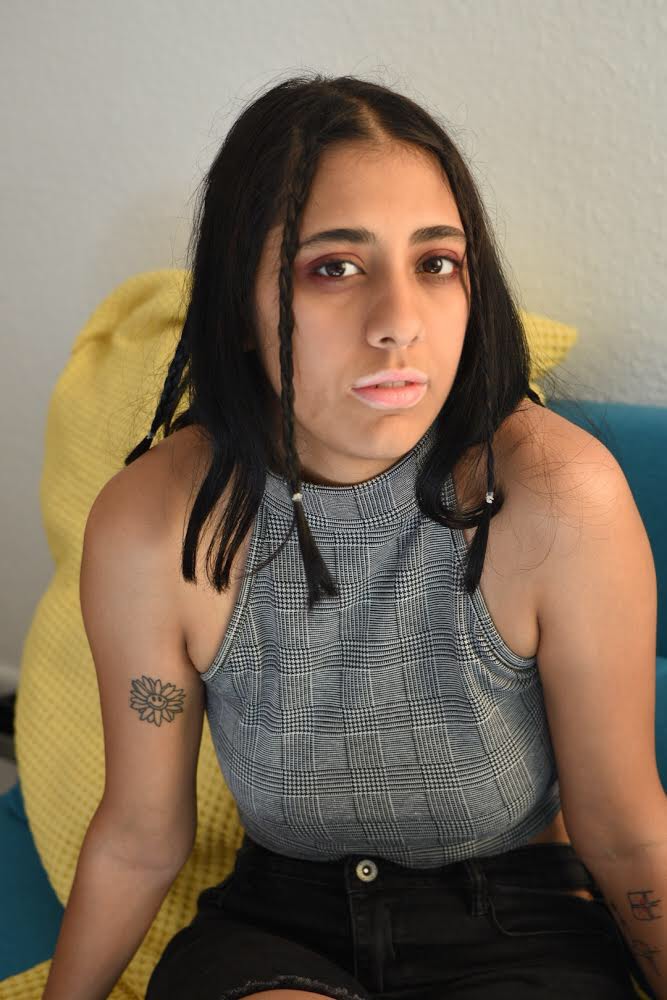 What drew you to hand poking? Can you tell us about your journey into the tattoo world? I first discovered handpoked tattoos at a college house party, and loved how accessible the art form was! I appreciated this new perspective of the intimate experience of getting tattooed by a loved one as the main purpose of the tattoo rather than a perfect piece or some design with deep meaning attached to it. Soon after I taught myself handpoke tattooing by watching YouTube videos, doing an online BBP course and practicing on family and friends.
Since then I have been quite dedicated at spreading the love of handpoke tattoos around India, and helping people take their bodies less seriously by giving their friends n fam' imperfect but really special tattoos.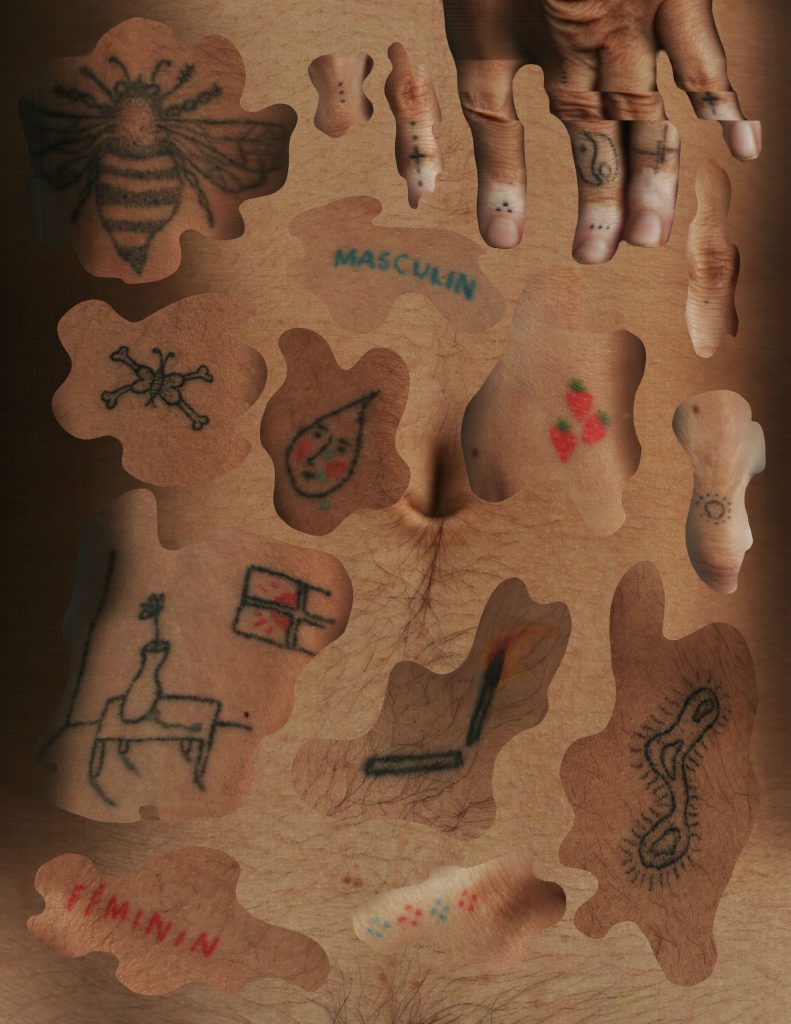 What's the process behind your tattoos? For me giving tattoos is an extension of my art practice, I have been drawing since I was five or six years old and have kept multiple drawing books for life. So it only made sense for me to do flash tattoos in my style of drawing, which is inspired by my playful childlike-drawings with a heavy dose of colour. 
I don't really attach myself to any style of tattooing, I have been tattooing for almost six years now, and my style has developed maybe eight to nine times since then.
I am constantly experimenting and evolving into my craft and feel like I'm getting closer to my unique voice as a tattoo artist. 
I am always drawing flash on paper and making final versions on my iPad (procreate ftw). Once a client picks a flash, firstly I get really really excited and then we start working on an interesting placement for the design. To me, placement is such an important part of the tattoo process and the stencil can take much longer than the actual tattoo! I am quite fast when handpoking and like to give my tattoos a raw feel, with enough creative liberty to make small adjustments to the stencil while tattooing. For me the stencil is a general marker, and not something I am trying to trace.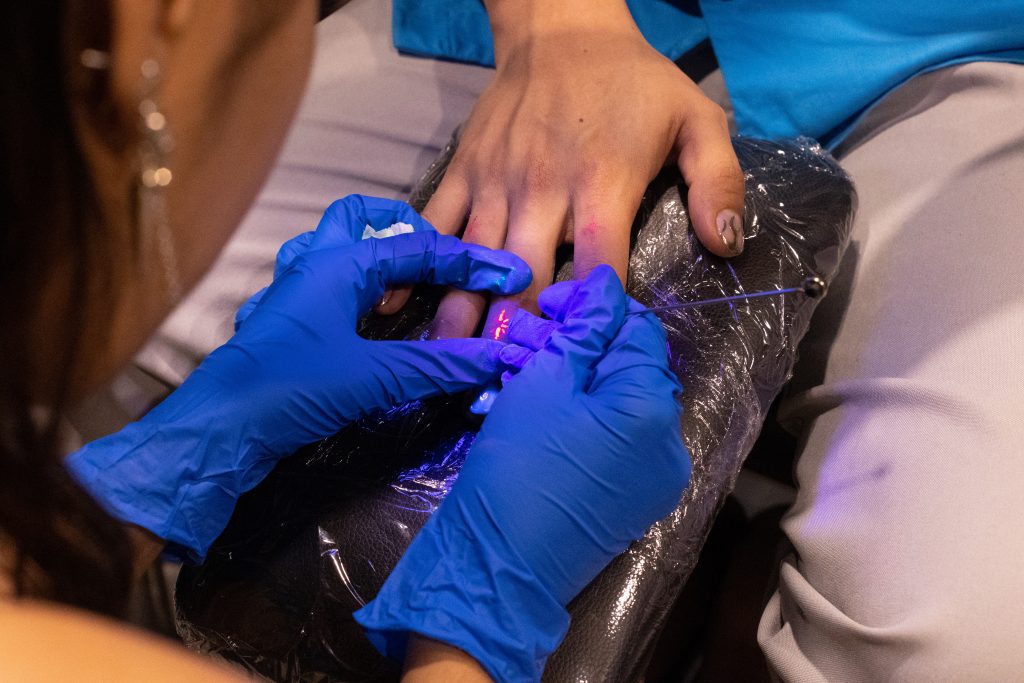 What inspires your tattoos and the designs? I am quite a nostalgic person, and still very much obsessed with all the stuff a five year old would be. Flowy organic lines are quite important in my designs, you will almost never see a straight line or a sharp angle! I take a lot of my inspiration from spiritual books and quotes I read on the go, if I see something sweet in nature that warms my heart, cute home decor that I spot at a stranger's house, or just something simple like fruits and candies and bugs. 
The purpose of my tattoos and designs has always been to bring more joy!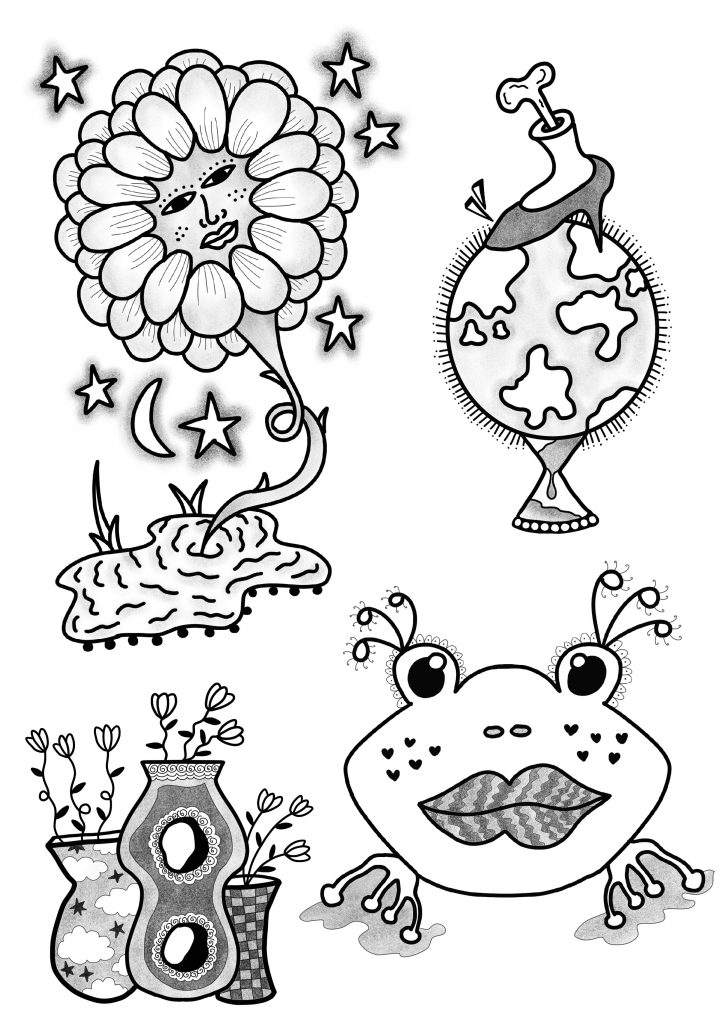 What do you love tattooing and what do you want to do more of? Currently I'm obsessed with American traditional style attoos, but with my own soft touch to it! I love the idea of bold black machine lines with soft textured handpoked colours. I hope to do more pieces like this in 2023 and play around with exciting motifs and symbolism in my work.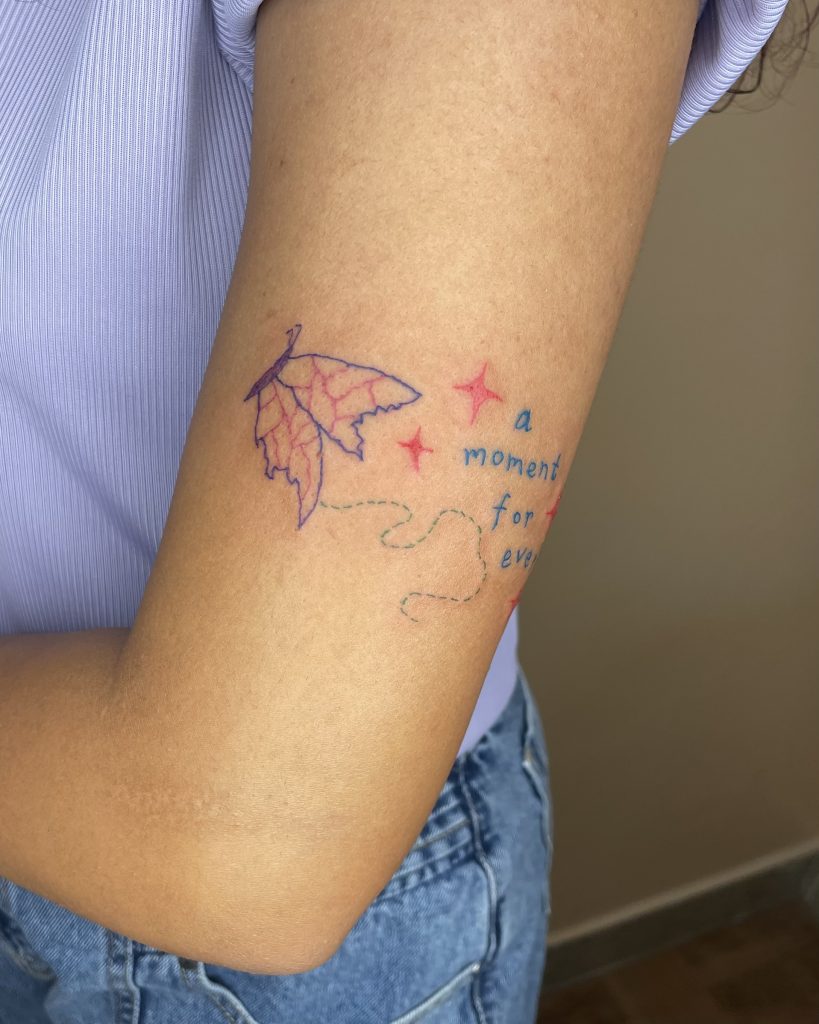 Can you tell us about your private studio, the set up, your process, the ethos behind it? For me it has always been really important to make my clients feel at home. I love the idea of my tattoo studio looking like a cute little living room, filled with art by my friends, music that my clients choose and nice smells around the room to set the mood. Allowing someone to tattoo your skin is a very vulenerable experience and in India, there's very few studios that cater to women and queers, my aim is to provide a space for them to feel totally comfortable in.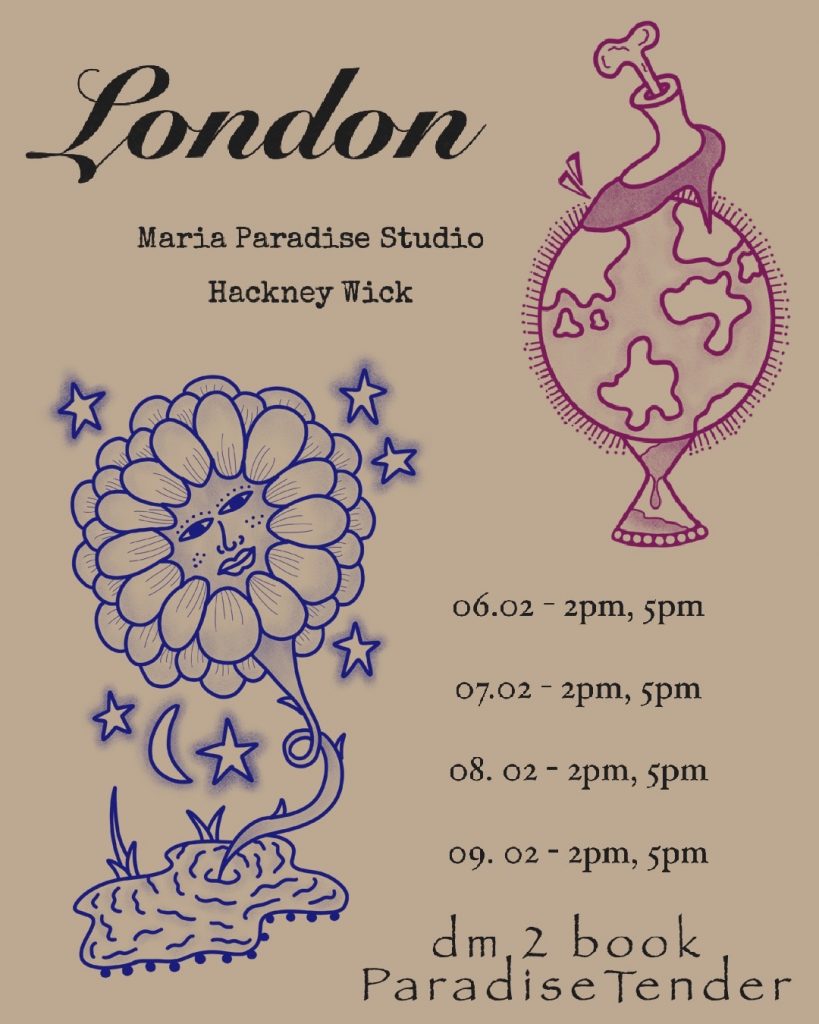 Can you tell us about your guestspots and travel plans? Picking up tattooing as my profession has been a blessing and curse for my love for travel, the good thing about being a traveling tattoo artist is that I can always pick up my needlesand ink and visit any city and make a few bucks. The bad part is, I have not taken a single holiday in the last four years purely for pleasure. 
My upcoming trip is to London, UK and I will be guesting out of Maria Paradise Studio from 6th to 9th February 2023! We'll also be doing a flash day on 12th February. I'm quite excited to be able to provide the brown skin toned people in the city with an opportunity to get tattooed by someone who knows how to work those skin shades. This is my second trip to London in the past six months just because I love this city so much, there's always something to do. 
I plan on doing a Europe tour sometime in September/October and Singapore and Vietnam in December as well, which I'm super excited for. Rest of the year I will be spontaneously visiting different cities in and around India and guesting out of studios owned by my tattoo artist friends. 
Though this year I had hoped to reduce my traveling it seems like I will be visiting at least one city every month and spending the rest of my time in my private tattoo studio in New Delhi, India.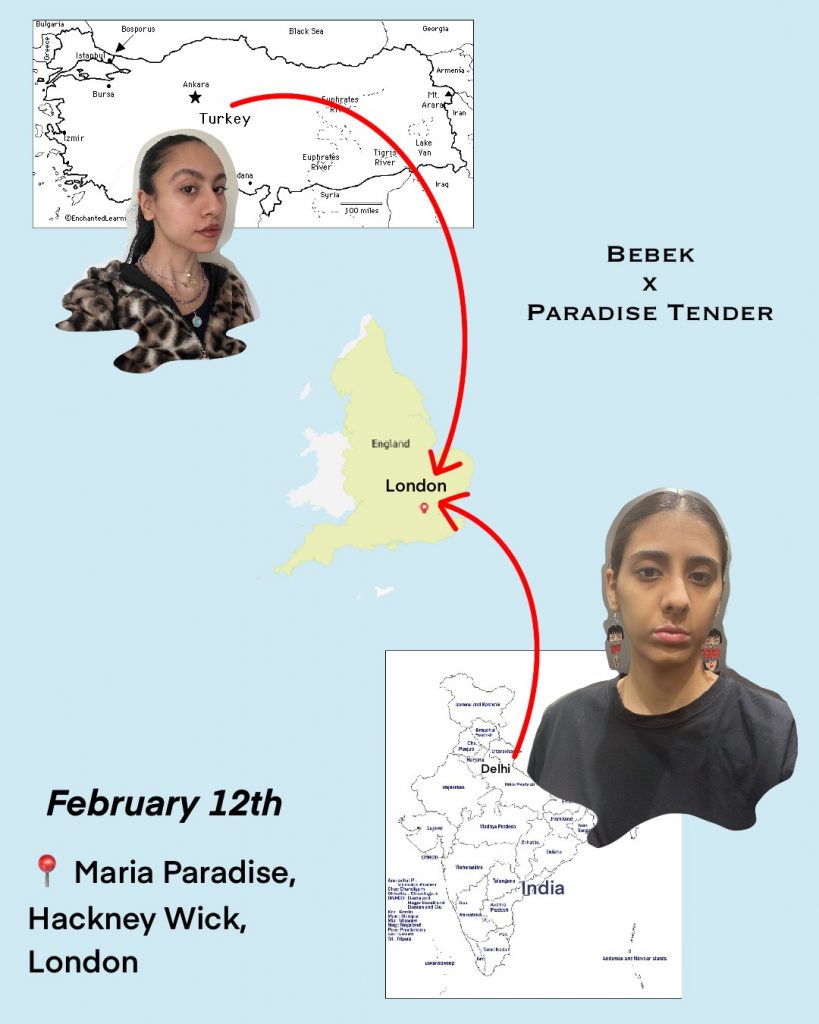 What have you got planned for the flash day? One of the (few) good things that came out of Instagram was that it allowed me to make creative friends all over the world! During the pandemic Bebek and I really connected, though our art styles are fairly different but our mindset about tattooing ethos, our creative practice and general lifestyle is fairly similar.
We have kept in touch the last two years and are coincidentally going to be in London, UK at the same time this February. So it only made sense for us to mash up our styles and create a collaborative flash sheet where in we both tattoo our client simultaneously. This is going to be a new experience for both us and our clients and we are super excited to make some beautiful forever kind of memories on skin with love and care.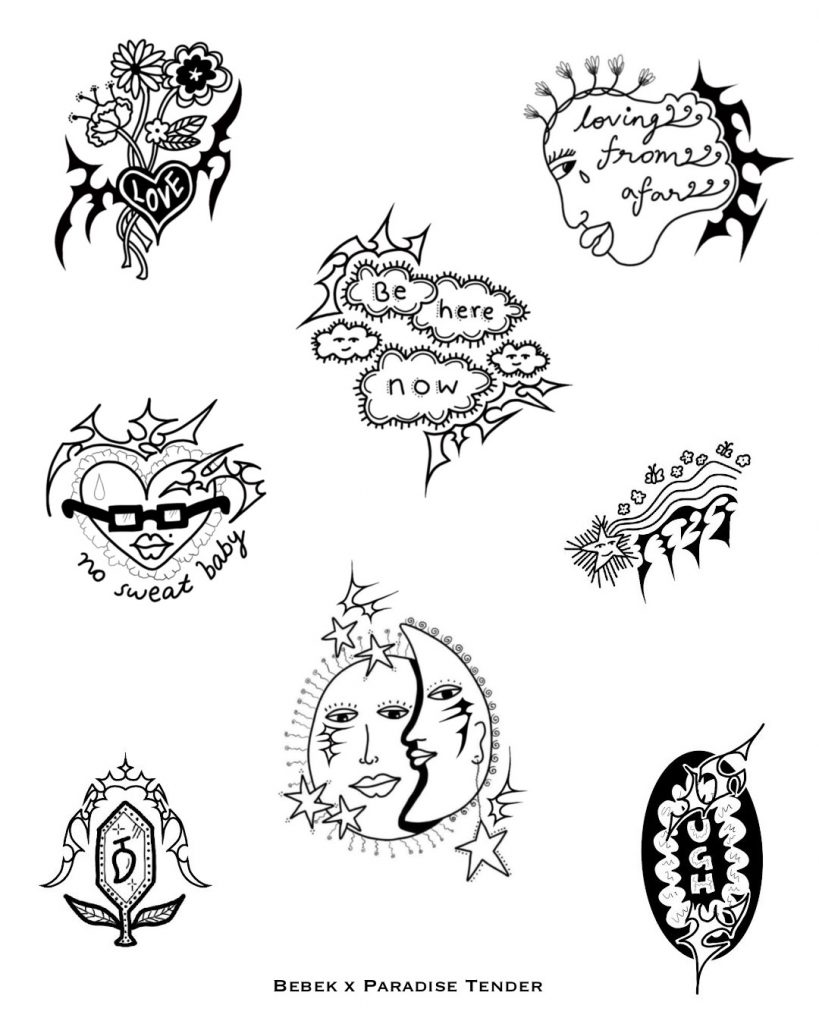 Can you tell us more about teaching other people to tattoo, what does this involve? From my personal experience, teaching other people to tattoo involved a lot of listening and learning from the participants. As a self-taught artist myself I wanted to teach people the basics of tattooing (set up, depth and hygiene). Also part of it was teaching them to ask the right questions on the internet for them to be able to delve deeper into their education of the craft. 
What my students valued most was the constant access to directly message me if they ever had any queries after our session! Just having the patience to be present for any small, silly questions and giving them the confidence to tattoo others by teaching them proper tattoo etiquette has been my biggest learning in the last five years of hosting handpoke workshops. I now offer personalised one-on-one sessions in my private New Delhi studio for anyone who is interested in learning the craft on a deeper level.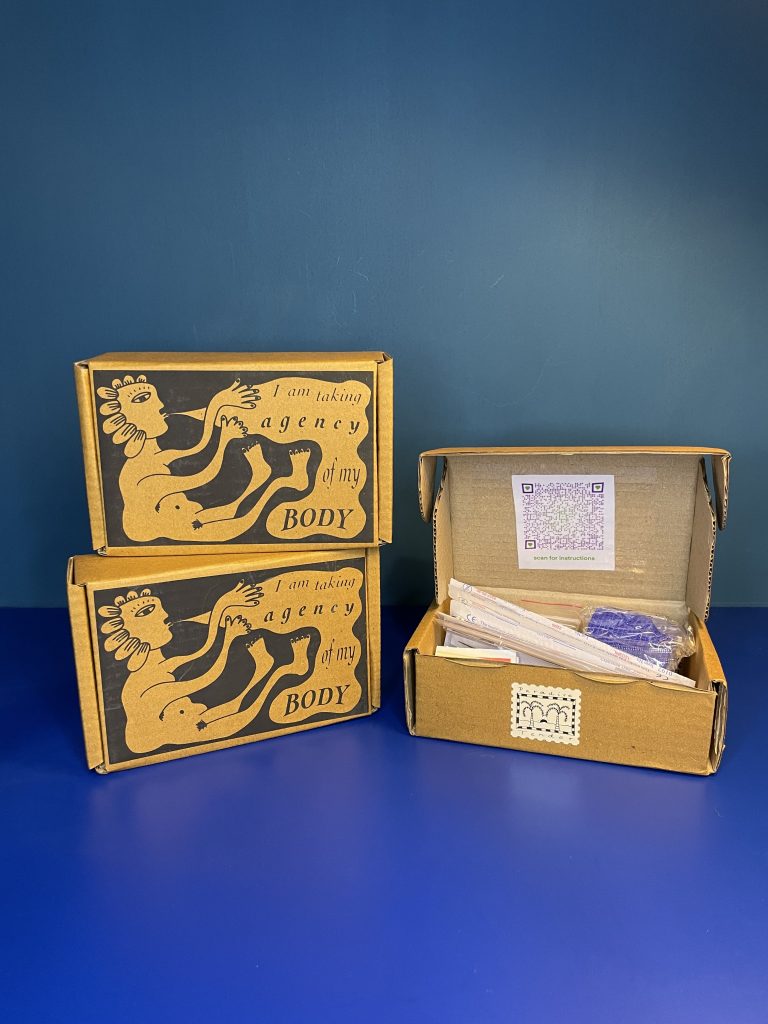 What was your first tattoo you got and the first you did? The first tattoo I got was when I was 17. I had wanted to get a tattoo for a really long time and finally convinced my parents. Nervous they might change their mind, I quickly found a cute illustration on Tumblr that I liked and went to the local trusted tattoo shop with my mum, showed the artist the design and he made it on me within 20 minutes, and I held my mom's hand the entire time! 
The first time I did a tattoo was on myself when I was 21, I was living in NewYork at that time and had ordered some stick and poke supplies as my birthday present. One night after binge watching all the stick and poke videos on YouTube I decided to just go for it! I spent one hour tattooing this really tiny design, going over it again and again cause I didn't want it to disappear when I woke up. The next day I went to my job with my supplies and tattooed my boss and the other intern working there. And then my boss tattooed me back!
That's when I realised the power of a handpoked experience with your loved ones.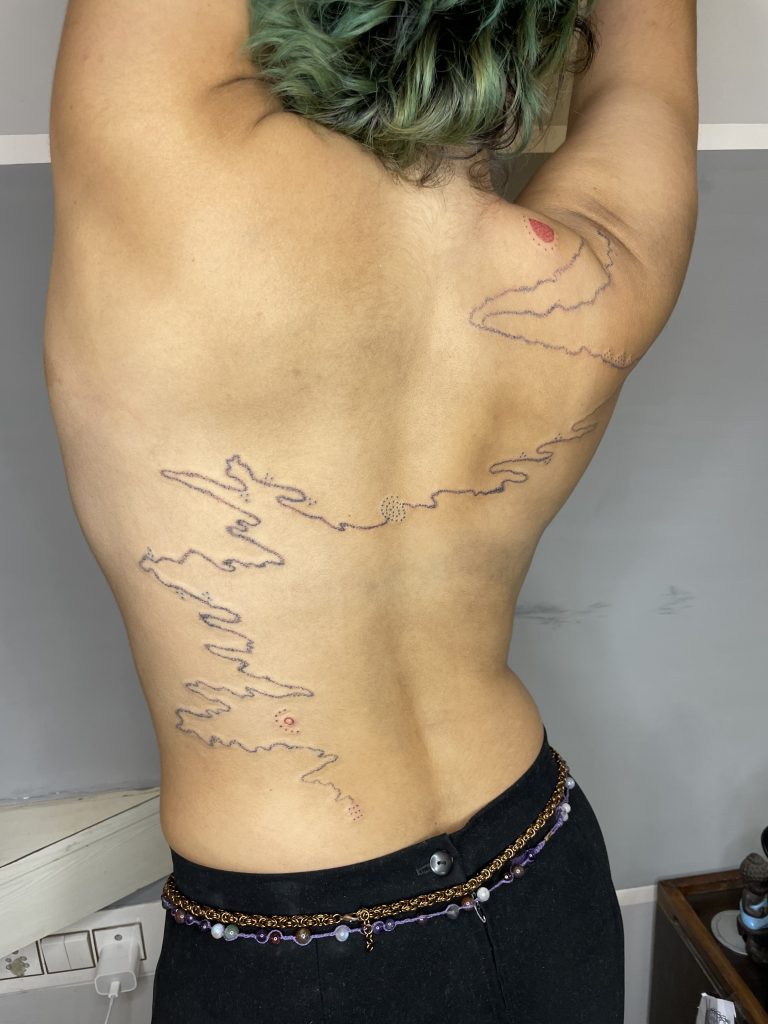 What's been your favourite tattoo experience? Definitely tattooing my husband one random night during the pandemic! He had gotten a few tattoos from me before, but this session just had some different energy to it. He was on his laptop making music, I was tattooing one of my flashes on his calf. We were just on our bed, the tattooed started around 2am and went on till sunrise, we were in such a comfortable zone with each other, we barely even spoke during that session but were totally in sync.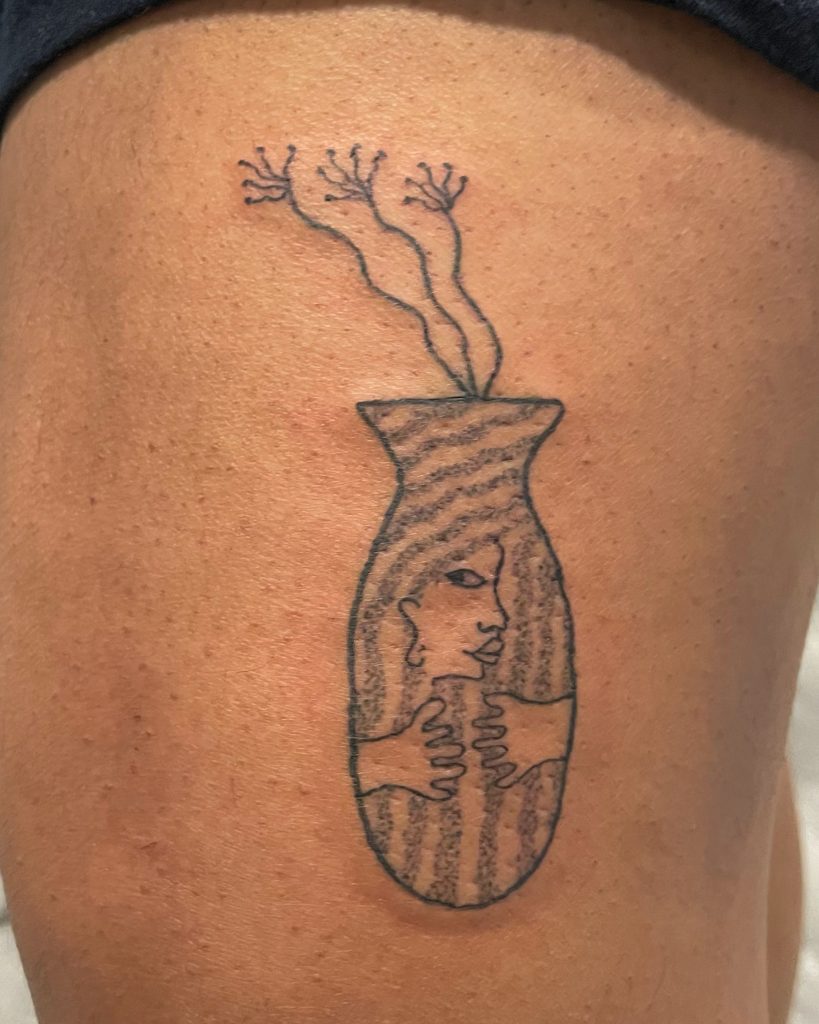 What's the tattoo scene like where you are? Tattoos are not a contemporary concept in India, Gonna a tribal form of handpoke tattoos has existed for centuries. Different tribes in India have tattoo practices of varying styles and for different purposes. 
With the rise of machine tattoos and influence from the West, you can see India adapting to the culture and getting big, bold custom tattoos as a form of self-expression. Though tattoos are still a niche and fairly looked down upon in corporate jobs there is a slow but sure acceptance of the art form. 
The contemporary stick and poke scene of independent artists that I am part of is slowly gaining respect from the tattoo studios that work with cool/rotary machines. Like the rich diversity of India, the country also offers a wide range of tattoo styles and artists you can get work done from!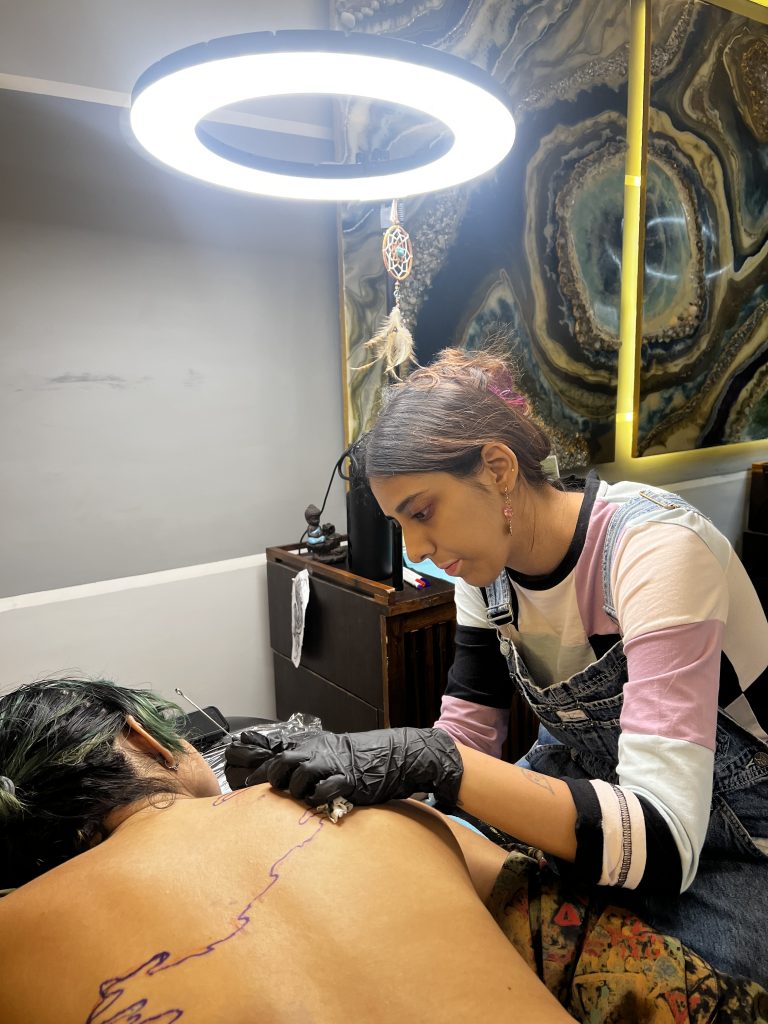 You mentioned you want to provide brown skin toned people an opportunity to get tattooed by someone who knows how to work those skin shades. What do you want people to know about tattooing brown skin and how can they work with different skin shades? I think many people are afraid to do coloured tattoos on brown skin tones just because we lack representation on blogs and Pinterest boards. Studying colour theory and drawing flashes on brown toned backgrounds helps a lot with understanding how to make colours pop on POC. But also, experiment, offer free colour tests to clients with darker skin tones so you can better understand how melanin plays a part in the healing of a coloured tattoo.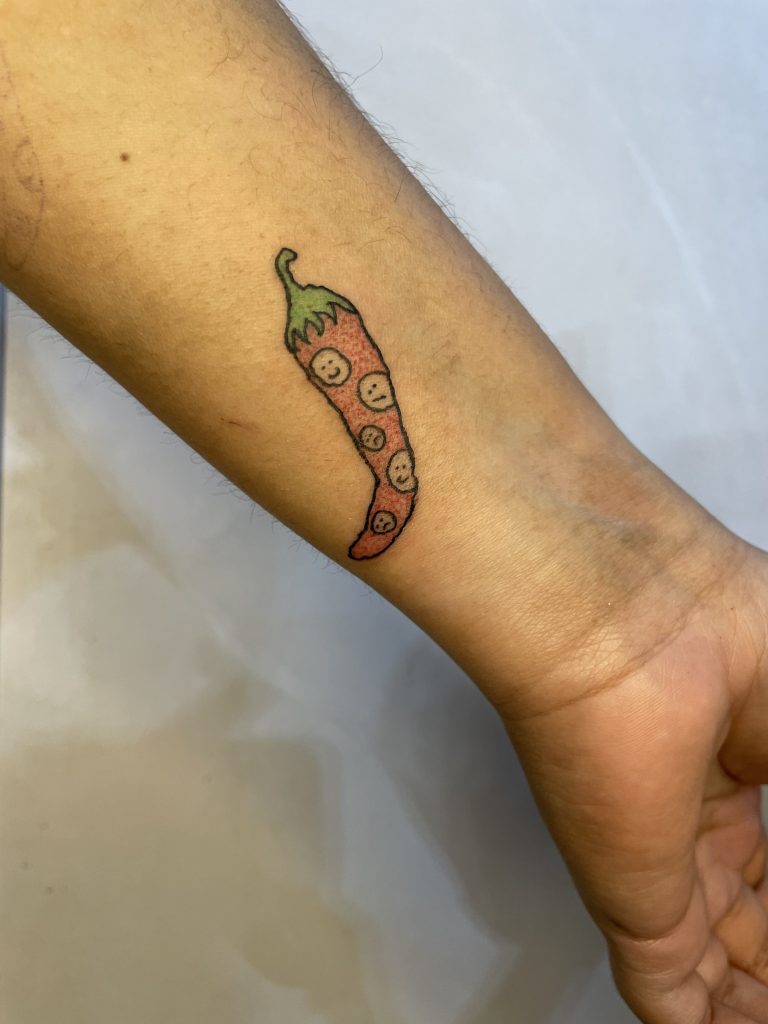 What have you been doing since the pandemic? Ahhh, hoenstly a lot on some days and then nothing at all on many. I experienced a massive rise in the sale of my handpoke tattoo kits during the pandemic, which helped me keep afloat and busy with work.
It was interesting to see so many people take up stick and poke as a hobby during the pandemic.
When times were good between the second and third wave we would take the opportunity to host IRL flash days, I even hosted a three city handpoke tattoo festival across India showcasing some of the country's brightest new tattoo artists. When we were forced to go back into isolation I kept the community strong and alive with virtual flash days and Clubhouse chats with tattoo enthusiasts, which was also great because then we weren't bound by borders and tattoo artists from around the world could join in!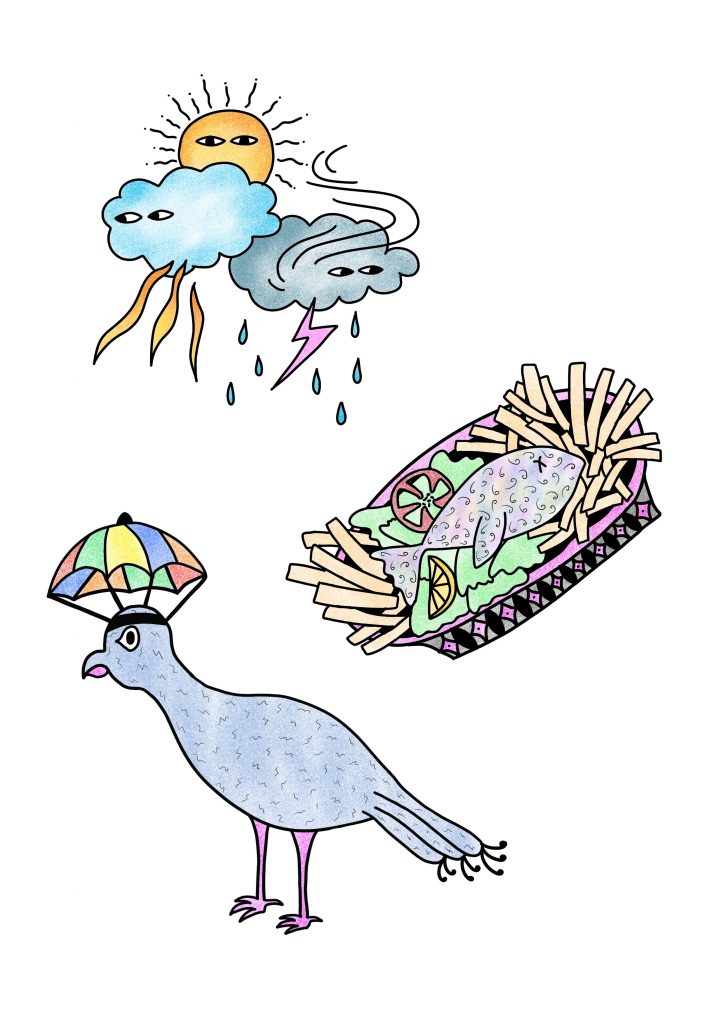 What do you see for the future of tattooing in India? How do you see yourself in this? Oooh, I think the future for tattooing in India is super bright. We are definitely gaining momentum on the map as a legit place for international artists to come for a guest spot, simultaneously Indian artists travelling abroad for work and getting fully booked out.
India hosts some of the most exciting tattoo conventions, I attended one recently in Mumbai called Kula tattoo convention which was a beautiful coexistence between traditional handpoked tattoos and contemporary tattoo artists from villages of India to the far West.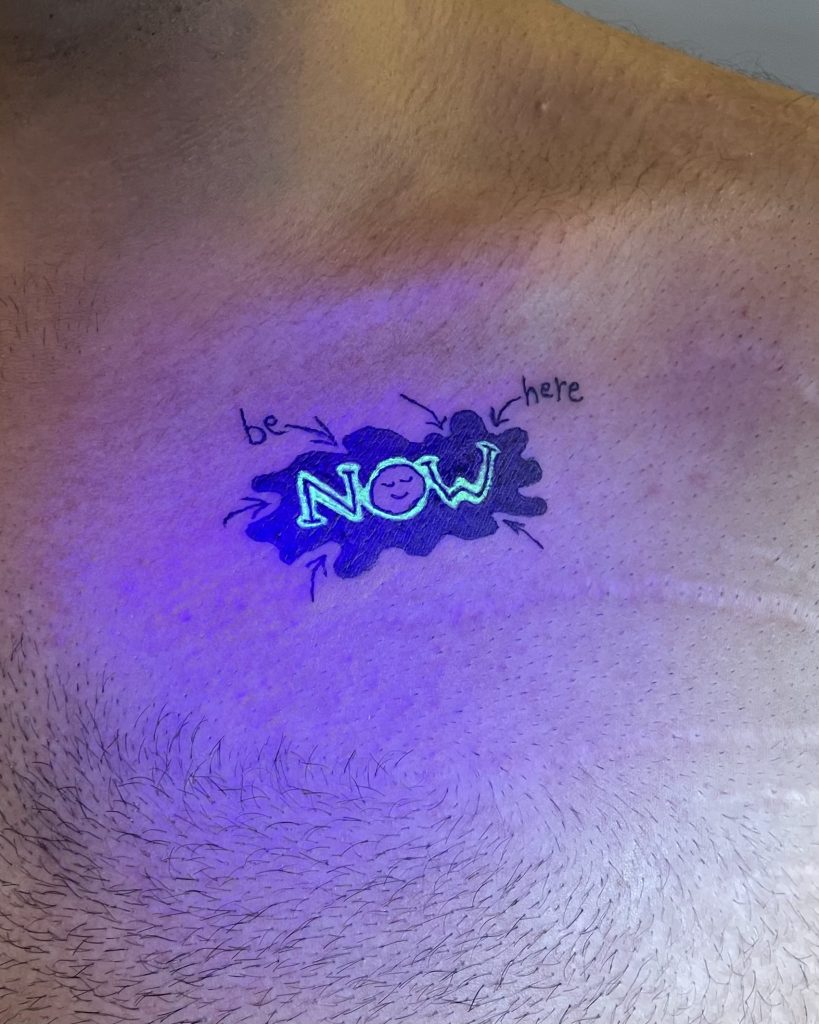 Is there anything else you want people to know? In 2022 I took the leap of changing my artist name that I built over five years from Tender Pokes to Paradise Tender. I felt like this was an important step in my growth as a multidisciplinary artist, as now in addition to handpoked tattoos I also have machine tattoos and tooth gems in my skills roster.
I am looking forward to what I'll create this year, with my new found love for hybrid tattoos that involve both handpoke and machine! Also, being the first artist doing colourful tooth jewellery in India, I am excited to see what heights I can take this form of body art in my country to! 
Follow Shreya for more hybrid tattoos and guest spots.