Pets
July 2023 Dog Events and Dog Holidays – Dogster
How are all our furriest friends spending their summers? They're making splashes in the pool, chomping down on yogurt-berry pupsicles, and showing off their most festive 4th of July outfits! Thank you to all our readers for sharing your pups' photos with us.  We're showing them off on our Dogster social media pages – check out our #dogsterdogs in action! This summer, I'm working with my pups on their comfort levels near the water. We're making progress! Emmy and I are graduating this weekend from the pool and are going on a little paddle boarding adventure to the lake by our house. Emmy has always hated getting wet, so she's come a long way.
Something to think about this month: How will you keep your dogs calm during 4th of July fireworks? Many dogs get anxious and fearful of the loud, unpredictable noises. Here are some tips on calming your dog, which will make your celebration a happier one, too. Wishing all our puppy pals a happy 4th of July!
Planning to attend any dog events near you? Send us pictures of your pup to be featured on our social media pages.
Or email us at [email protected].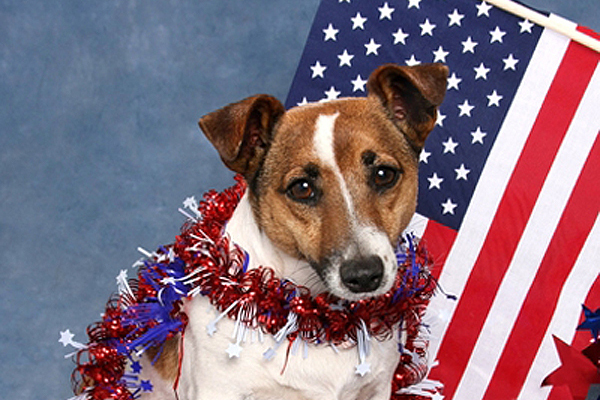 July 2023 monthly dog holidays
Lost Pet Prevention month
National Pet Hydration Awareness month
July 2023 dog holidays
July 1: ID Your Pet day
July 4: International Whippet day
July 11: All American Pet Photo day
July 15: National Pet Fire Safety day
July 21: World Collie day
July 21: National Craft for Your Local Shelters day
July 31: National Mutt day
July 2023 dog events
 July 8, 2023: If you're in the Los Angeles area, head to Pawlympics from 4 to 7 p.m. at South Park Doggie – Doggieland for a series of competitive games and activities for dogs.
July 9, 2023: The11th annual PAWmicon, a Pop-culture themed festival held by Helen Woodward Animal Center to celebrate the superheroes of real life who adopt orphan animals. PAWmicon, located at AleSmith Brewing Company in San Diego, Calif., will feature events, such as the PAWsplay contest for contestants to dress themselves and their pooches up as their favorite pop culture characters. There's also a trivia competition, music, animal artists, games for the kids and craft beer.
July 12, 2023: Marin Humane is hosting its next drop-in community clinic for pet parents in need at Pell Plaza in Novato. Bring your pet to the mobile clinic at 500 Redwood Blvd., from 11:00 a.m. – 1:00 p.m. to get: free vaccinations (DA2PP, FVRCP, rabies), free microchipping, free flea/tick treatment, free mini-check-up by a veterinarian and pet food and supplies!
July 14-16, 2023: Del Monte Kennel Club Dog Show. Held at 4380 Carmel Valley Rd, Carmel-By-The-Sea, Calif., 93923. All breed entry for Conformation, Obedience and Rally.
July 14-18, 2023: One of the largest American Veterinary Association events of the year, the AVMA Convention 2023 will be held in Denver, Colo. for veterinary professionals to experience 600 hours of high-quality CE, highly rated special events, innovative solutions and networking opportunities.
July 19-23, 2023: Houston World Series of Dog Shows. Throughout the five-day event, the show offers an extensive shopping venue, numerous seminars, entertainment exhibitions and obedience/companion events. During the  Meet the Breeds event, the public can get hands-on experience with more than 110 purebred dog breeds and discuss care, personality traits and temperaments with breed experts.
July 19-21, 2023:  The Association of Service Dog Providers for Military Veterans Partner Members invite all to attend the annual  National Service Dogs for Veterans Conference in Washington, D.C. The annual conference consists of two full days of  formatting for administrative, veterans, mental health and dog training tracks and a half day roundtable training session. Tickets include breakfast for all three days,  lunch for two days and an opening night reception.
July 22 – 23, 2023: Join more than 50 of the top pet influencers from all over the US and Canada, such as Crusoe the Dachshund, Tika the Iggy, and Jonathan Graziano  for PetCon 2023, held in Chicago. There will be meet and greets, a pet adoption garden, a shoppable marketplace featuring small businesses, speaker sessions, a non-profit showcase and lots of fun activities!
Want to see what dog holidays are coming up in 2023? Check out Dogster's dog holiday list.