Mellowpokes from Toronto talks to us about how she got into tattooing, why she loves handpoke and tattooing during a pandemic…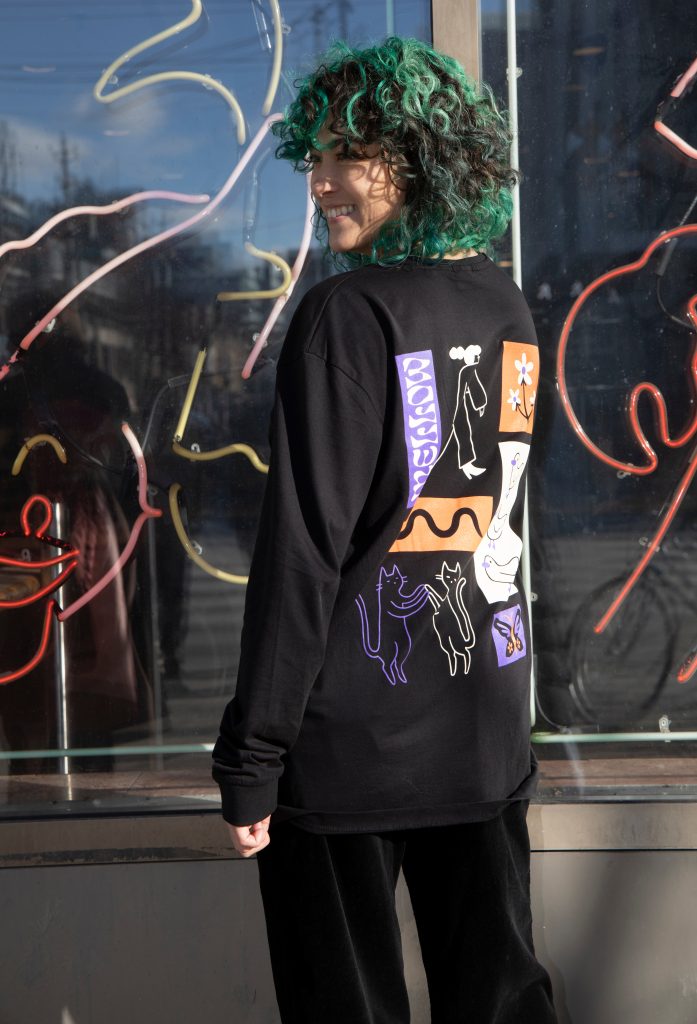 How long have you been tattooing and how did you get into it? I've been tattooing for three years. I went to OCAD university here in Toronto and studied illustration. After university I always made time for creative projects, but generally found that they didn't pay enough to actually make a living, so I started doing graphic design. There were parts of it that I enjoyed, but for the most part I didn't find it very fulfilling. I found a lot of the jobs to be tedious, and often found myself working for large corporations with many different people to please.
I didn't actually start getting tattoos until I was in my mid-20s, but once I started I got really excited by all the incredible talent in my city. I got a backpiece done by the absolutely incredible Jess Chen and we talked a bit about having both gone to OCAD and afterward doing graphic design out of necessity more than passion.
She suggested I try tattooing. I ended up mentioning this conversation to one of my best friends, Dana, and like a month later she bought me a stick and poke kit. I am so immensely grateful to Jess for pushing me on this path and for giving me a bunch of super helpful advice when I first started. And I'm grateful for Dana who forced me to actually START doing it. I did my first tattoo on Dana, and I think if it weren't for that push it would've taken me a lot longer to actually take that plunge.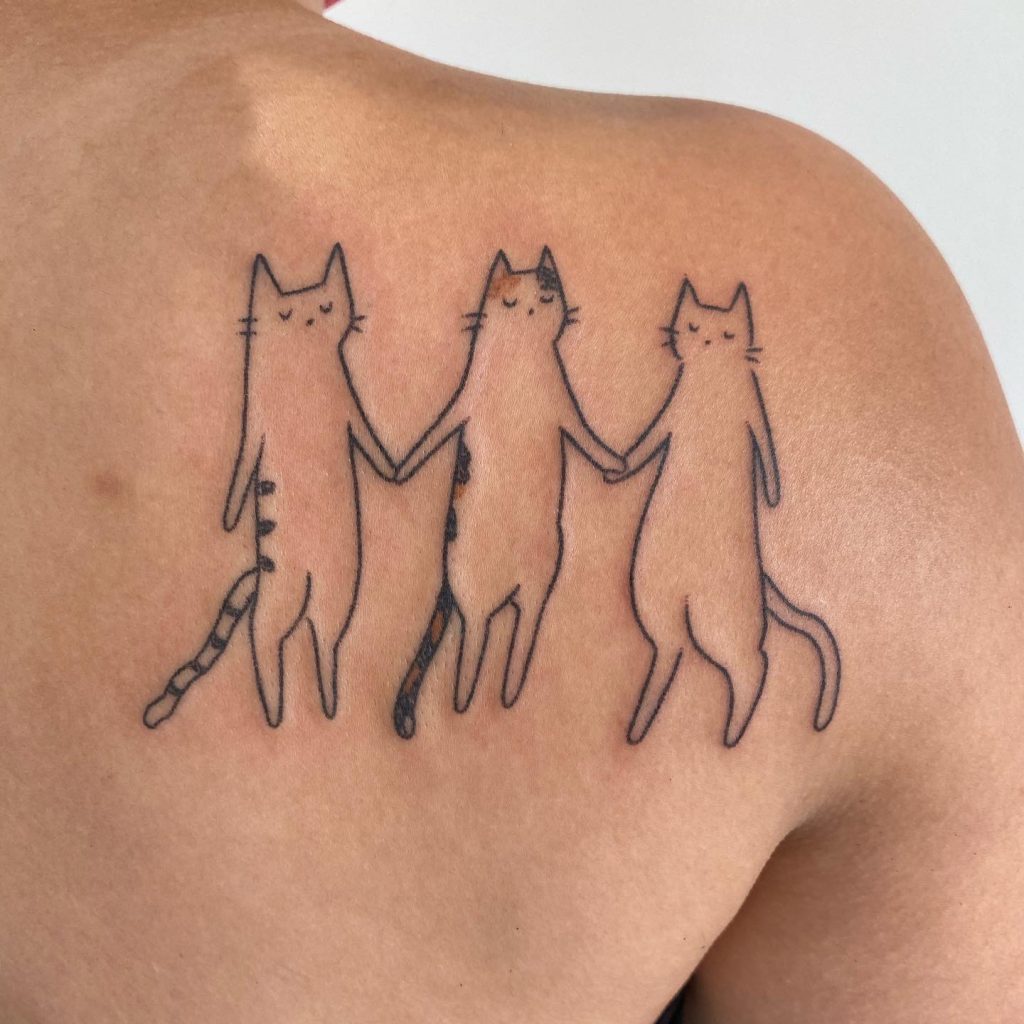 What drew you to hand poke tattooing? When I first began tattooing, I didn't intend for it to become my full-time job. I was interested in learning tattooing, and I thought that the handpoke technique would feel more intuitive and similar to working with a pen. (Turns out I was wrong, and in a lot of ways using a machine is more similar to the act of drawing than handpoking is!) I intended to just try handpoking, and if I liked it, potentially upgrade to machine tattooing.
But, once I started, I fell in love with handpoking, and the quiet and intimate nature of it. I'm generally fairly tech-averse and prefer drawing most of my designs with pencil and paper. I bought an iPad and it took me about six months to actually break it out and start using it. I do intend to introduce machine tattooing to my practice eventually though, just to broaden the scope of what I can achieve!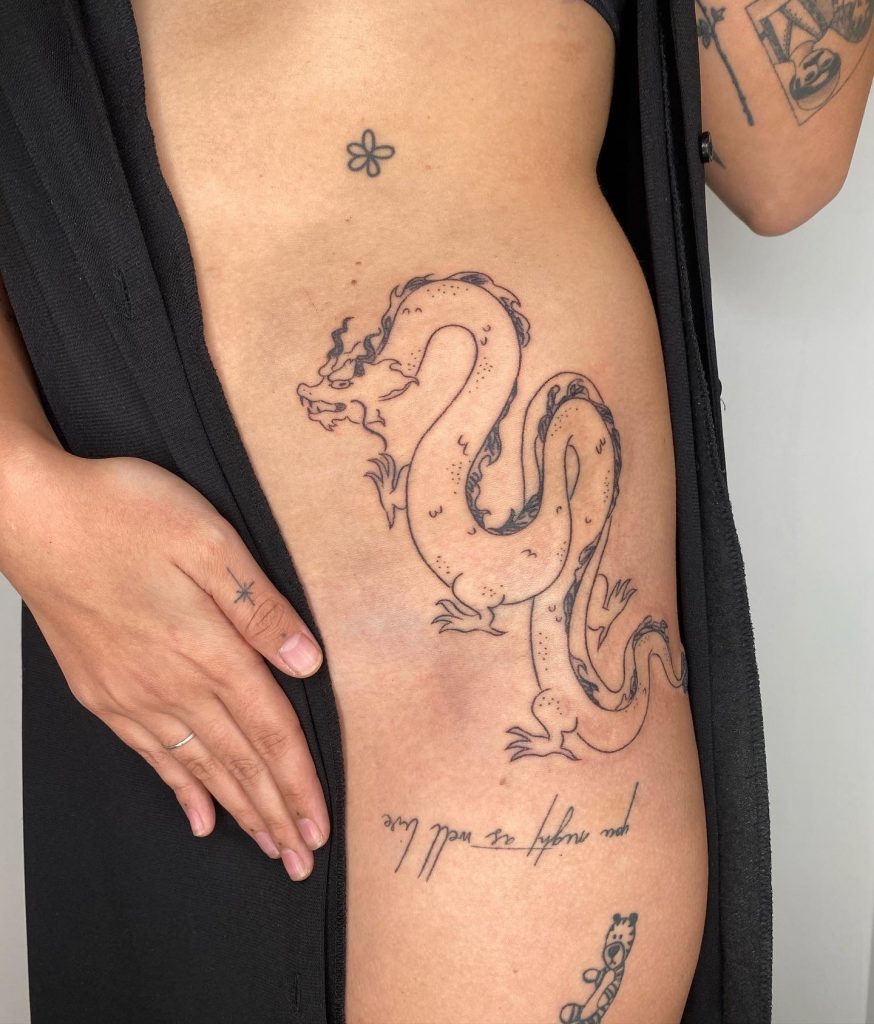 What inspires your tattoos? I'm inspired by the world around me, although I guess that's not a particularly interesting answer. I love drawing animals and women. I think when I first started I was really focused on making tattoo designs that looked like tattoos, but now I just tattoo whatever dumb stuff I draw.
One of my favourite exercises that generates a ton of my flash is posting on Instagram asking people what I should draw. I get so many silly submissions and I draw them all quickly, and usually without any references. Those weird moments trying to draw a crocodile from memory ended up making some of my favourite flash designs.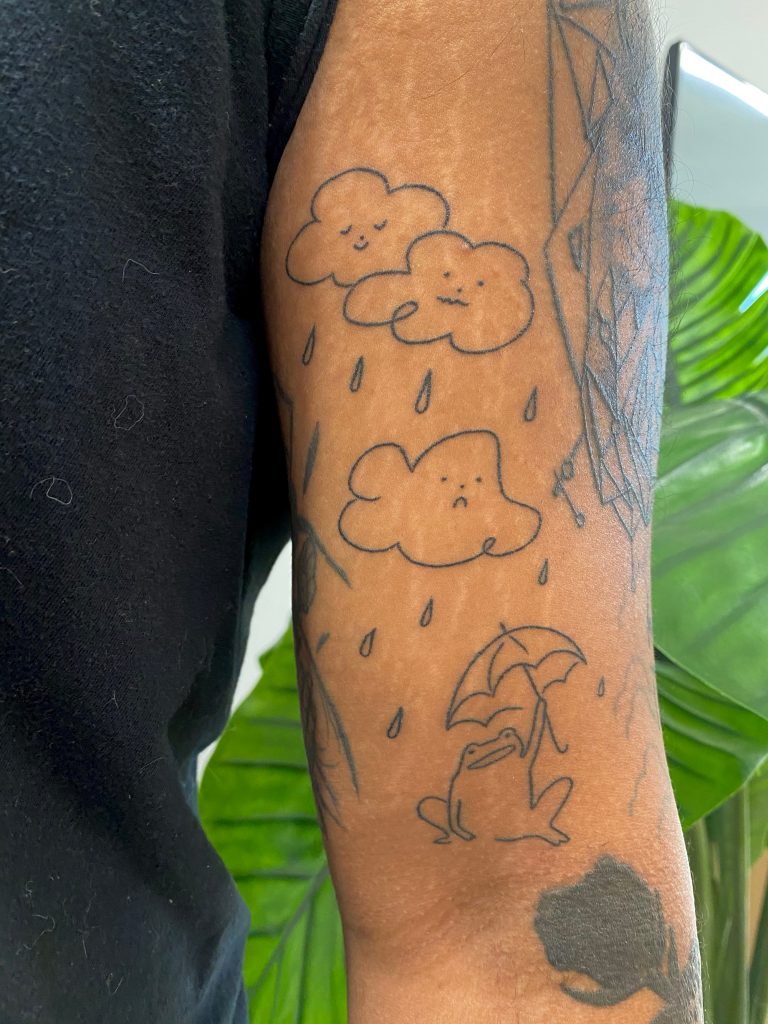 What do you like to tattoo and what would you like to do more of? Right now I'm in the process of introducing a tattoo machine to my practice, so I would really like to do more work with the machine. I think it will lend itself nicely to the intuitive looseness in some of my drawings, where poking was more precise and slow.
In terms of subject matter, I want to make sure I don't get stuck in a niche doing specific things. I love doing dogs and cherubs, and they're two of my most requested images, but I always want to push myself and expand. I would love to do more larger pieces and more experimental compositions.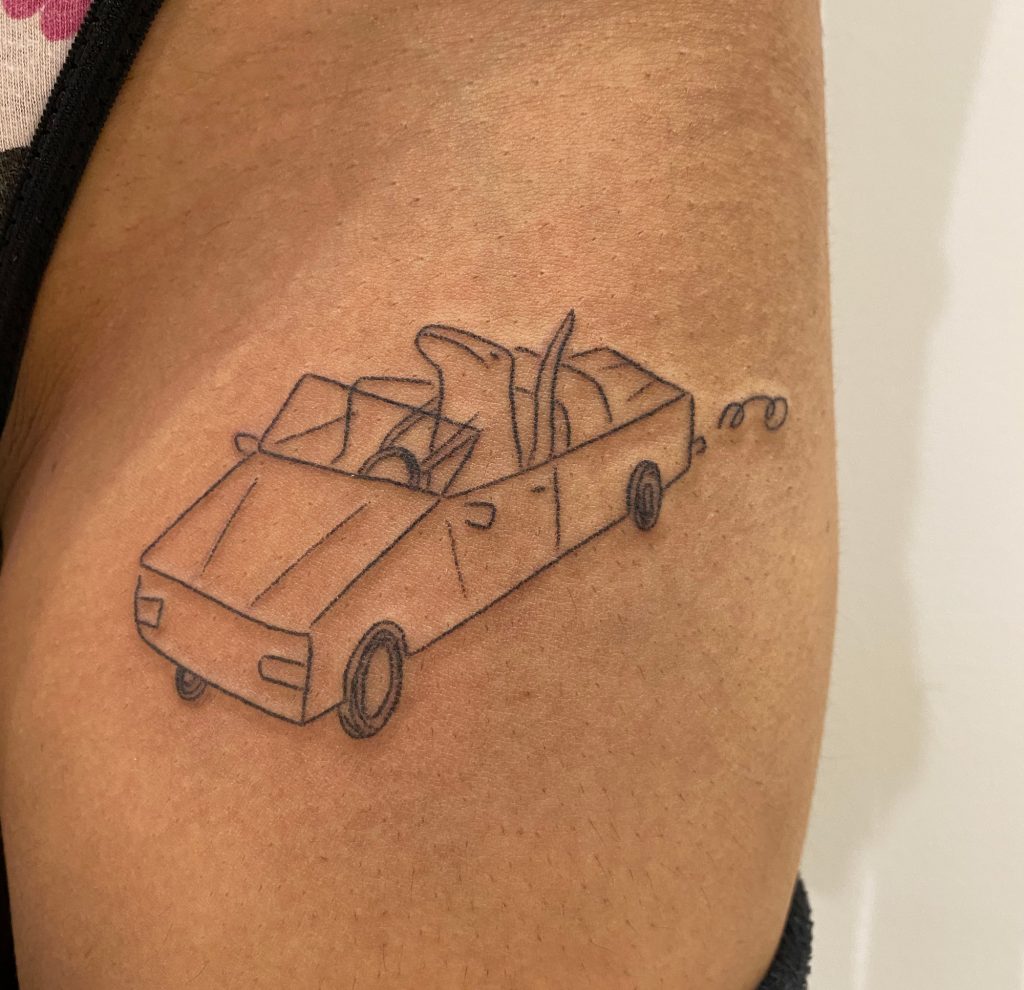 Do you prefer working in colour when you handpoke? How does this differ to handpoking black ink? This has two sides. On one hand, I love tattooing in black ink because I find it easier. The ink is hyper-pigmented and the perfect consistency to push into the skin by hand. The ink makes less of a mess and is generally easier to work with. However, I love tattooing in colour because I love the end result.
Coloured ink looks so beautiful in the skin, and introducing colour into a composition gives you so many more options for where to take a design. Colour heals so differently on different skin tones and I love seeing how the colours heal and integrate with people's bodies. I always love when a client is open to colour, even if it takes a bit longer and is a bit tougher to work with.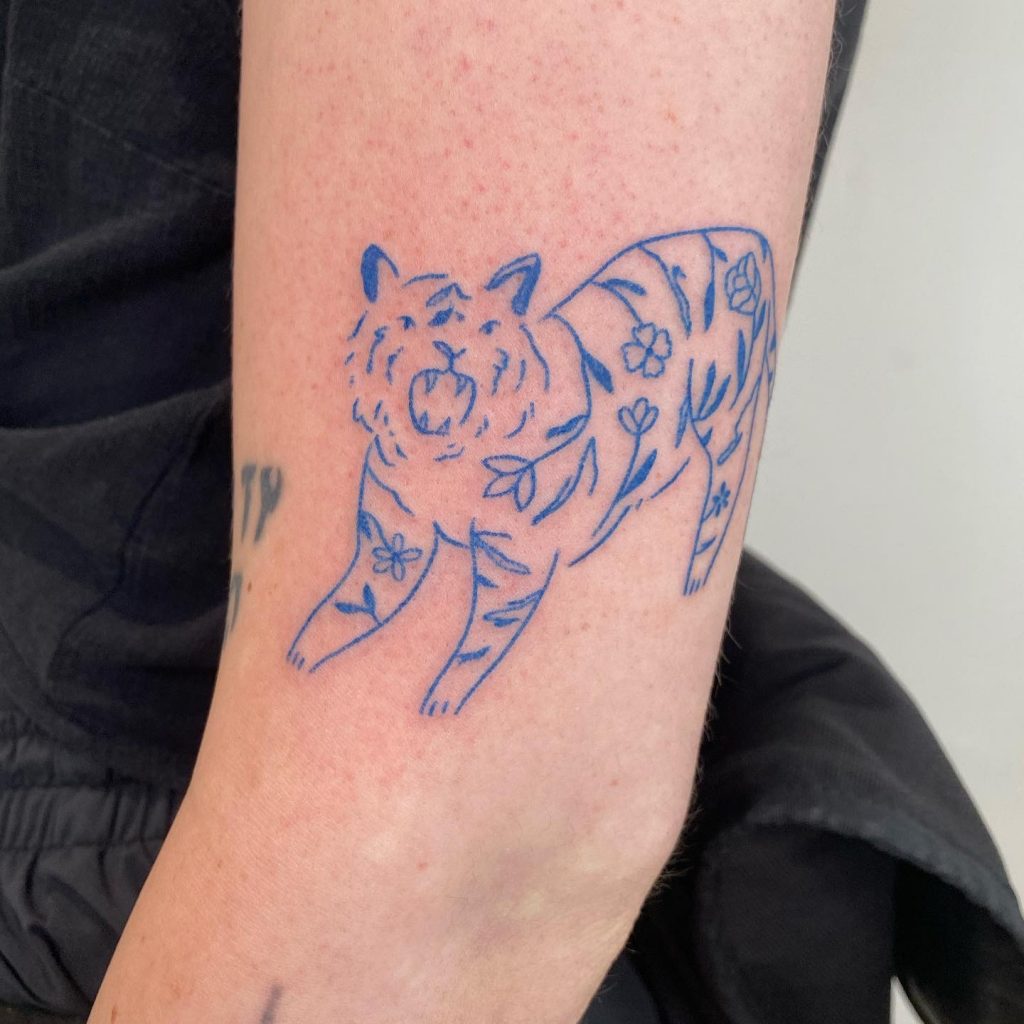 Can you tell us about some of your experiences getting tattooed? Do you prefer handpoke or machine tattooing? I love both methods! I think in general handpoke tattoos hurt less, and in general machine tattoos hurt more. There are always exceptions to this (depending on the artist, the design, the placement) and I've definitely had poked tattoos that were excruciating and machine tattoos that I barely felt.
There is also a bit of an assumption that handpokes don't heal well or don't last, and that machine tattoos heal better, which is also not necessarily the case. It all depends on the artist, the placement, and how you treat the tattoo while it's healing. Anyways, I love both methods and don't tend to choose my artists based on what method they use, but rather based on their artwork!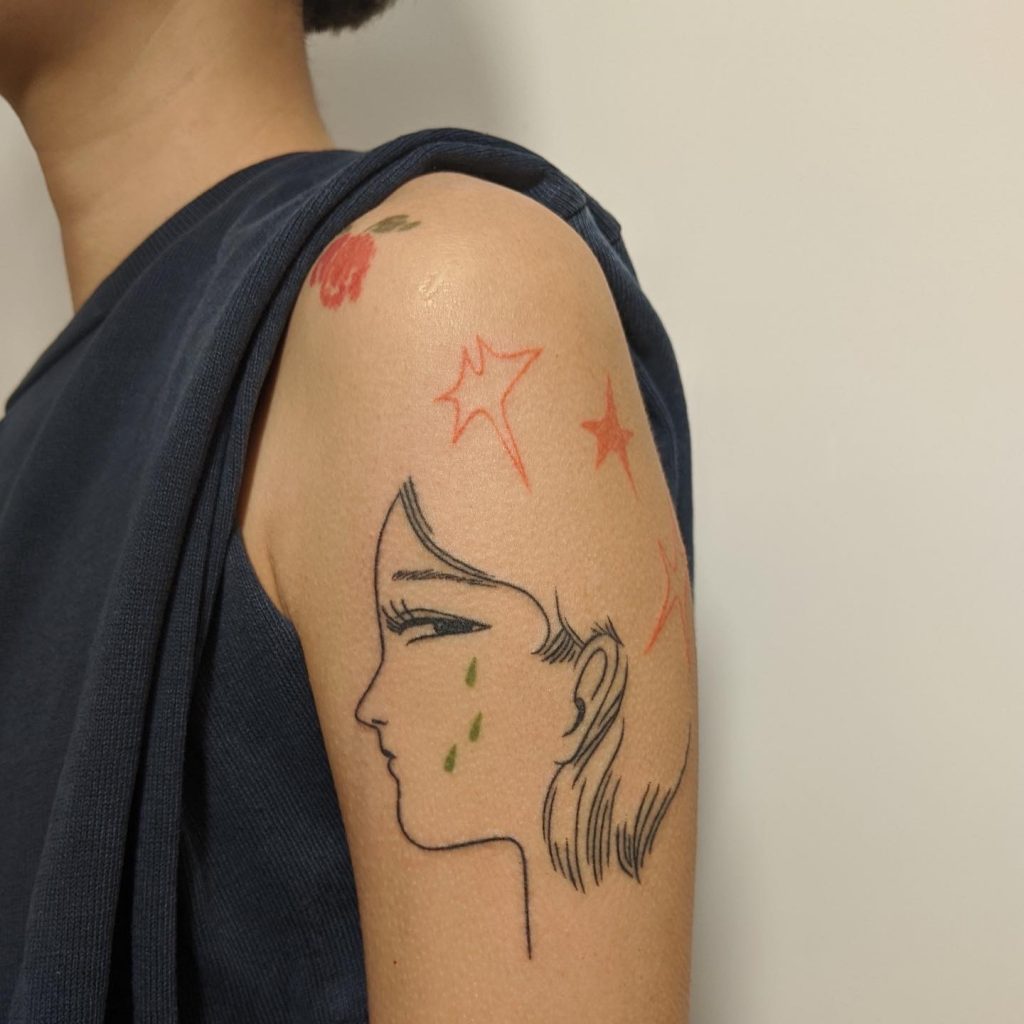 How has COVID affected your tattooing? COVID has been really tough on so many people and industries. We had to shut down in March 2020 for the initial lockdown, and we remained closed for five months. We were able to reopen again in August, but were forced to close for lockdown again in November, and remain closed now. It's been very difficult.
The Canadian government hasn't provided much support to small businesses, particularly newer small businesses who don't have the financial history to qualify for government support. The uncertainty of things adds extra strain (both mentally and financially) since it's impossible to plan. We have no idea when we will be able to tattoo again at this point. Not to mention that an important part of my job, and one of my favourite parts, is being able to travel and guest in different studios around the world. I had plans to travel to London and Paris to tattoo (literally had flights booked) as well as to the US. None of that happened, and now I'm not sure when I'll be able to do it again.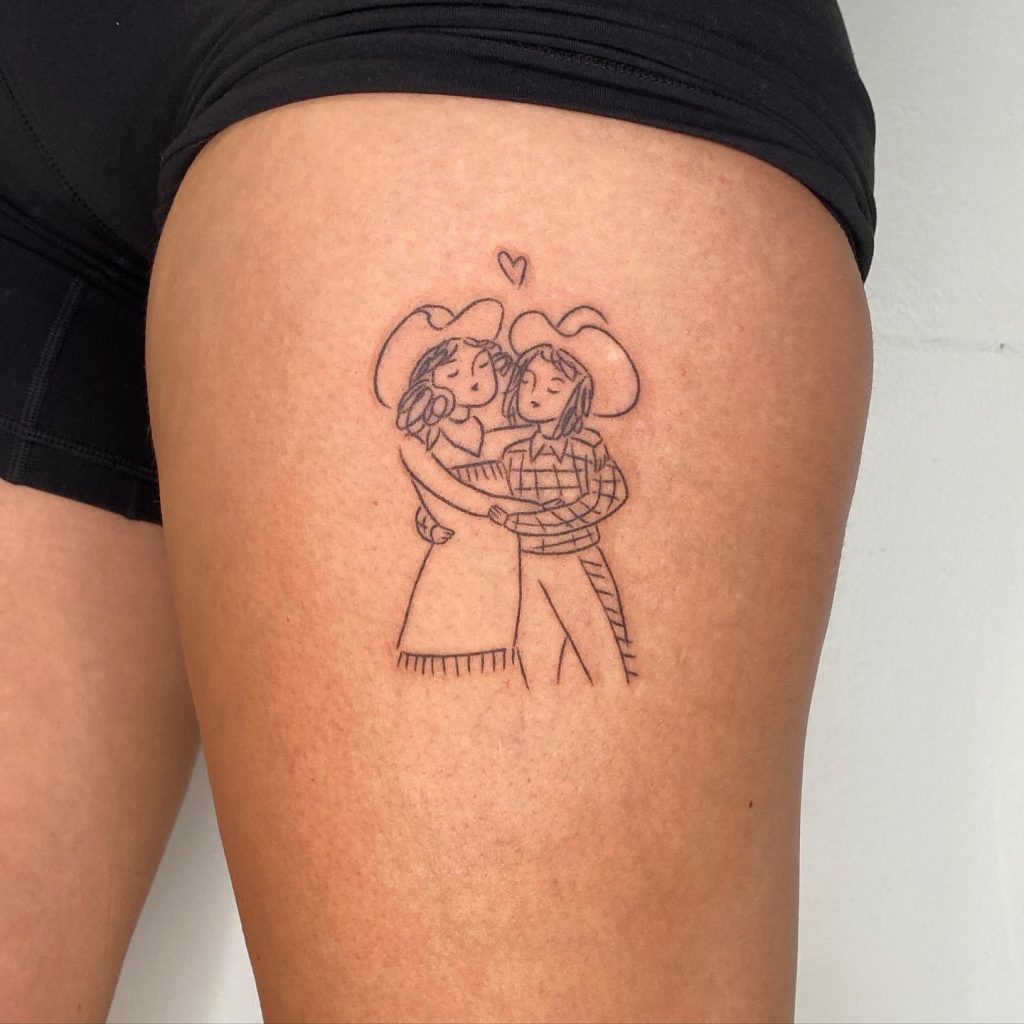 I am trying my best to explore other art forms in my downtime from tattooing, and have been getting back into painting and making merch. At the end of it all, though, I am so grateful for my health and understand that COVID has hit many more people far more directly than it has me. Just want to hammer this point home – please be careful, please wear a mask, please be considerate of others!
Follow Mellowpokes on Instagram for more handpoked tattoos.