Just got your new Nothing Phone 2? Keep its transparent and delicate glass back safe with these top protective covers and cases!
UPDATE: 2023/08/26 10:00 EST BY SANUJ BHATIA
Updated the collection by adding new case options by Ringke and Poetic.
Nothing's Phone 2 is one of the best smartphones you can buy right now. It brings significant upgrades compared to its predecessor, including features like a faster Qualcomm Snapdragon 8+ Gen 1 processor and a redesigned back for a more comfortable feel. Whether you're planning to purchase the Nothing Phone 2 or have already got one, it's important to protect its delicate glass back with a cover or case.
In this article, we'll take a look at the best cases available for the Nothing Phone 2. Whether you want to flaunt the Glyph LEDs of your Nothing Phone 2 or are looking for a simple silicone case, there's something for everyone. Here are the best cases and protective covers for the Nothing Phone 2.
Nothing Phone 2 Official Case

Editor's Choice

Nothing's official Phone 2 case is probably the best option out there. It is made out of sturdy clear polycarbonate material to provide protection from scratches and drops and comes with a transparent design to flaunt the design your of smartphone. It also features a lanyard hole.

Ringke Fusion-X for Nothing Phone 2

Reliable Pick

Ringke makes some of the best smartphone cases out there, and their Fusion-X case for the Nothing Phone is no exception. It features an augmented bumper shockproof cover and also features lanyard holes on each side to allow for the usage of accessories.

Poetic Guardian Case for Nothing Phone 2

Best Rugged Protection

If you're looking for a rugged case that provides all-around protection, the Poetic Guardian Case is the best choice out there. It offers military-grade protection and comes with a screen protector built-in. Not only that, but it has an anti-scratch build and an extra front frame for those who drop their phone frequently.

Foluu Clear Case for Nothing Phone 2

Best Value

Foluu makes some of the best smartphone cases, and their Nothing Phone 2 clear case is no exception. It offers scratch and drop resistance all while packing a one-year warranty. It also features a precise cut charging cutout that fits most cables.

Osophter Case for Nothing Phone 2

Slim and thin

$9 $10 Save $1

If you're looking for a transparent case that offers premium TPU and Polycarbonate materials as well as raised corner edges for added protection, the Osophter case is the best option for you. It's also quite slim so it doesn't add a lot of builk to your Phone 2.

Hensinple Clear Anti-Scratch Nothing Phone 2 Case

Case + Screen Protector in One Package

$14 $16 Save $2

Another great transparent case for the Nothing Phone 2 is the Hensinple clear case. This case offers raised lips to protect the camera and screen and also features Military Grade drop protection. What's More? This package also includes a 9H tempered glass in the box. 

LCEHTOGYE Carbon Cover for Nothing Phone 2

Best Silicone Case

If you want a Nothing Phone 2 cover that hides the back LEDs, then LCEHTOGYE case is for you. It features a high-quality Carbon fiber back that protects your smartphone from dents and scratches and also offers easy access to the ports and side buttons.

wtowin case for Nothing Phone 2

Shockproof Protection

If you're someone who drops their smartphone frequently, this case is perfect for you. The wtowin case for the Nothing Phone 2 features shockproof technology, providing protection against accidental drops and shocks. It also has raised edges to protect the camera and screen.
There you have it! These are the top case options for the Nothing Phone 2. If you're having trouble choosing the perfect case, we recommend going for the official Nothing Phone 2 case. It offers the best feel and allows you to flaunt off those back LEDs without any obstruction. It is also designed to resist yellowing, thanks to its improved materials and stronger UV resistance.
Another great case for Nothing Phone 2 is Ringke's Fusion-X. This case provides all-around protection for the device without making it bulky. However, if you're looking for a more affordable option, the Foluu case is a great choice. It offers similar features and feel at a lower price point, and it also provides raised lips for protecting the camera lens and screen.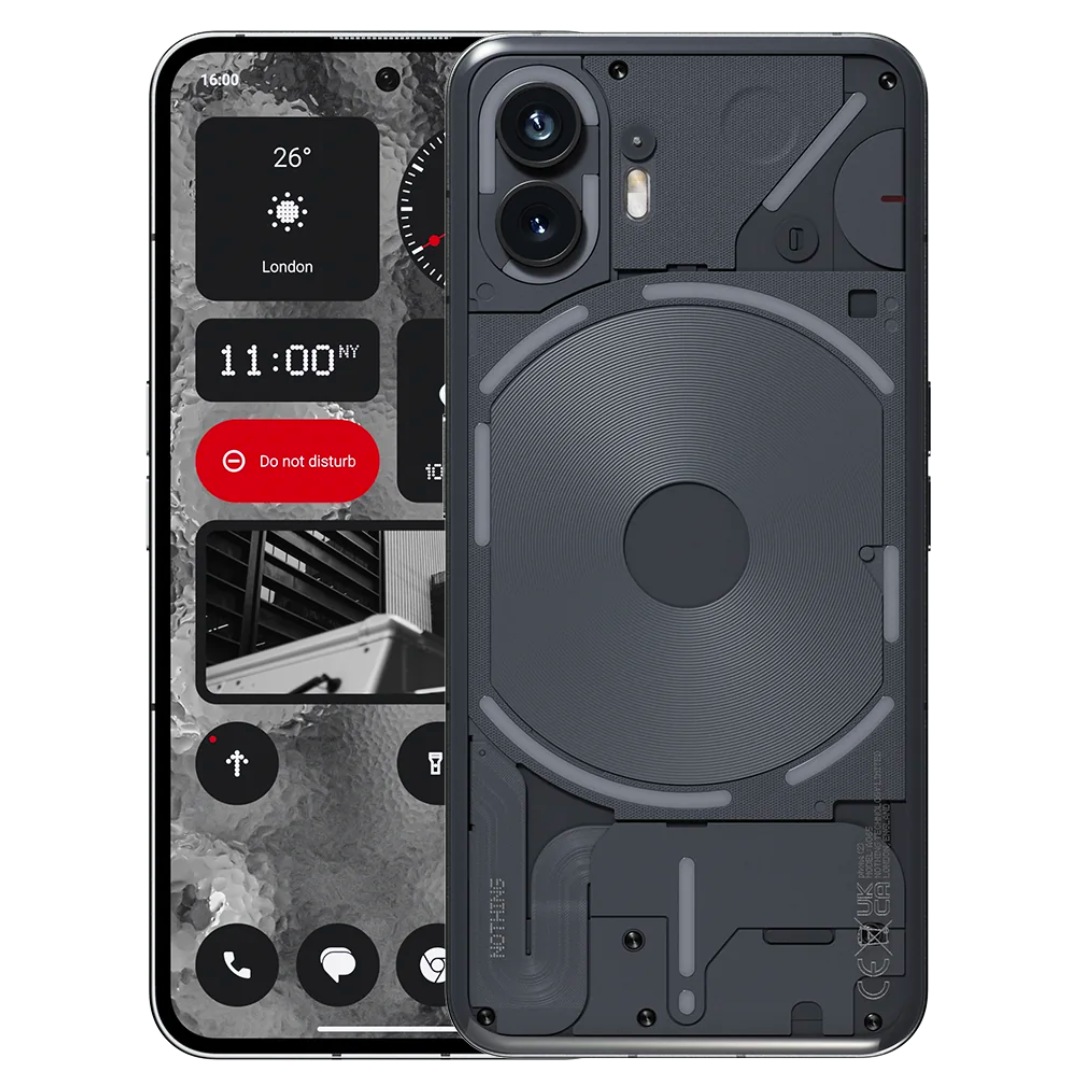 Nothing Phone 2
First Nothing Smartphone with Flagship Specs
The Nothing Phone 2 features a 6.7-inch FHD+ OLED display with LTPO technology. It ships with the Qualcomm Snapdragon 8 Plus Gen 1 and also has a 50-megapixel dual camera setup. Powering it all is a 4,700 mAh cell that will allow for all day use.