The Apple Watch has undoubtedly become a must-have accessory for many iPhone users, thanks to its seamless integration, health and fitness tracking capabilities, and user-friendly features. However, its battery life, lasting up to a day, requires you to charge it regularly – often every night.
We're all familiar with the standard charger that comes with the Apple Watch, but let's face it — it's not the most exciting option, and carrying it around can be cumbersome. Then there are charging docks and stations as well, but they may not be the most convenient options either. In this article, we'll take a look at three unique Apple Watch chargers that not only offer portability but also bring a touch of excitement to charging your smartwatch.
1

Portable USB Charger Dock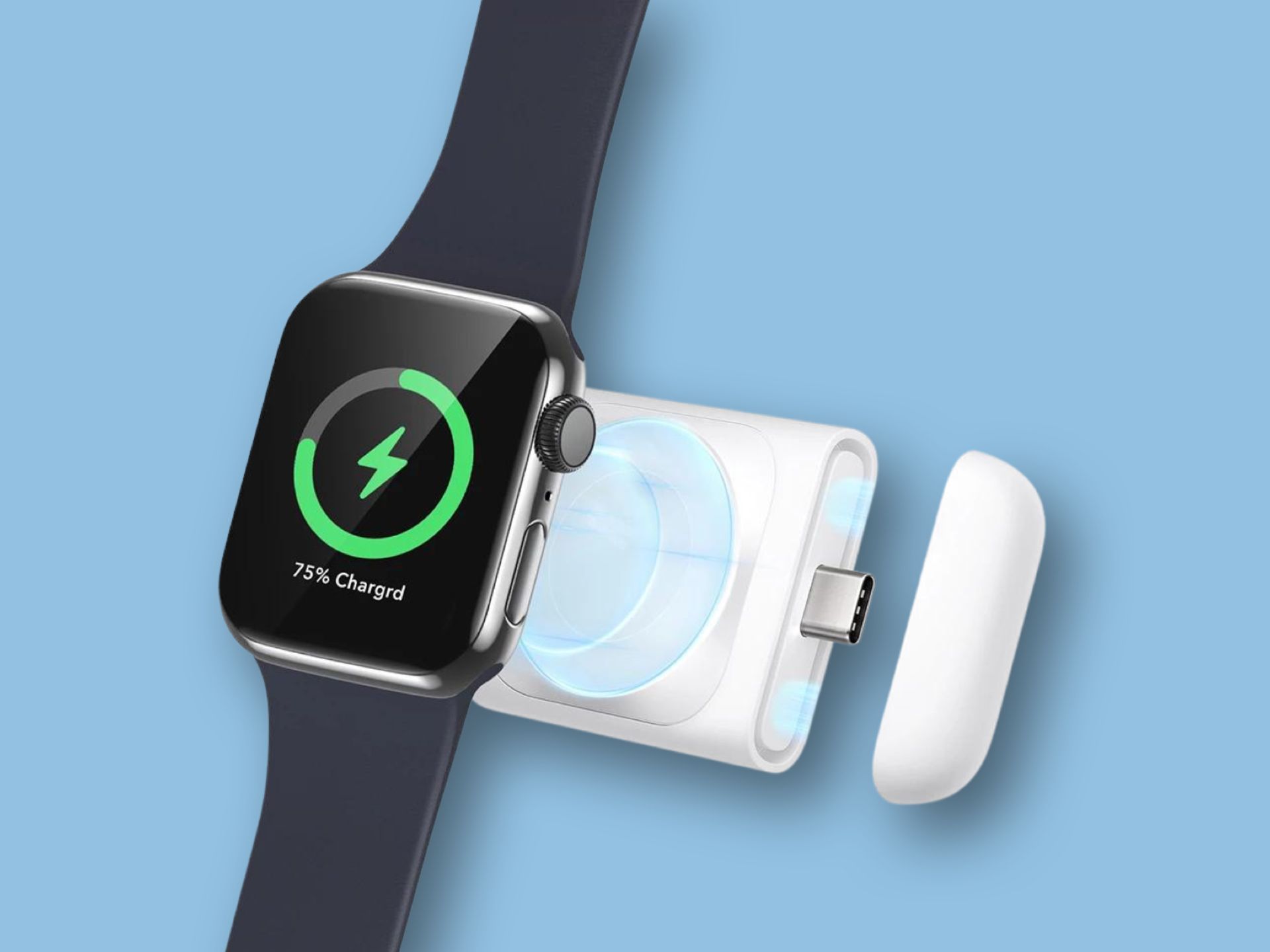 The official Apple Watch charger comes with a long cable, which makes it difficult to carry and pack, especially when traveling. Moreover, many users keep their chargers on their bedside tables, making it inconvenient to unplug and pack for a trip.
The portable USB charger dock provides an ideal solution for these situations. These wire-free docks easily plug into any USB port on your devices, such as your laptop or even directly into your wall charger. The recommended options below are also MFi certified, ensuring full compatibility with your smartwatch.
I personally use this accessory for my Apple Watch — primarily because I avoid overnight charging to preserve its battery health. With this dock, I can charge my watch directly from my laptop's USB-C port, and it also doesn't take up a lot of space. All in all, it is an excellent travel accessory and a convenient spare to keep in your laptop bag.
Anker Portable Charger for Apple Watch

The Anker Portable Apple Watch charger offers a USB-C connector and is compatible with all Apple Watch models out there. It is also MFi Certified so it will work safely with any Apple Watch.

ESR Portable Charger for Apple Watch

$28 $34 Save $6

The ESR Portable Apple Watch charger is a cheaper alternative to the Anker charger. It offers the same features, such as fast charging, magnetic hold, USB-C connector, MFi certification, and much more.

Native Union Watch Puck

While the Native Union Apple Watch Puck comes with a slightly higher price tag compared to other options, it provides a flexible USB-C connector that can fold and adjust at an angle for added convenience.
2

Portable Power Bank for Apple Watch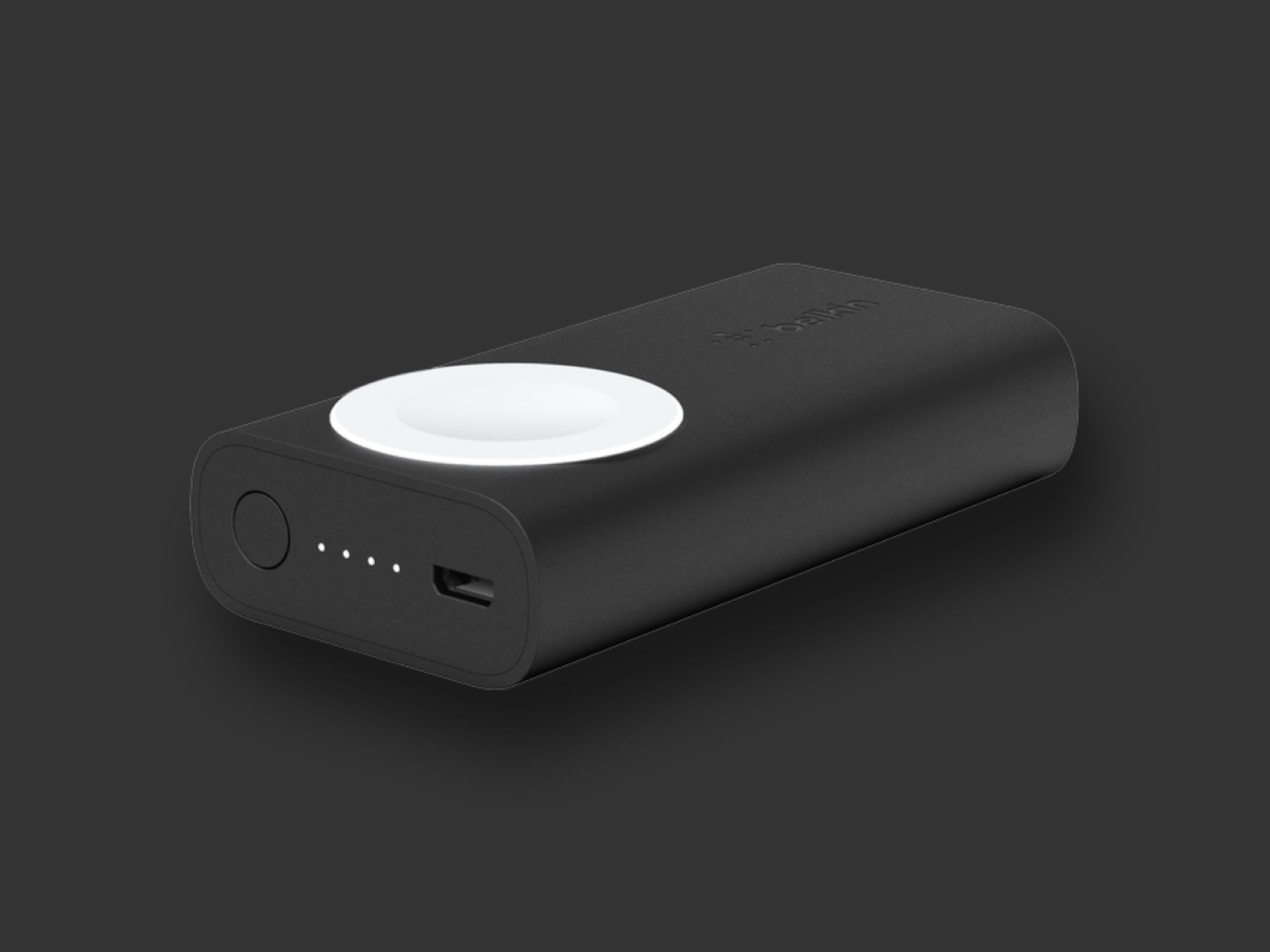 Next on our list are portable battery pack chargers designed specifically for Apple Watch. Just like there are power banks for smartphones, these portable chargers allow you to charge your Apple Watch while on the go, without needing to find an outlet.
Each of the options we've included below has a built-in Apple Watch charging module, which eliminates the need for carrying around the Apple Watch charging cable. They come in various capacities, so you can choose a battery pack that suits your needs, just like you would with a power bank for your smartphone.
Belkin Boost Charge Power Bank for Apple Watch

The Belkin Boost Charge Power Bank for Apple Watch offers a big 2,000 mAh battery that provides up to 63 additional hours of battery life. It is MFi certified for full compatibility with your smartwatch.

iWALK Portable Apple Watch Charger

$46 $70 Save $24

For those looking for a charging solution for their iPhone and Apple Watch, the iWALK Portable Charger is the perfect option. This charger includes a magnetic charger module for the Apple Watch as well as a Lightning connector for the iPhone.

LVFAN Portable Charger for Apple Watch

$20 $28 Save $8

The LVFAN Portable Charger for Apple Watch offers a big 4,000 mAh battery and a built-in magnetic charging module for your smartwatch. Moreover, it is easy to recharge thanks to USB Type-C connector.
3

Keychain Apple Watch Chargers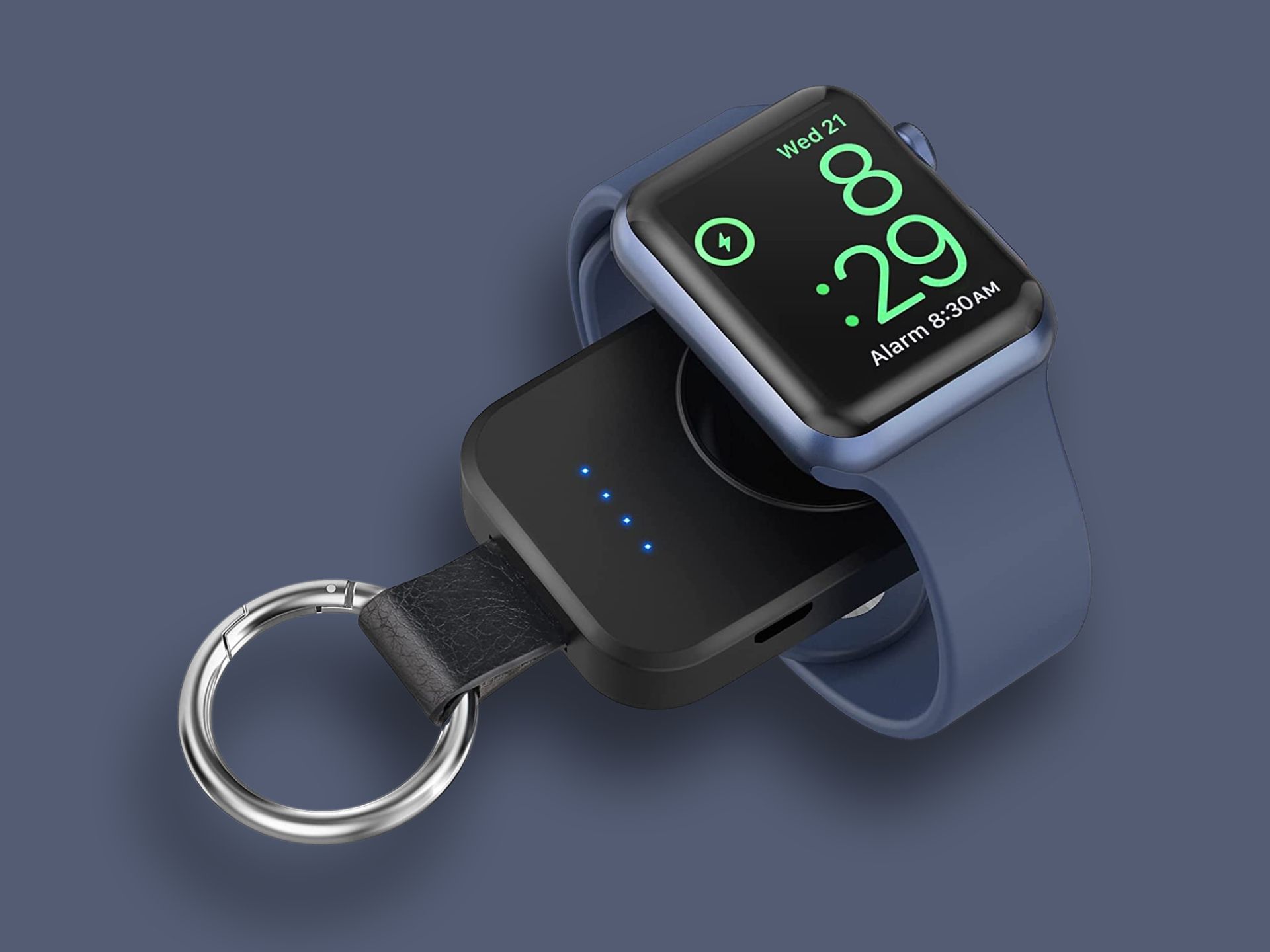 Finally, for those looking for a truly distinctive charging solution, the keychain Apple Watch chargers are a fantastic option. These chargers look like ordinary keychains but house a hidden charging pad for your Apple Watch. You can attach them to your house or car keys, providing a convenient charging solution that's always within reach. We believe this a unique and practical accessory that every Apple Watch owner should consider.
i.VALUX Portable Keychain Wireless Charger for Apple Watch

$17 $25 Save $8

The i.VALUX Portable Keychain Wireless Charger offers a 1,000 mAh battery capable enough of charging your Apple Watch 1-1.5 times. It is compatible with all Apple Watch models and offers various charging protection features.

Voiday Portable Charger for Apple Watch

$18 $20 Save $2

This keychain charger for Apple Watch offers a slightly bigger 1200 mAh battery capable enough to charge your smartwatch up to 3 times. It also offers compatibility with all Apple Watch models and charging protection.

Huoto Portable Charger for Apple Watch

While this keychain charger is slightly expensive, it offers better features in terms of a bigger battery (1,400 mAh) as well as a USB-C charging port. It is compatible with all Apple Watch models and offers a leather holder for keychain ring.
This marks the end of our top three unique chargers for the Apple Watch guide. With the options mentioned above, you can ensure your Apple Watch stays charged no matter where you go. Which charger piques your interest the most? Share your thoughts with us in the comments section below!
---
Apple Watch Ultra

The latest edition in the Apple Watch lineup is the Apple Watch Ultra. It comes with body temperature sensors, LTE, and GPS, a new large 49mm size, a more durable design, and the longest battery life in an Apple Watch to date.

$359 $429 Save $70

Apple Watch Series 8 takes the crown from Series 7, becoming the best wearable to buy and keeping track of your fitness levels and notifications. It promises all-day battery life and a new body temperature sensor to improve metric accuracy.

Apple Watch SE 2

$219 $249 Save $30

The affordable Apple Watch SE (2nd Generation) looks the same as its predecessor; it features improved fitness tracking and is powered by the latest and most powerful Apple S8 chip. It's available in three colors and supports the same bands as the last generation.
Image Source: Unsplash