Internet
Google Reader Now Reveals RSS Numbers for Any Feed
Bloglines used to be the only RSS reader displaying publicly the number of subscribers to a particular feed. That is the reason why the Bloglines API is widely used on advertising networks that need an indicator of how many RSS subscribers a certain website has.
Google is now moving in the same direction. If you log into Google Reader you are now able to see how many RSS subscribers a certain feed has, just by typing its name inside the "Add Subscription" form (type the "name" of the website and not the URL). Notice that this number refers only to people subscribing to that feed via Google Reader, that is why this number is significantly lower than your Feedburner count.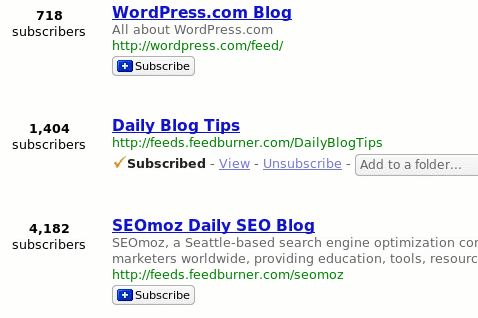 I think this is an interesting change. Google Reader is by far the most used RSS reader, and the ability to access these numbers for any website will provide a much better estimation of the RSS readership compared with Bloglines.

Michelle (aka Meesh) is your classic girl-preneur who is passionate about helping others achieve their financial goals. She is a regular contributor to several financial publications including DBT. She is especially passionate about empowering women to take control of their financial future.