News
Horizon Chase Turbo's 'Senna Forever' Expansion Is A Fitting Tribute To A Racing Legend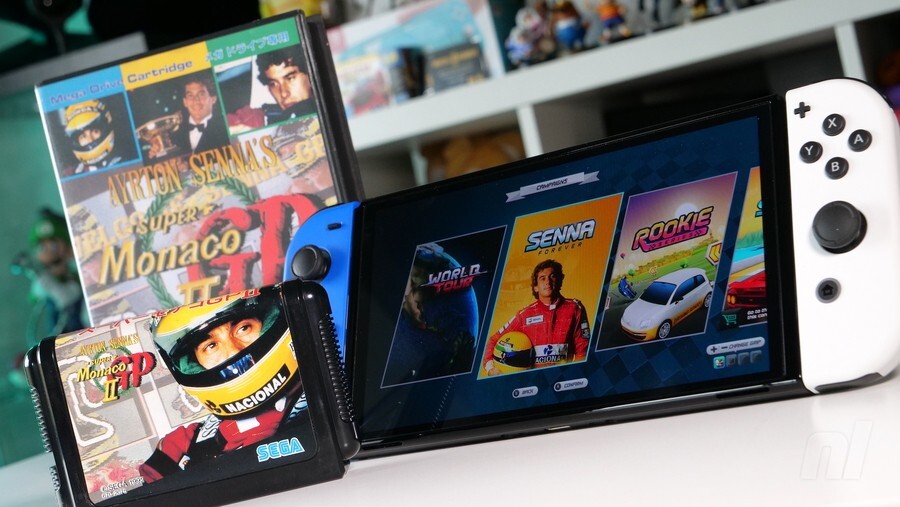 Like any true-blooded Englishman, I had a strange love/hate relationship with three-time world champion Ayrton Senna in the early '90s. To the pre-teen me, he was the enemy; the mortal foe of Nigel Mansell, Britain's first genuinely promising Formula 1 driver since James Hunt – who had won the World Drivers Championship before I was even born. Mansell's quest to secure his one and only championship would end Senna's winning streak, with the Brazilan driver having scored the most points in both 1990 and 1991 before 'Nige' won the crown in 1992, thanks in no small part to the untouchable Williams FW14B.
However, when Senna was tragically killed in 1994's San Marino Grand Prix, it shook the entire world of F1. Any lingering, childish animosity I held towards him for being Mansell's key rival was totally removed, and it became brutally clear that the sport had lost one of its shining lights. At 34, he arguably had more world championships in him; he is often cited by other drivers as an inspiration and his legacy has endured considerably since that tragic day in 1994. In his native Brazil, Senna is still regarded as a hero, and Asif Kapadia's wonderful 2010 biopic does a fantastic job of illuminating the human behind the legend.
Given all of this background, Horizon Chase Turbo's Senna Forever expansion is tailor-made for a crusty old F1 fan like myself. It offers two new modes, one of which sees you playing through Senna's illustrious career – from his early days with the backmarker Toleman team all the way up to his championship-winning seasons with McLaren. Key races are picked out, too, giving a real sense of how Senna's legend grew over time.
The gameplay remains largely unchanged from Horizon Chase Turbo; the aim is to finish as high as possible in each race, using nitro boosts to gain an advantage and collecting coins and fuel along the way. The big addition is the ability to choose from three different car setups, each one suited to a different kind of track. You can also play in a more straightforward championship mode, if you so wish, where you can select from 18 different (fictional) teams and unlock over 30 cars. There's plenty of content on offer here.
However, it's the new first-person mode that I found the most interesting, because it ties in the game with one of Senna's previous forays into the world of interactive entertainment: Super Monaco GP II on the Sega Mega Drive / Genesis. Originally released in 1992 when Senna was arguably at the height of his powers, this 16-bit classic hovered up many weeks of my life as I was a huge fan of the original, both in the arcade and on the Mega Drive. Senna was on-hand to offer advice on each circuit, and his likeness was plastered all over the game. Most importantly of all, however, is the fact that the Super Monaco GP series adopted a first-person view from the cockpit (8-bit conversions notwithstanding) which was surprisingly immersive for the early '90s. Having this perspective mirrored in Horizon Chase's Senna Forever expansion is a really nice touch.
Another thing the Senna Forever expansion shares with Super Monaco GP II is the lack of any official licencing, beyond the support and cooperation of the Ayrton Senna Institute, an organisation designed to help create opportunities for human development for young Brazilians which was set up by his family just months after his death. That means that developer Aquiris (which is based in Brazil, coincidentally) hasn't been able to use any 'real' names in the game – drivers, teams and even circuits are all given alternative monikers to avoid any potential infringement. It's a shame, but by no means a deal-breaker; the different marques are instantly recognisable anyway.
While Senna Forever doesn't mess too much with the core mechanics of Horizon Chase Turbo – it still feels like Out Run and Top Gear in terms of gameplay and there's not much in the way of strategy or realism – it's still a tremendously polished tribute to one of the greatest people to ever step into the cockpit of a Formula 1 car, and well worth the relatively low asking price.
Some time ago, I was lucky enough to see first-hand several of the cars Senna had raced in during his career at the now-defunct Grand Prix collection at Donington Park – including the car in which he performed 'the greatest lap in F1 history' during the Sega-sponsored 1993 European Grand Prix (which actually took place at Donington itself). It was a real honour to be so close to the actual, physical objects that had allowed Senna to make his mark in the world of motorsport. Today, he's one of my sporting heroes, and the Senna Forever expansion is an entertaining and touching way to celebrate his legacy.