Tattoos Ideas
Interview with tattoo artist Lina Shuliar – Things&Ink
Lina Shuliar creates dark Japanese tattoos at First Class Tattoos in New York, in this interview Lina tells us all about finding her feet as a dark artist…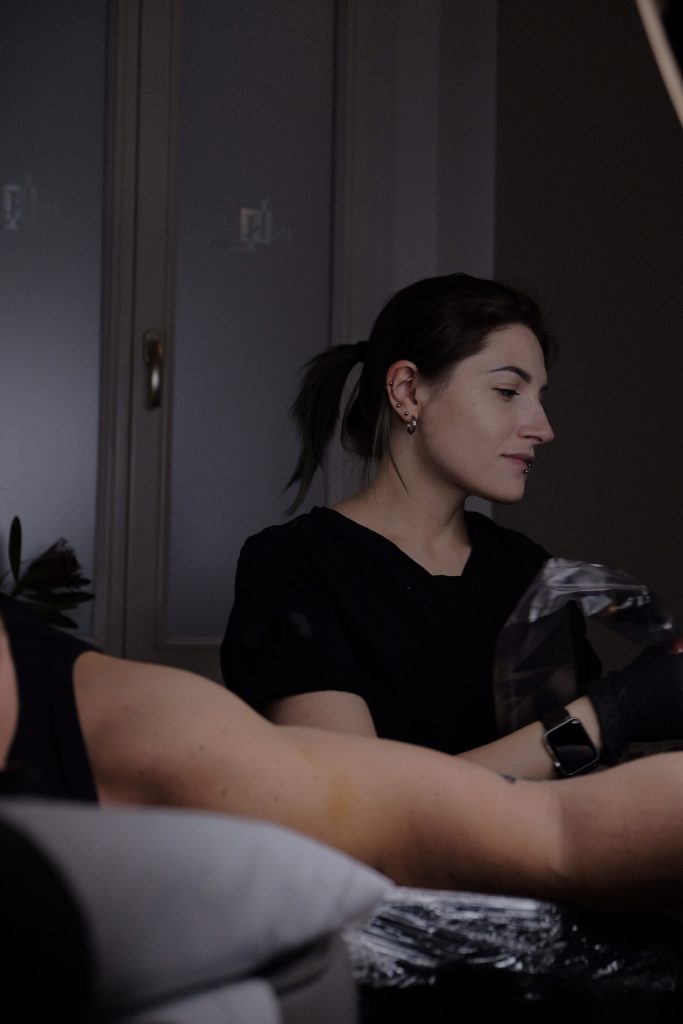 How long have you been tattooing and how did you get started in the industry? I have been tattooing for 12 years. I started by accident, I never planned to be a tattoo artist. My friends pushed me into it as they wanted me to tattoo all of them. They always believed in me.
At first I didn't take it seriously, I even flipped a coin to decide whether I should start learning to tattoo. The rest is history.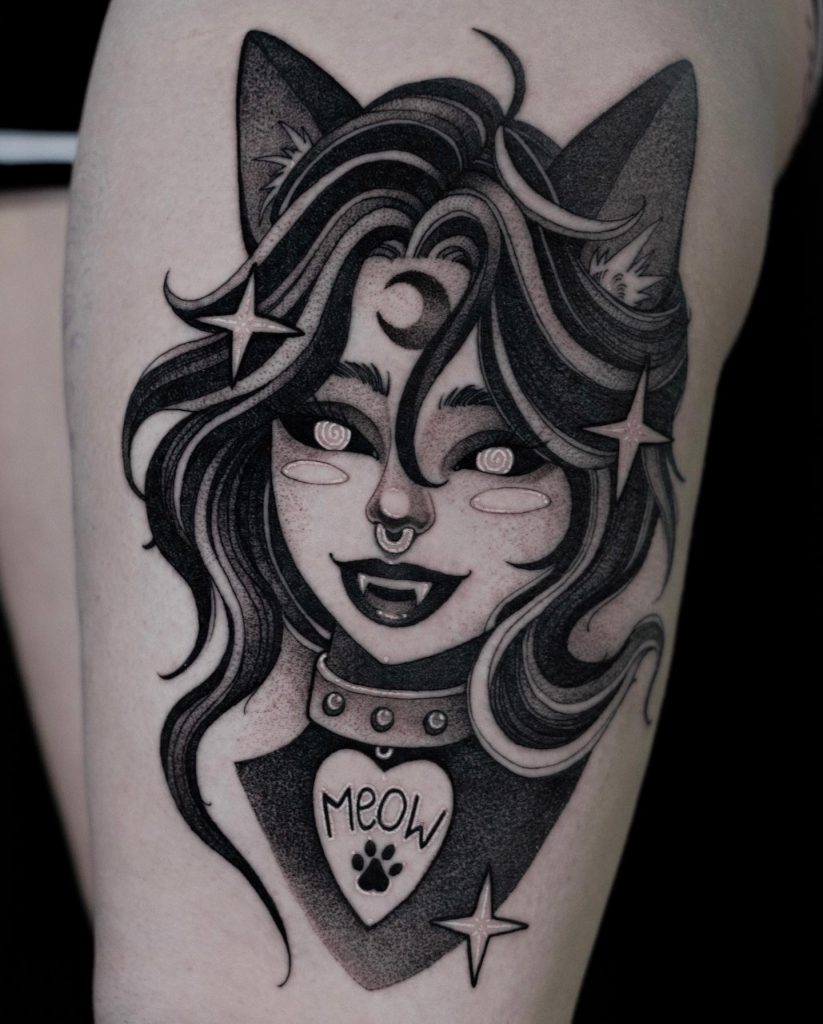 What inspired you to become an artist? I have been drawing for as long as I can remember. Creativity has always been an important part of my life, even as a child, toys didn't excite me as much as drawing did.
I went to art school when I was eight until I was 16. After school, I went to university where I studied design and architecture, in the first few years we drew a lot and did everything by hand. At the same time I was learning to tattoo and these subjects went hand in hand to help me develop my knowledge and skills.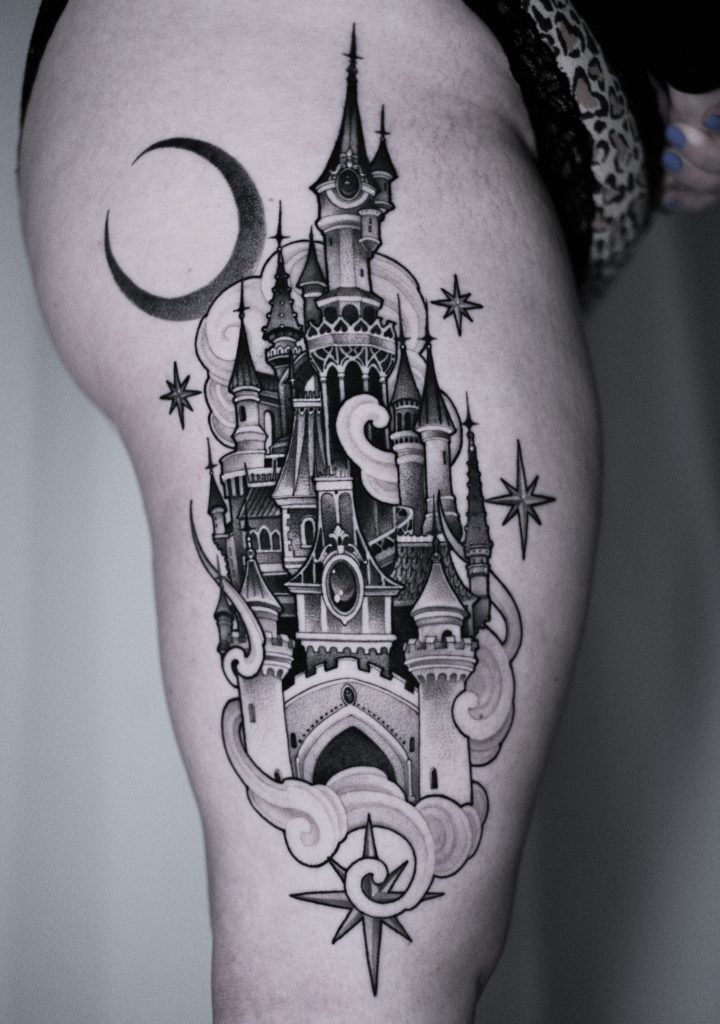 You describe yourself as a Russian vampire and macabre aesthetic, can you tell us more about this? Well, "Russian" – since I was born and raised in Russia. "Vampire" – because I have fangs – that's why I'm a Russian vampire! Besides, one of my clients once called me it – I really liked it and I've been using it ever since.
I think my appearance, my work and how I see the world are connected. I think every artist brings a piece of himself into this world through his paintings and tattoos – in my case, the aesthetic of macabre is my philosophy, this is what I am guided by when I make a design.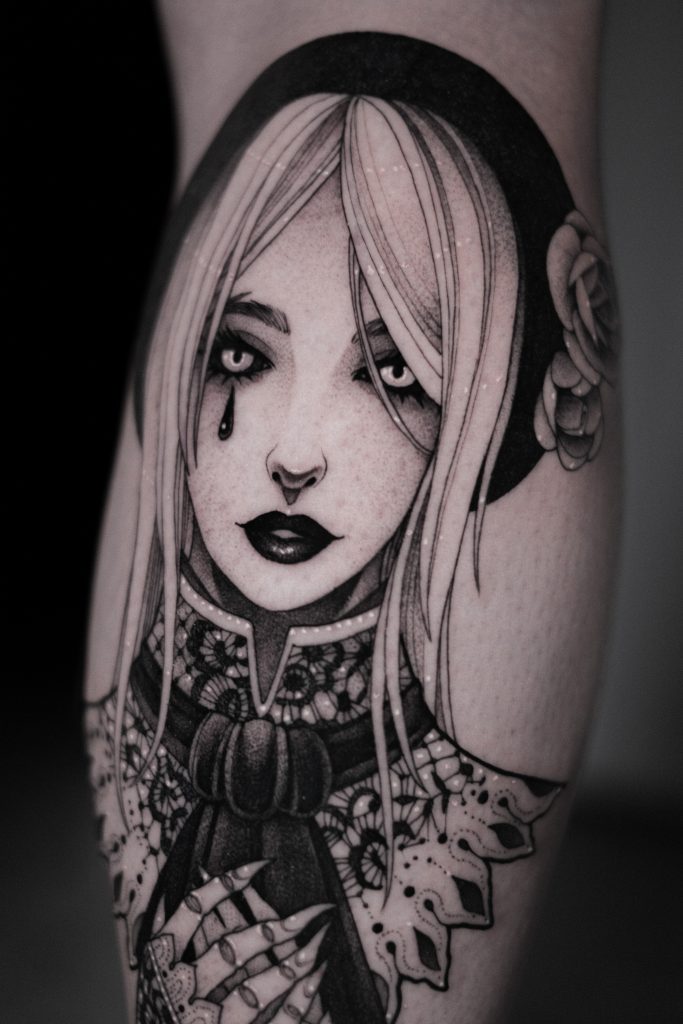 You used to tattoo in colour, what made you shift to a darker look? How did your dark tattoos come about? I used to do a lot of coloured tattoos. I don't even remember why I liked them so much. For me, colour tattoos were very easy. I didn't have to think about them too much, I was automatically guided by the knowledge that I had, like a printer.
Switching to black and grey tattoos was very valuable to me as I realised a lot about myself as a person and tattooer.
I fully allowed myself to do what I had wanted to do for such a long time. Of course, at first I lost all of my clients and starved but I had no doubt that it was the right choice. I never doubted myself.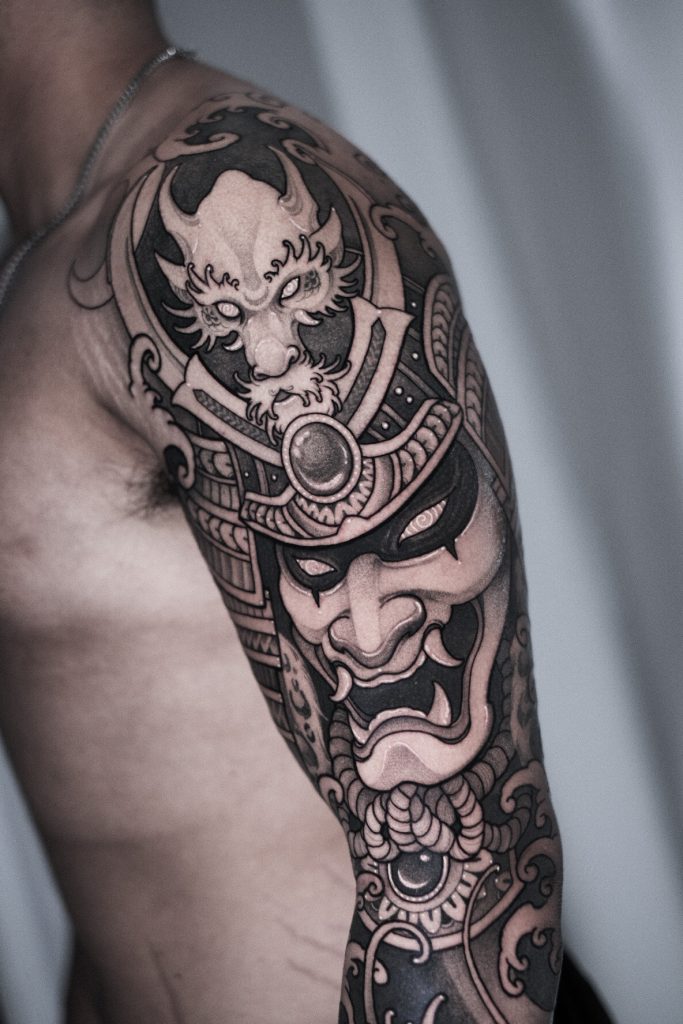 What inspires your designs? Does your heritage influence your art? Most of my projects are based on my clients' and my own ideas mixed together. More than half of my clients are as crazy as me and they love the things that I love. I find inspiration in my clients, in what unites us. I love Halloween, American Horror Story, dark folklore and fantasy – all of this creepy and dark stuff is me.
When I create art, I focus on my feelings and emotions, listen to myself and what resonates with me at that time, whether it's mythologies, Japanese or gothic.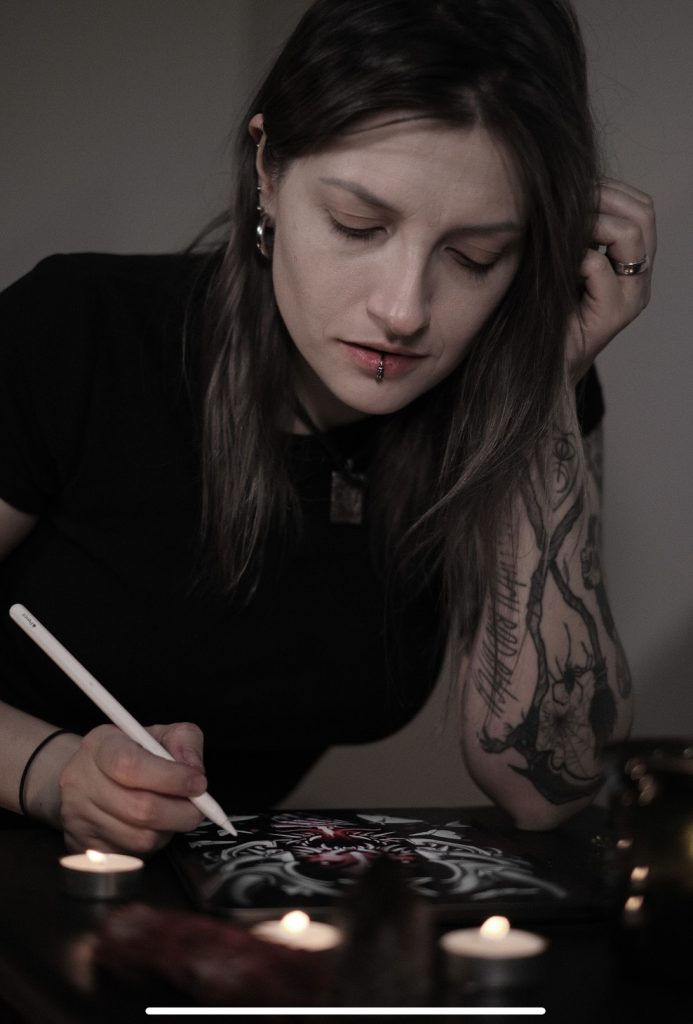 I really started developing myself in Russia, the artists are at a very high level and competition is huge – you have to be a good artist to survive. The black and grey tattoo community in Russia is a big inspiration for me. I also used to work around Japanese and dark artists who taught me a lot.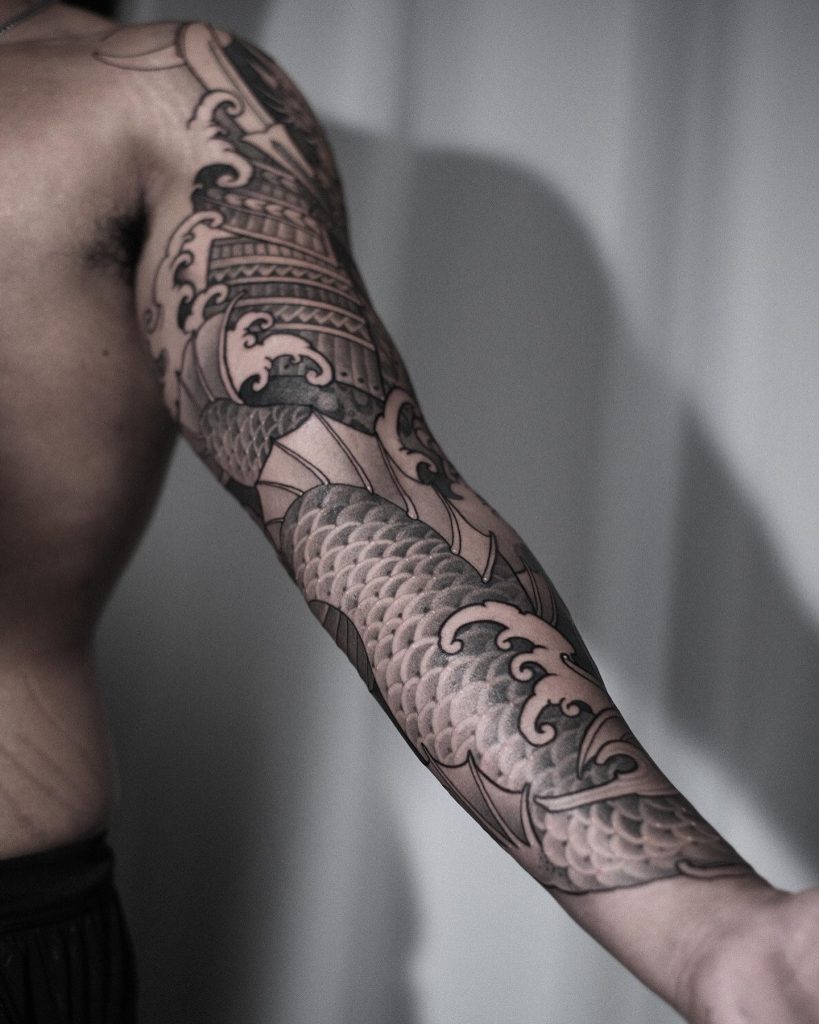 Can you tell us about the process behind your tattoos? Everything starts with design, it's the most important step for me. First of all, I have a detailed in-person consultation with the client. Then I create the designs and do a few sketches before selecting the best one to add more detail to. Or I may show these sketches to my client and we choose one together.
When I then tattoo the design I add a piece of myself in every detail.
The process of tattooing is not only about creativity, but also about customer service. I think anyone can make tattoos, you only need 10,000 hours of practice and you become a professional. But the vision and sense of style, understanding of anatomy and how the tattoo will look after 10 years – not every artist thinks about it.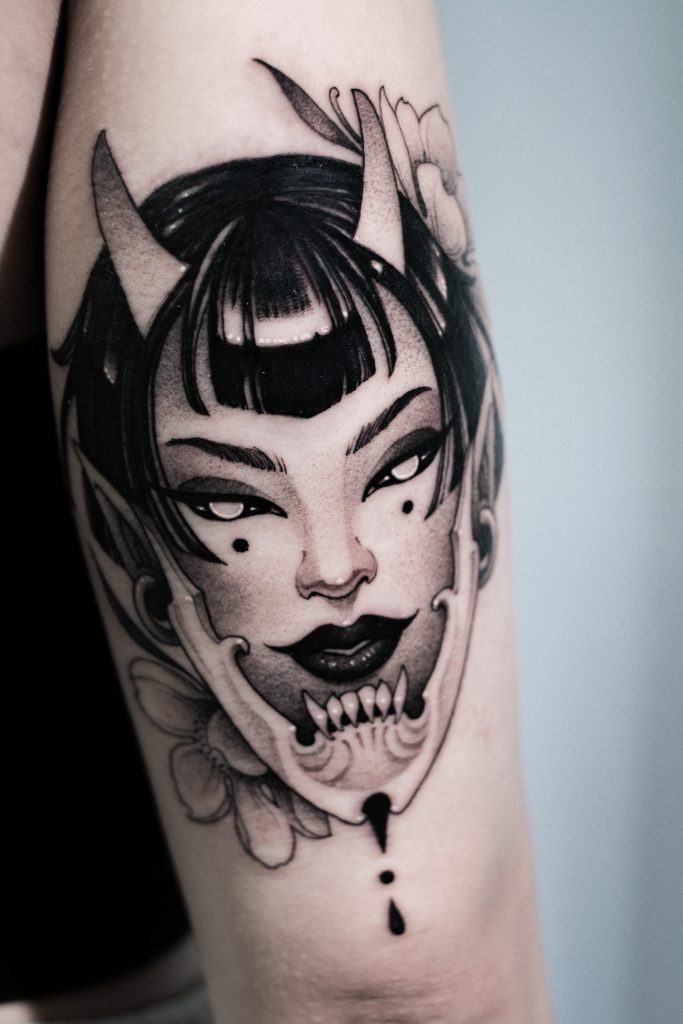 What would you love to tattoo? I enjoy everything that I do. I am serious! I love tattooing clients who have asked for my specific style, when I have their trust inspiration just flows out of me and I create the best projects.
I love doing things related to Japan: dragons, snakes and peonies, even samurai. I love to turn it into my dark style. Something that has a history or is mythical inspires me the most.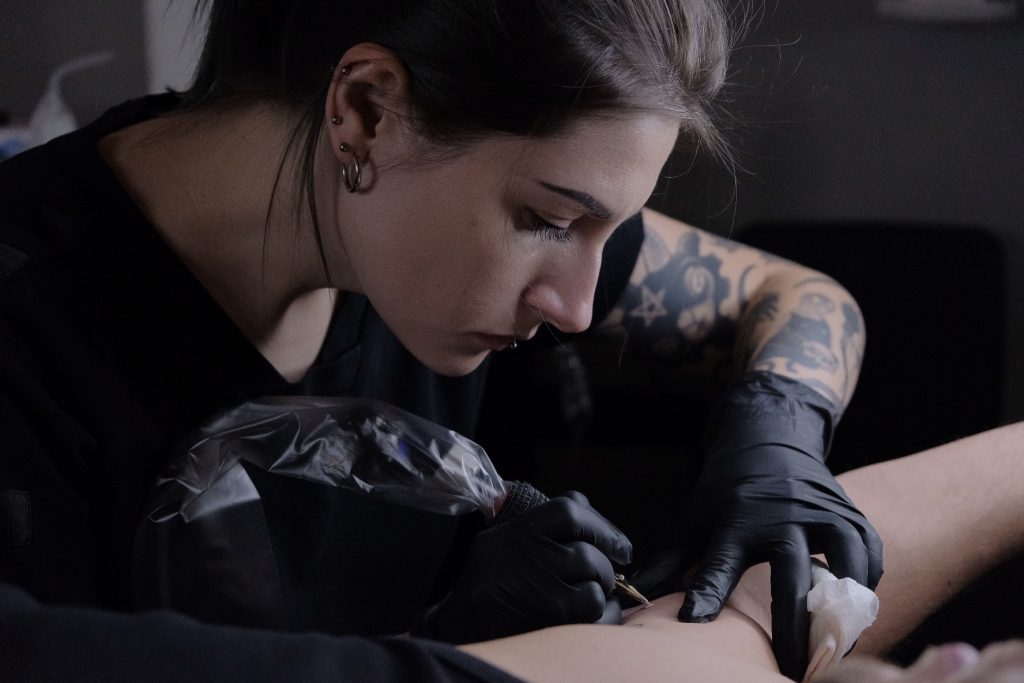 I recently enjoyed doing a couple of tattoos in the theme of Slavic mythology, there was Baba Yaga, her house and Koschei the Deathless. It was something new for me and I liked the challenge. After that project, I realised I wanted to develop myself further.
Most people admire my female characters that I do often, but these are so easy for me – it's time to take a break and switch to something new.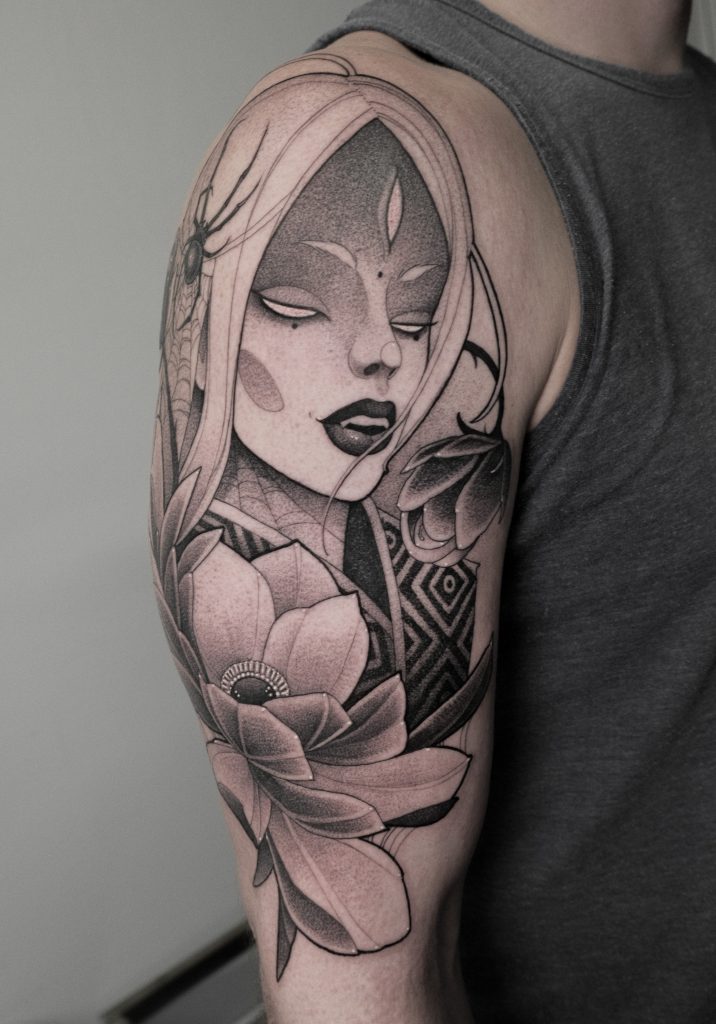 How do you see your tattoos evolving in the future? I would like to move away from female portraits for a while and go deeper into folklore and mythology. These themes offer endless possibilities with different stories that will look cool on the body.
In any case, I'm not going to deviate too far from my style, everything will be in creepy and dark colors, with an emphasis not on realism but on fantasy.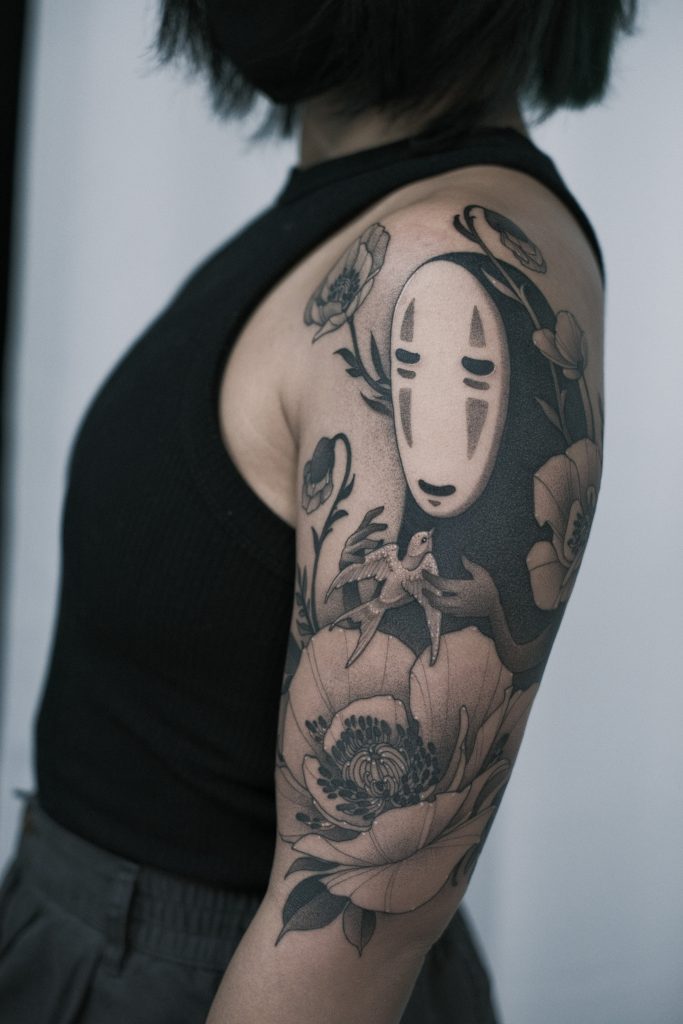 How does the New York tattoo scene differ from the one in Russia? Please tell us about your favourite place to tattoo and/or travel? In America, everything is much simpler.  Most people understand the value of art and I meet clients who share their knowledge and view point of the world with me – it's invaluable.
In Russia there is a sense of community in the tattoo world, unlike America where it's perceived as just work. But, America remains one of my favorite places to work, everything is so different it keeps me on my toes! Of course, sometimes I miss Europe, where the industry is completely different.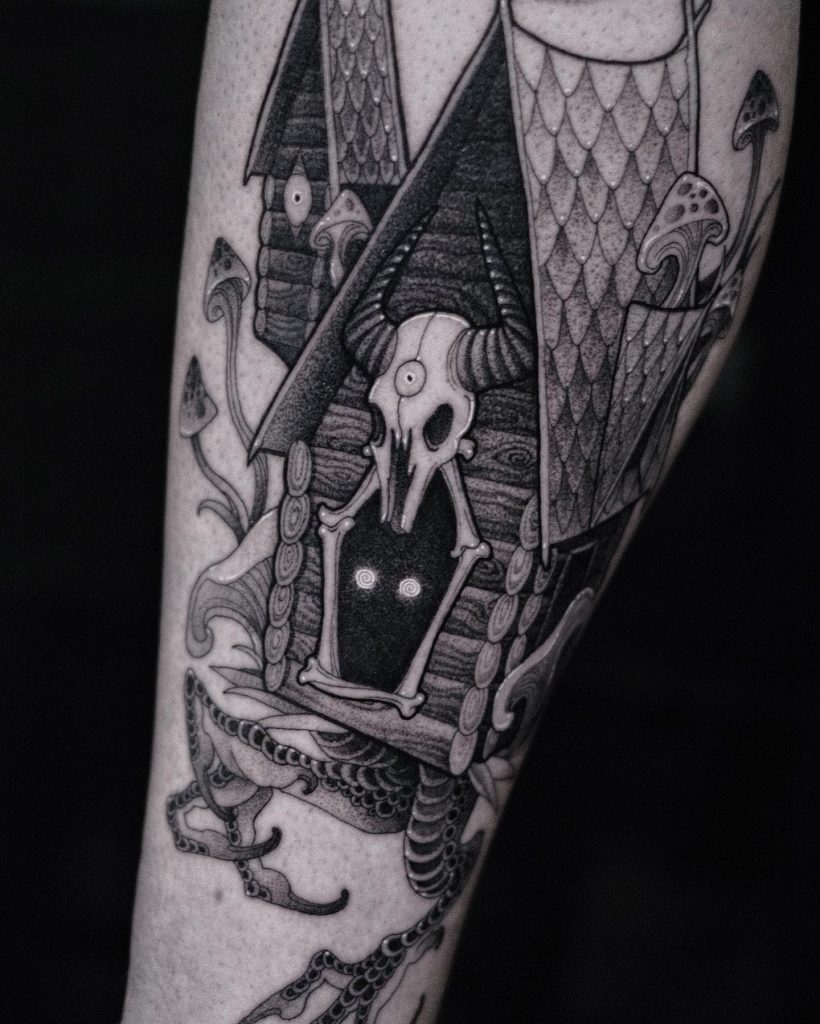 What was your first tattoo? Do you still like it? I got my first tattoo when I was 13 years old. It probably wasn't the best choice, but I don't regret it. I then became the coolest and most dangerous girl in school!
The symbol on my lower back wasn't beautiful or neat. I've covered it twice, finally with a huge black basilisk and a goat that covers my whole back, butt and part of my thigh, this project is still in progress.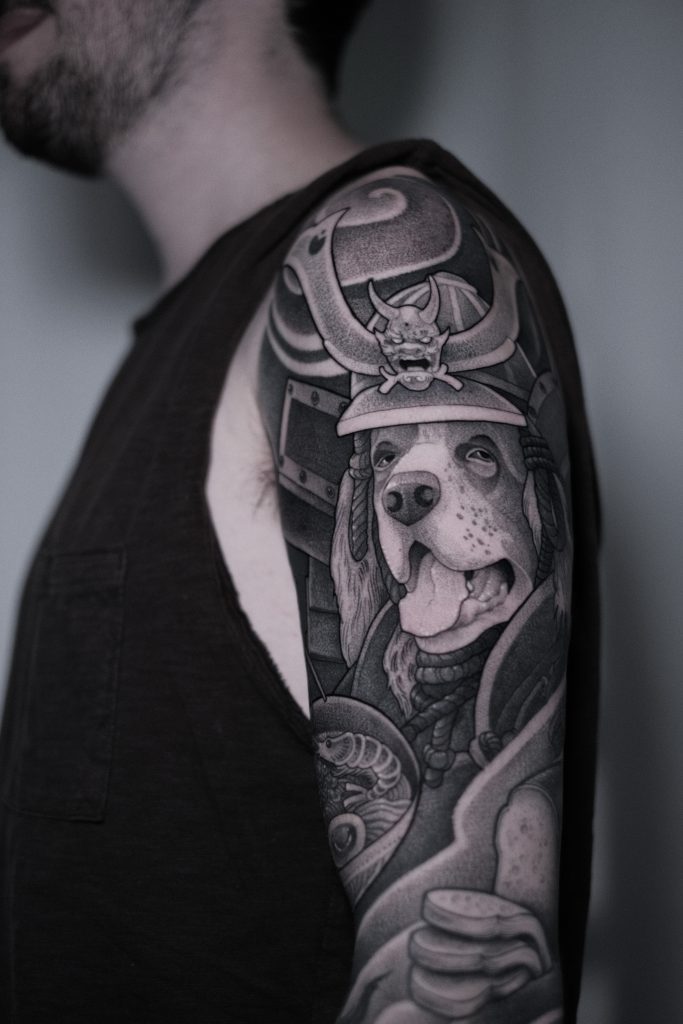 How has your tattoo collection grown since then? I have just a few free parts of my body left as I've tried to stretch out getting tattooed and the pleasure it brings. My last tattoo is the start of my full leg made by my husband, he does really good ornaments which I love.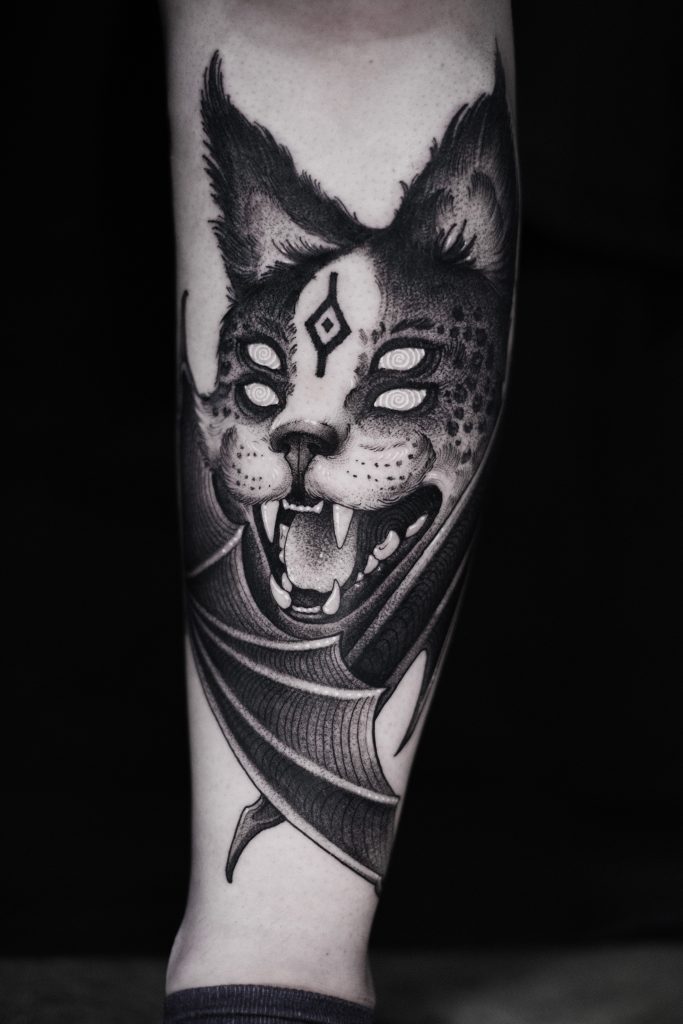 Do you have any travel or guestspots planned? At the end of September we'll be in Boston for a tattoo convention, I've not been to this one before so I'm a little nervous. Then in the fall we'll be at more conventions in Biloxi (Mississippi) and Richmond (Virginia). In the new year we'll take a short trip to Miami.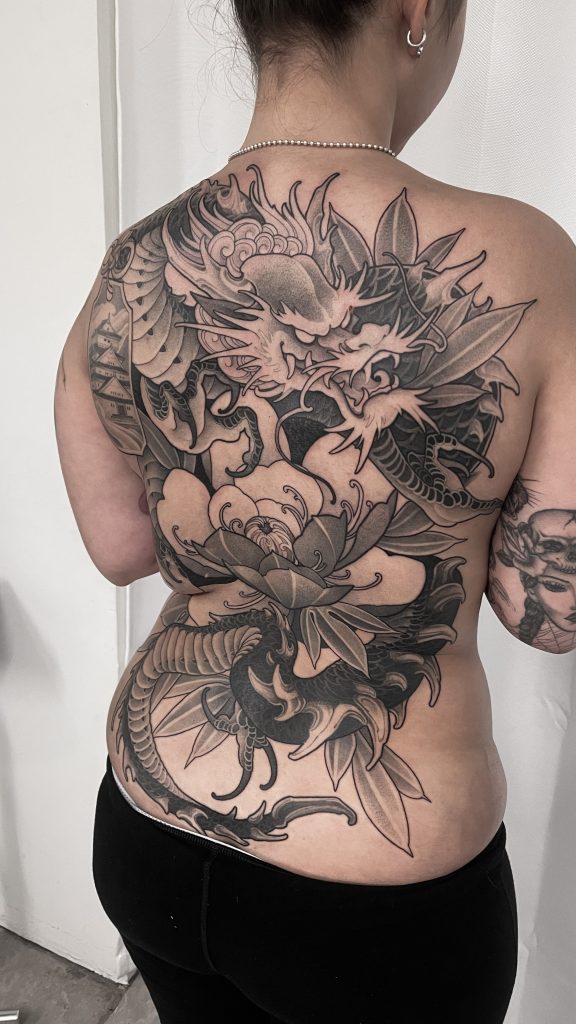 What do you do when you're not tattooing/drawing? This is a good question! In the rare moments that I can rest from work, I usually lock myself at home and play console games or watch anime / read manga. I rarely have such moments due to constant trips or work, but they are extremely important to me.
I also like to get out into nature, but I do this less often than I get comfortable on our sofa with a blanket and a mug of tea.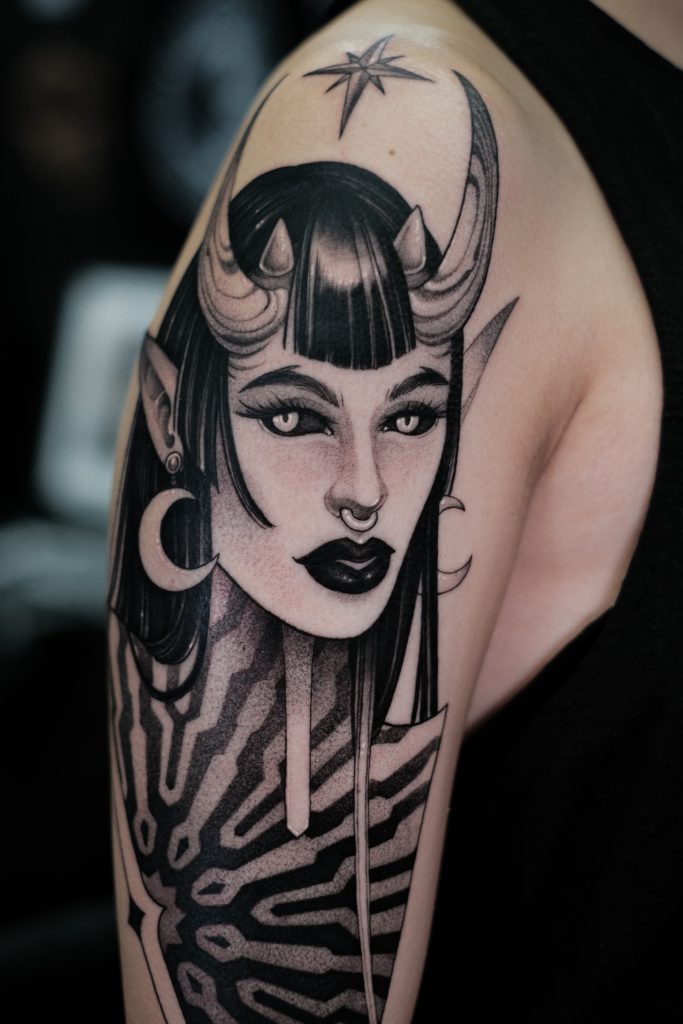 What moment in your career are you most proud of? There are so many moments. I am proud that I have designed t-shirts with Stay Cold apparel twice. Previously they have paired with only really famous tattooers, so I feel really proud.
I am also proud of the moment when I was first called to be on the jury at the tattoo festival – It was exciting and unforgettable to see so many tattoos in a short time frame. Being a judge at the Empire State Tattoo Show was so cool, there was so much talent on stage it was difficult to judge.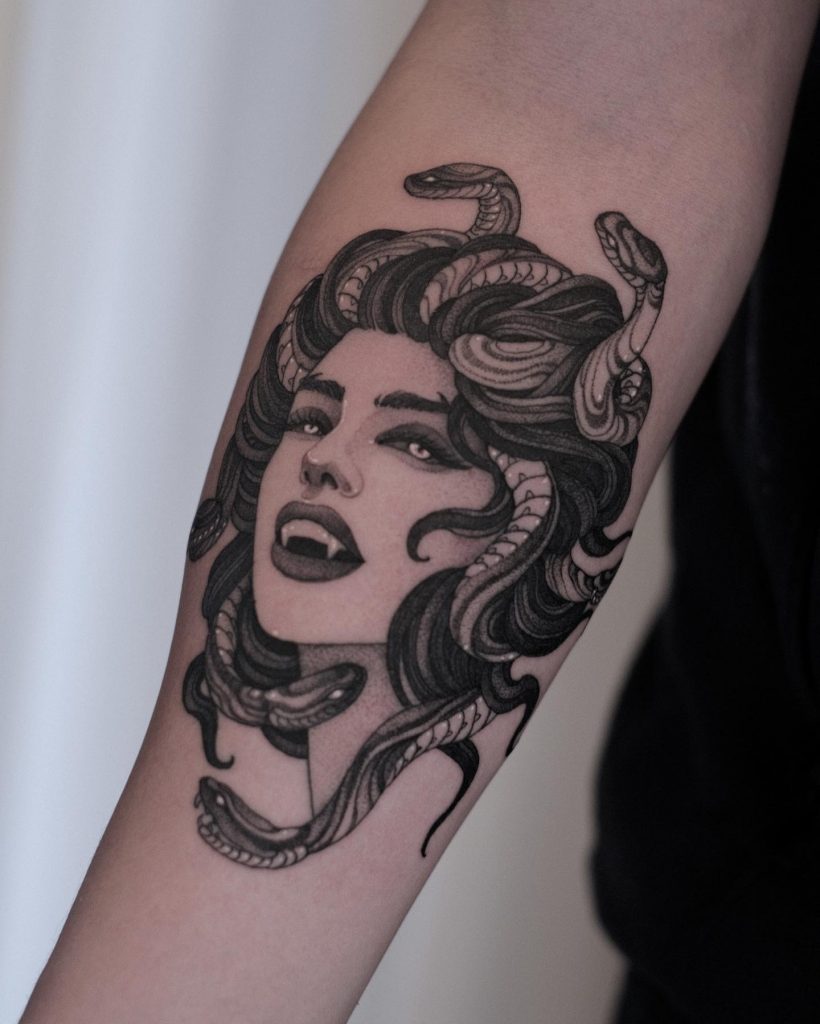 I also want to say that I am proud that I came to America, although I never planned to. I have received recognition here as an artist with a talent visa.
Follow Lina for more macabre designs and book-in via her website.