News
Nintendo's Bringing Mario Kart Junior Esports Tournaments To UK Primary Schools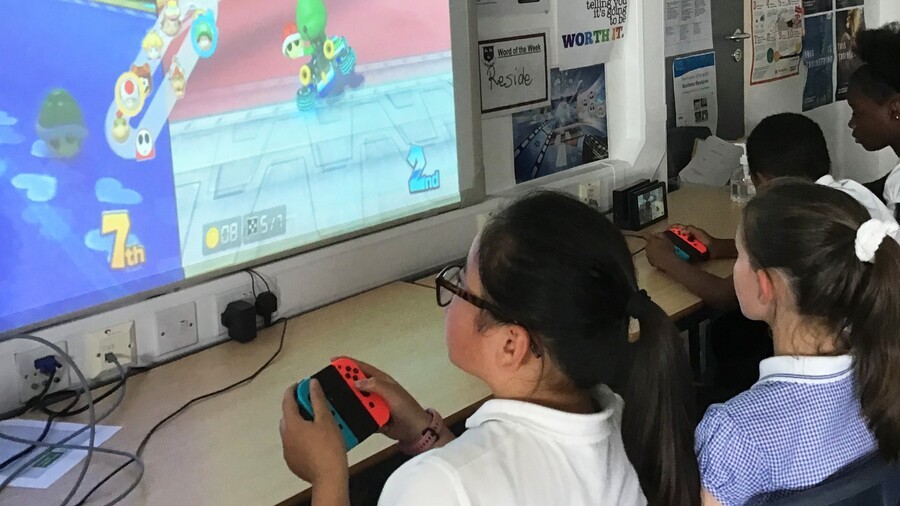 Digital Schoolhouse, a UK-based initiative from Ukie which introduces play-based learning to the school curriculum, has teamed up with Nintendo UK and Outright Games to expand its primary school Esports program.
After a successful pilot scheme last year, a new nationwide tournament consisting of Switch games like Mario Kart 8 Deluxe, Race with Ryan and Crayola Scoot has been announced for pupils aged eight to eleven. The tournament is described as "an immersive careers experience" that'll allow aspiring pupils to go hands-on in a range of lessons and activities based on real job roles within the games industry.
The activities involved are mapped to subjects already on the curriculum such as Computing, English, Maths, Design and Technology, and PSHE, and teachers will be offered resources which will allow them to use different games to engage the students.
Kalpesh Tailor, Head of Communications at Nintendo UK, has shared the following:
"We are thrilled in our role as lead partner for Digital Schoolhouse to be bringing yet another transformative and inspiring programme to young pupils across the UK with Nintendo Switch. In the past year our partnership has reached over 10,000 pupils and 1000 teams in schools & colleges across the UK with the Super Smash Bros. Ultimate Team Battle tournament.
We have seen first-hand the positive impact this has had on pupils who have benefited from teamwork, strategy and social improvements. It is not only inspiring pupils but also helping to educate teachers and parents about the endless opportunities digital skills create.

It is great that we can deliver a tailored educational programme using Mario Kart 8 Deluxe so primary school pupils can also engage and get hands on experiences in a multitude of important roles developing and running a nationwide innovative tournament."
A Junior Esports Evaluation report showed that pupils who participated in the pilot Esports tournament were more engaged with activities in school; 84% of pupils wanted more lessons in school similar to the esports tournament, 55% of teachers reported that their pupils' level of attainment was higher than usual, and 91% of teachers reported that pupils were either very or extremely interested in careers in games as a result.