It's never been more important to get an amazing photo or reel of your freshly made tattoo. Not only are you a tattoo artist but you also need to be a social media manager and photographer too. To help you capture your art in the best way, realism tattoo artist Grigorii Butrin is sharing his top tips…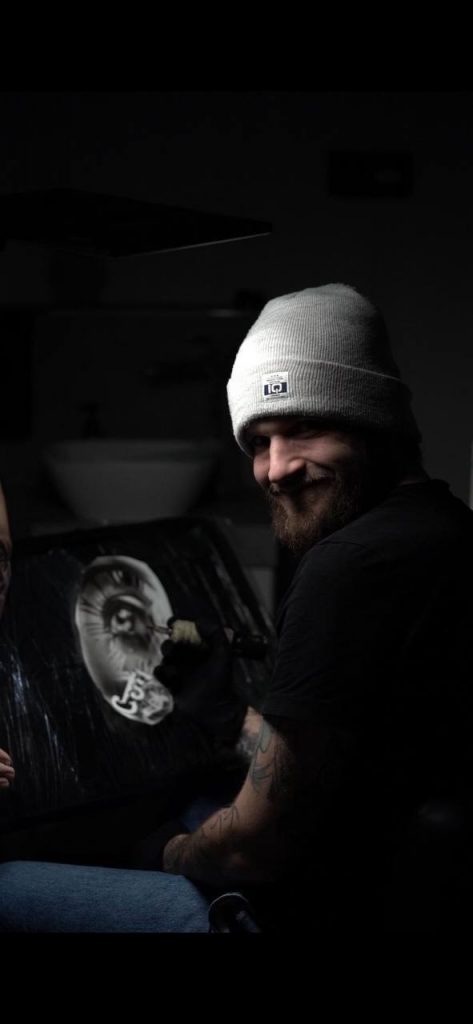 Black and grey realism is a style that remains one of the most popular trends in the world of tattoo culture to this day. Grigorii Butrin (@butrin.tattoo) is a talented artist, many would say he's up there with the best tattoo artists working in this style.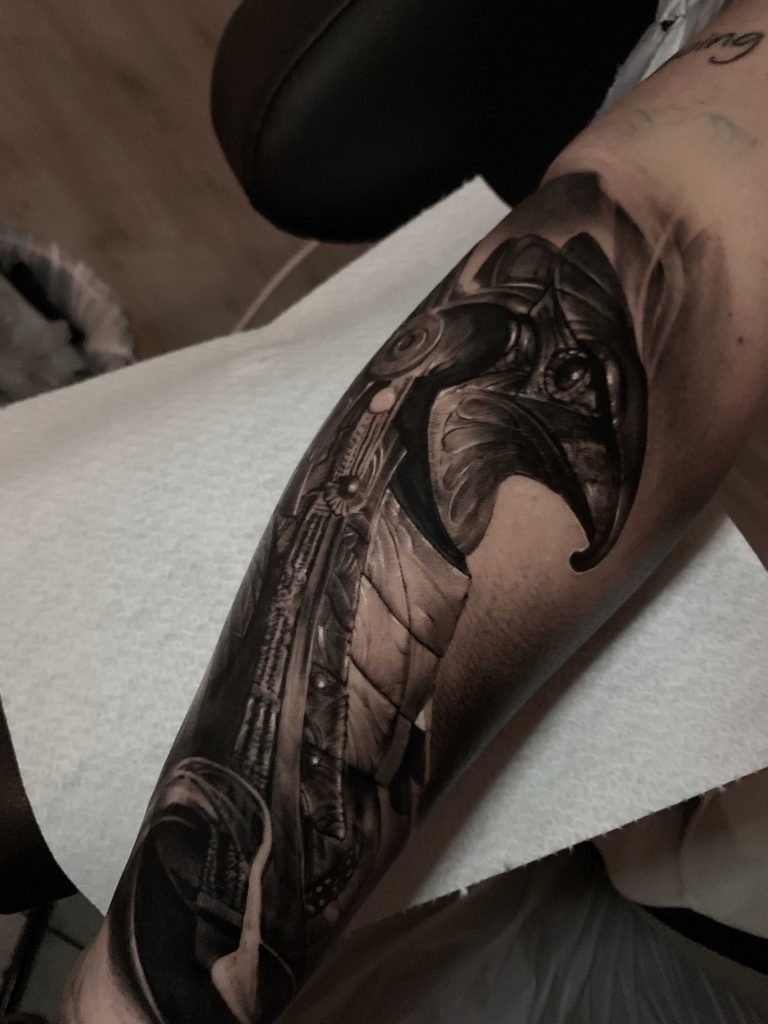 Grigorii conquered the world's tattoo community with his realistic tattoos consisting of striking contrasts, complexity and detail. They bring the image to life so that it looks 3D on his client's skin. His sense of detail, light and composition makes his work different from others in the industry.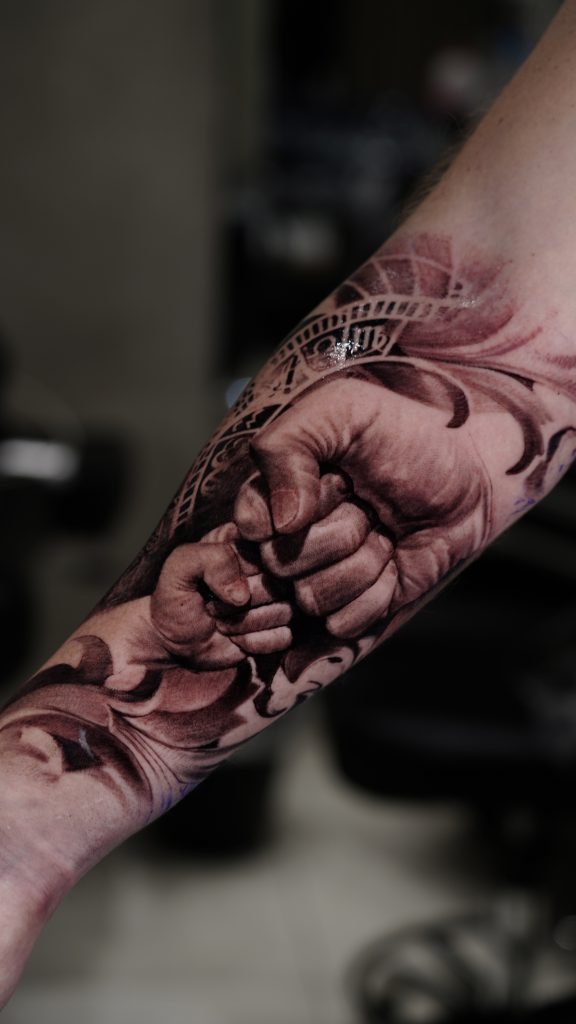 Gregorii's tattoos are known in many countries, they have been frequently appreciated by judges at international tattoo conventions around the world. Grigorii Butrin is a member of several professional teams and clearly understands how to make black-and-grey realism truly spectacular. It's this understanding of the craft which has gained him hundreds of loyal clients across the globe, and allowed him to give master classes to other artists. He's also collaborated with world-known brands and giants in the tattoo industry – he's a tattooer on the rise.
Looking at photos of his work from a professional standpoint you can see how he scrupulously works on photographing his tattoos. According to Grigorii, "this is very important, because it is not enough to make a high-quality tattoo, it is necessary to present it correctly to the audience."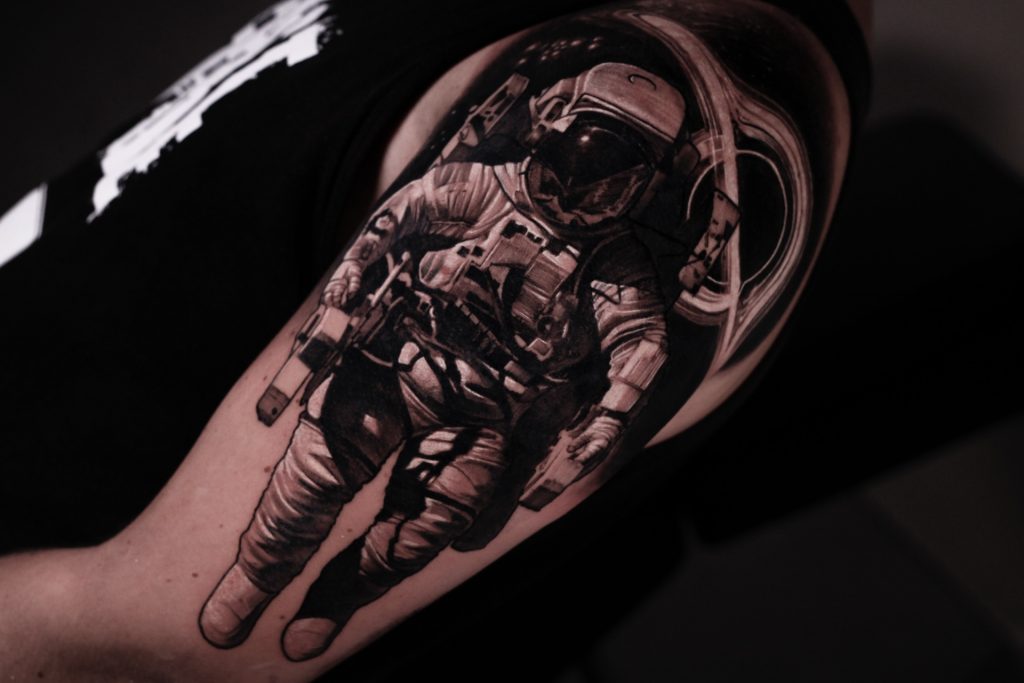 "Practice shows that you need to photograph tattoos immediately after the session. The reason for this is very simple: in 90% of cases, the creator will never see this tattoo again, and there is no point asking clients to take photos later, because they will not be able to do it correctly."
Grigorii Butrin shares his recommendations in photographing tattoos to his colleagues:
Do not turn off the light in the studio completely, dim it. To illuminate the work itself, use a light together with a polarising film – this makes the picture more natural, especially if you are photographing a miniature tattoo. Many tattooers prefer to photograph the work with a single light source, which makes the photos gloomy due to the lack of background.
In the case of using several illuminators, glue the films to them in the same way, in accordance with the instructions. If the lights are not synchronised, then they will have to be turned over in order for them to work correctly. Cut the film according to the size of the luminous surface of the lamp, do not allow non-polarised light to get into your work.
On your phone, use the first three settings for the final edit of the photo: Exposure, Shine, Light areas. They have the least effect on image quality. You can also adjust the Saturation. In order to increase the set of processing tools, I recommend installing photo editing applications.
Remember that the photo will only show what was projected by the lens into the phone's memory. If the photo is highlighted and if the whole tattoo is flickering with highlights, then it 's not possible to restore what did not get into the phone's memory, when you took the photo no matter what subsequent processing you do. That is why you need to use polarising filters. Processing will only correct some flaws, but will not change the image itself in any way. Take high-quality photos initially.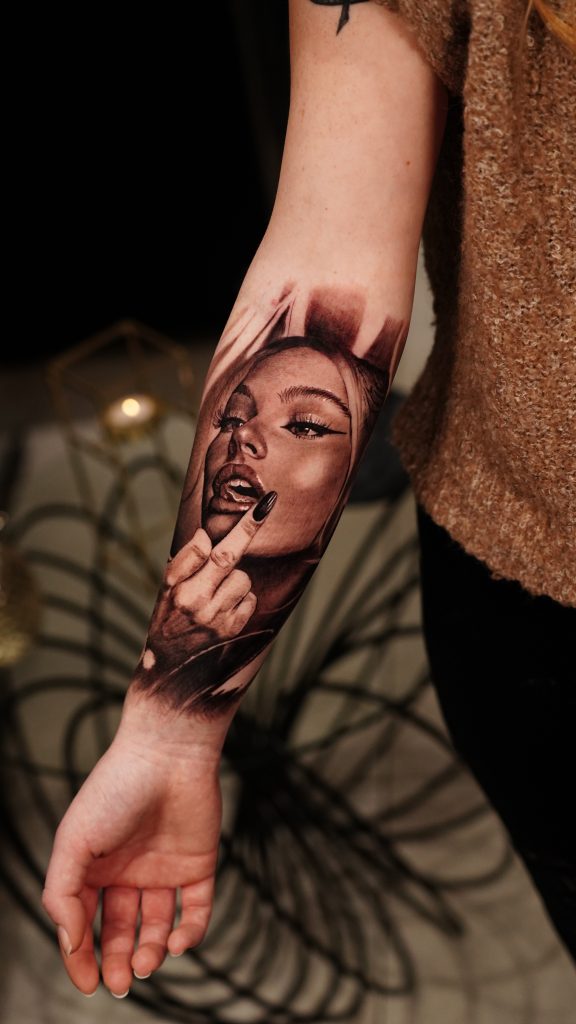 Find out more about the realism tattoos Grigorii makes in our interview with the tattoo artist.
We're always talking to amazing tattoo artists, check out our latest interviews.