Sports
How to choose a bike: technical details
The bicycle is far from a new invention of mankind. He appeared a long time ago. Recently, cycling has become widespread. Bicycles have become available to the general public. But now they are no longer like those two-wheeled horses that were, say, at the beginning of the 2000s.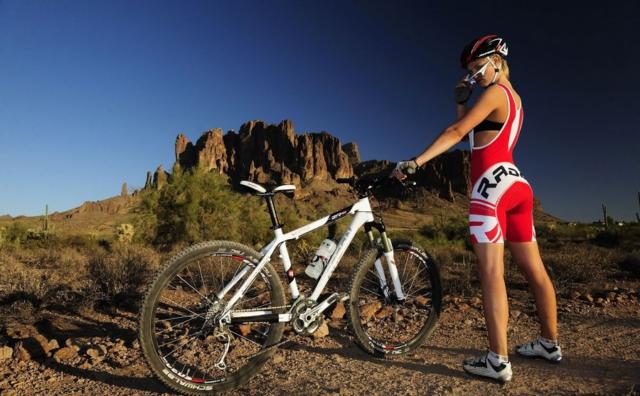 The huge variety of models creates more and more difficulties in how to choose the right bike. So let's solve this problem and find out which bike is better to choose.
Choosing a bike
Now the so-called mountain bikes are firmly in vogue. They are represented on the market by many manufacturers and models of these bicycles. Why mountain bikes have become so popular remains a mystery, because there are many other modifications whose products are not inferior in quality and convenience.
If you are planning to buy a bicycle, then first of all you must decide for yourself how you will use it and for what purposes you are purchasing it. If for walking in nature, then this will be one model of a bicycle, if for sports training on the highway, it will be another. There are some general criteria for choosing a bike for all models.
Mountain bike (mountain bike)
So let's figure out how to choose a mountain bike. This type of bicycle is designed for walking along forest paths. They are characterized by increased cross-country ability. Good resistance to loose soil. Such models are suitable for playing sports, hiking, for driving to work. This is the most affordable and versatile option. On it you can go wherever you want. But as you can imagine, these bicycles also have their drawbacks, and their main drawback is speed, they are not suitable for fast riding. In terms of speed, they are significantly inferior to the road options.
pros
Many accessories and components for this type of bicycles
Versatility
Ride comfort
Minuses
On the track, inferior in speed to road bikes
There is almost no roll over
Road bike
Do you want to choose a bike for the city? On a road bike, you can go faster than the wind. On hard surfaces, it has no equal in speed. The model has the maximum coasting due to the fact that it has no depreciation at all… Therefore, if you climb into the forest on such a bike bike, then it will be difficult for you to ride it, and if you encounter dirt or sand on the way, then you will not be able to ride at all. The road bike features a lightweight, durable frame and ram horn-shaped curved handlebars.
pros
Excellent roll-off, high speed on level and hard surface
Ease
Minuses
Poor cross-country ability
Touring bike
If you intend to choose a sports bike, then consider, for example, the touring option, which is made for long journeys. It has the lightness of the frame of the road models and the reliability and passability of the mountain. On it, you will be able to drive quickly on a hard surface and feel pretty confident on rough terrain. But in this case too it is important to choose the correct size of the bike frame…
pros
Versatility
Good roll-forward
High speed on asphalt
Minuses
The permeability is worse than that of the mountain
The handling on rough terrain is worse than that of the mountain
Slower than highway
We briefly reviewed the main types of bike bikes. Now it remains to find out how to choose a model for your height and how to choose a bike in general. There are markings on the frame of each bike. If your height is 180 cm, then a 19 or L frame will suit you. Experts recommend, when choosing a bike, to stand over it and measure the distance from the groin to the top tube of the frame. If the model suits you, then a palm passes freely between the groin and the frame. If your height is over 180 cm, then frame 21 or XL will do. That is, it is very easy to choose a bike by height.
Basic accessories
The list of accessories recommended for purchase directly when buying a bike, or during the first months of riding:
Wings. Will be quite useful when driving in wet weather.
Hex key set.
Bag with fastening on the frame.
Bottle with holder.
Bicycle computer (speedometer / odometer).
Lights (front and rear). They are necessary for cycling in the dark.
Bike diagram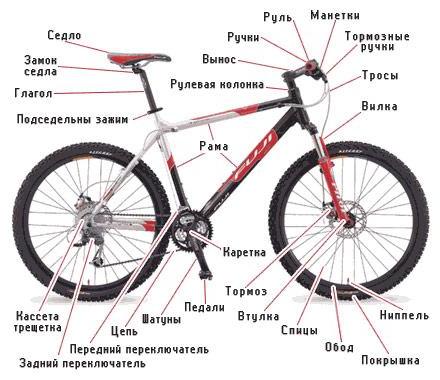 The benefits of cycling
Through daily cycling, weight is significantly reduced. Half an hour drive every day, and you can burn about 2,000 calories a week. When riding a bike, the heart beats much more often than when walking or running. The heart muscle works, which means it increases in volume, like any other muscle, from physical exertion. The risk of heart attack in people who regularly exercise on such a high-speed cardio equipment is much lower than for those who ignore this type of exercise. In addition, while driving, breathing becomes more frequent, the volume of the lungs increases, and they better saturate the body with oxygen. It seems that now it is clear why cycling is useful.
But, as in any sport, there are some contraindications. Cycling involves a lot of physical activity. Therefore, not all people can do it. For example, if the musculoskeletal system is out of order, then a bicycle can help solve these problems, but if there is a disease of the joints, then you are strictly prohibited from riding. It is forbidden to ride a bicycle for people with chronic prostatitis, this can cause stagnation of blood around the prostate and lead to complications. People with hypertension are also not recommended to engage in such sports.
But this is all if you decide to go in for sports. Ordinary quiet walks in the park or forest will be useful to absolutely all people, without exception.
clothing
Now you know how to choose the right bike. But besides this, this sport has its own form of clothing, like any other sport. Clothes for this are usually tight-fitting, somewhat similar to a diving suit. If you do not have the opportunity to buy such clothes, then you can replace them with ordinary ones, you just need to adhere to some rules.
First, do not wear wide trousers – they can get caught in the gears and cause injury.
Secondly, the shoe must have a firm sole and good tread that will prevent your feet from slipping off the pedals.
It is better to have reflective details on your clothes if you intend to travel in the dark.
When cycling, be sure to wear a helmet on your head. Falls are essential in this sport, and a helmet can help you avoid serious head injuries and, in some cases, save your life.
It is worth using special gloves that will save your hands from injury during a possible fall from a bicycle and from vibration while riding.
Do not forget about such items of equipment as elbow pads and knee pads, they will also protect you during a possible fall.
Output
As you've probably figured out by now, the benefits of a bicycle are enormous. He will help you strengthen your spirit, as well as always be in a good mood and even make new friends. Recently, bike rides have become popular, timed to coincide with various holidays. Anyone who has a bike can join these bike rides, which means that you will not be able to avoid new acquaintances and vivid impressions. It is also important that a bicycle is an absolutely environmentally friendly mode of transport, which means that there will be no prohibitions for you if you decide to visit the reserves.